PREIVOUS OWNERS: Unknown
HISTORY: Unknown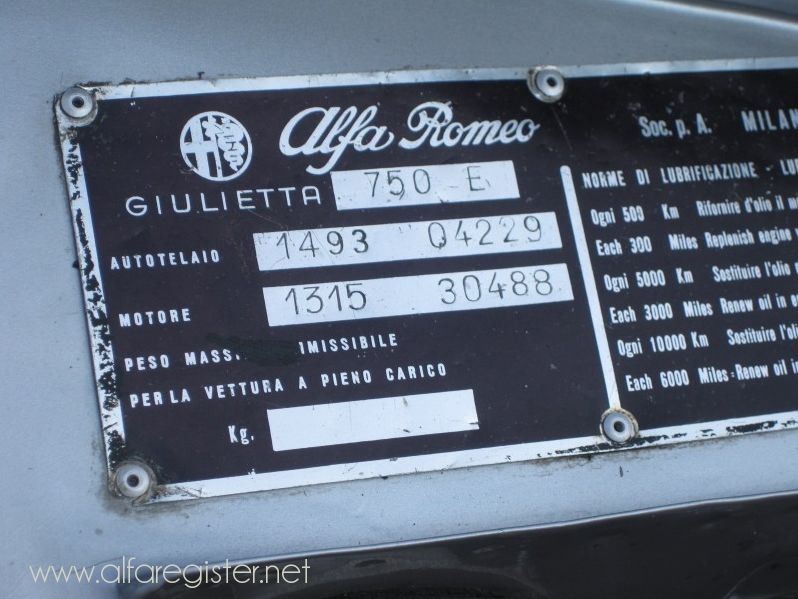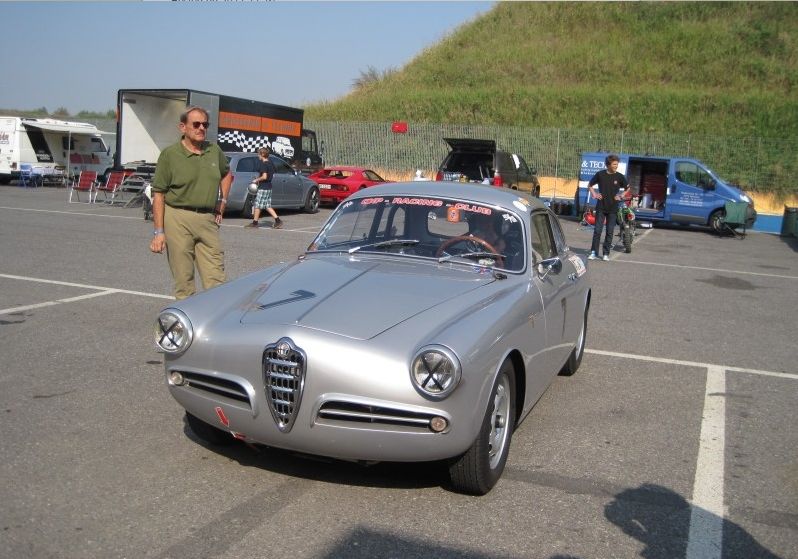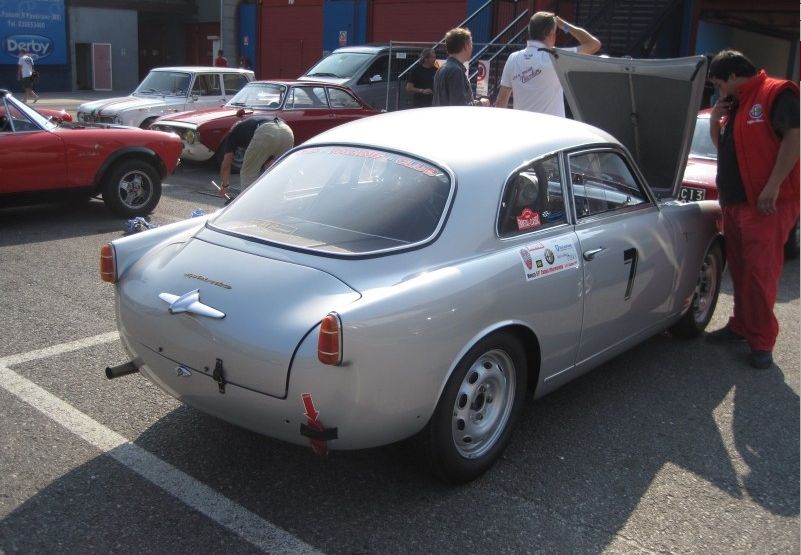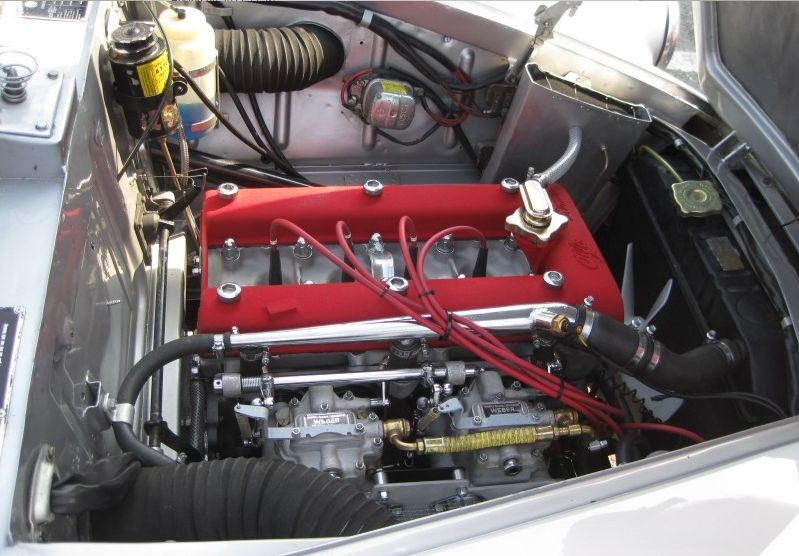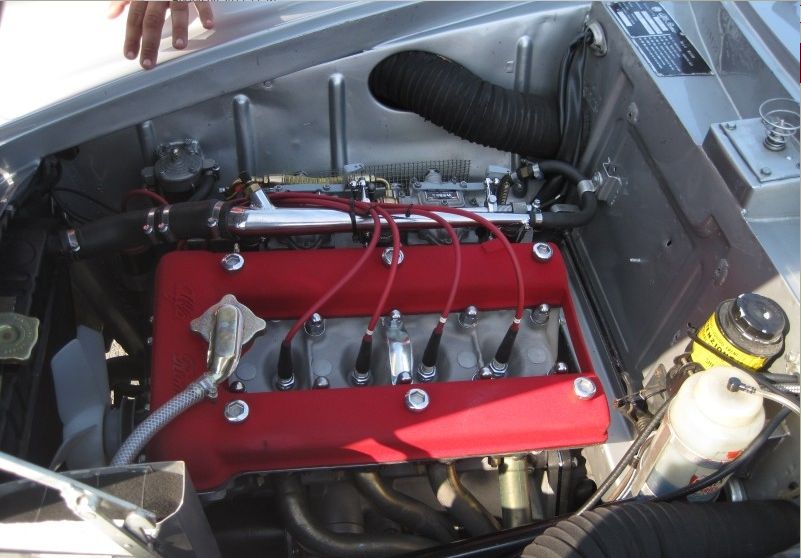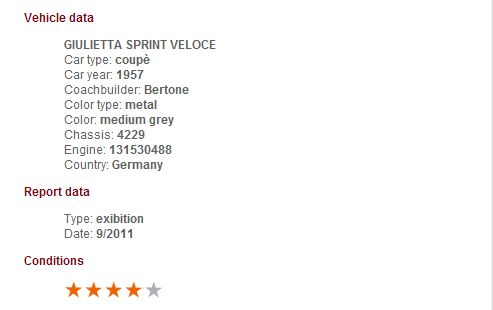 UPDATE: Found on Southwood Cars website 1/11/2020 (as copied from their website)
According to Alfa Romeo Automobilisimo Storico, chassis number AR1493 E 04229 originally corresponds to an Alfa Romeo Giulietta Sprint Veloce Alleggerita, manufactured on the 12th April 1957 and sold on the 14th May 1957 in Lucca, Italy.
The Alfa Romeo Classiche Certificate obtained from Automobilisimo Storico also confirms that this Alleggerita is a matching numbers car which, bearing in mind the original competitive nature of these cars, is rare.
Sold new in Lucca, Italy to Sig. Benito D'Ulivo of Milano who retained the car until 1974 when it was passed to its second owner in Milano a Sig. Alessandro Frova. Remaining in original condition Sig. Frova kept his Alleggerita until May 1983 when it was sold to a German gentleman. Herr. Dammler of Osnabrück, took his car home and retained it until 2003 when it was purchased by one of the proprietors of the German classic car parts specialist OKP. He purchased the car and commissioned Dutch Alfa Romeo Specialist Jan Steutel to carry out a full restoration and rebuild to historic racing FIA appendix K specification. This restoration commenced in 2003 and was completed in 2006.
During this restoration the original engine was removed (more on that later) and replaced with another Veloce motor from the USA with a lightened and balanced crankshaft, new bearings, pistons, bushes and the cylinder head overhauled with new valve guides and Veloce camshafts by OKP's engineers in Munich. The gearbox is an original E stamped box and this unit was also overhauled, both units have subsequently run circa 10,000 kilometres.
In 2010 OKP entered into a collaboration agreement with Facetti Motori the legendary family engineering firm established by racing driver and ex Autodelta engineer Carlo Facetti. As a result of this collaboration, in 2011 the original engine was rebuilt and prepared by Facetti to achieve 130bhp an increase of 40bhp on the 'standard' Veloce motor. This engine is now installed with just 28 hours run during the 2012/13 season. Mated to this is a four-speed gearbox with a longer first gear and shortened second, third and forth built by Oliver Vetter of H & O Vetter Garage in Switzerland and a fully overhauled 8:41 differential which has been used in just one race. In addition to this #04229 has an 80 litre aluminium Veloce fuel tank, racing clutch and external oil cooler. The result is a very quick, period competition vehicle.
So #04229 is fitted with its original engine, beautifully prepared and has the benefit of being packaged with a spare Veloce engine and split case gearbox too.
Externally the body is in excellent condition with the light patina that enhances these cars. Shut lines are tight and even, with no signs of accident damage and the underside is very nicely detailed and prepared showing the high level of engineering and care which has gone into this vehicle.
Currently fitted with Alleggerita interior trim with a single race seat fitted and roll cage, it is track ready. However, we also have a correct pair of seat frames and could return the interior to original interior specification by separate arrangement for its new owner. Externally the car has all the correct Alleggerita aluminium body panels - bonnet, doors and boot lid as well as trim in place - bumpers, window furniture, grill eyebrows and headlight rings.
A fantastic opportunity to own a very exciting and beautifully prepared Alleggerita, please call for further information or to arrange to view.