PREVIOUS OWNERS: Unknown
HISTORY: (as taken from the Dirty Old Cars.com website) Car was for sale on Craigslist Los Angeles March 14, 2017
1962 Alfa Romeo Giuletta Sprint Speciale Found in Long Beach, California
Odometer: 62,250 Miles
This Alfa Romeo Sprint Speciale is for sale in Long Beach, California. Seller states the car is a matching numbers car which is excellent. The VIN AR 10120 00524 and comes with an complete tool kit. Its been sitting for 13 year and the seller is ready to let it go. The seller also states there can be rust found under the rear shelf of window and driver's door threshold. It looks like a good start for a restoration project. These are such pretty cars and I always see at least one at Pebble Beach being judged every year. This would be a fun project to take on.
VIN AR 1012000525
Price $54,000 OBO
Click Here For Ad
The first 101 Sprint Speciale cars built were needed to homologate a car for FIA Regulations
There were some all aluminum cars produced but the majority had steel bodies with aluminum doors, engine bonnet, and boot lid.
The first cars were equipped with Weber 40 DCO3 carburetors , than later changed to 40 DCOE2
The early cars used a 1.3 Liter Alfa Romeo Twin Cam Engine with hemispheric combustion chambers and valves controlled directly by twin overhead camshafts. This engine produced 100 hp and had a maximum speed of 124 mph.
As production continued, Weber 40 DCOE2 carburetors were added, a higher front nose, and removal of plexiglass window. Bumpers were fitted front and rear and sound deadening was also added.
All Giulettas SS had 3 shoe drum brakes at the front and drum brakes at the rear
The bigger engine 1.6 Liter Giulia replaced the Giulietta in 1963. So after 1963, this car was known as the Giula Sprint Speciale due to its bigger engine with 112 hp. It was now capable of 120 mph.
The Giulia now came with disc brakes on the front
Production ended in 1966
1,366 Giuletta Sprint Speciale produced
1,400 Giulia Sprint Speciale produced
25 cars were converted to right hand drive by RuddSpeed
Fact: The 1.3 Liter engine and gearbox was the same one used in the race oriented Giuletta Sprint Zagato.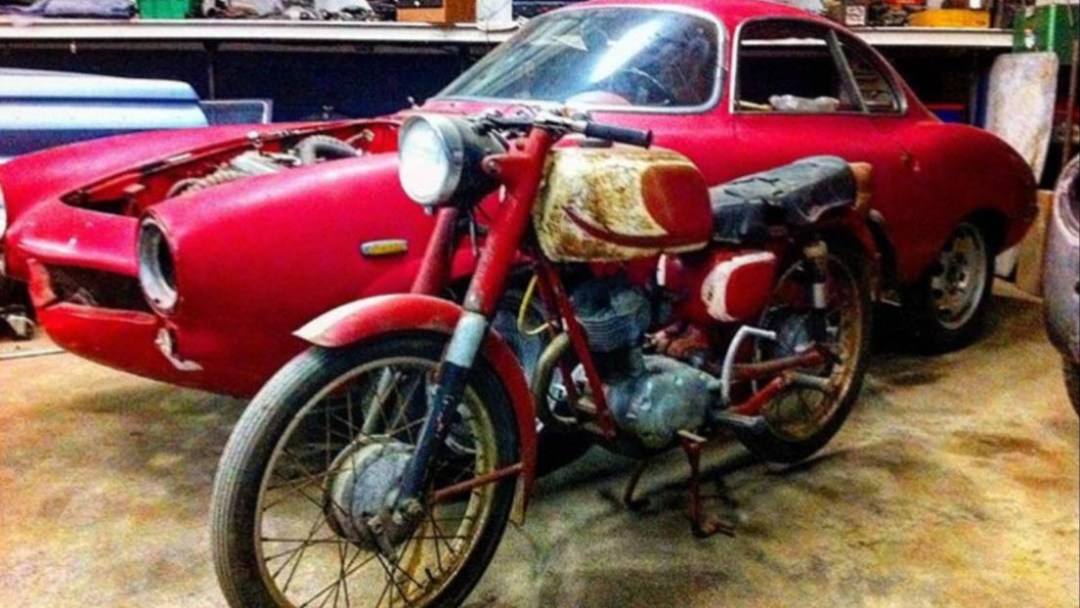 Only known photo of the car to exist to this date