PREVIOUS OWNERS: "Saul" Rosenfeld
History: (as taken from Chequered Flag Motors EBay Listing November 17, 2016)
Chequered Flag International is pleased to offer this 1966 Alfa Romeo Giulia Veloce Spider in Red with Grey interior.
I think it was originally Light Grey with Red interior.
Car number 101-18 833 (*AR390342), Engine number AR00121*02224*, Gearbox 100100-13100, Diff 708. Good rust free body. Great panel fit.
Decent driver quality paint but this car is screaming out for a high quality restoration as it's a high integrity car.
Owned for around 35 years by last owner who brought it with him from college to LA in 1988 and after driving it for a few years left it in his garage unused for 20 years.
We've done a fluid flush, full braking system overhaul, new oil and filter, etc and it runs and drives nicely.
This is a rare last year 5 speed, disc brake, 1600 cc Veloce. The engine number appears to be correct but the Alfa reference library is closed for three months so up to buyer to verify.
Priced to sell. Inspections encouraged.
All sales AS-IS. Sales tax and license fees due if delivered in California.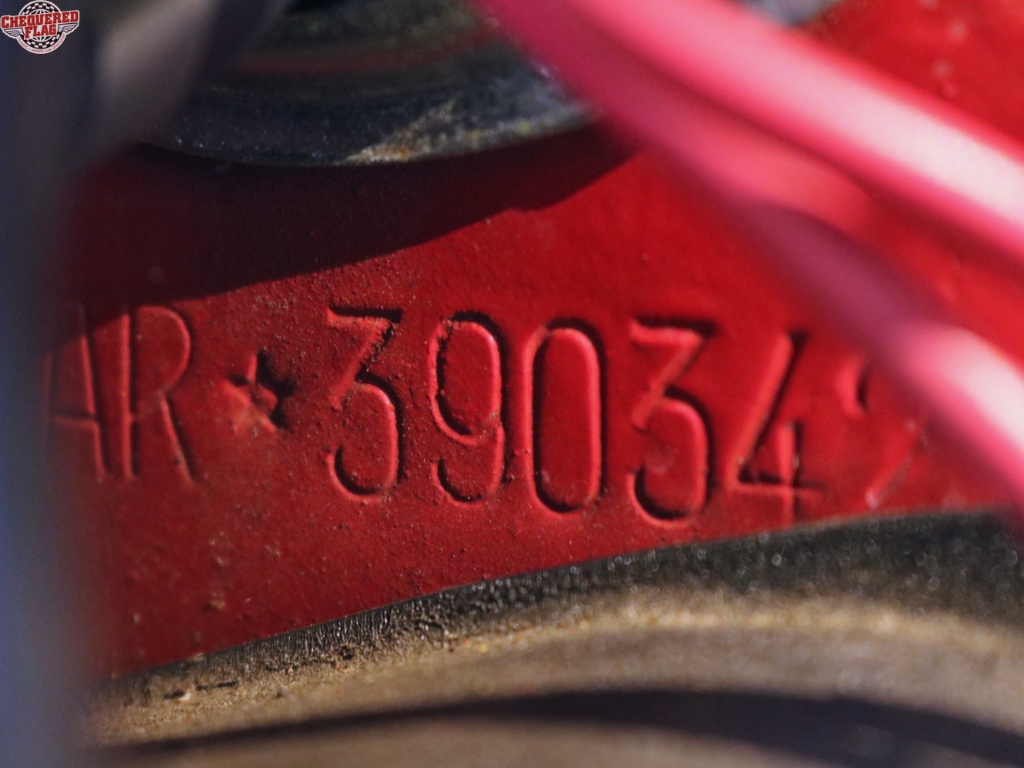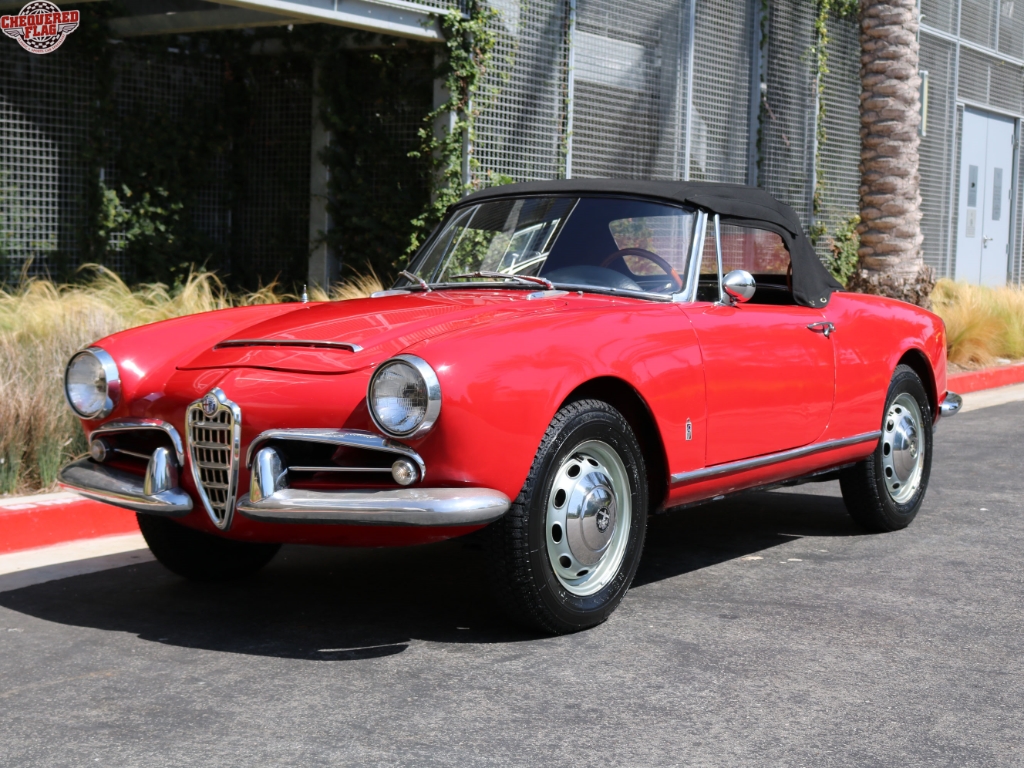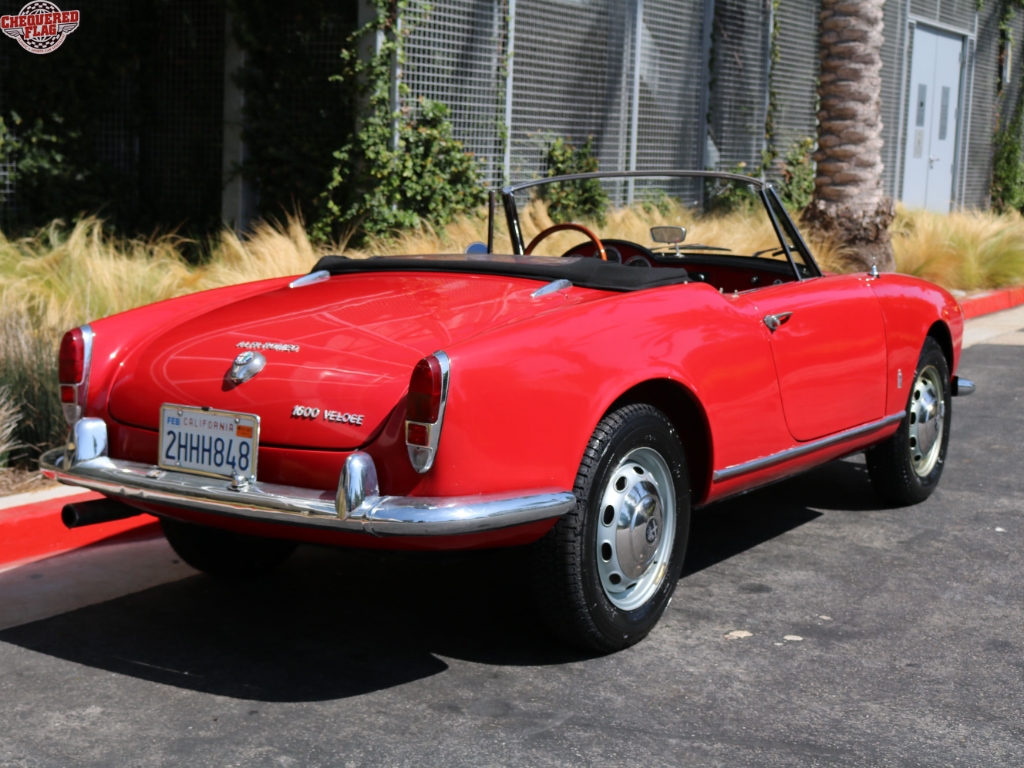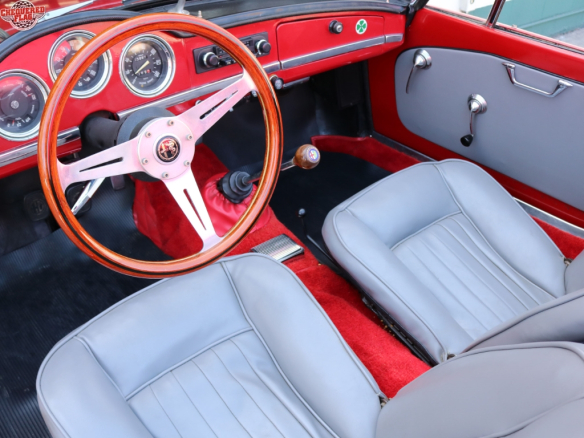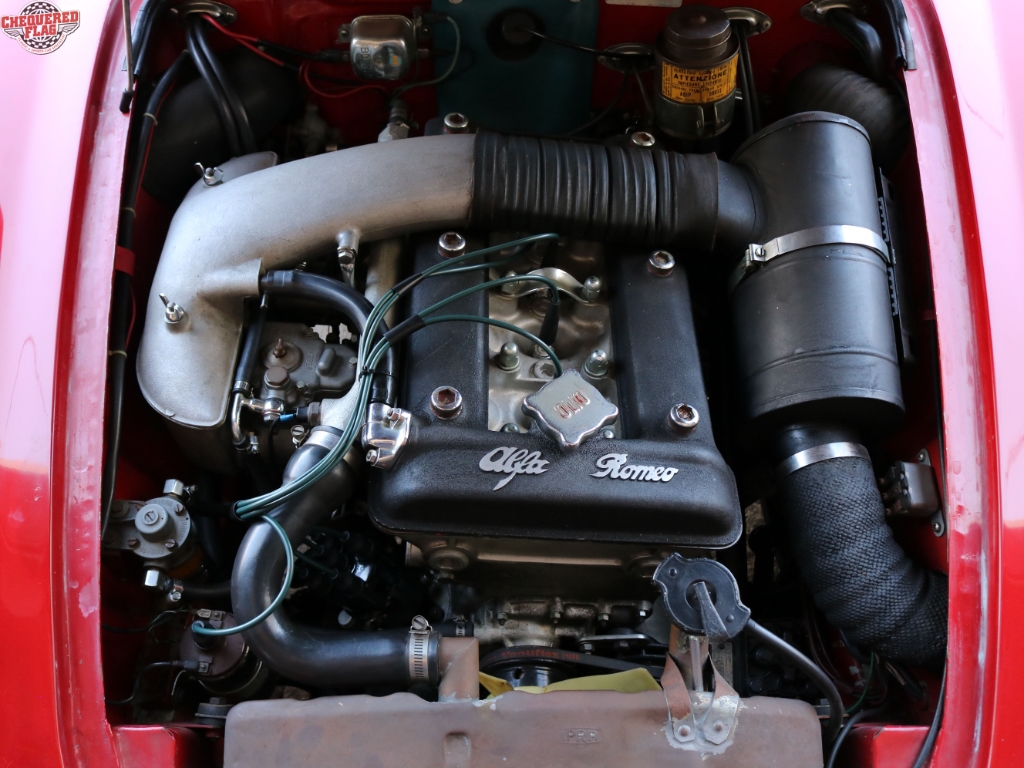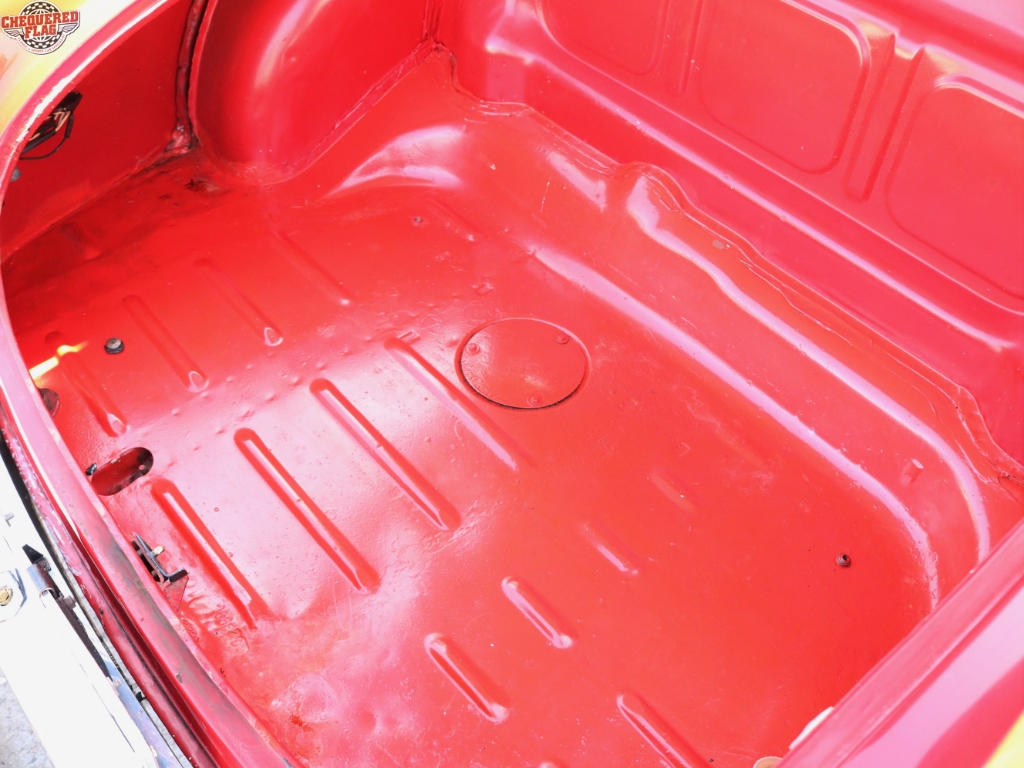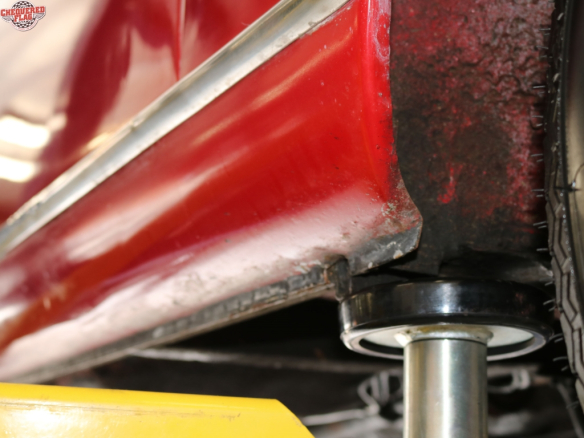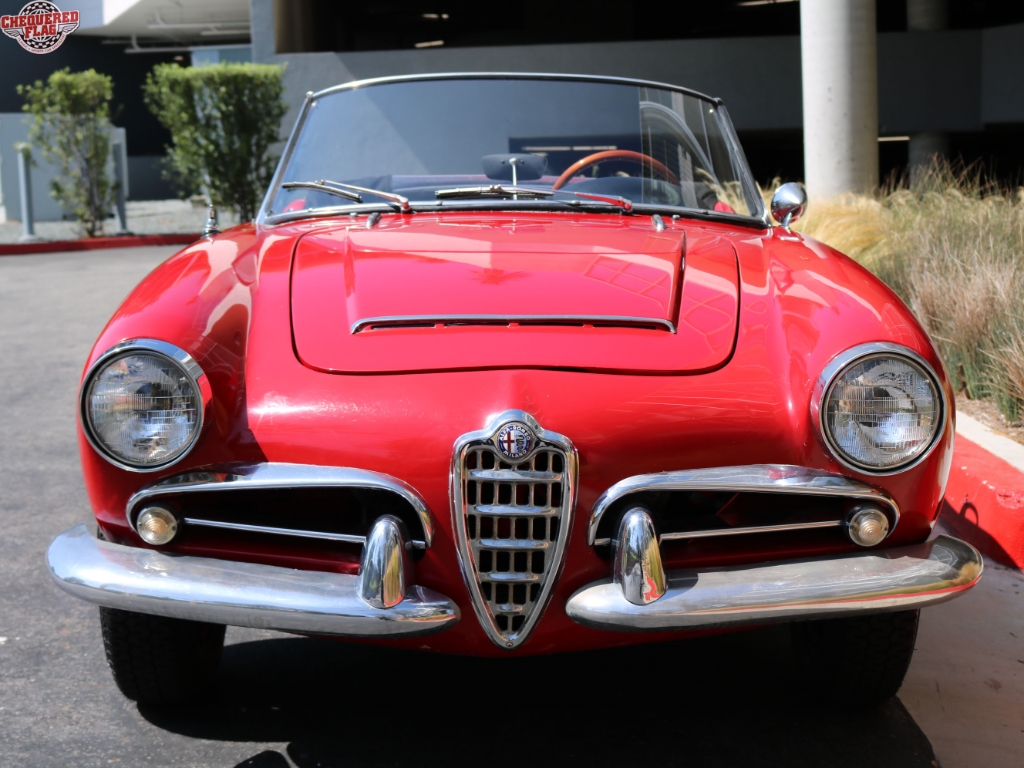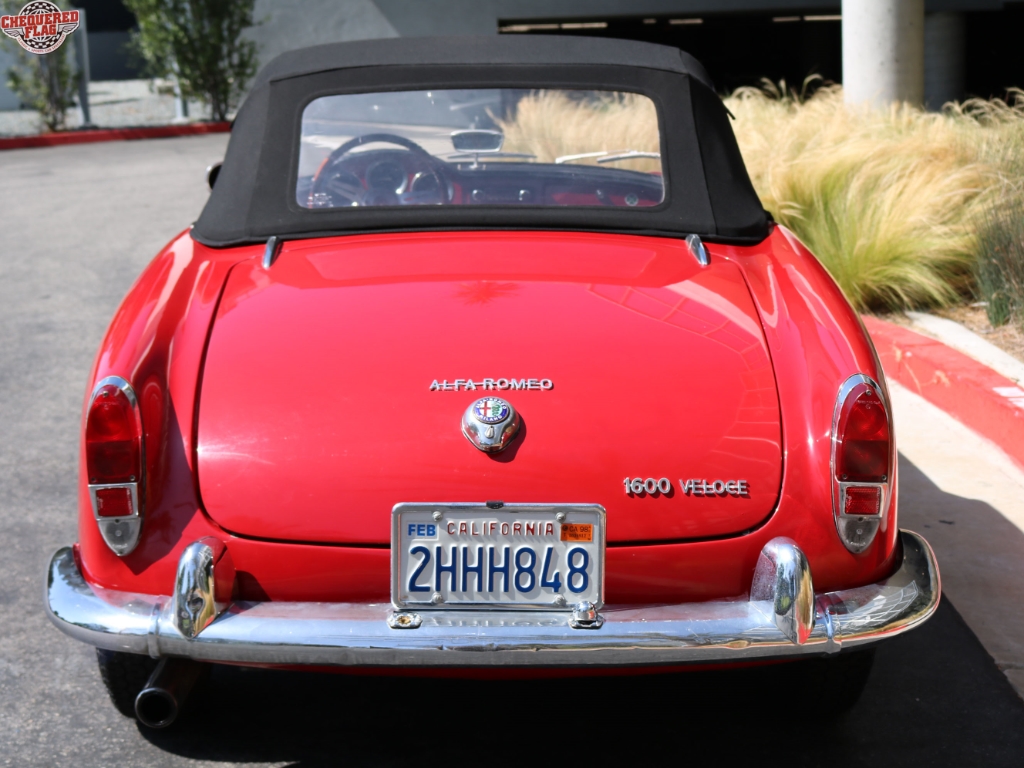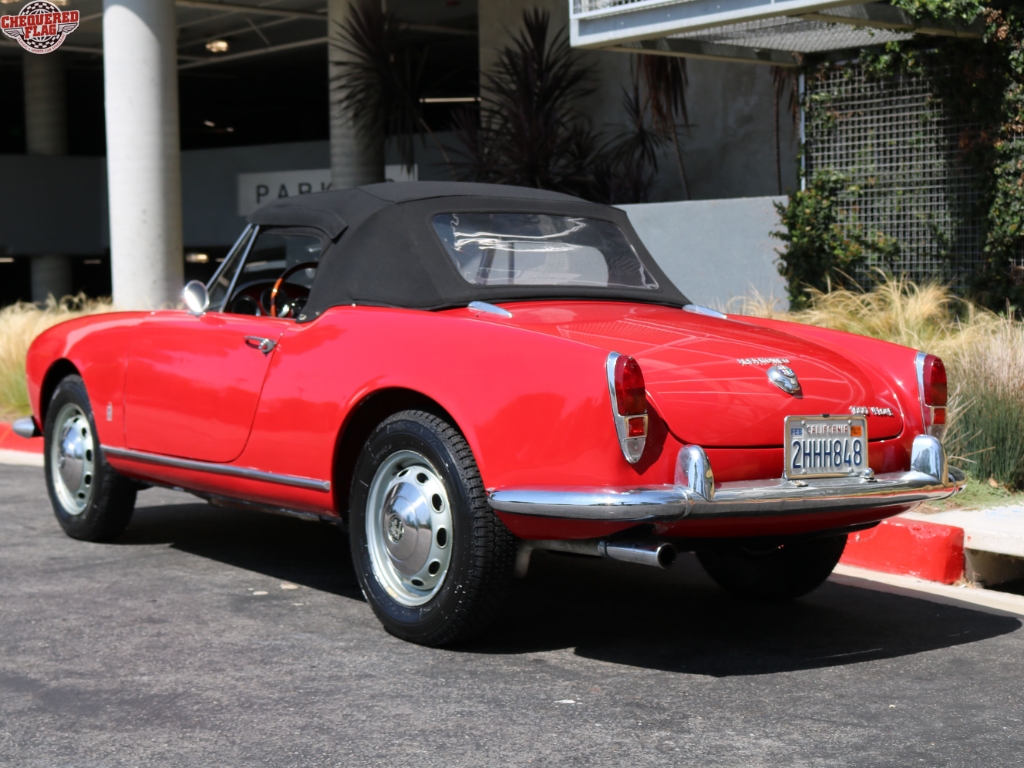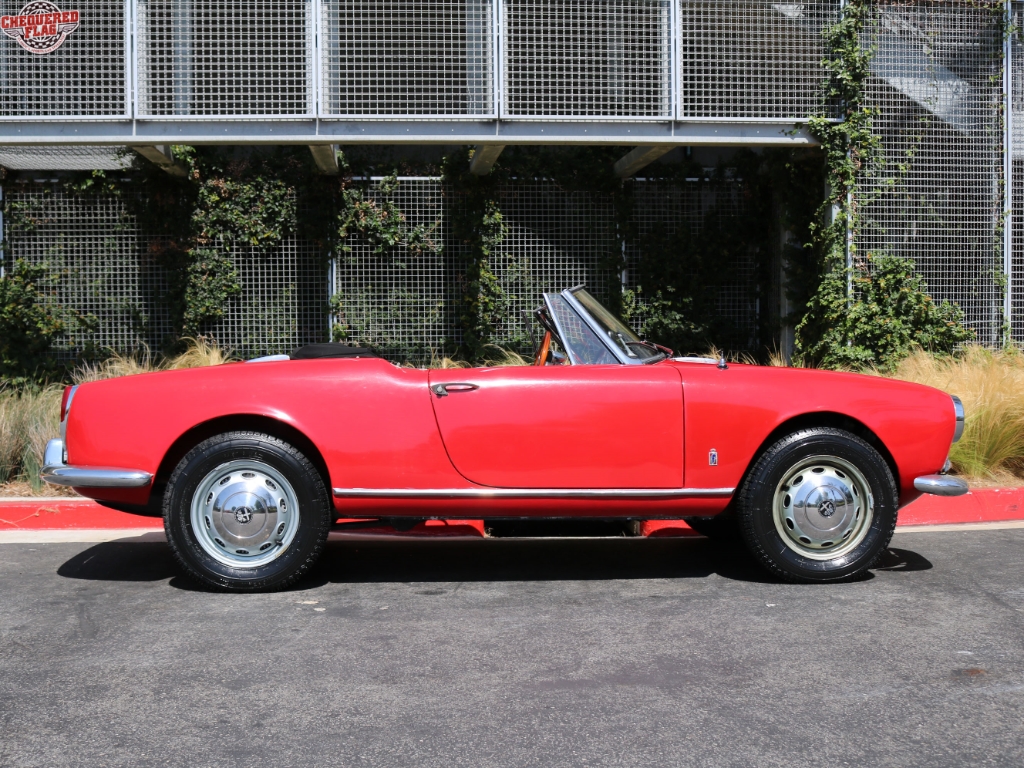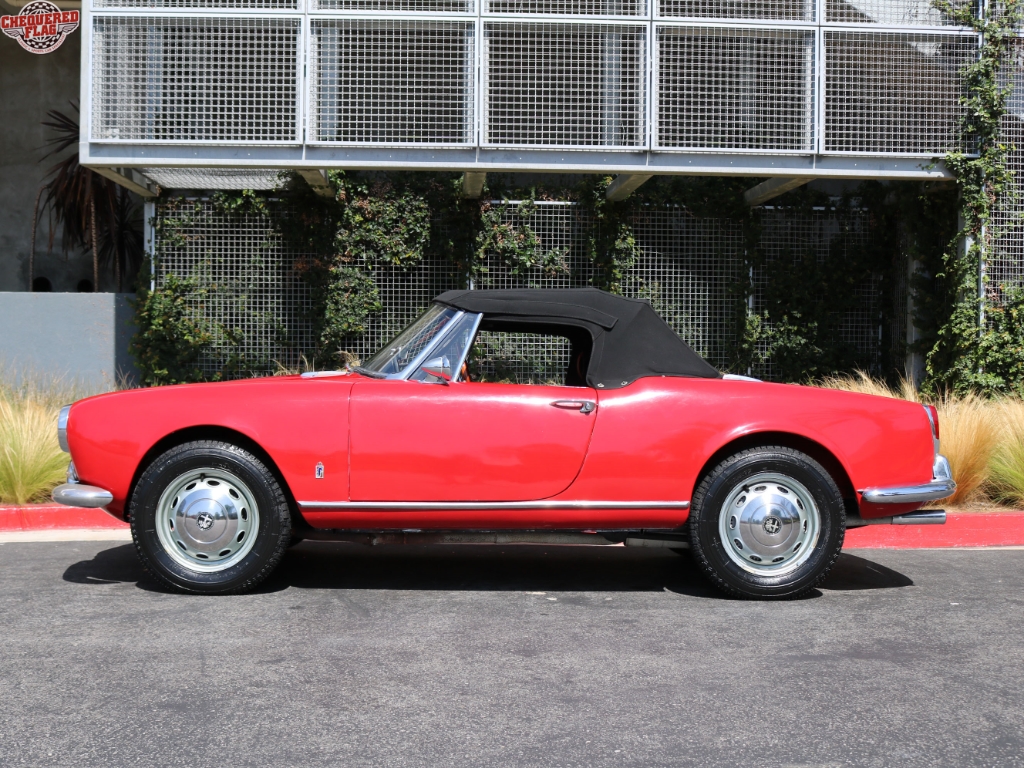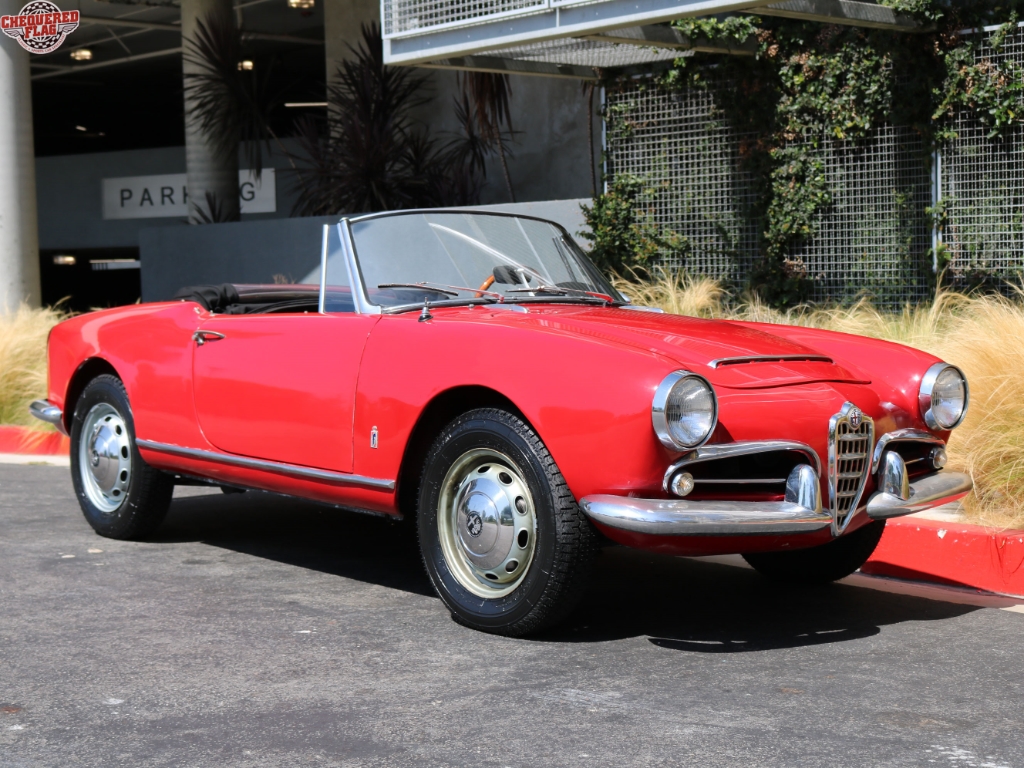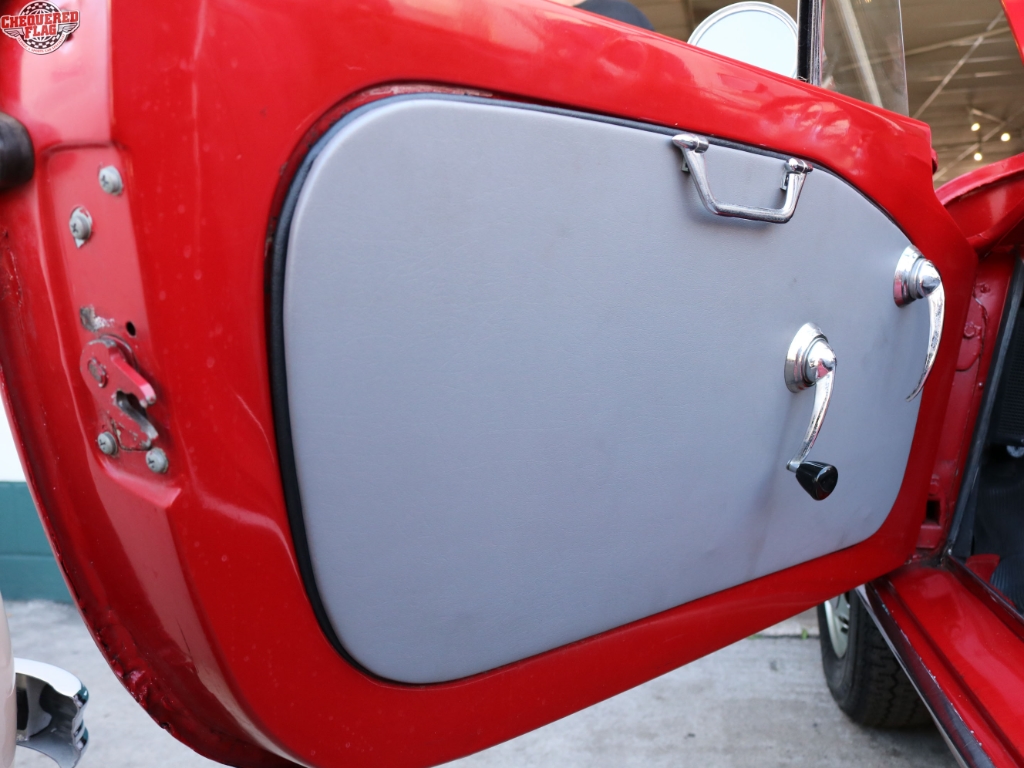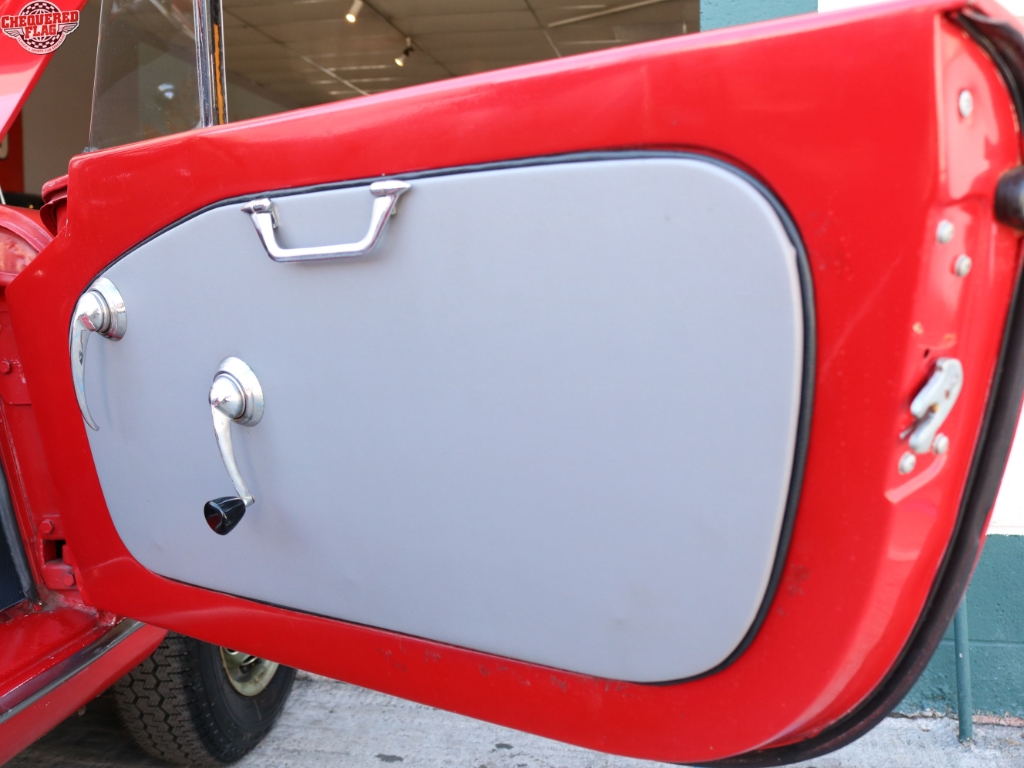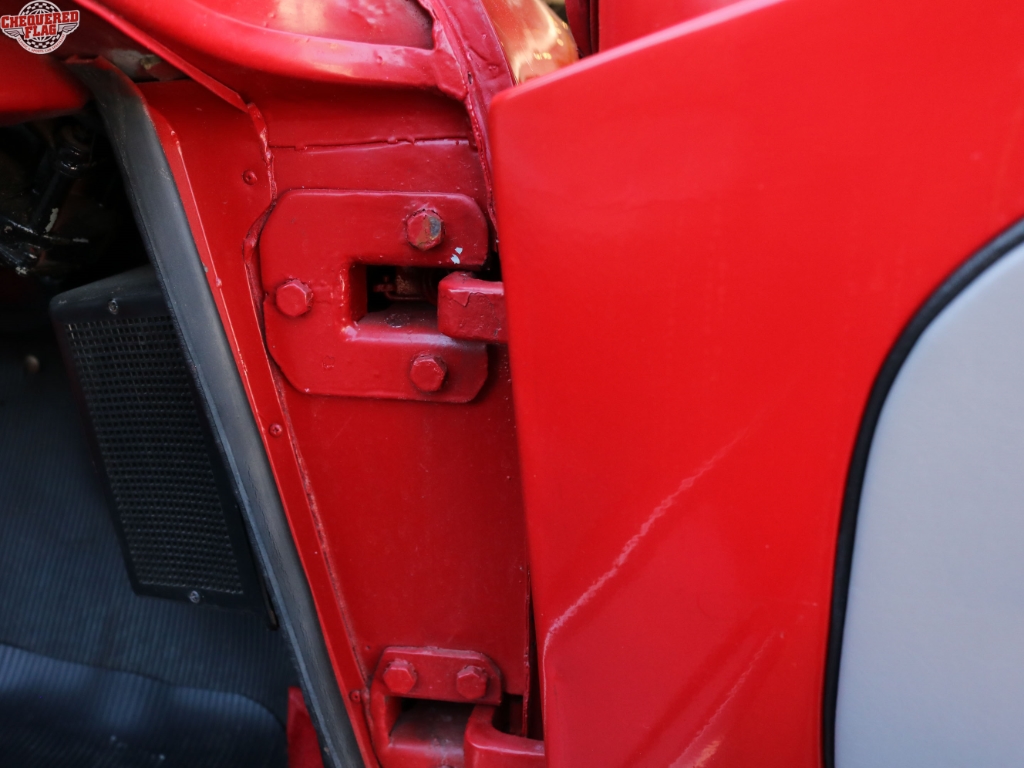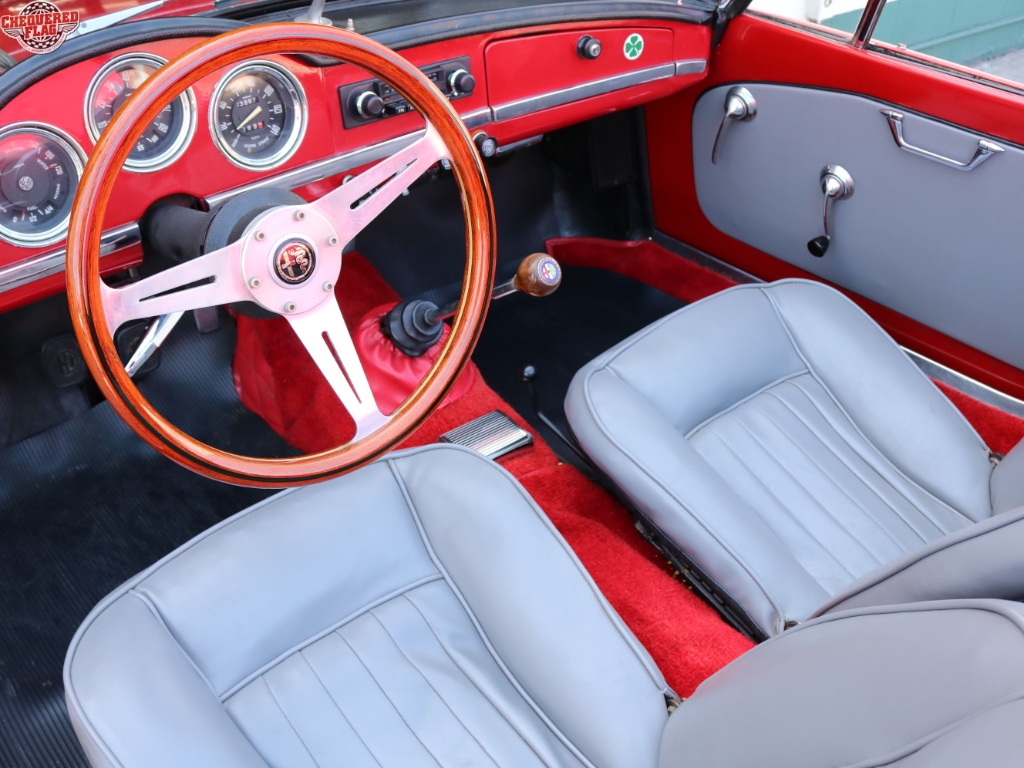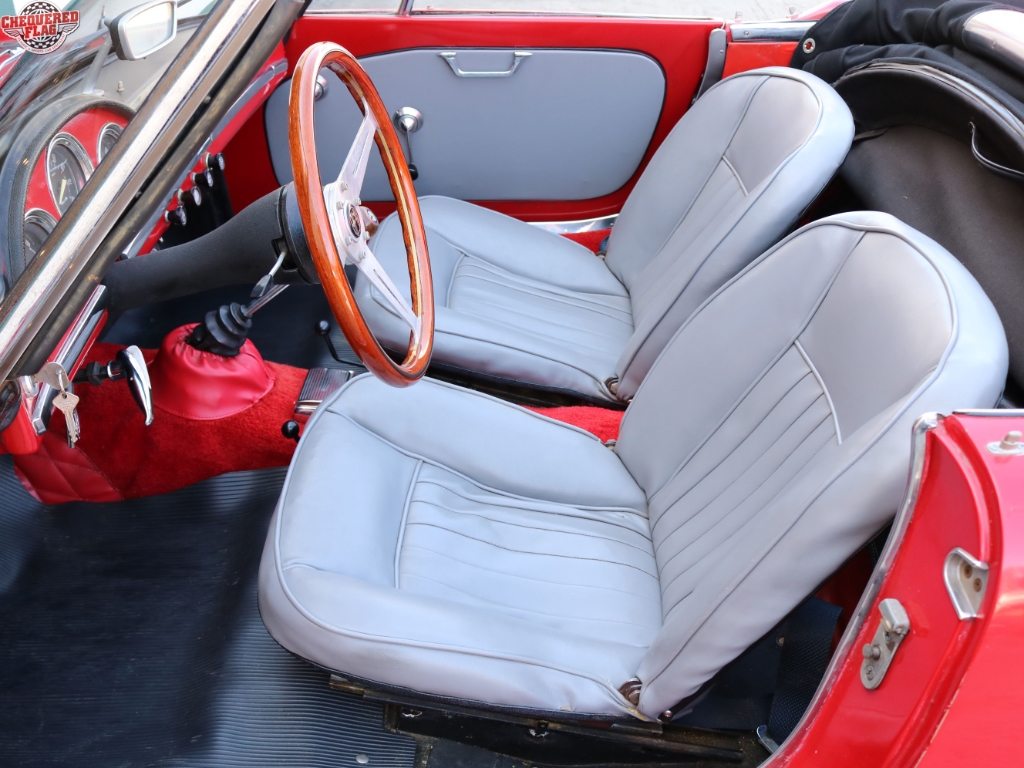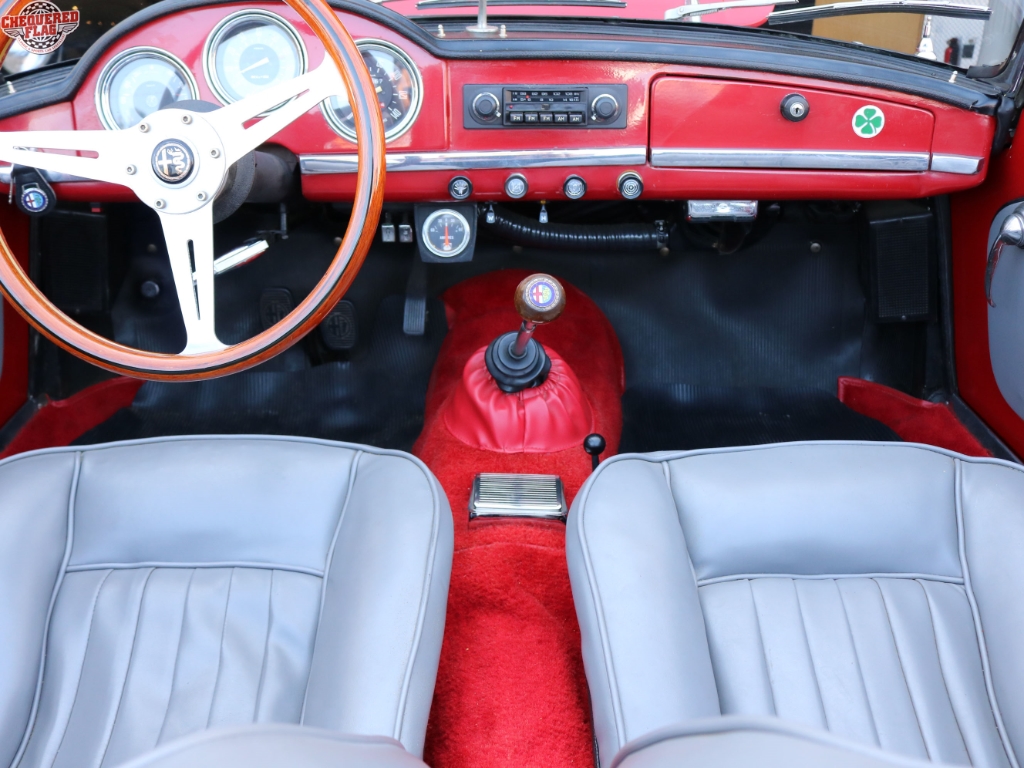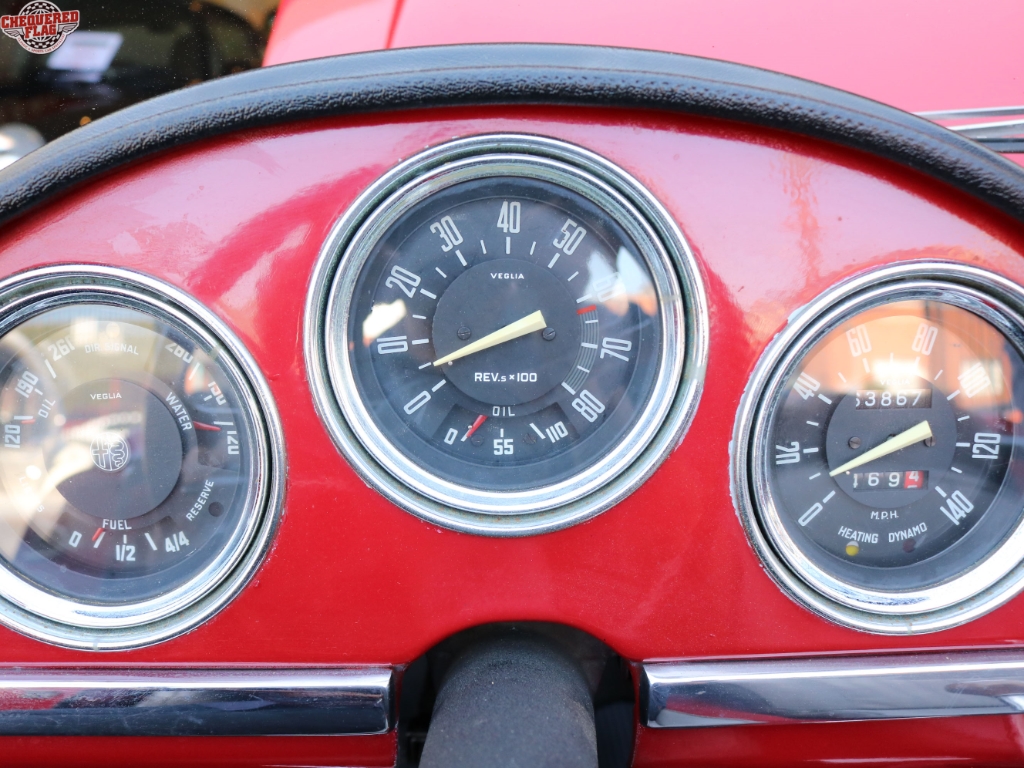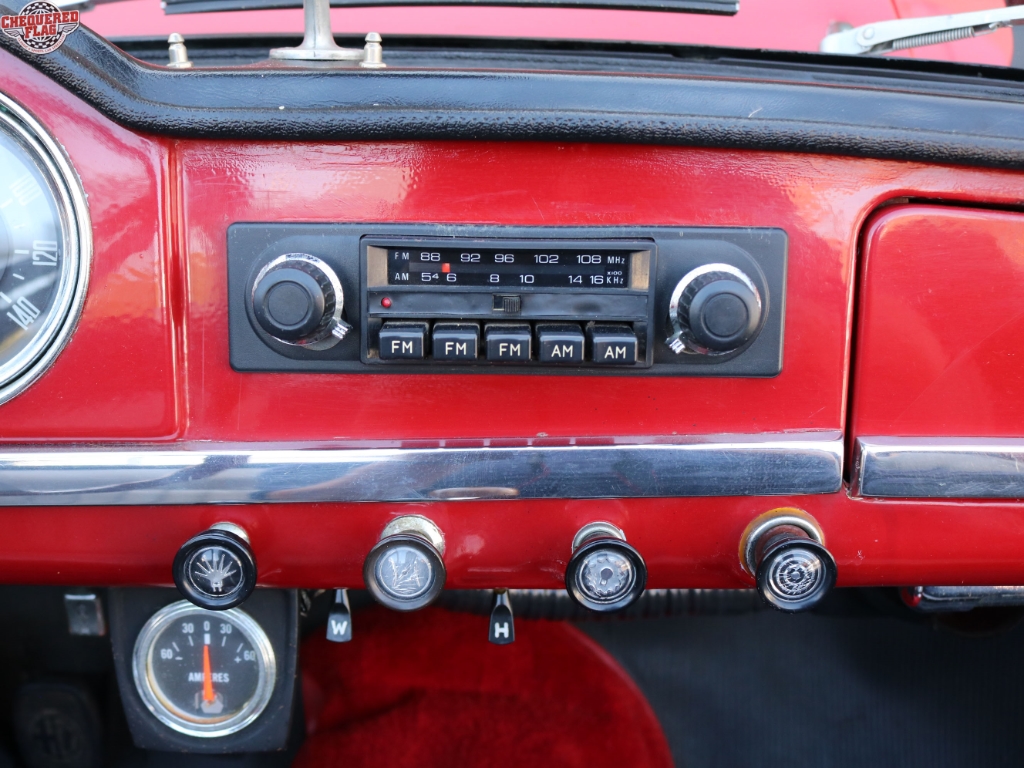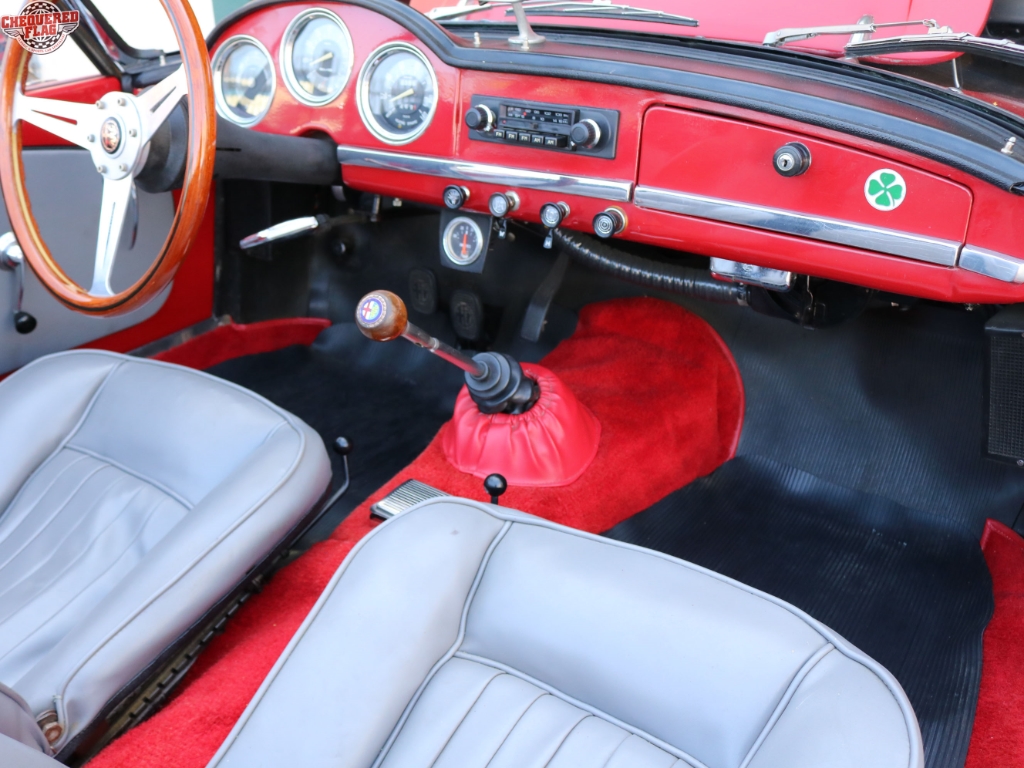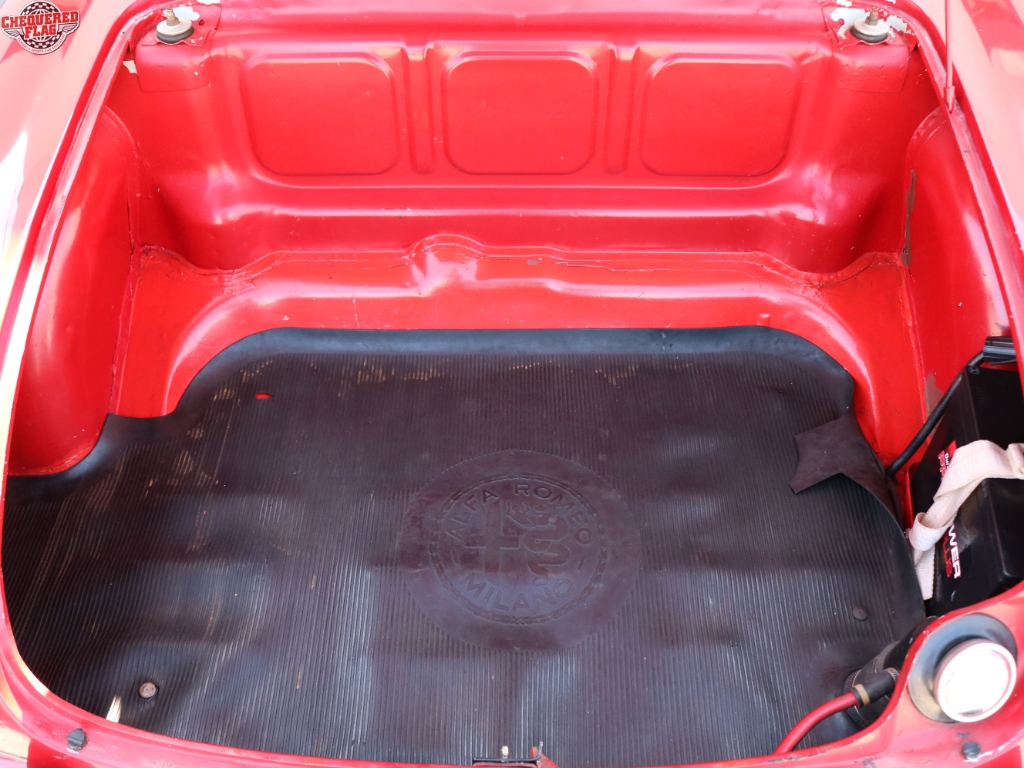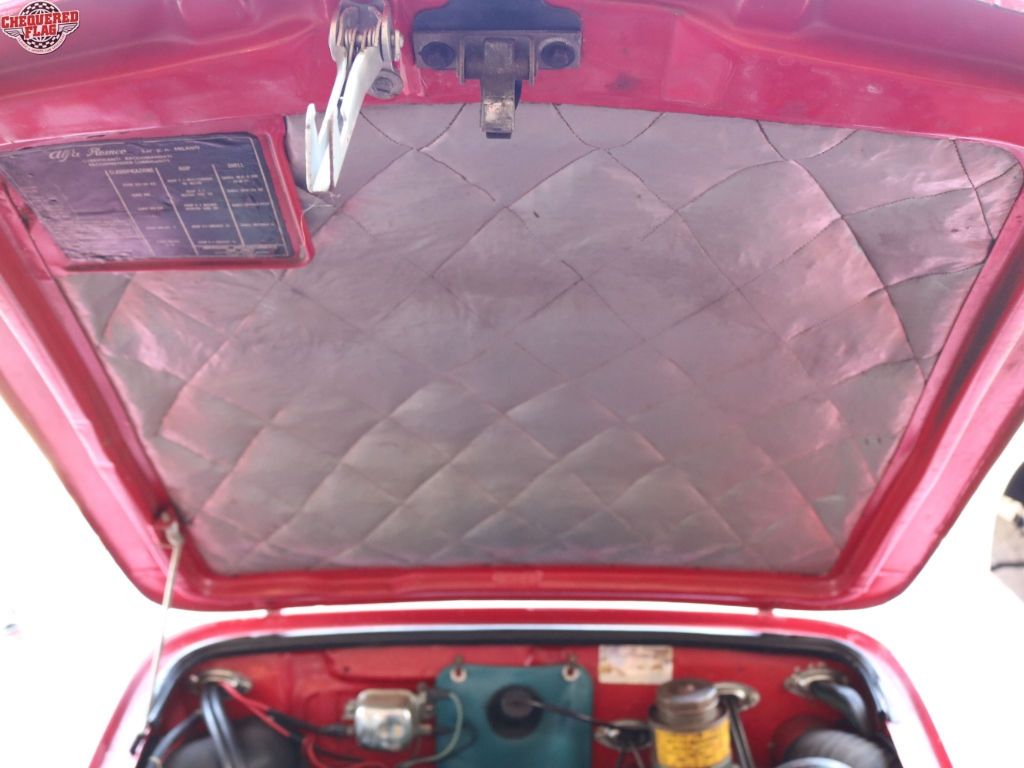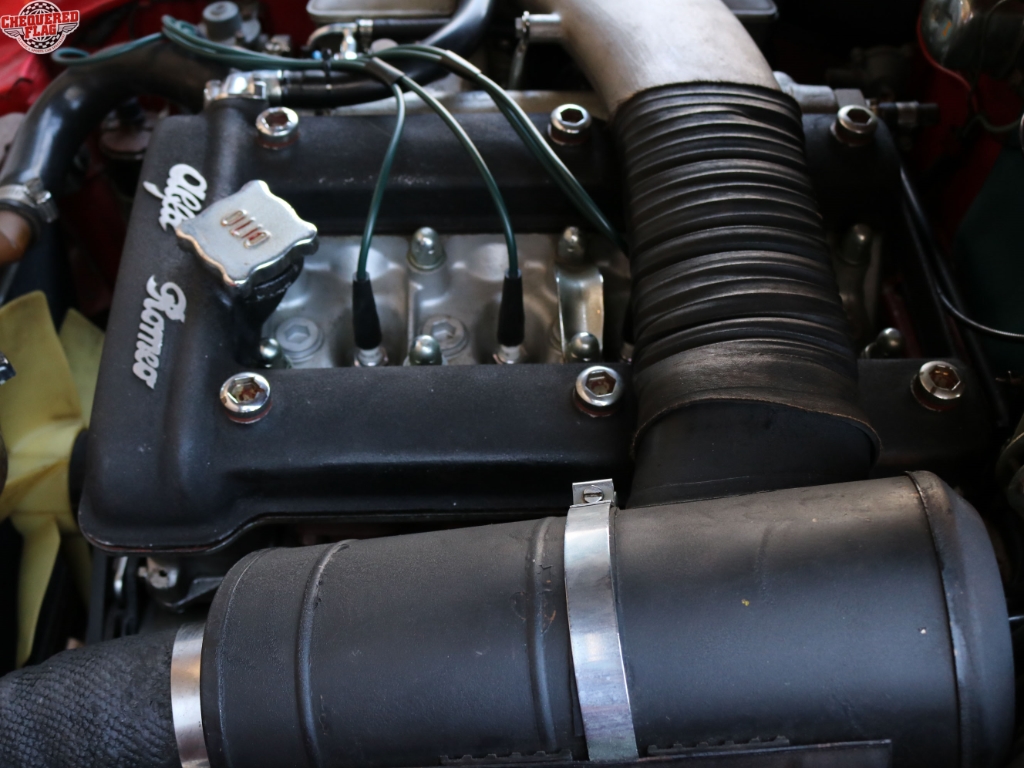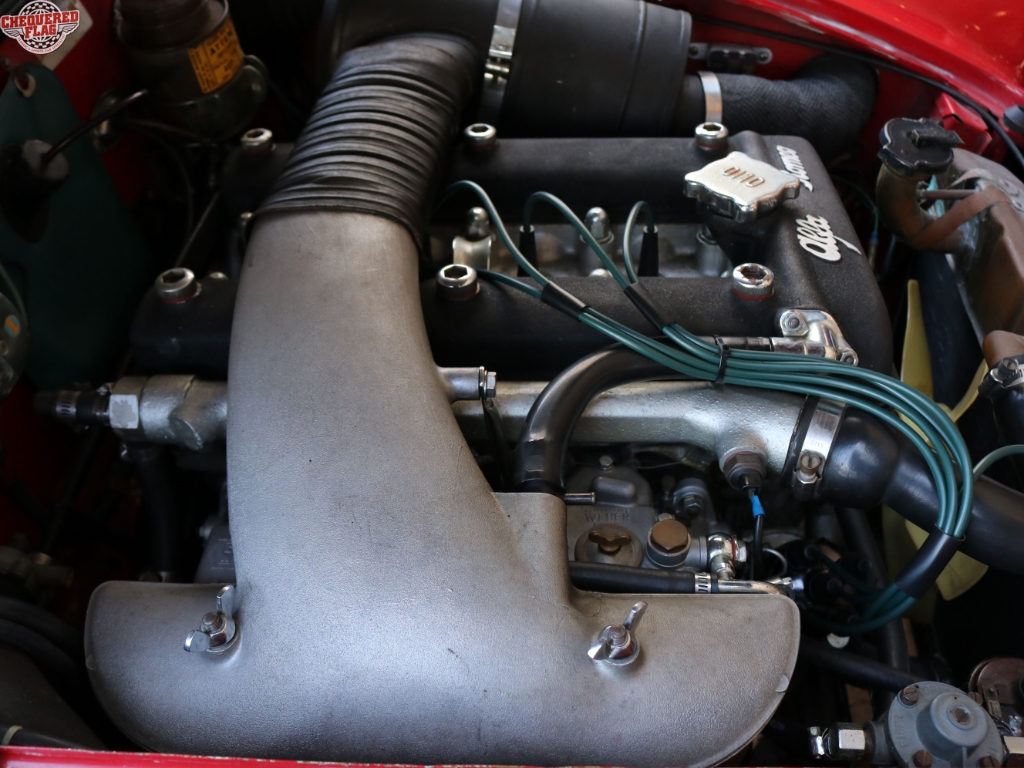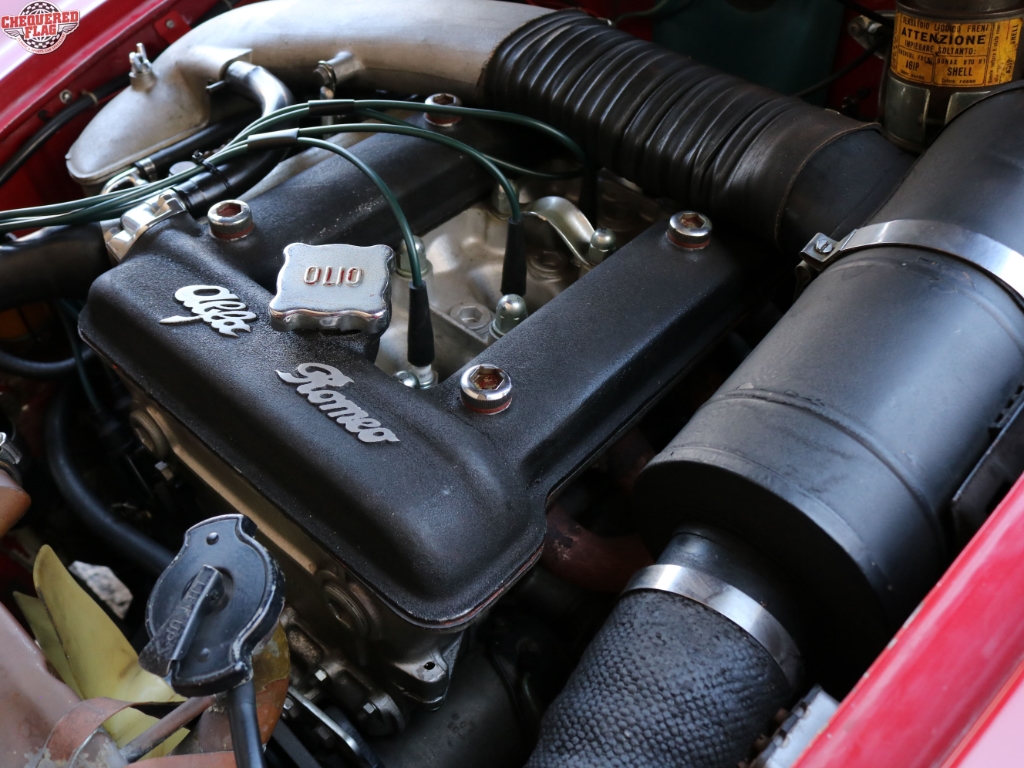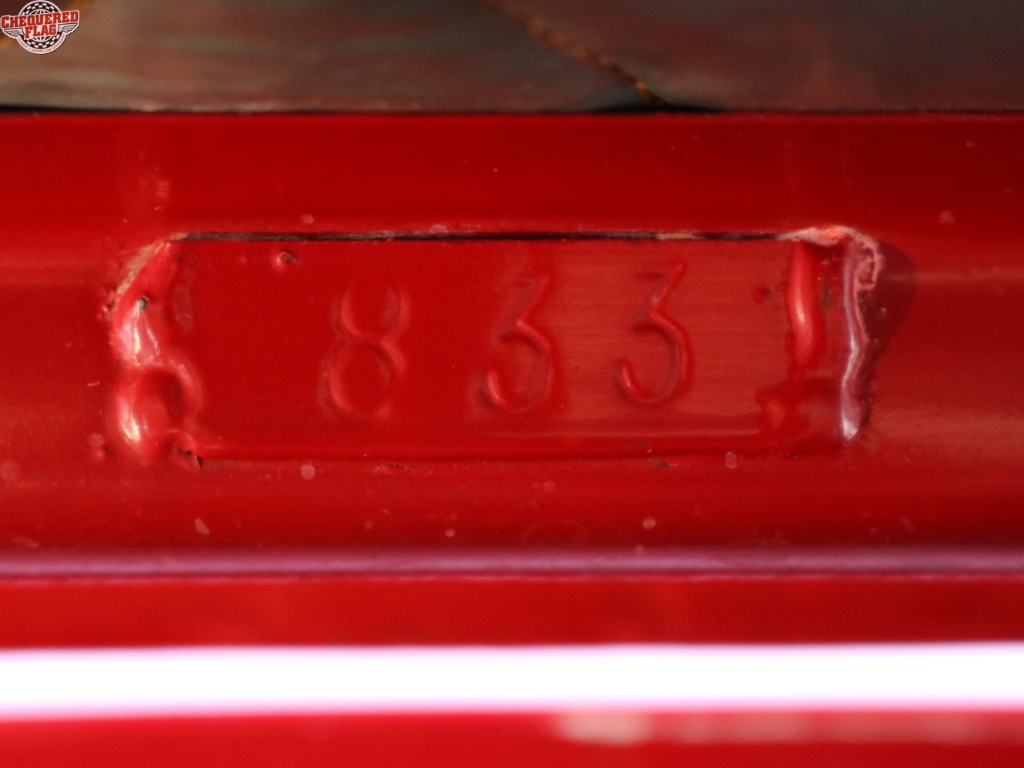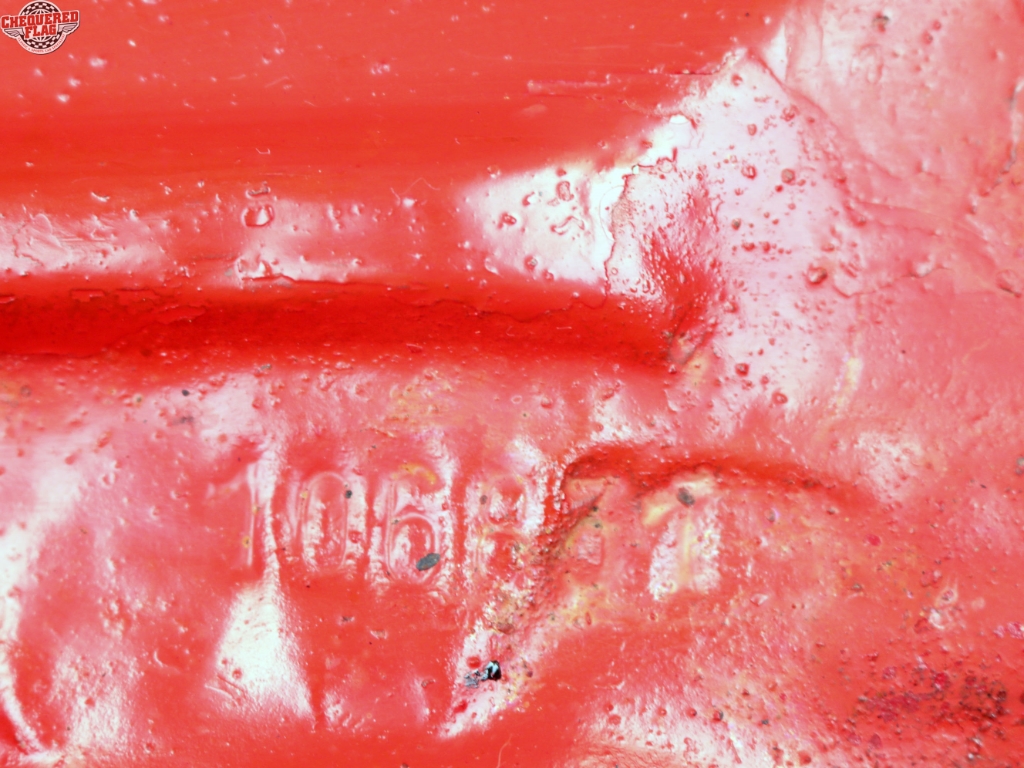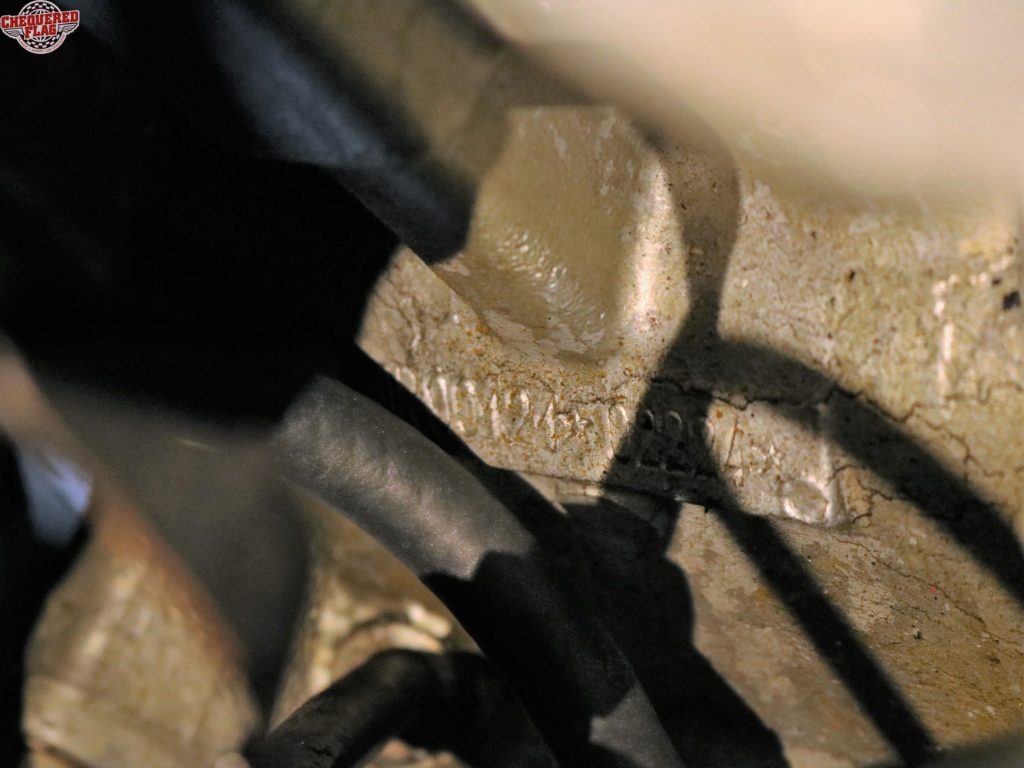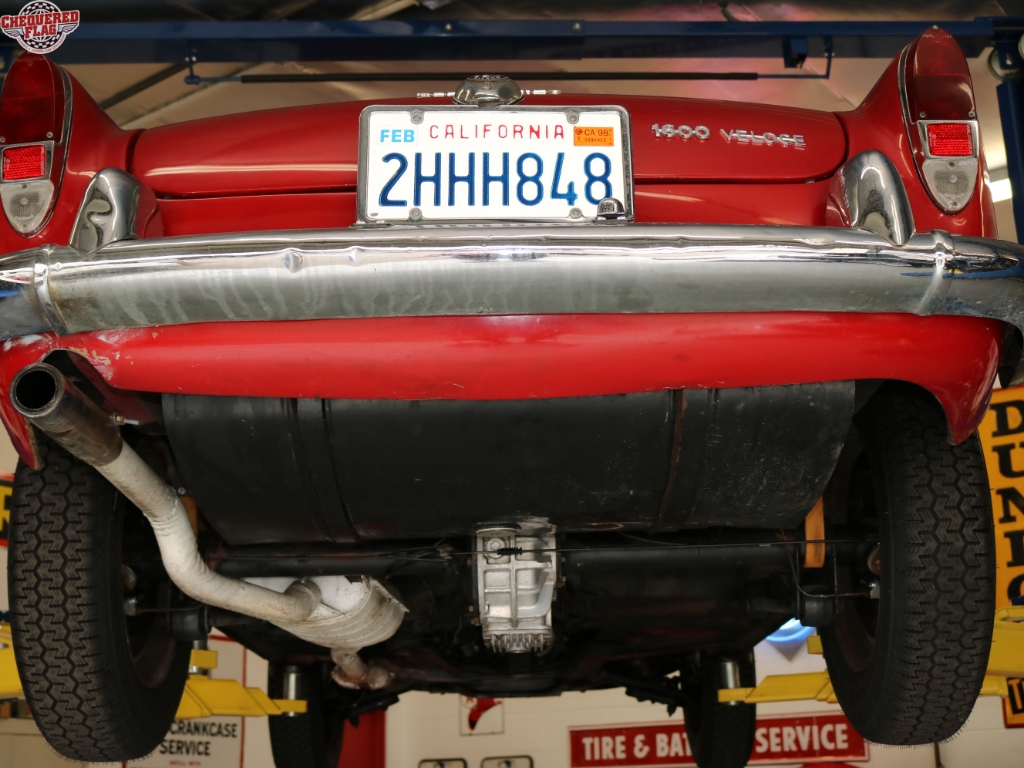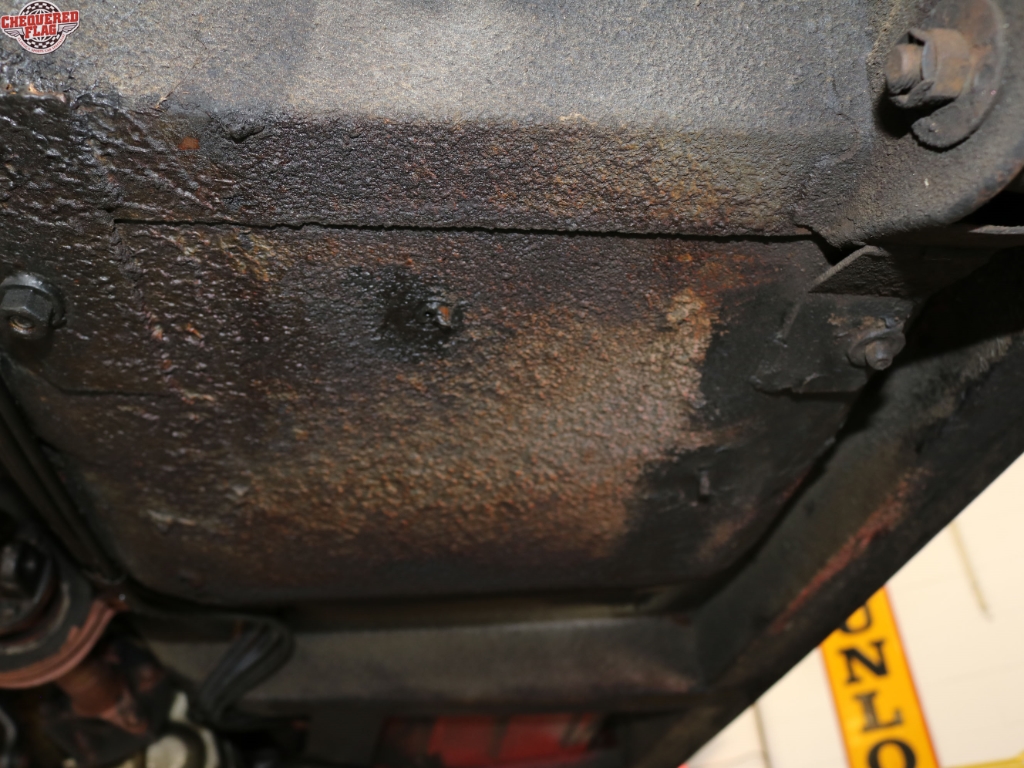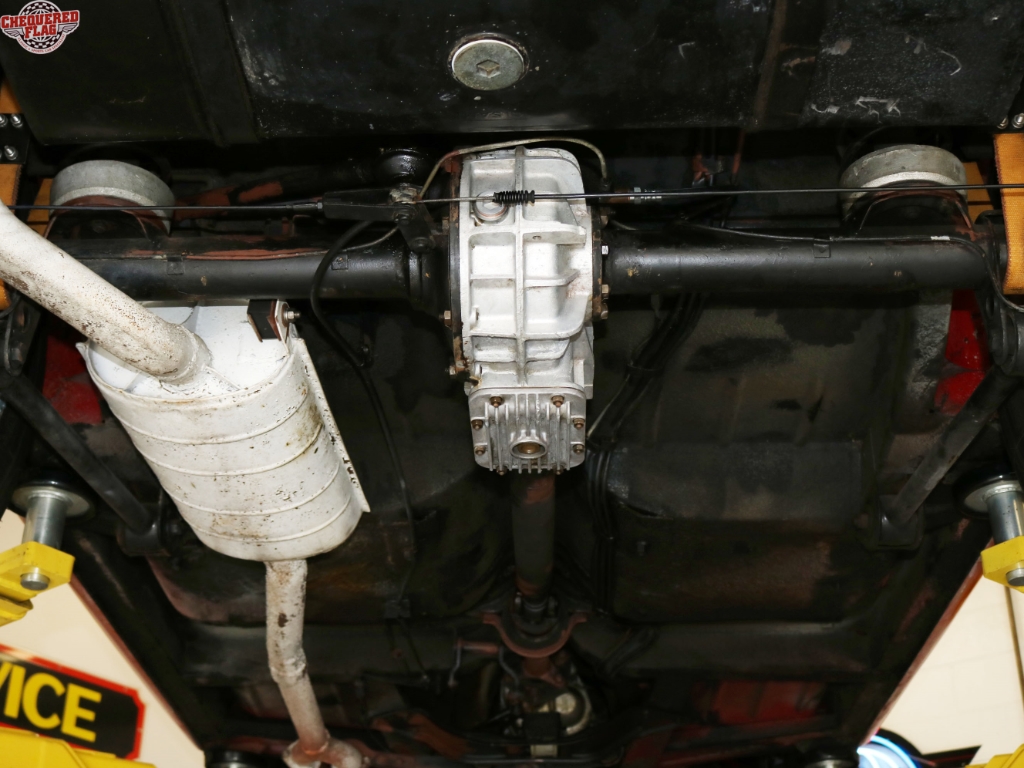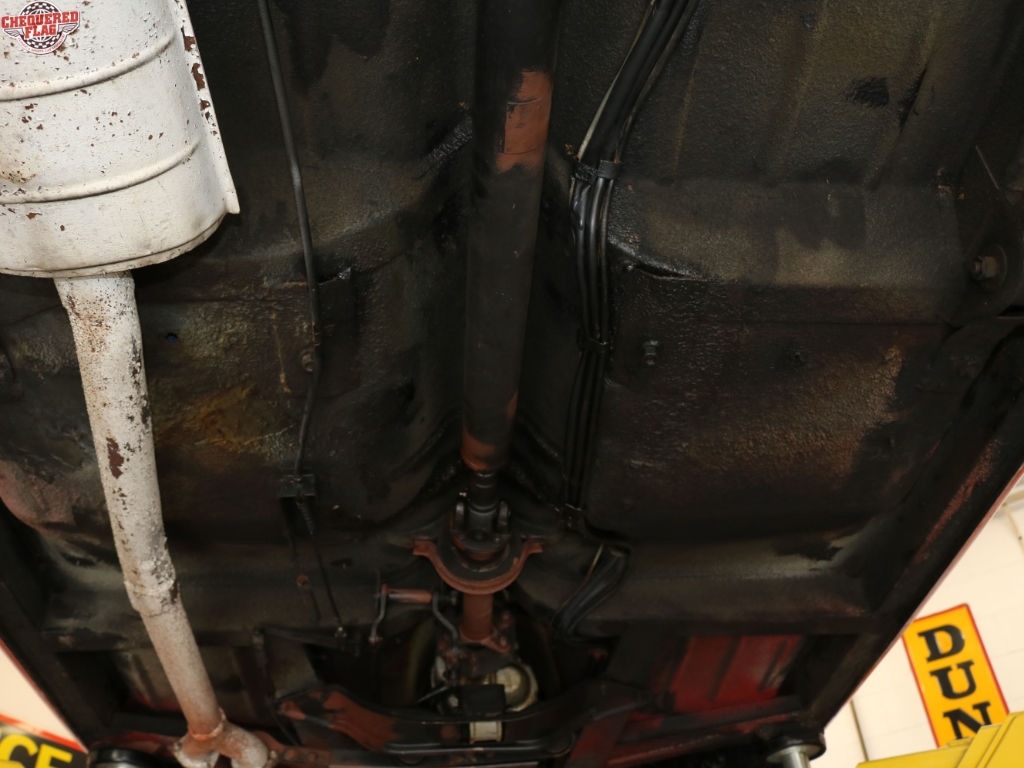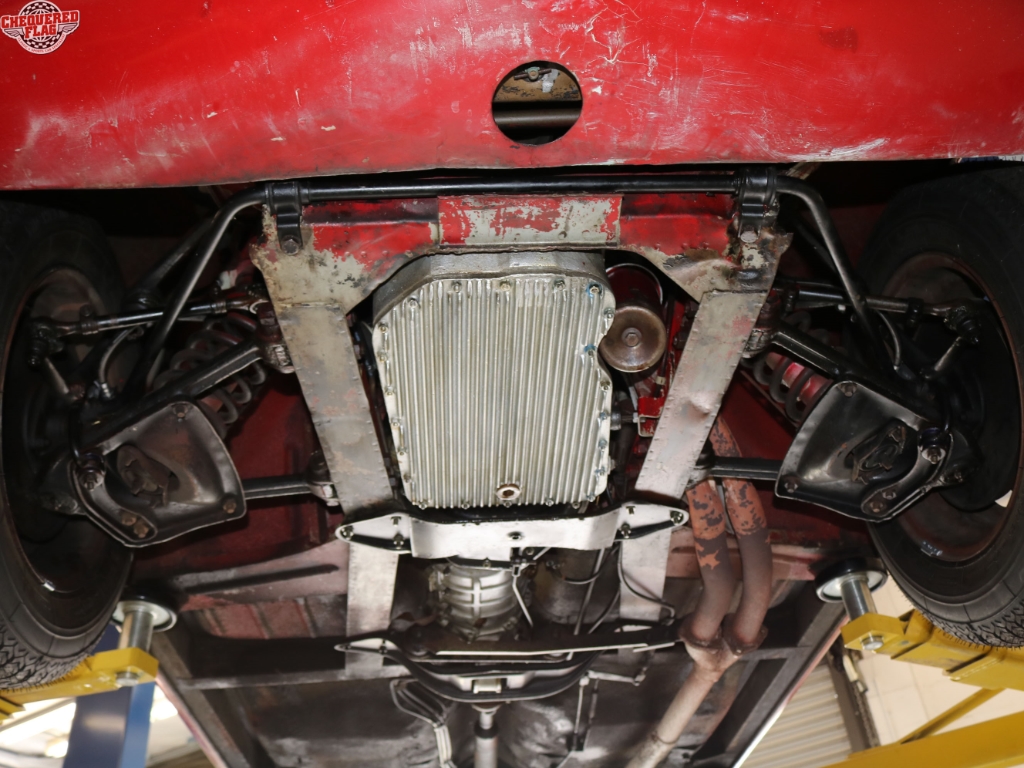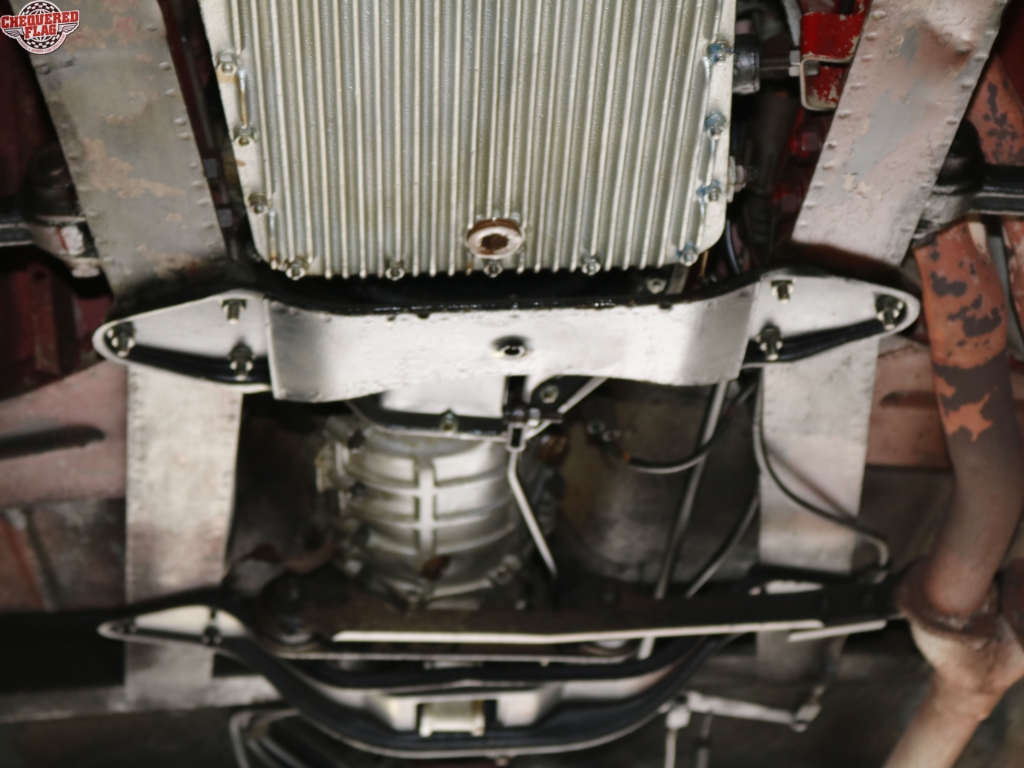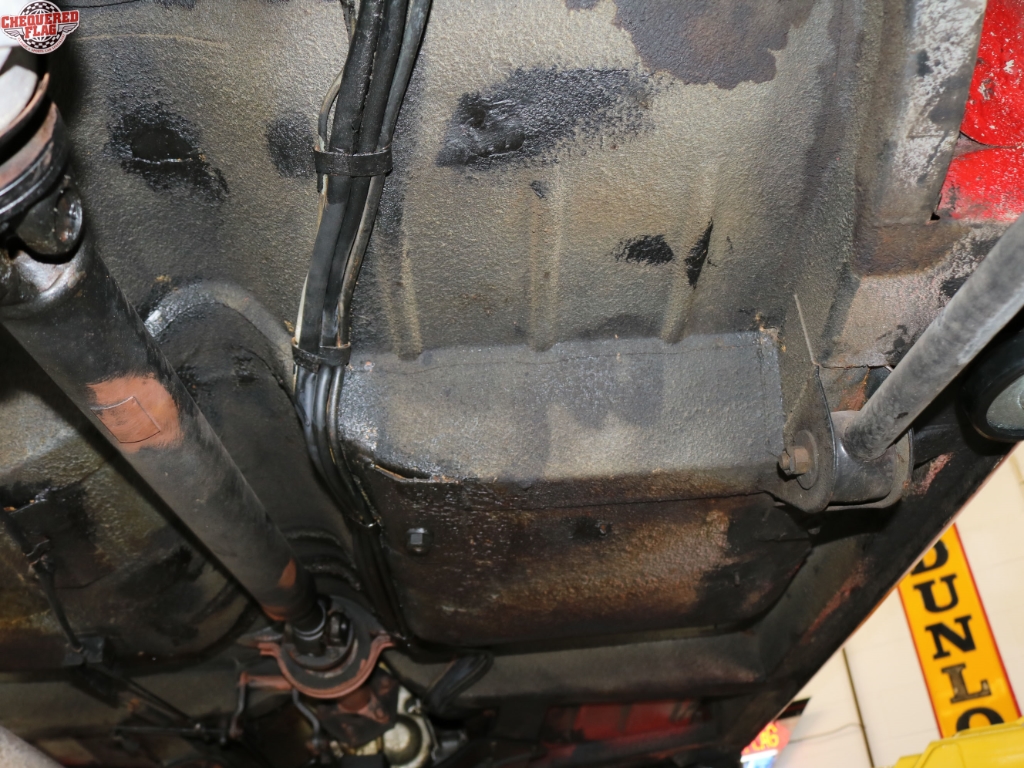 UPDATE AUGUST 2019 FANTASY JUNCTION WEBSITE: (as copied from Hemmings Motor News webpage)
Location: Emeryville, California, 94608
Stock #: FJ2086
VIN #: AR*390342*
Mileage: 63,941
Transmission: Manual
Condition: Mint
Exterior: Red
Interior: Black Leather
Seller's Description: 1966 Alfa Romeo Giulia Veloce Spider
s/n AR*390342*, Engine no. AR00121*02224*
Red with Black Leather
Alfa Romeo, the Italian giant of automobile manufacturing was not always a prolific producer of great sports cars. Prior to the Giulia and Giulietta, Alfas were large, handmade vehicles involving detailed labor and complex fabrication. All this changed when these two brilliantly engineered cars entered the market. With relatively low entry costs and delightful traits, Alfa Romeo secured a promising position in the growing postwar world car market. The Giulia and Giulietta were small, sporty, and charming, yet finely trimmed, giving an air of sophistication young men and women appreciated during this time. Both models enjoyed success, with strong sales in Europe and North America, due in part to growing interest in small sporty cars. Among the most desired of these cars today is the Giulietta Veloce Spider. The Veloce featured a twin cam 1300cc in-line four-cylinder engine, twin Weber carburetors, higher compression ratio, and spirited cam profiles, resulting in improved overall performance. By 1962 the engine was upgraded to 1600, improving both performance and reliability in the new smoother running engine. The Pininfarina bodied Spider would remain in production until 1966, a testimony to the advanced design and captivating good looks. Today, the Giulieta remains highly regarded by collectors and enthusiasts, particularly original Veloce models.
This particular car is a genuine Veloce, retaining the original engine, featuring desirable cosmetics and recent mechanical servicing. The current owner purchased the car from Fantasy Junction in 2017. Prior to his purchase, this Veloce Spider had been previously under long-term California ownership featuring thoughtful preparation to a generally high standard. After his purchase from Fantasy Junction, the current owner enjoyed the car while engaging in additional mechanical work. In order to facilitate more legroom for the current owner, the seat rails were slightly modified and the convertible top mechanism removed to allow the seat to slide further back. Mechanical work included replacing the oil pan gasket and resurfacing the oil pan, replacing the rear main seal, and a new clutch linkage bushing. A new transmission mount, pilot bearing, and ring gear was also replaced along with an oil and filter change. Further work included repairing the horn switch, replacing the oil temperature sender, replacing a section of exhaust and hanger, and sway bar repair and lower A-arm refinishing. The engine was compression tested, recording 190psi across all cylinders. Total invoice for service was $9,600.00.
Today this Veloce Spider presents cohesively with a satisfying glossy red appearance overall. While certainly an older finish (likely applied more than 20 years ago) the overall look speaks well to the quality of the care during over the past decades. The finish has some areas that have been blended in, but the car has been polished out to reflect a nice driver quality finish. A re-spray in the near future would be favorable should the next owner desire a car for shows or concours events. The finish and chrome trim match the overall level of the paint, being presentable and tidy with nice luster and generally good fit throughout.
The overall visual condition of the interior is period correct, having been recently and properly redone using high quality materials and correct components as needed. A very nice set of correct Alfa Romeo black rubber floor mats and a nicely finished tonneau cover completes the interior. The dashboard is in very good condition with preserved and properly functioning original instruments, still retaining good color and contrast to the dial faces. The doors open and shut with a solid feel, though some panel gap variations are evident along the bottom of the car. The side windows roll up and down smoothly and the glass is in generally good condition. The wheels have been refinished in correct silver and have been recently fitted with proper specification tires. The trunk compartment is clean and tidy, outfitted with a spare tire and jack, but no tools.
Lifting the hood, the engine compartment reveals a very satisfying impression of correct cosmetic and mechanical features. Respectfully restored to factory specifications, the finishes are properly applied, exhibiting only minor patina from use. The crinkle black twin cam cover is correctly finished, accented by the cast aluminum air intake plenum leading to the twin Weber carburetors. It appears that the engine compartment and engine was professionally restored as proper fasteners, hoses, wires, and detailed components are in place. The Weber carburetors sit proudly astride the original engine, boasting the factory installed Veloce specifications. The undercarriage is solid and dry with signs of enjoyable use but remaining in surprisingly good condition. There is no evidence of structural damage or support damage, however it appears as though some light body work has been done to the front and rear portions of the body when viewed from underneath, not unexpected given the half century of ownership since assembled new.
The car starts quickly and easily. Slow idle becomes progressive as the car warms to operating temperatures. Good oil pressure and operating temperatures are properly indicated from the recently serviced instruments. Smooth engine response on throttle is snappy, in part due to the Veloce package. Shifting is easily achieved with first gear and nice clutch action to start your 5-speed journey. Syncros are quite good with smooth downshifting. Clutch action and accelerator pedal "feel" are tight and confident. Once underway at higher speeds, the car moves along smoothly, waking up in the high revs thanks to the more potent Veloce spec cams. Steering and suspension on smooth roads is generally good with some shudder across more rugged terrain, but overall in keeping with the sporty nature of these cars. Braking is quite good overall, coming off higher speeds with ease toward complete stops. In all, this Alfa Veloce reminds us of what pure driving fun was all about when first released to the adoring public. The car comes with a convertible top and top bows (not currently installed in the car) receipts showing recent work and service documents as well as copies of California ownership documentation.
A fun, drivable Veloce with matching numbers engine, long-term California ownership, and recent mechanical freshening make this wonderful Alfa Romeo a delightful sports car for someone who wants a mechanically proficient, driver-level car ready for immediate enjoyment or to restore as time goes by.
Price: $82,500