PREVIOUS OWNERS: ALI LUGO, Connecticutt; DAVE DUBRUL, Vermont; TIM HUNT, Vermont; CAP CHENOWITH, Connecticutt; GLEN SIPE, Tennessee; KEITH GORING, Connecticutt; STRADA E CORSA, Netherlands
HISTORY:
MILLE MIGLIA ELIGIBLE
(sister car of MM 1956 and 1957 entries), Fully restored

Now for sale, this exceptional and stunning Alfa Romeo Giulietta 750G Spider 'Sebring' Competizione 1957

Chassis number: AR 1495 G*00301*
Engine number: AR 1315*30709*
Gearbox serial number: serial number 10


One of 24 original 750 'G' Competition spiders ever made. On special order by Hoffman Motor Car Co, New York. In 1956 the factory prototype Mille Miglia car, driven by Consalvo Sanesi, proved often to be faster than the 1500 cc OSCA's. A similar full windscreen 750 G car was entered in the MM in 1957. All 750 G spiders were very special lightweight racing cars, delivered in 'Monoposto' (1956) or in 'Spider' configuration with full windscreen (modified as a 'second thought' by Alfa Romeo Milano in 1957). All had alloy doors, bonnet and boot panels and neither used outside door handles nor inside window lifters. This unique competition Alfa Romeo is factory original and underwent a professional top-level restoration.

Specifications:
-Competition 750 G engine, with special reinforced 1300 cc cylinder block, magnesium large capacity deep split sump, magnesium air chamber, h.c. pistons, Carillo con-rods, sports racing camshafts, two 40 DCO3 Weber carburetors, Veloce split exhaust manifold, Fichtel & Sachs lightweight racing clutch.

- Ultra-rare competition close ratio 5-speed gearbox, only made for the 750 competition cars, factory engraved magnesium casting. Oil pump lubrication.

- Lightened and reinforced chassis and lightweight bodywork construction. All moving parts, bumpers and most trim are in alloy. Punched out holes in bonnet, boot lid and supra-structure of frame. Alloy removable tonneau cover. Two seats in red Vipla with canvas covers, identical to the Sanesi car. Removable passenger screen. No external door handles, pull string door system. Original colour: 'Zagato red'.

- Veglia chronometric revolution counter with external illumination. Extra instruments identical to the Mille Miglia car.

This unique car has recently been completely restored by the owner, the coachwork was restored by Quality Cars, Italy. Everything has been restored to the highest standards. This car is ready for the concours season as well as events such as the Mille Miglia, the car is eligible to participate.

Please do not hesitate to contact us if you have any questions.

We welcome you to make an appointment to view the car in our showroom in Haarlem, the Netherlands, 15 minutes from Amsterdam Airport.

Please feel free to inquire for more details and price.

<b>UPDATE AUG 20, 2016 :

The Alfa Romeo Giulietta 750 G Competizione spider "Sebring" is one of Alfa's rarest models after the war. With only 24 constructed, destined for competition, Alfa Romeo created a special lightweight racing spider, specifically made for Hoffman Inc. in Newark, USA.
The 750 G Monopostos were constructed in 1956 but Alfa Romeo decided in 1957 to modify the monoposto's to full windscreen cars, supporting the theory that Hoffman found the single screen cars a bit hard to sell and requested Alfa Romeo to modify the already ordered cars accordingly (see list in 'Alfa Romeo Giulietta', Tito Anselmi, page 86).

All 750 G spiders had a special chassis with reinforced and lightened structures which can be recognized specifically behind the seats and in the structures inside engine and luggage compartments. All panels like doors, boot and bonnet lids were in aluminium as were bumpers and most of the trim. Doors were opened from the inside with a leather strap to cut weight. No door handles fitted! Instruments were dominated by a centrally positioned large size Jaeger chronometric revolution counter running to 8000 r.p.m., a very rare (and expensive) rev counter indeed. In the Monoposto an external dash light was often fitted for illumination. The frame of the engine bonnet was lightened with punched out holes in the frame and the same treatment was found in the boot lid. An alloy tonneau cover with quick fasteners covered the passenger seat which was actually still in place beneath. Even the famous Monoposto Sanesi car in the Mille Miglia 1956 had two seats.

The engines were prepared by Conrero or by the Alfa Romeo Competition department. The car was not advertised or listed and even the spare parts book did not mention the ultra-special version '750 G'. See for serial numbers the book on Alfa Romeo Giulietta, by Tito Anselmi, page 186.

Performance was at a very high level with several successful results in competition in Europe (also in the Mille Miglia 1957) and particularly in USA racing.
Later some cars found their way to important collections. In the Lawrence Auriana collection (USA) a 750 G spider is kept which was shown at Pebble Beach several years ago. There is another 750 G spider in private hands in Italy. To the best of our knowledge less than half the number of cars survive. We are aware of four of them worldwide. This is a 'specialist car' and an incredibly rare competition Alfa Romeo. More rare than the SZ series or SV lightweight versions and additionally the 'G' is a guaranteed entry in the Mille Miglia or at any major concourse on the globe.

This car, serial number s/n '00301' was found in Rome in 2011. Years before the car was imported from the USA by an Italian enthusiast. It was found to be in a neglected state, albeit mostly complete: the body suffered various damages due to competition with indignities to the panel work and sub frame. Also the front wheel arches were poorly modified. The car was in a (wrong) light red/orange but came complete with engine, carburettors, magnesium sump and instruments. Documents reveal that the car was imported from the USA in November 2007. The body shape was of the 'Monoposto' configuration with a single windshield fitted. A racing sticker on the right side of the rear wing referred to its US racing. Contact with the Alfa Romeo Register in Milan revealed that this car, being the 9th 750 G competition spider was delivered in 1957, factory modified into the full windscreen version before being exported to Hoffman, USA (documented). The competition background could clearly be recognized judging the type and number of dents and other indignities that mostly occur in tough racing. As said also a period racing sticker on the side reminded that fact.

The car underwent a painstaking restoration to the highest level that took five years to better than new condition. In May 2011 the car was bought and transported from Rome to Carrozzeria Quality Cars (Italy), one of the best and prize winning 'carrozzerias' in Italy. Although the car was modified by Alfa Romeo to the full windscreen configuration before it sold to the USA, it was restored to its original monoposto configuration with the single screen as found and raced in USA competition. All original panels were used again with conservative replacement of some of the corroded steel and alloy parts. After careful analysis of old paint layers it was found that the original color was similar to Alfa Romeo 'Zagato red'. This color was applied on the car by Quality Cars. The seats are in a similar shade of red 'Vipla', the correct period semi-leather on textile basis as used in the fifties, particularly in racing cars. Over the seats covers made of canvas were employed, similar to the covers of Sanesi's car in the Mille Miglia. These canvas covers create better sideways grip than the more slippery 'Vipla' material and allow for better ventilation. They are easy to remove. All findings have been photographed and documented.

Quality cars did the body restoration of many customer cars of Strada e Corsa, Holland (www.stradecorsa.com). Strada e Corsa performs top quality restorations in collaboration with Quality Cars , winning many 1st and 2nd prizes at Ville d'Este, Florence, Schwetzingen and Pebble Beach (2014 and 2015). This observation stresses the quality of their team work. photo documentation was made during the work at Quality Cars showing the extent of the panel and chassis work.

The engine features many special competition details:

ü All original, specially reinforced 750 engine block, probably sand cast.
ü Magnesium air ducting unit connected to the metal filter canister
ü Magnesium large capacity sump (consisting of two parts)
ü Two 40 DCO 3 Weber carburettors on correct and elaborated inlet manifold
ü Veloce split headers
ü High compression light weight competition pistons
ü Carillo connecting rods with high tensile Carr bolts
ü Specially balanced crankshaft and lightweight flywheel with Fichtel &
Sachs diaphragm clutch and pressure plate
ü Racing camshafts with high lift for torque
ü Alloy crankshaft pulley
ü The petrol tank is a correct steel Veloce tank as used in the competition
models. This has also been restored, including the inner metal structures.

The competition 5-speed gearbox:
This is a unique piece as only used in the very rare 750 competition cars and
as possibly also used in Sanesi's Mille Miglia 1956 car. It has 5 speeds with close ratio gears, is pressure lubricated by an oil pump and completely unlike the standard 4-speed Spider Veloce gearbox. On inspection we found that all gears are engraved '750 Competizione'. The rear part of the gearbox is cast in magnesium and features a large sump vent. It has number 10 stamped into the box and is hand engraved with an electric pen (original) showing the text: 750 Competizione. Even Alfa Romeo insiders have rarely seen a similar gearbox and there is no doubt that just a very few were ever used and only in the early 750 competition cars.

Axle, brakes, suspension and wheels were all rebuilt to the highest standard. The original steel Borrani disc wheels are fitted with Pirelli Cinturato tires using the correct Giulietta hub caps as is an original fitting of the 750 G competition cars. Background of this feature is that Alfa Romeo presented the cars to the public being 'not unlike a standard customer 750 F spider', albeit with the power and specifications of a full blooded race car, in order to enhance the sales of the standard spider road cars.
Lots of literature on the subject can be found in various books on Alfa Romeo history. The 750 Sebring spider is also a much admired and sought after miniature in the car model collector's world.
The car is as described and fully documented. Truly a work of art. Many photos of the car before, during and after restoration to its present glory are available. Comes with US and Italian Customs and transport documents.
A car for the serious collector of Alfa Romeo history and a guaranteed entry in the Mille Miglia of 2017 or thereafter.
But not only a piece of art but also a very quick and manoeuvrable competition spider to be enjoyed on road, track and show!
Price: € 690.000,- f.o.b. Rotterdam ( approximately equal to $ 772.000,- USD) .

You are more than welcome to see the car in our showroom facility in Haarlem the Netherlands only 15 minutes from Amsterdam Airport. Please don't hesitate to ask me if you have any questions or request.

With kindest regards,
Lennart Schouwenburg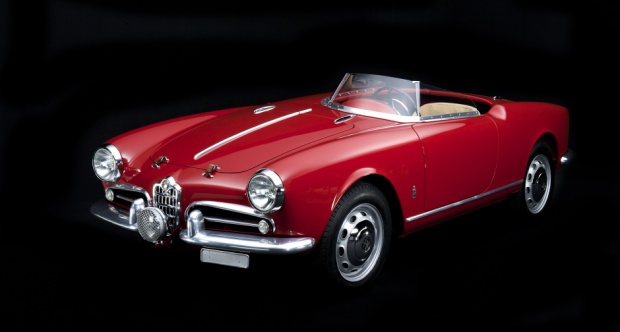 <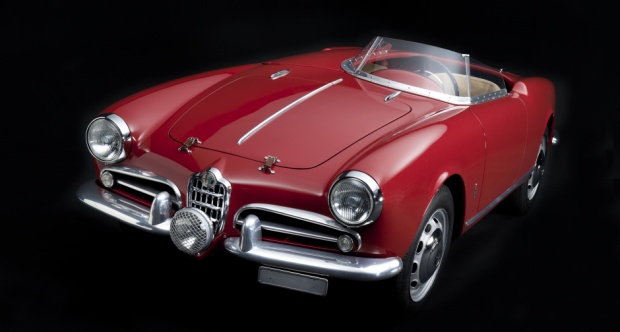 <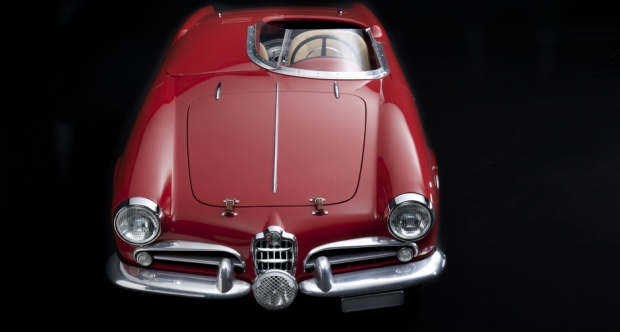 <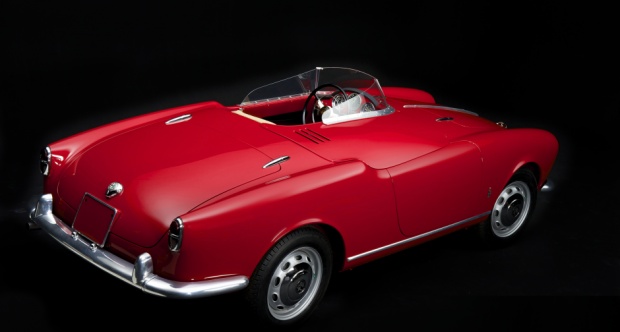 <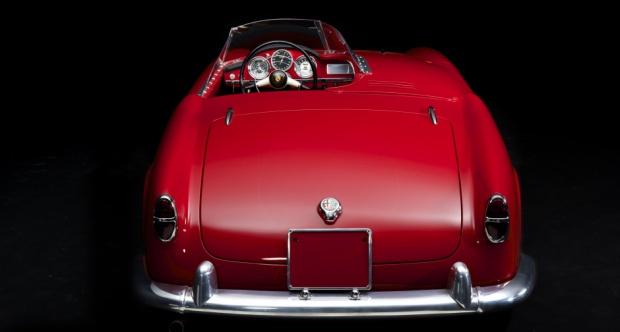 <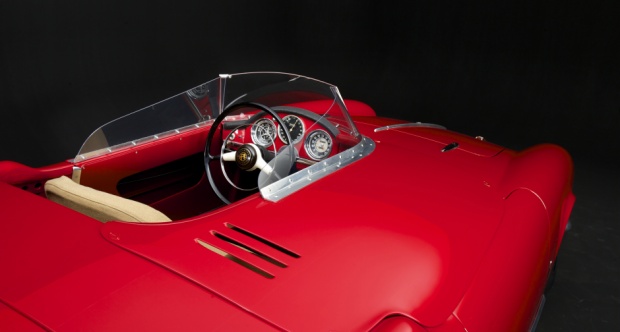 <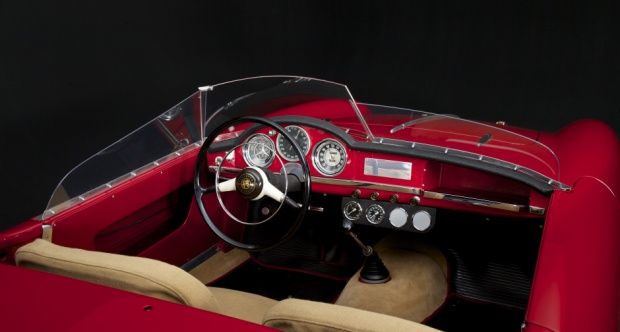 <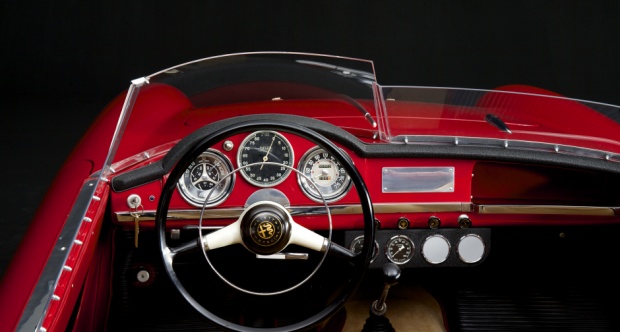 <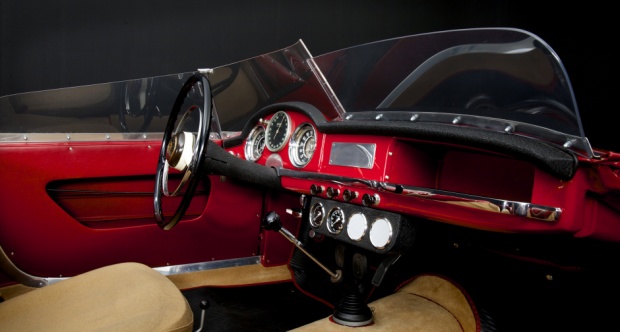 <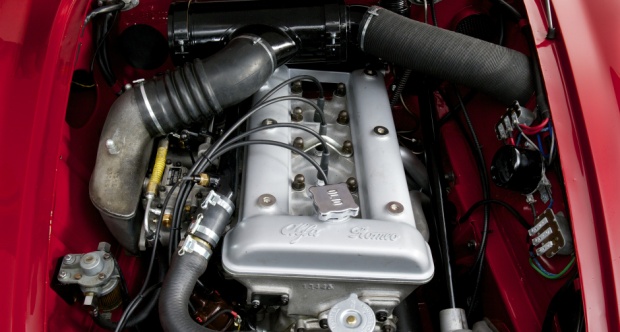 <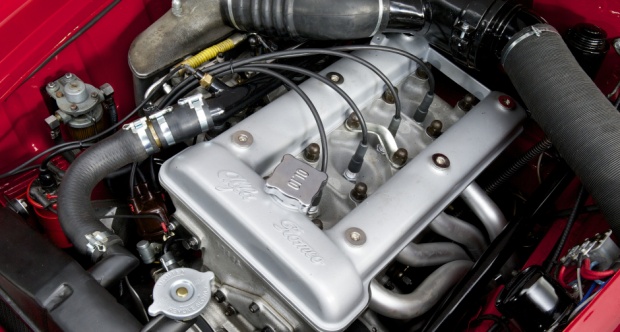 <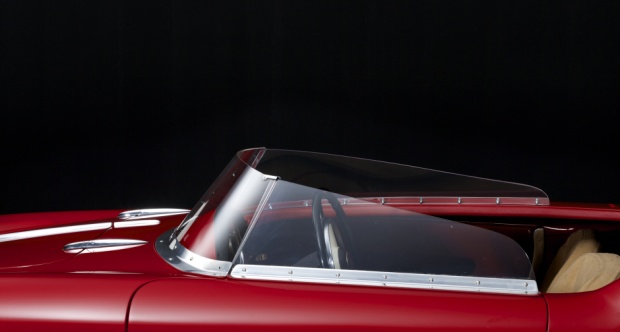 <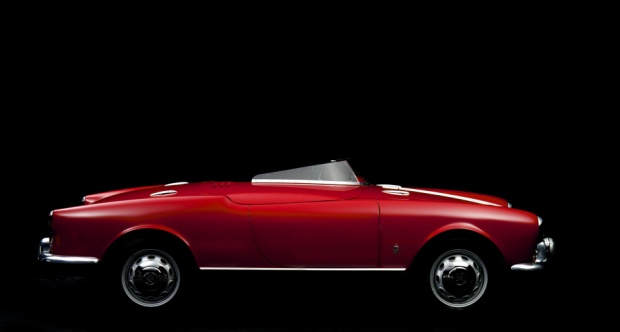 UPDATE: December 23, 2016 RM SOTHEBY's AUCTION WEBSITE PARIS 2017;
Auction: Feb 8, 2017 Location: Paris, France Stock #: PA17_r122 Seller's Description: 1957 Alfa Romeo Giulietta 750G Spider Competizione To be OFFERED AT AUCTION at RM Sotheby's Paris event, February 8, 2017.120 hp, 1,290 cc twin-overhead cam inline-four engine, twin Weber 40 DCO3 carburettors, five-speed manual close-ratio gearbox, independent front suspension with twin wishbones and coil spring/damper units, and rigid axle rear suspension with coil spring/dampers. Wheelbase: 2,200 mm One of only 24 such cars constructed, and one of only four thought to survive Confirmed by Alfa Romeo Register as being the 9th 750G constructed Imported to the United States by Hoffman Inc. of Newark, New Jersey Documented by Alfa Romeo expert Vito Witting da Prato as the most correct of all 750G Spiders Subject of a five-year restoration by marque specialists Strada e Corsa of Haarlem, Netherlands
New York-based Alfa Romeo importer Max Hoffman had, in 1956, identified a market for a small-volume, lightweight, ostensibly production-based car specifically aimed at the United States racing market, which ultimately resulted in the 750G Giulietta Spider. Constructed with a lightweight reinforced chassis, Conrero-prepared competition engine, and "Monoposto" bodywork with wraparound windscreen, these cars received a number of lightweight components, including aluminium body panels, doors and trim, as well as no exterior door handles. Some cars were even outfitted with chronometric Jaeger rev counters or a close-ratio gearbox partially cast in magnesium. A handful of cars raced in Europe, with loyal Alfa test and former Grand Prix driver Consalvo Sanesi participating in the Targa Florio, Giro di Sicilia, and Mille Miglia of 1956, and only 24 were constructed in total.Regrettably, as with many racing cars of the 1950s and '60s, the rigours of racing surpassed the need for comprehensive record keeping, so the exact competition history of chassis number 00301 remains unclear.
Previously owned by well-known Alfa Romeo collector Keith Goring of Norfolk, Connecticut, it was imported from the United States in November 2007 and was found in a neglected but complete state by the vendor in Rome in 2011.
The body, whilst exhibiting minor competition-related damage, was largely salvageable and rust free, and the engine still with the car retained its highly desirable sandcast 40 DCO3 Weber carburettors and magnesium sump.Over the next five years, the car was completely restored by Pebble Beach award-winning restorers Strada e Corsa, of Haarlem, Netherlands. The "Monoposto" bodywork was reinstated by Carrozzeria Quality Cars of Vigonza, Italy, with great care being taken to reuse all the original panels. Forensic work uncovered hidden layers of Alfa Romeo "Zagato Red" during this process, and the car was duly repainted in this shade. A comprehensive electrical overhaul of the car was also carried out in Italy by specialists Elettrauto Franco, of Schio.The mechanical restoration of the car was principally undertaken by Strada e Corsa themselves and included a full engine rebuild, retaining the reinforced 750 engine block, magnesium airbox, magnesium sump, Veloce-type tubular exhaust manifold, and Weber carburettors. JE lightweight competition pistons were utilised, as were Carillo connecting rods, a balanced crankshaft, high lift racing camshafts, a lightweight flywheel, and racing clutch. The rare five-speed close-ratio gearbox, specific to 750 series competition cars, was rebuilt, as were the suspension, brakes, and rear axle.The car is EEC road registered and in possession of a FIVA passport.
Impeccably presented, it is accompanied by a comprehensive photographic restoration file, passenger tonneau cover, and separate passenger windscreen. Simply stated, a 750 G Spider is a must for any serious Alfa enthusiast considering its performance credentials and sheer rarity. Chassis number 00301 offers the perfect opportunity to re-trace Sanesi's steps in the Mille Miglia in 2017 or beyond.