Previous Owners: Owned the car since 1981 when it was given as a wedding gift.

The car has 244,488 miles and the engine was rebuilt in 10/2000.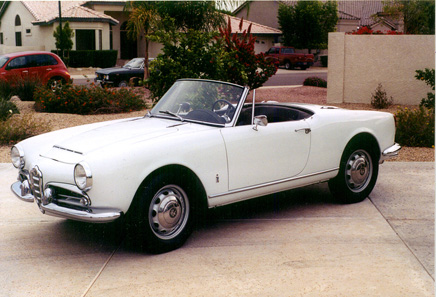 Gooding and Company website January 2018 Scottsdale Auction:
The high-performance Veloce version of Alfa's popular Spider added more than just twin Weber carburetors – it was a highly tuned variant that utilized dozens of special parts and features unique to this model. The improvements yielded a nearly 24% increase in horsepower, making the 101 Series 800 Spider Veloce the fastest and most powerful of Alfa Romeo's Giulietta/Giulia production models to date.
Externally, a raised hood scoop – necessary for the familiar Pininfarina coachwork to clear the taller 1,600 cc engine block – distinguished the Giulia from its earlier Giulietta sister, but only a sole "Veloce" emblem on the trunk lid indicated the high-performance edition. Steel tube headers, a finned oil pan, and a lightweight cast-alloy airbox were among the most obvious Veloce engine features, but other items like beefier connecting rods, high-compression pistons, and performance camshafts remained out of view.
According to factory records published by Luigi Fusi, the example offered here is one of only 801 manufactured in this model's final year of production, and is indeed the very last car produced. Delivered in attractive Bianco Spino (White) with Red vinyl interior, it is one of three Alfa Romeos being offered from an exclusive private collection of Italian sports cars. This final iteration of the iconic run of Alfa's Giulietta/Giulia Spider series is an opportunity to purchase a landmark performance car from Alfa Romeo's storied history.