PREVIOUS OWNERS: SOUTHWOOD CAR COMPANY -10/5/2015
HISTORY: unknown previous to 2016
A great opportunity to own an investment quality Giulietta Sprint Speciale built to your own specification. The original shell of this matching numbers car has already had all of the corrective metalwork carried out to outstanding standards by Alfa Romeo experts Classic Alfa. Having purchased this car complete we are due to commence a fully detailed restoration to show standards. Work will commence at the beginning of November and until this time, you can specify your choice of exterior and interior colours including materials (vinyl, cloth or leather). All Mechanicals suspension, steering and brakes will be returned to an as new standard.
Original details of this car are as follows -
According to Alfa Romeo Automobilisimo Storico, chassis numbe AR 177258 originally corresponds to an Alfa Romeo Giulietta Sprint Speciale (101.20), engine series AR 00120, manufactured on the 15th December 1961 and sold on the 29th January 1962 to Regie Nationale Usines, Billancourt, France. The body colour is gardenia white.
In readiness for restoration the bodyshell has been stripped and blasted to bare metal then fully protected. As a result of this we are confident that these body restoration techniques will ensure that the car can be used as everyday transport in all weathers.
With all of the time consuming metal work completed, this is a great opportunity to have a car built exactly how you want it and potentially completed and ready for the end of spring 2016.
The Sprint Speciale is a wonderful car to own so if you are considering purchasing one why consider alternative cars that have shiny paintwork and potentially poor structure and mechanicals, when you can have a show quality car built to your own specifications for you?
For further information please contact Kevin Rawson.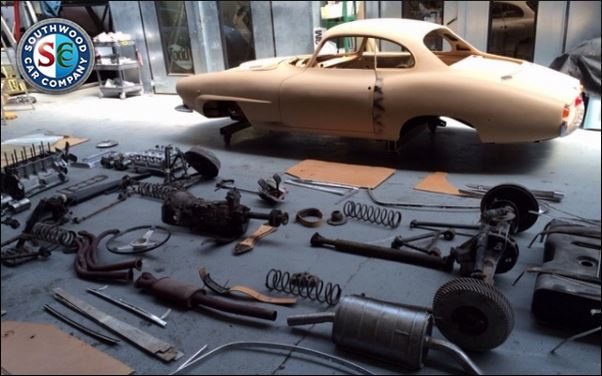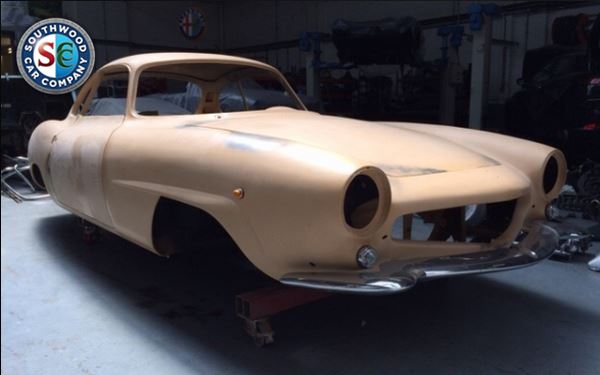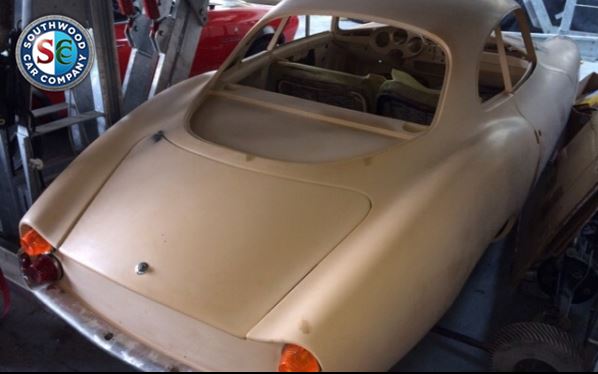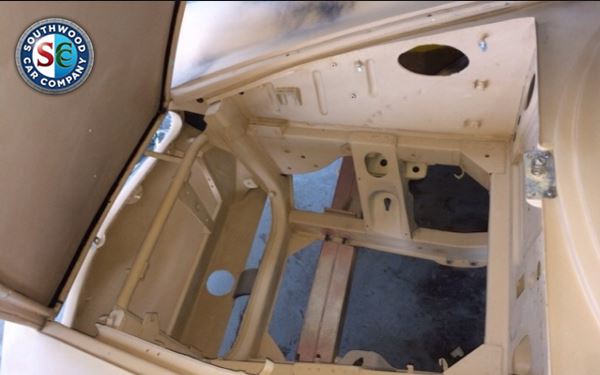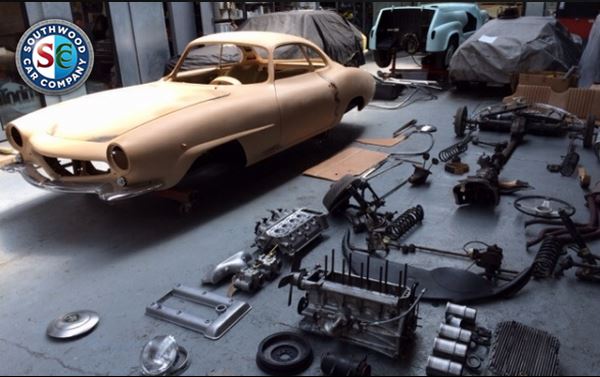 UPDATE FEBRUARY 13, 2021 FOUND THE CAR ON THE ROYAL AUTOMOBILE CLUB PAGE
"Handbuilt … and decidedly expensive" claimed the title of Alfa Romeo's 1960's sales brochure: "The Alfa Romeo Sprint Speciale – For the man who has everything, here is the car to keep him company. … The price is £2394.13 including tax. Expensive? Naturally! What else would you expect a hand-built Alfa to be?"
The first prototype of the Giulietta SS was presented in 1957 at the Turin Motor Show with the production version officially unveiled to the press on 24 June 1959 at Monza.
Initially conceived by Bertone designer Franco Scaglione to compete against Zagato's lightweight SVZ's, its aerodynamic form had been extensively tested in Moto Guzzi's wind tunnel and the Milan-Turin autostrada; it produced a 0.28 drag coefficient – a figure unsurpassed for more than twenty years.
The car used Alfa Romeo's 1290cc twin-cam engine which produced 100bhp (75 kW), giving it a maximum speed of 124 mph (or 200 km/h).
The first 101 cars produced had a 'low nose' and aluminium body panels. Despite drawing heavily on the 101-series components, these early cars bore the '750 SS' designation.
However, this first production run proved to be too heavy for serious competition use; so the series was re-launched as a graceful Grand Tourer. The body was now all-steel, and the nose and headlights were raised to conform to US regulations. Front and rear bumpers were added and the interior was made more luxurious through additional sound padding.
The final iteration came with the introduction of the Giulia Sprint Speciale in 1963. It was fitted with the 112 bhp 1600cc engine and the later models had disc brakes. The interior became more sumptuous still, with additional leather trim and creature-comforts such as grab-handles and ashtrays.
Production lasted until 1966. In total, only 1,366 Giulietta Sprint Speciales and 1,400 Giulia Sprint Speciales were manufactured.
This car, chassis AR 177258, was originally manufactured on the 15th December 1961 in Gardenia White with Blue/Grey interior. It was sold on the 29th January 1962 to Régie Nationale des Usines, Billancourt, France.
Italian car specialists DTR Sportscars were commissioned in 2016 by the owner's late father to carry out a full nuts-and-bolts restoration of the car. Sadly he did not survive to see the completed car. But it has since gone on to win this year's 'Chairman's Choice Award' at the Club's Midsummer Drive-In and was afterwards taken to France for the owner's wedding.
Displayed courtesy of the current owner, Club member Gareth Williams, from Monday 16th September to Sunday 22nd September 2019.