PREVIOUS OWNERS: UNKNOWN
HISTORY:As copied from the Fantasy Junction webpage listing 6/21/2015
Comments 1958 Alfa Romeo Giulietta Spider Veloce
s/n AR 1495.0663, engine No. 1315.31597
Black with Red Interior

The Giulietta, and later the Giulia are the cars that took Alfa Romeo from being a relatively small production company to being an economically viable and successful firm. Prior to that, they had produced large and expensive cars, and never in very large numbers. With the Giulietta/Giulia, however, Alfa Romeo produced significant numbers of these charming and capable cars. Its success was due in part to its unique placement in the market. It was neither a large hugely expensive car, nor was it very small utility car (such as the Fiat 500). Instead, they were affordable enough so that many could buy them, yet permitted a more glamorous and useful approach to motoring that really struck a chord with buyers on both sides of the Atlantic. The GiuliettaVeloce enjoys the honor of being the highest performing and most developed open variant of the 1300cc line, thanks to its venerable twin cam engine, twin Weber carburetors, higher compression ratio, and hotter cam profiles. Performance was much improved over the standard cars.

This particular example was restored with obsessive attention to detail to ensure that it is one of the most correct and attractive examples we have come across in recent memory. Starting with the most desirable Giulietta Spider variant, the 750F SWB Veloce, this car is also an ideally equipped example. Still with its matching numbers engine, the car is also an original black example, both of which are confirmed by Alfa Romeo's Automobilismo Storico Centro Documentazione (Historic Automobile Documentation Center). It was completed on 27 August 1958 and supplied new to Hoffman Motor Car Company in New York.

The attention to detail in the restoration, which was completed in mid-2015, is truly impressive. The car sits on the right tires (Pirelli Cinturato), retains its original suspension components (which were stamped at the factory with matching numbers), and its original 4-speed tunnel case gearbox. Original type clamps, engine compartment details, Pirelli belts, Carello headlamps, and Trico windscreen wiper inserts were employed, and the seats were upholstered with the correct material from the original supplier. The original seat frames were used and the seats were retrimmed using the original methods. The car comes with original tool kit, manual pouch, manual, and jack with leather hold downs, as well as extra correct 'pink' Golden Lodge spark plugs. The correct Bosch horn is also in place, as are the Borrani wheels. Even the Koni shock absorbers were refinished to the correct Girlin green with correct decals.

The engine was rebuilt by an Alfa Romeo specialist in Southern California with yellow fuel lines, proper DCO3 carburetors, original Veloce cams, Veloce oil pan, and original sand cast Veloce head. The transmission was also rebuilt, and the cosmetic restoration performed by a Pebble Beach award-winning restoration shop. During this process, the body was completely stripped to bare metal and refinished. The car had sat in dry storage for many years and had minimal rust. A new wiring harness and fuel tank were also fitted. The suspension bushings were renewed and the zinc and cadmium plating also renewed as required. The brakes were also rebuilt, the instruments restored, and new top fitted. The original exhaust manifold was restored and a new exhaust system fitted from there on.

Cosmetically, the car is excellent. The paintwork was done to high standards, the body is straight and solid, and the panel fit is excellent, including the trunk lid. The chrome is excellent as well, as are the glass and lights, and the car has the crisp, glossy presentation and attention to detail necessary for a car to successfully compete in concours events.

The interior is similarly nice, with excellent presentation and workmanship. The upholstery, chrome, dashboard, and carpet are all in beautiful shape. The correct rubber floor mats are in place, the instruments and switches were restored or replaced as necessary, and the car is difficult to fault from both a correctness and quality of work perspective.

The engine compartment is particularly impressive, with correct decals on the radiator and intake hoses, brake fluid reservoir, original type hose clamps, correct DCO3 carburetors, and a universally high standard of presentation, consistent with a show car. Every component was restored or replaced and the original data plates are still in place. The trunk was also restored with new paint and new rubber mat. The original type Magnetti Marelli battery is in place even, along with the paint manufacturer decal.

The car runs and drives well. The engine is well-tuned and makes good power, and the gearbox is a pleasure to use, with good linkage and synchromesh. The brakes have good bite and pull the car up symmetrically and steering on the heavy side but is precise and communicative. The chassis is solid and tight in feel, with the quintessential sports car feel that makes the Giulietta so well-loved.

The car is exceptionally complete, with original tool kit (with the rare Alfa carb tools), original Alfa Romeo leather manual case and manual, original jack (with leather strap hold-downs), and 1958 CA yellow plates registered to the car.

This is an exceptional opportunity to acquire what must be one of the most correctly and beautifully restored 750F Giulietta Veloces. Everything about the car is just so. It is not only attentively restored, it also is finished in its stunning original color combination, is matching-numbers, and has books, tools, and jack, extras that rarely seem to survive with Giuliettas because so many of them were used up by enthusiastic owners. This car should be very competitive in high level concours.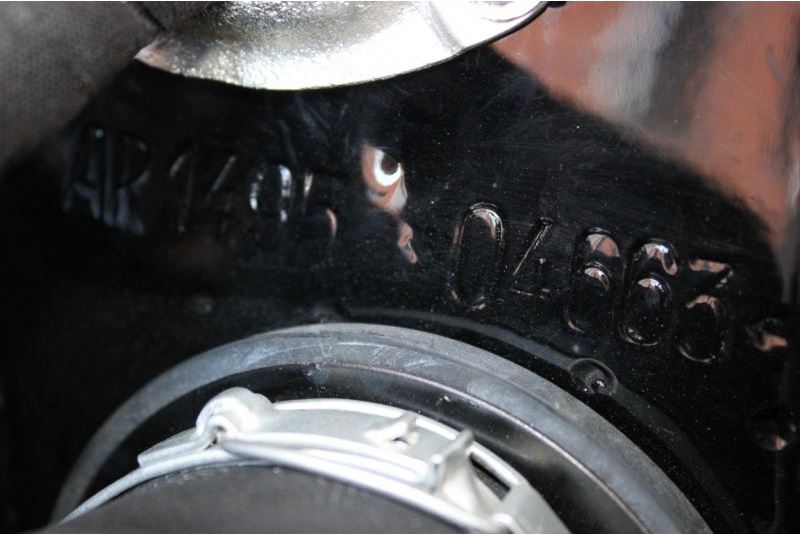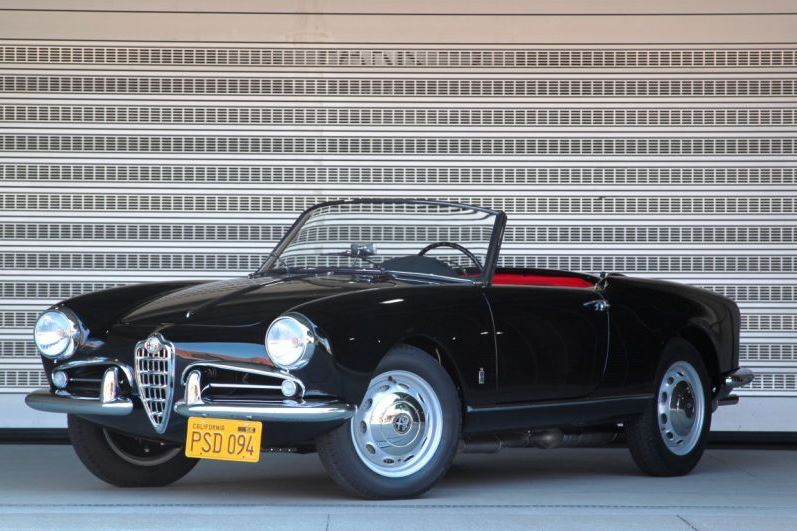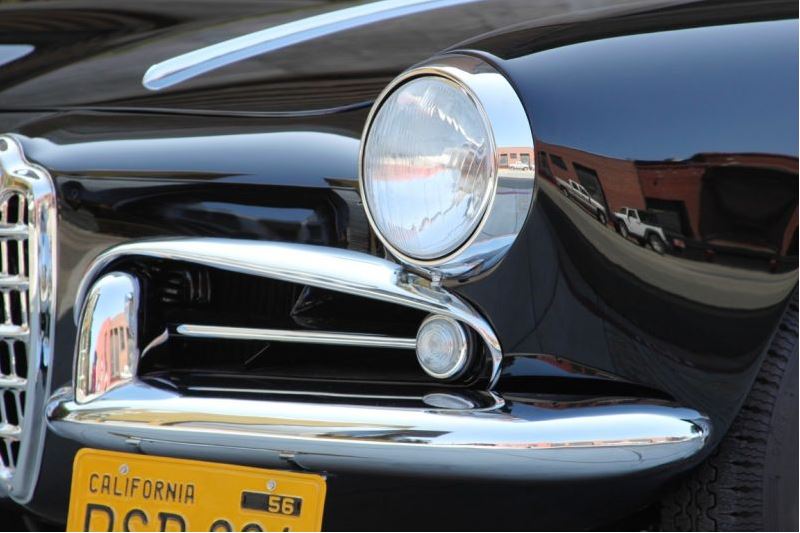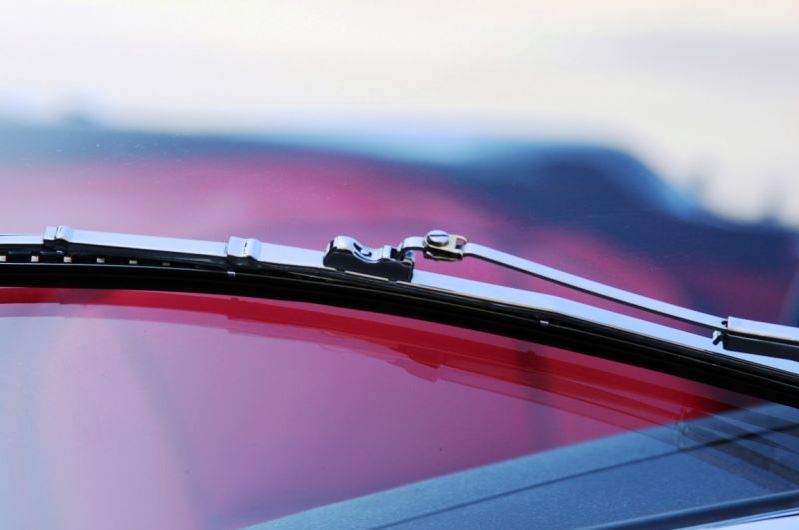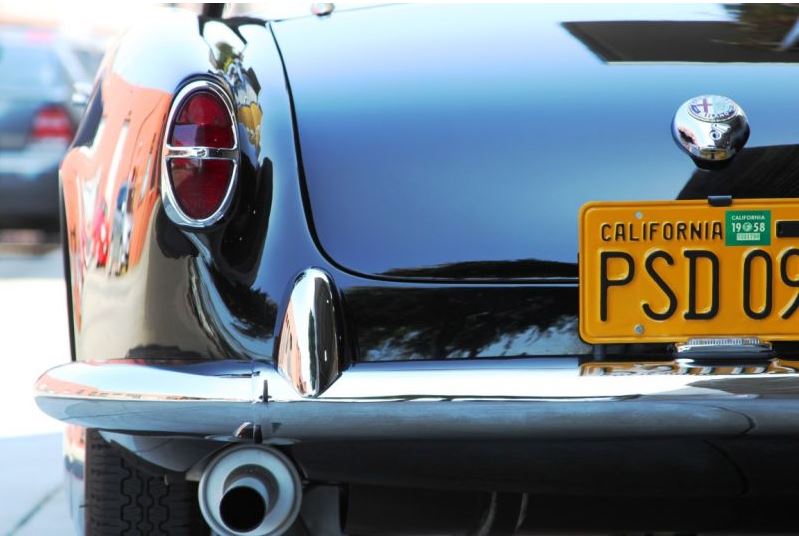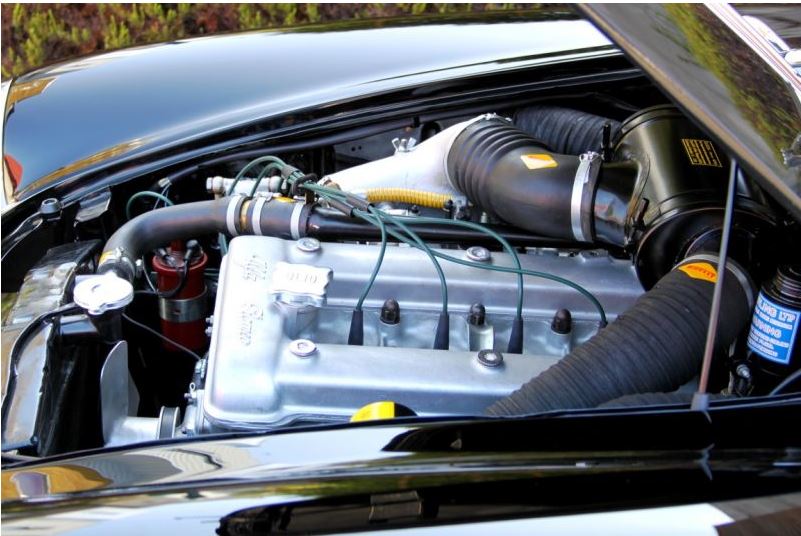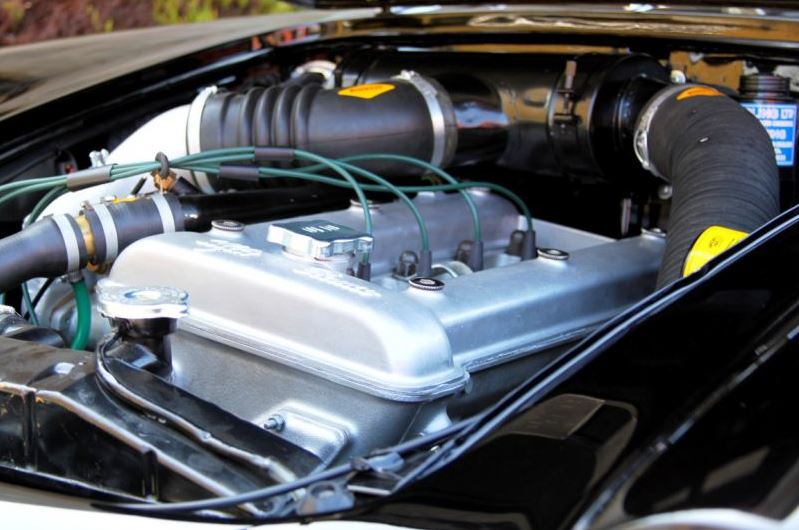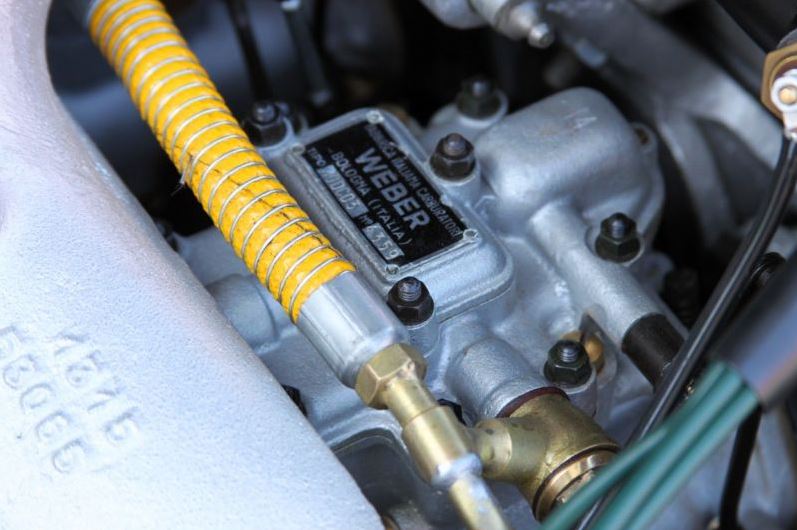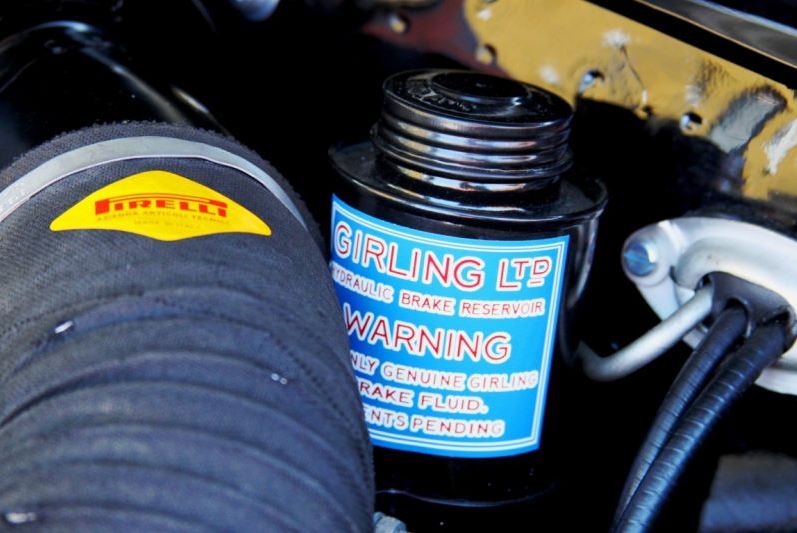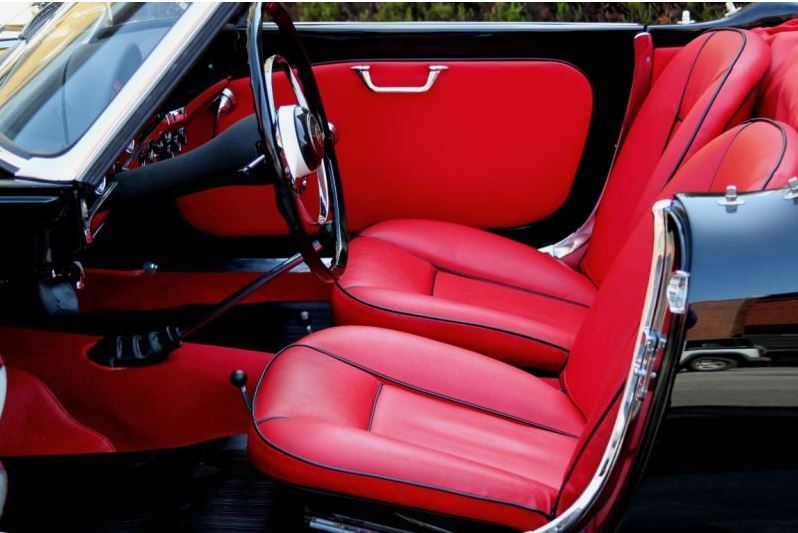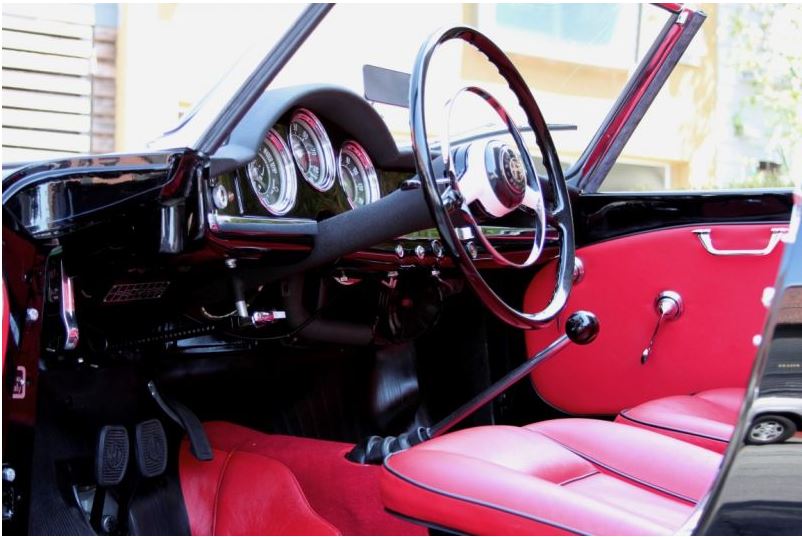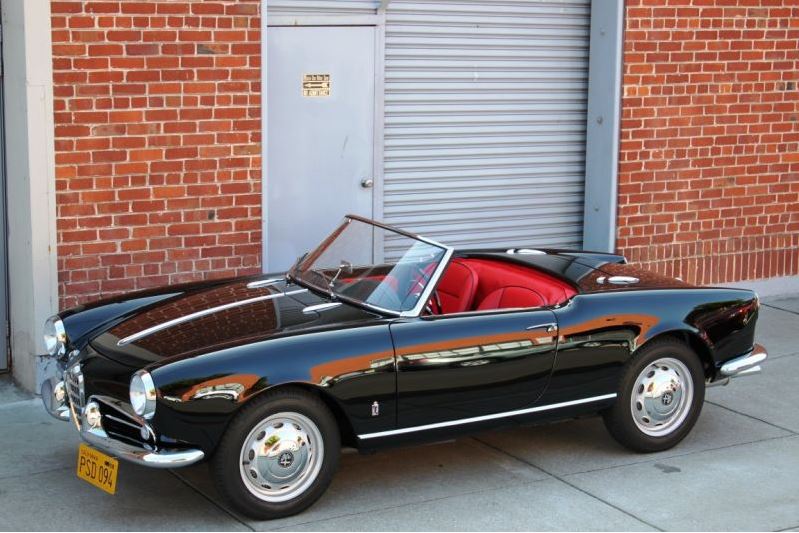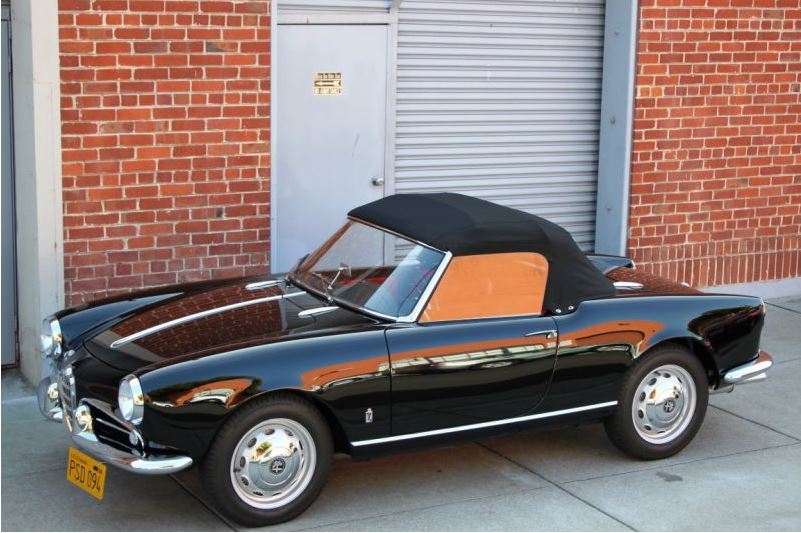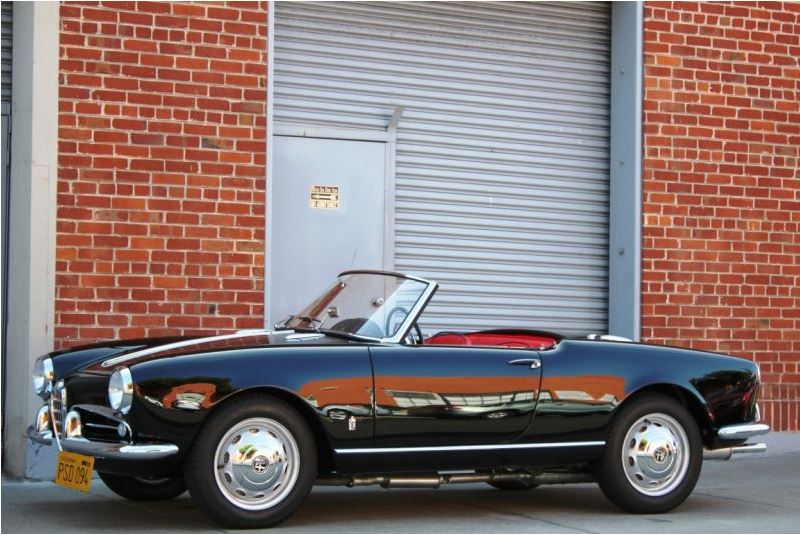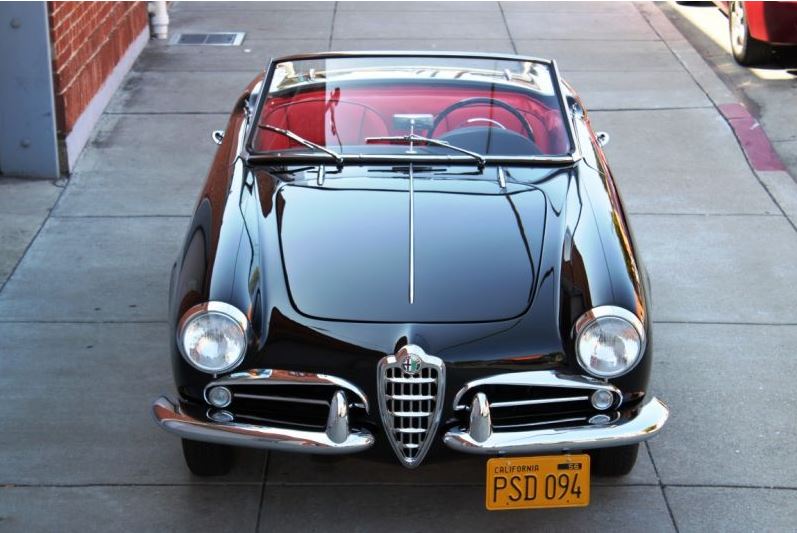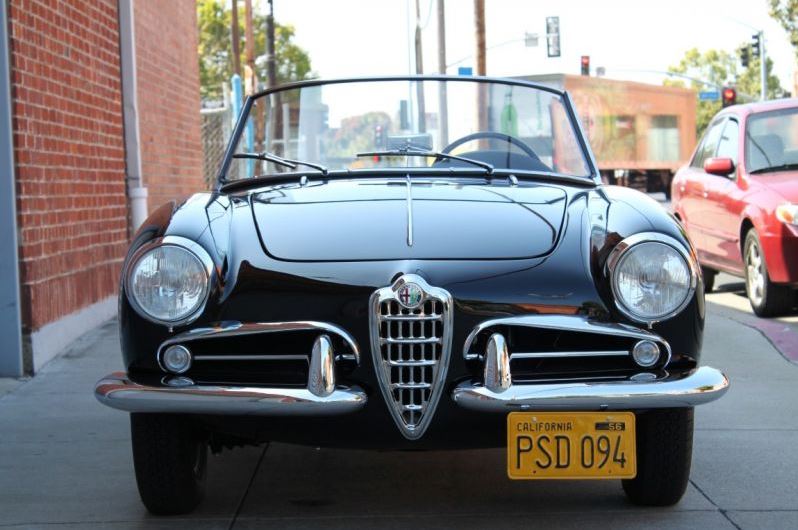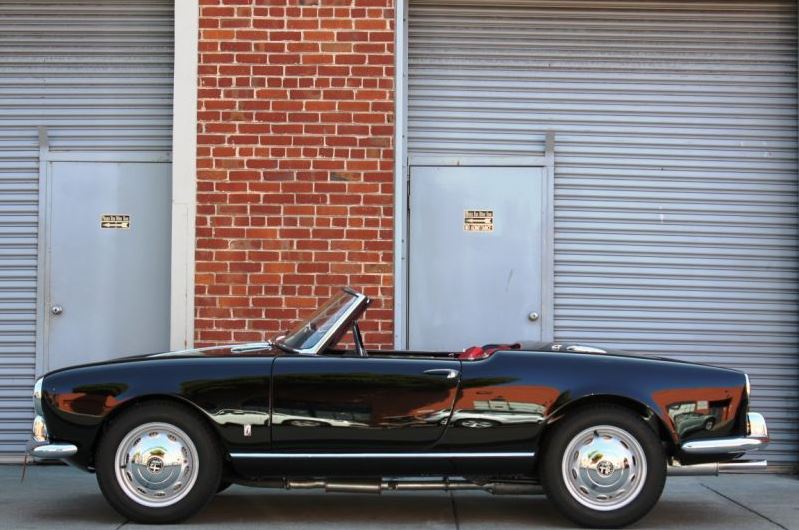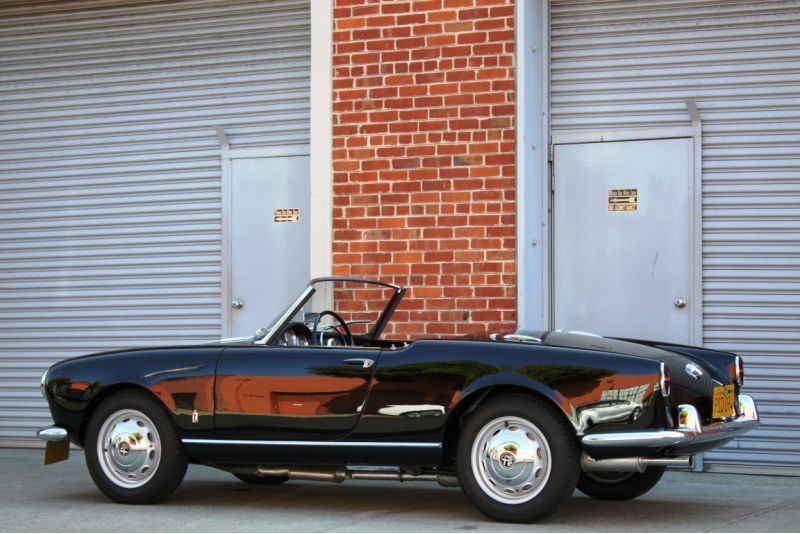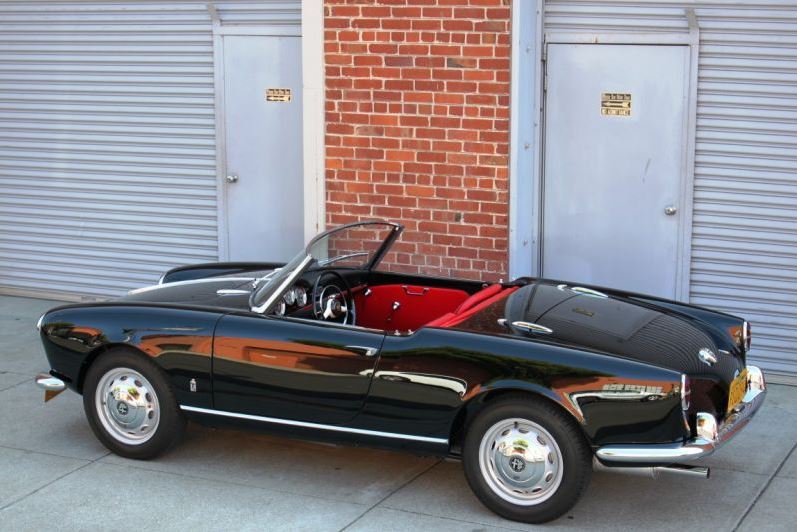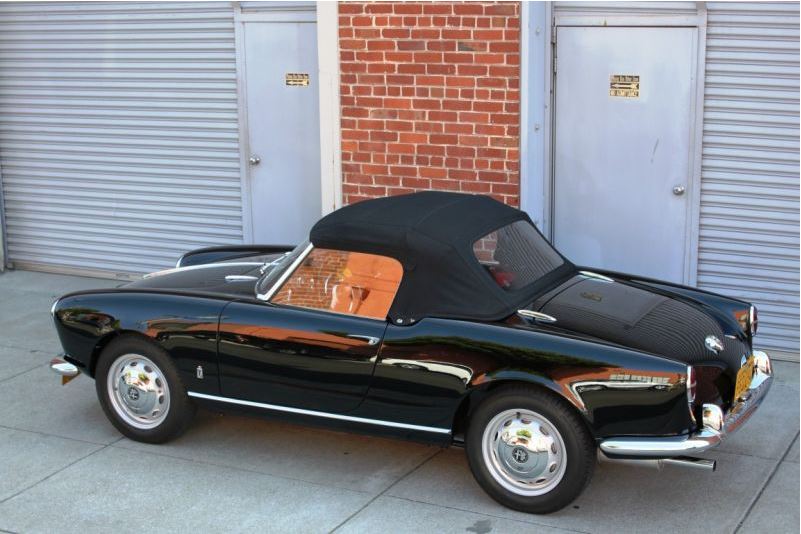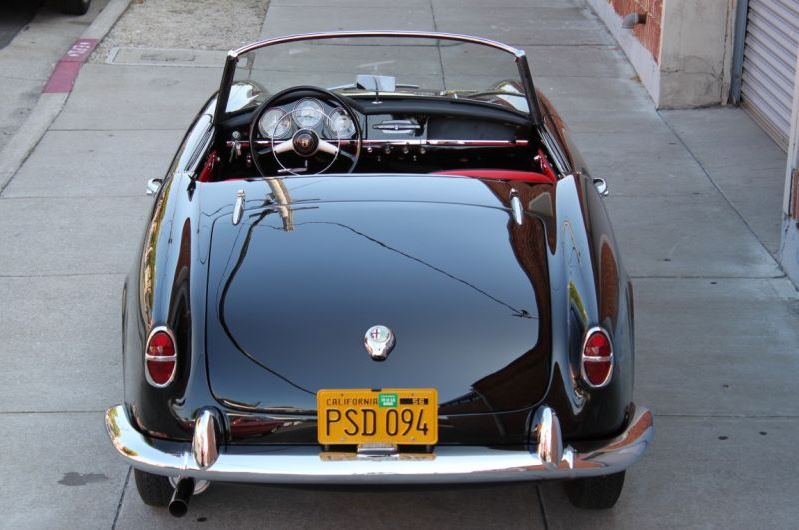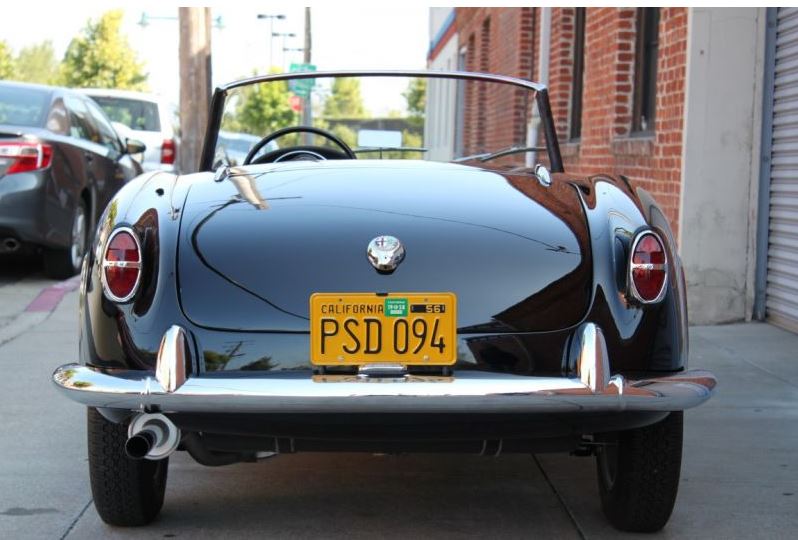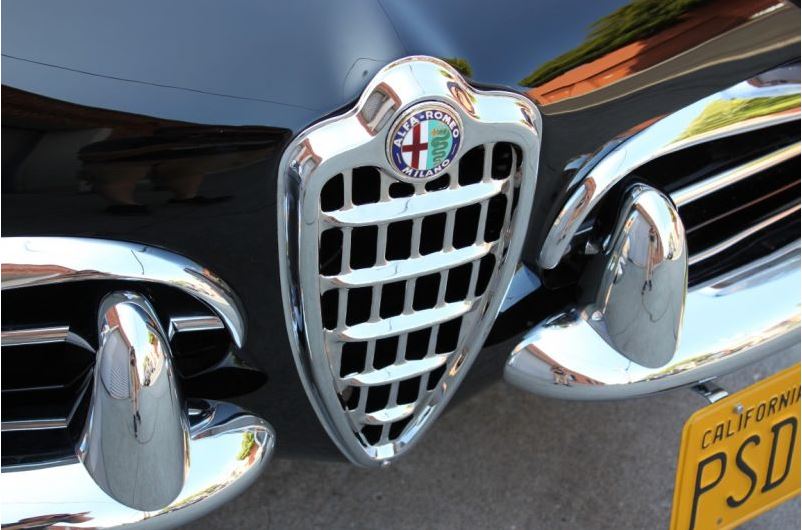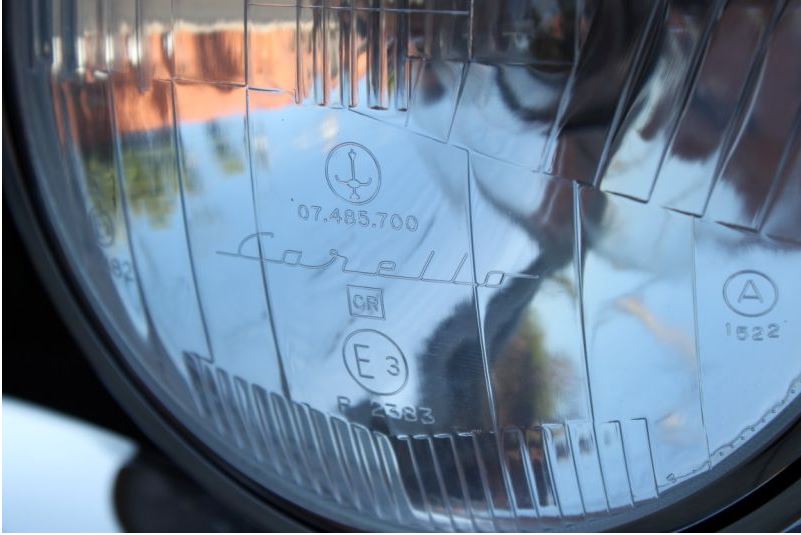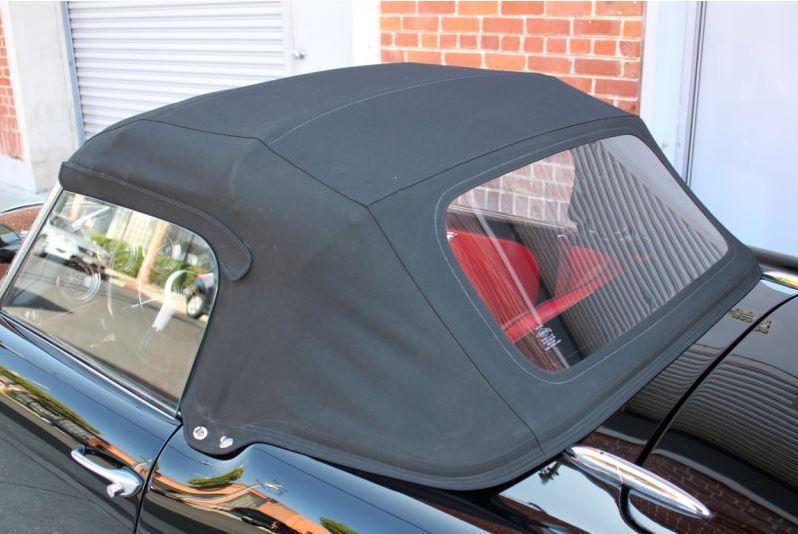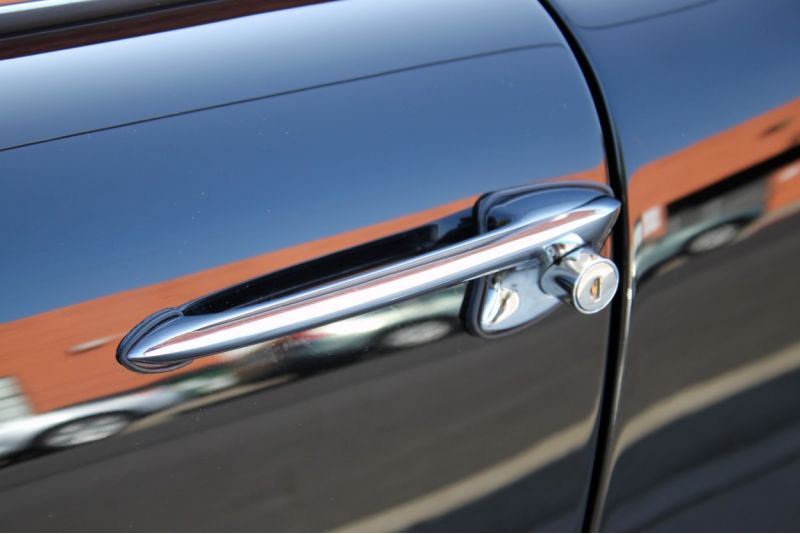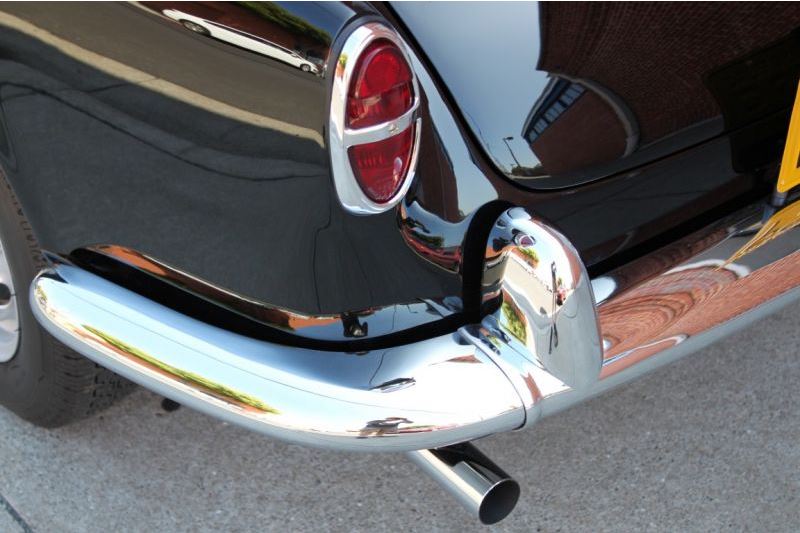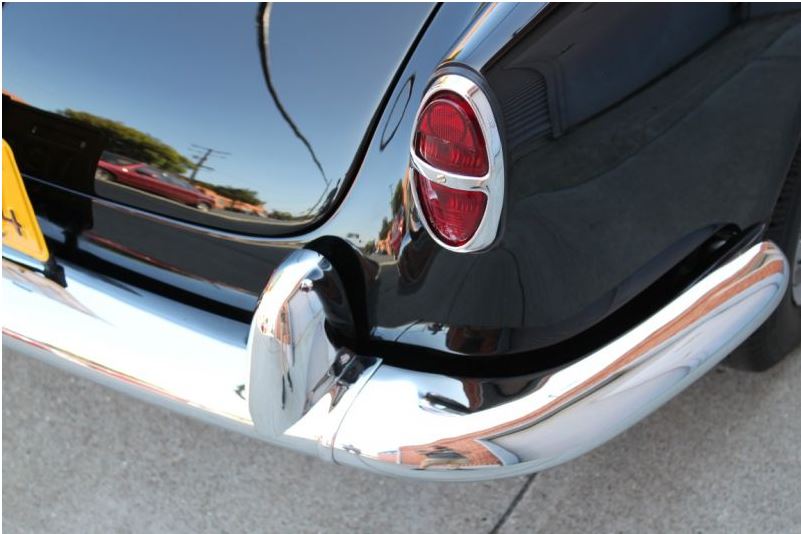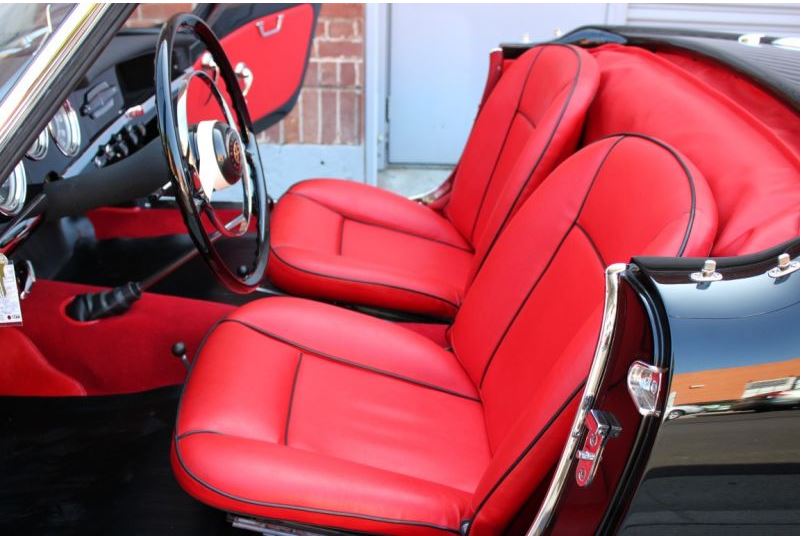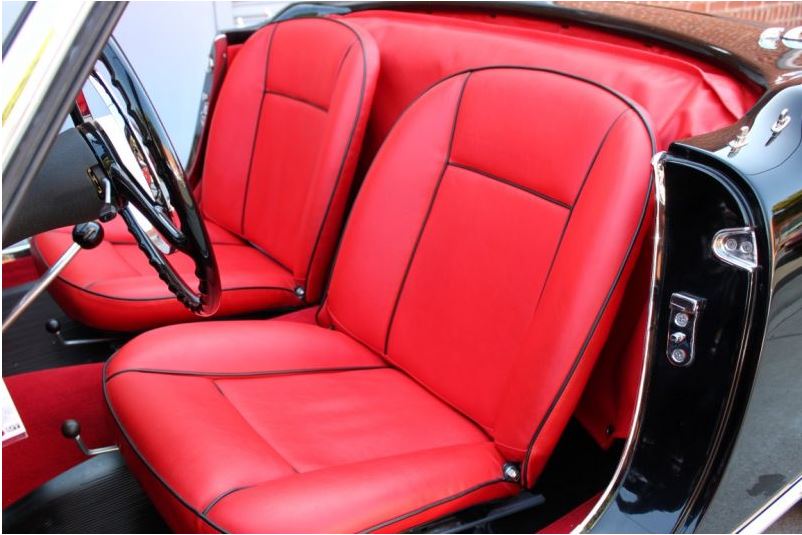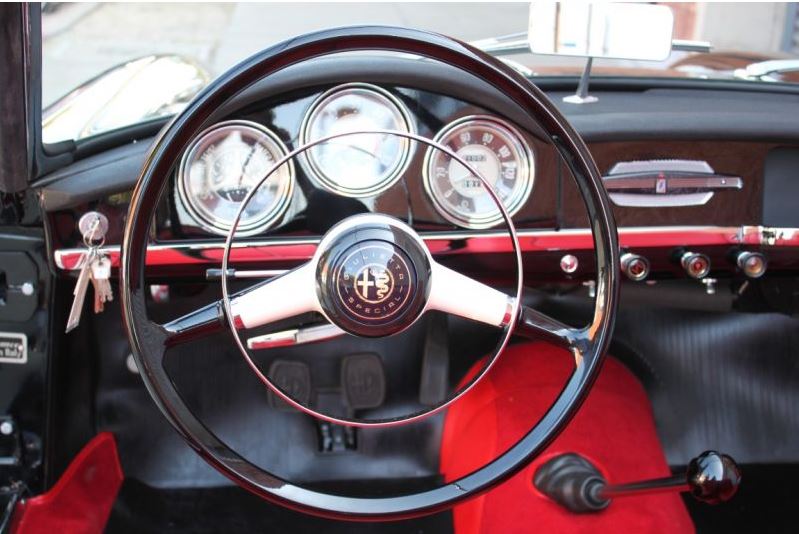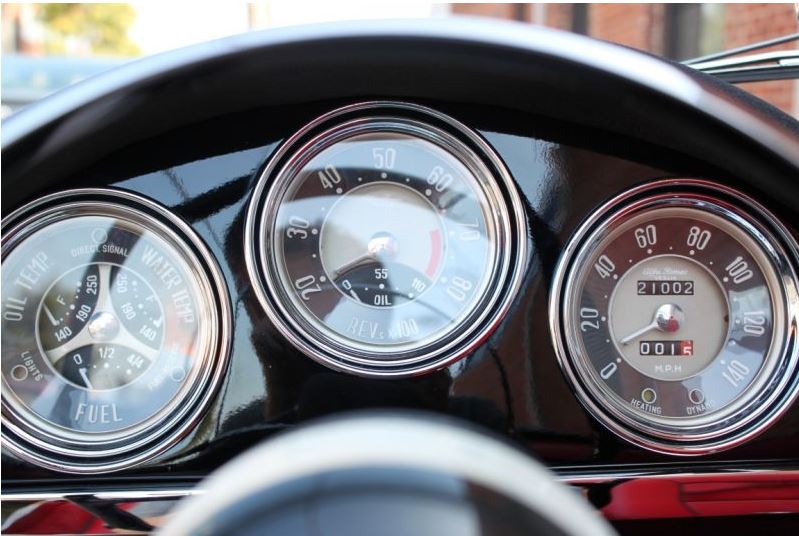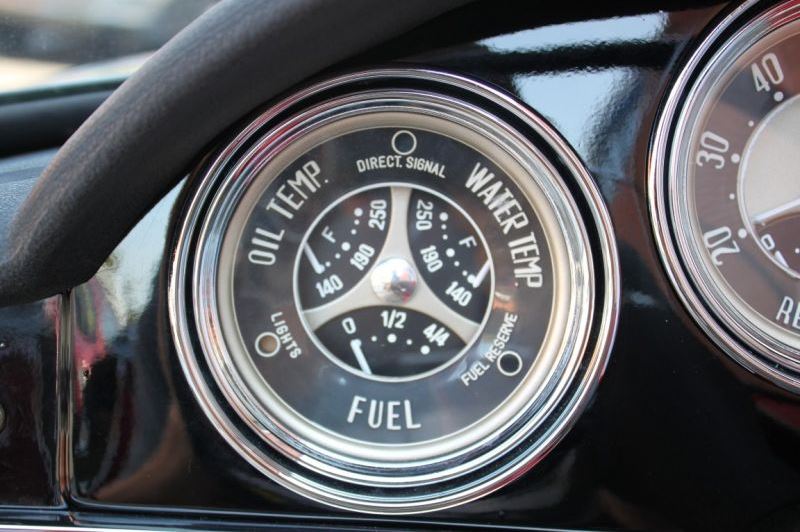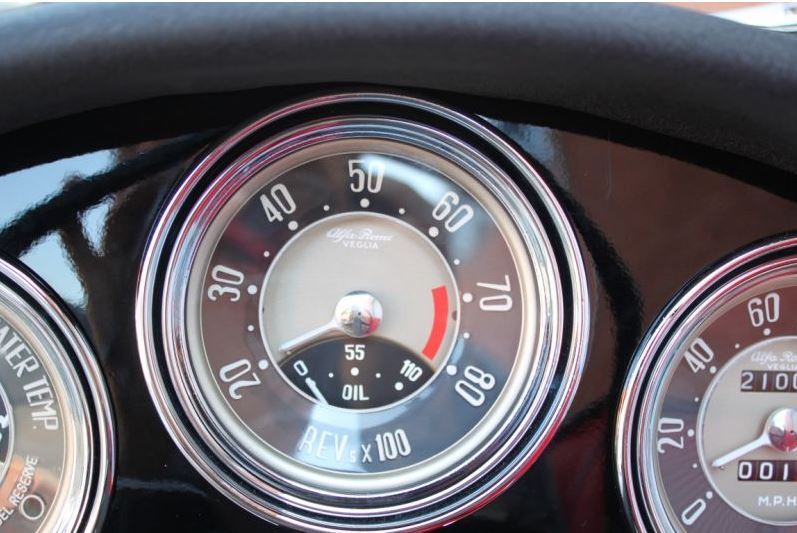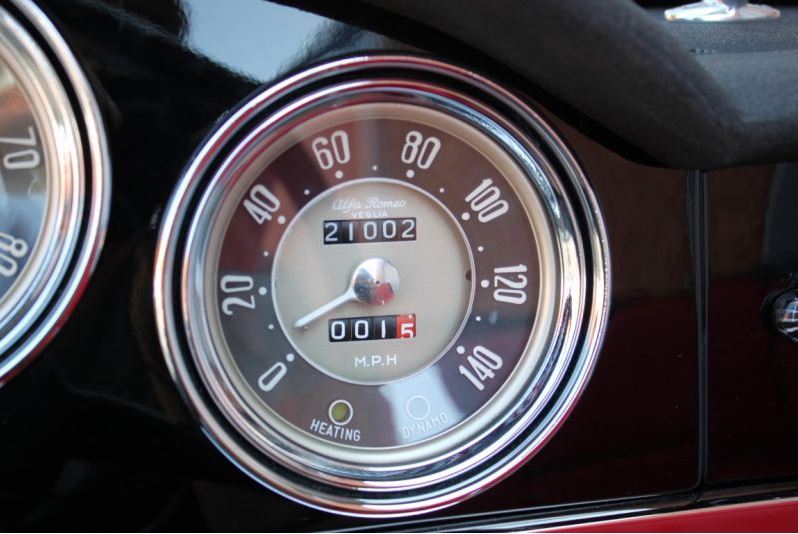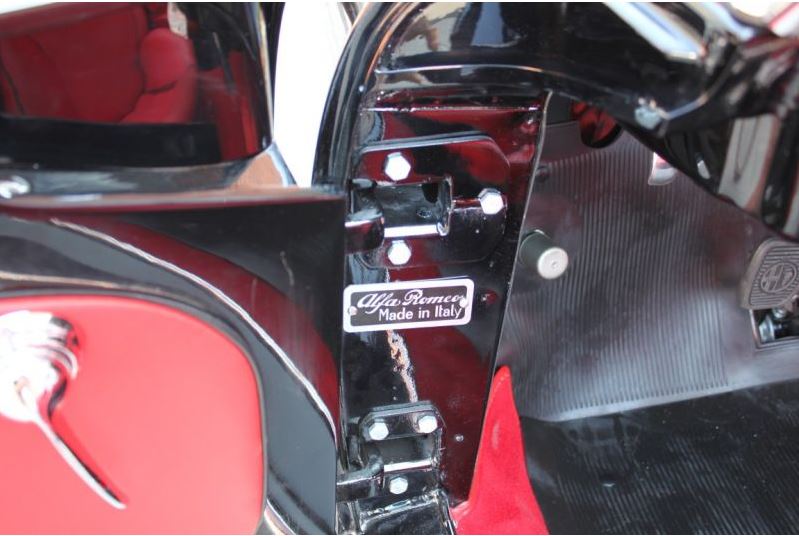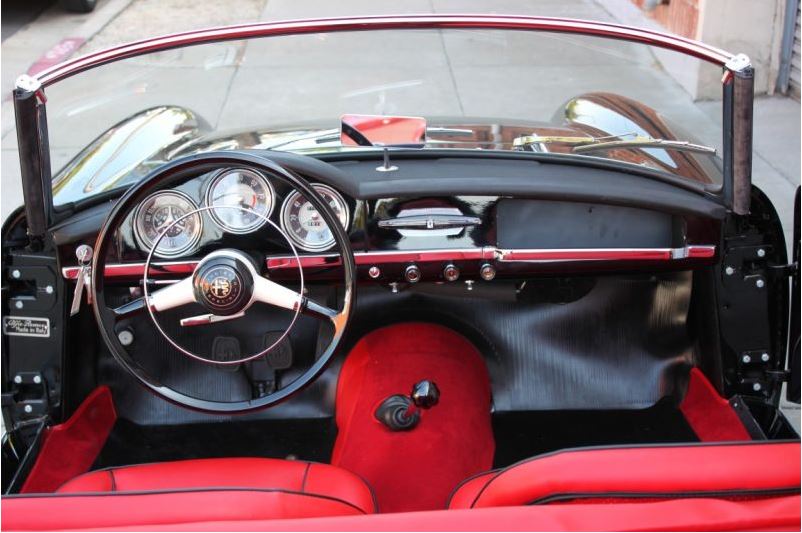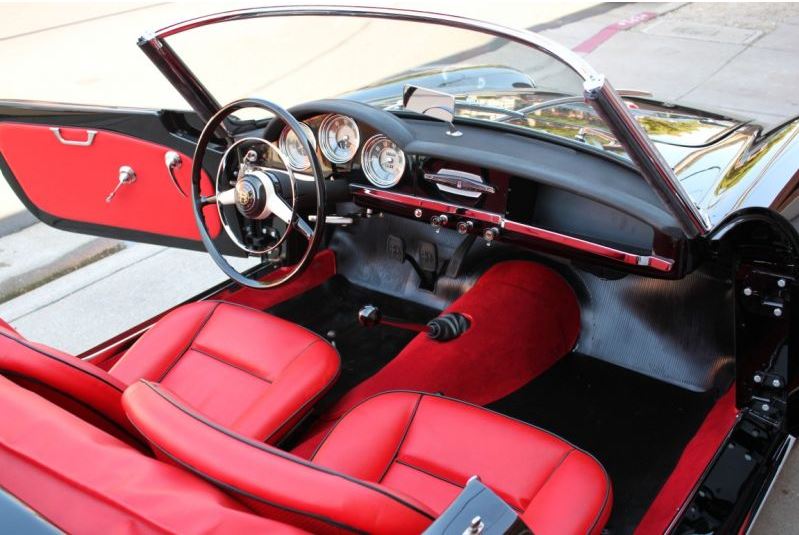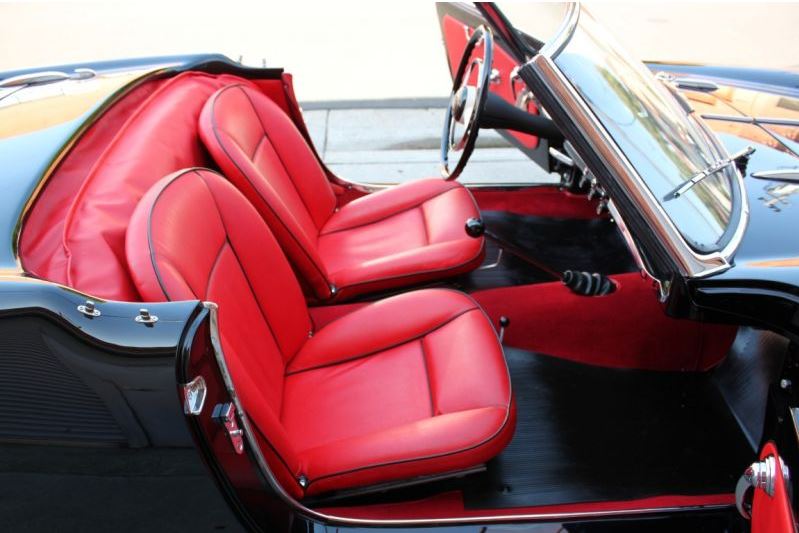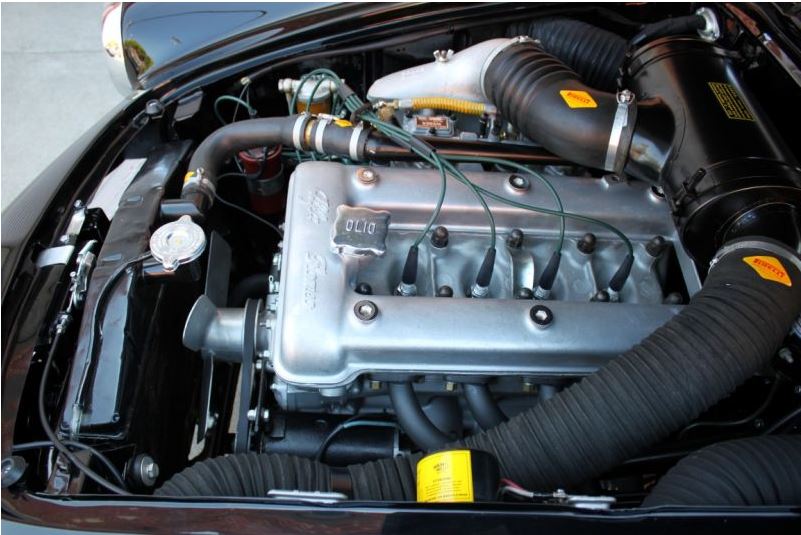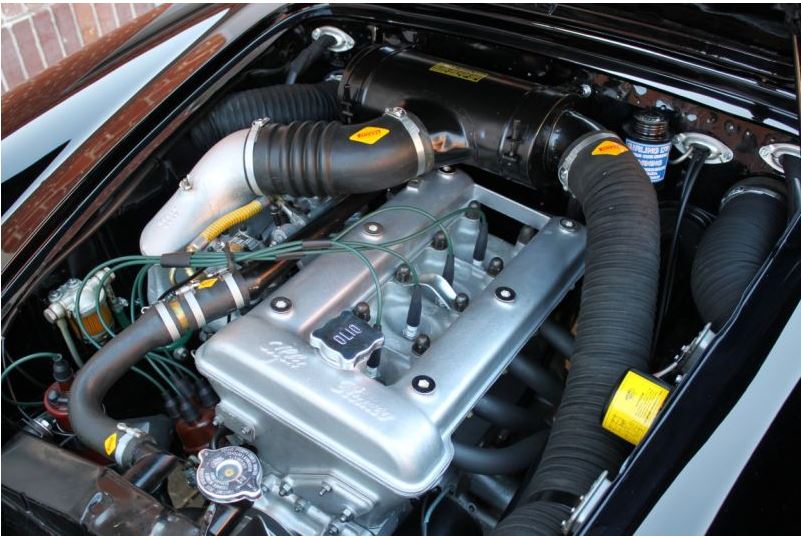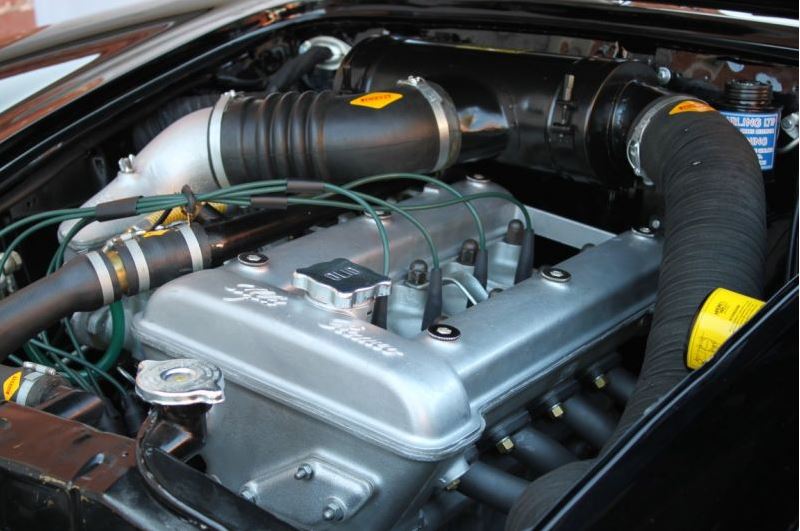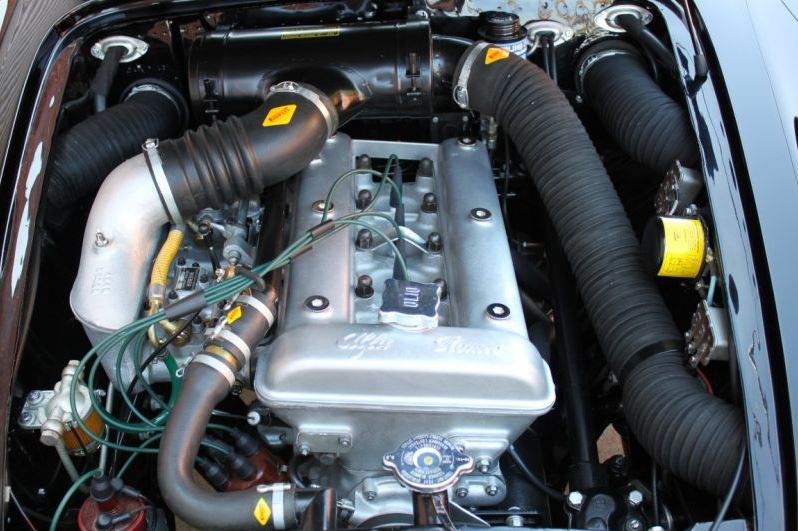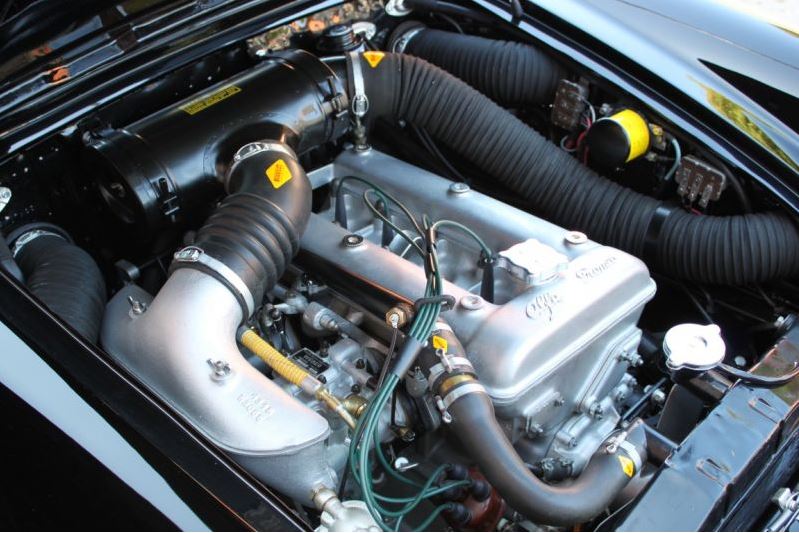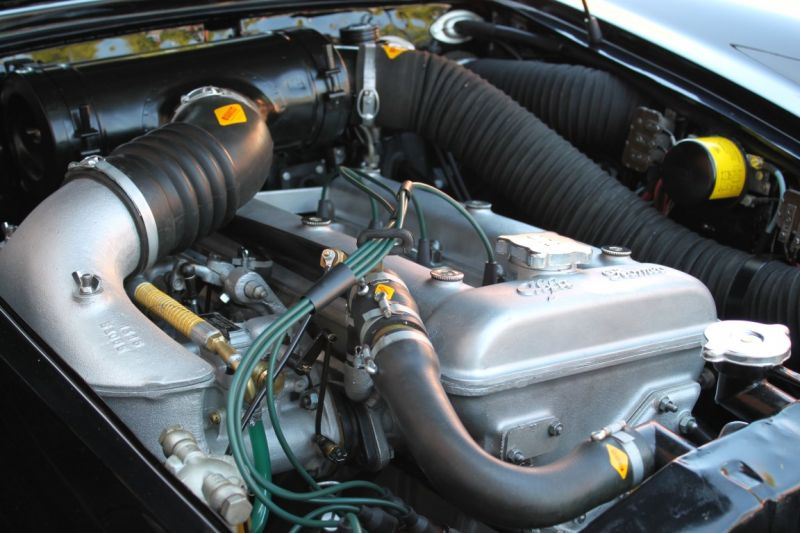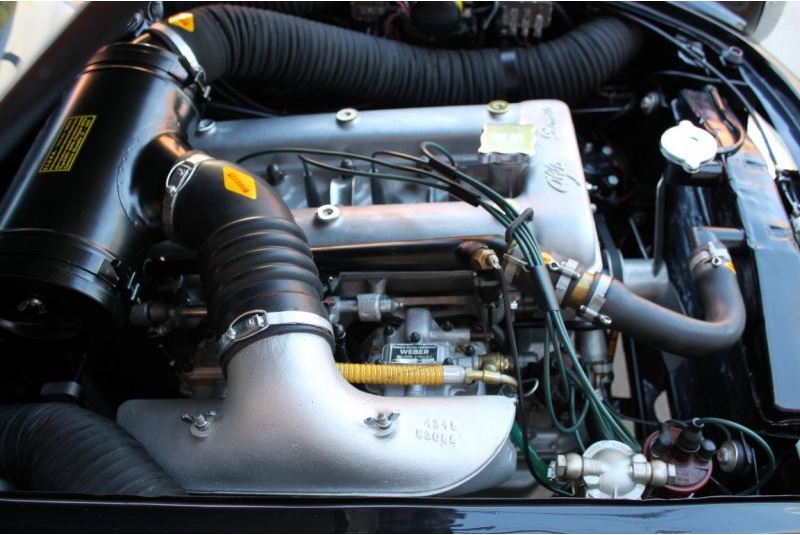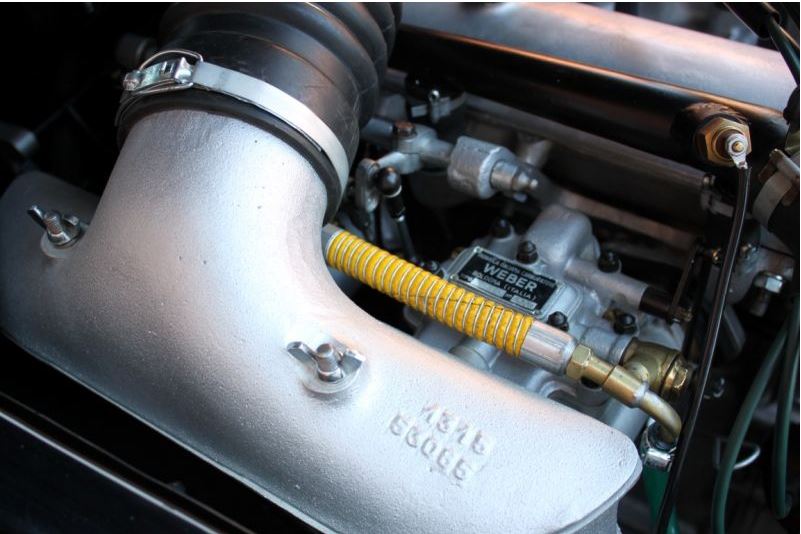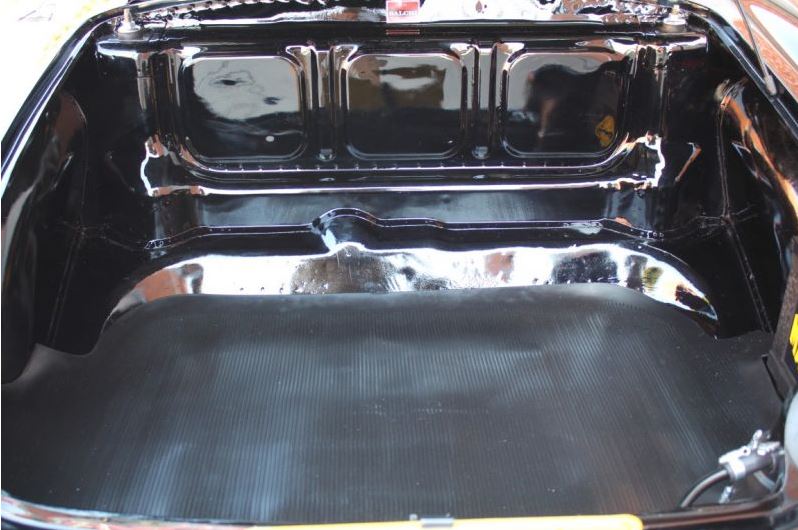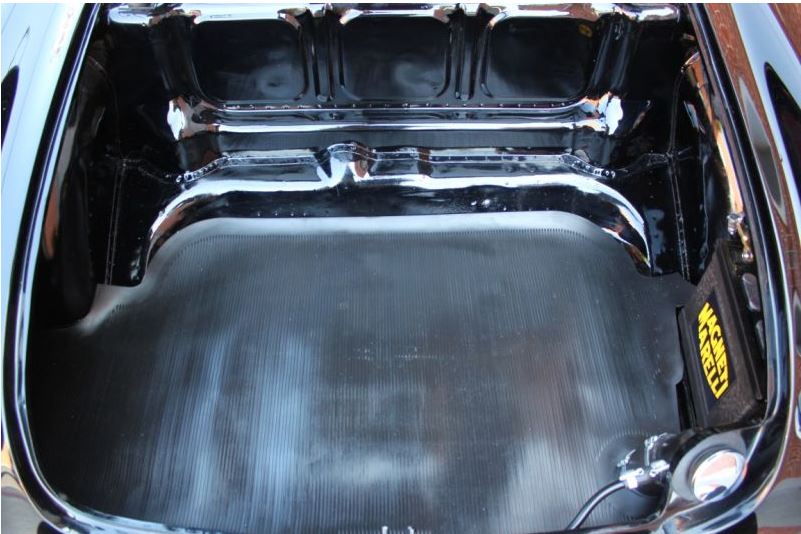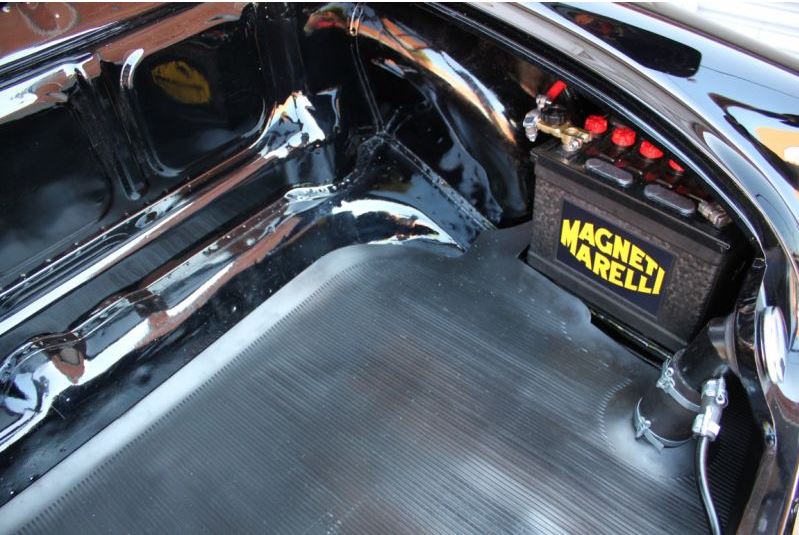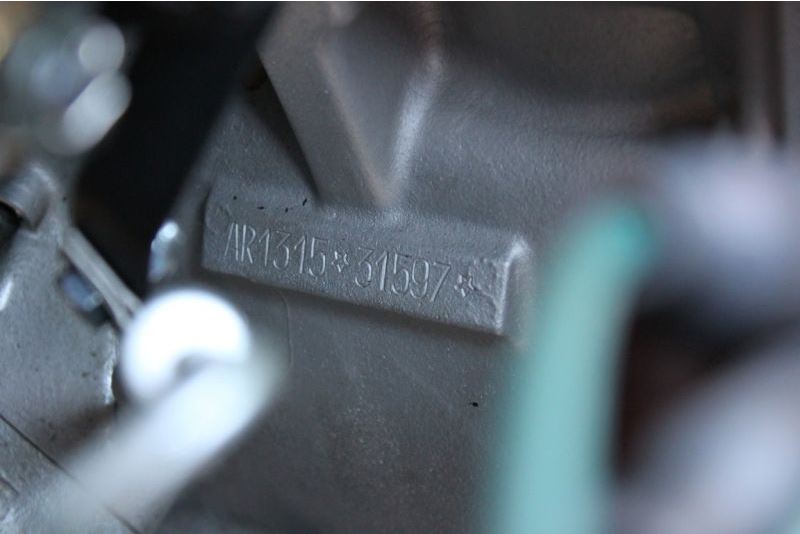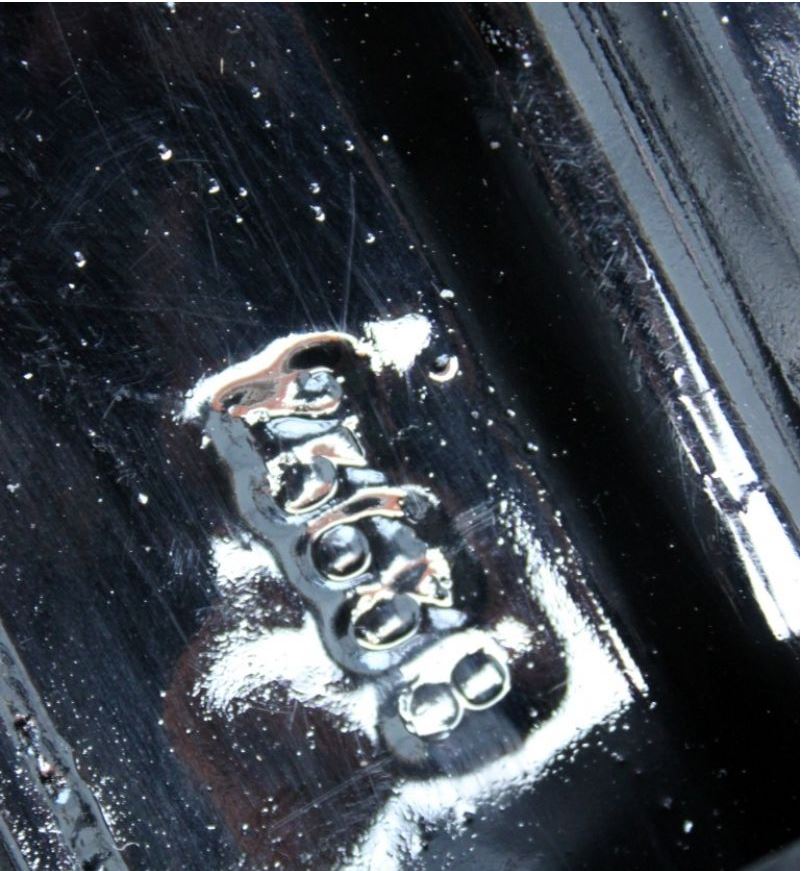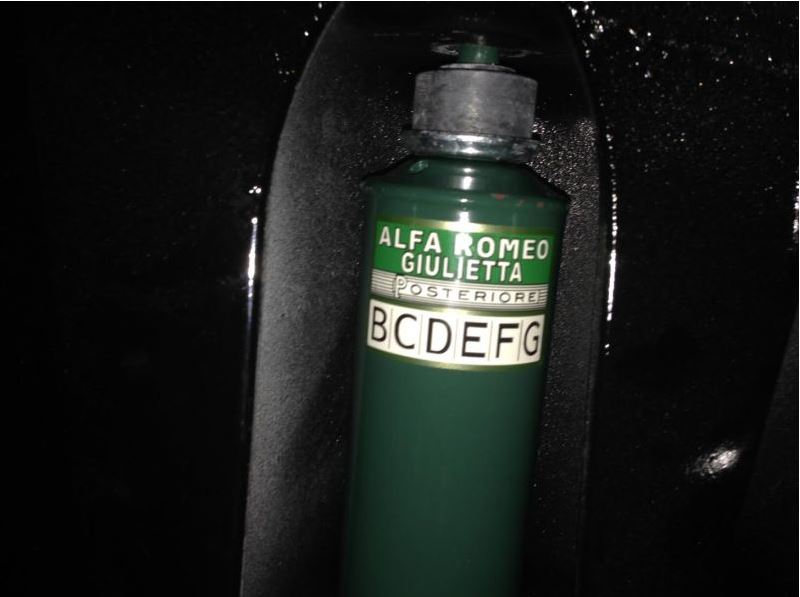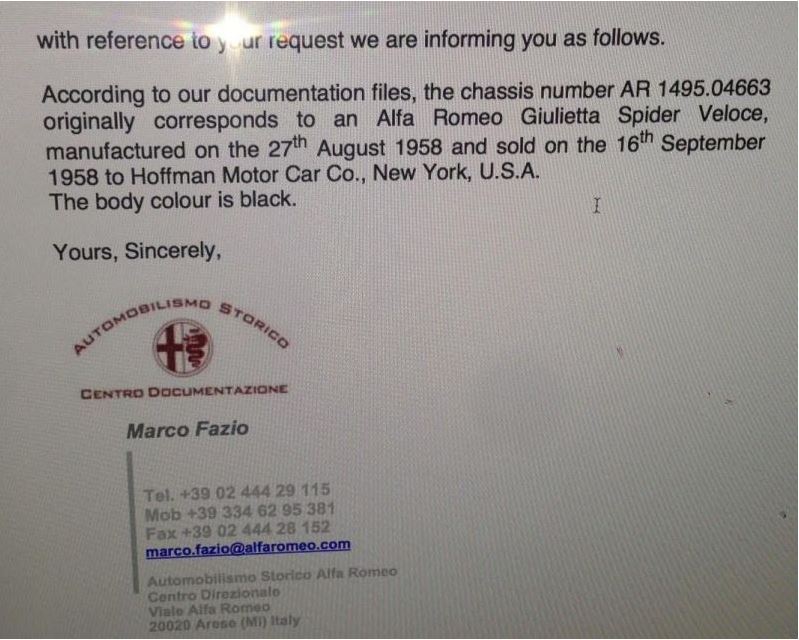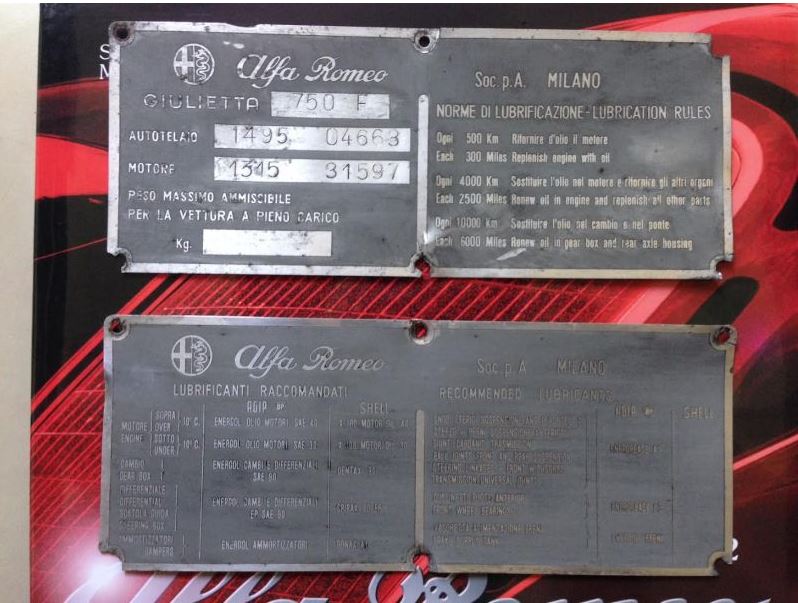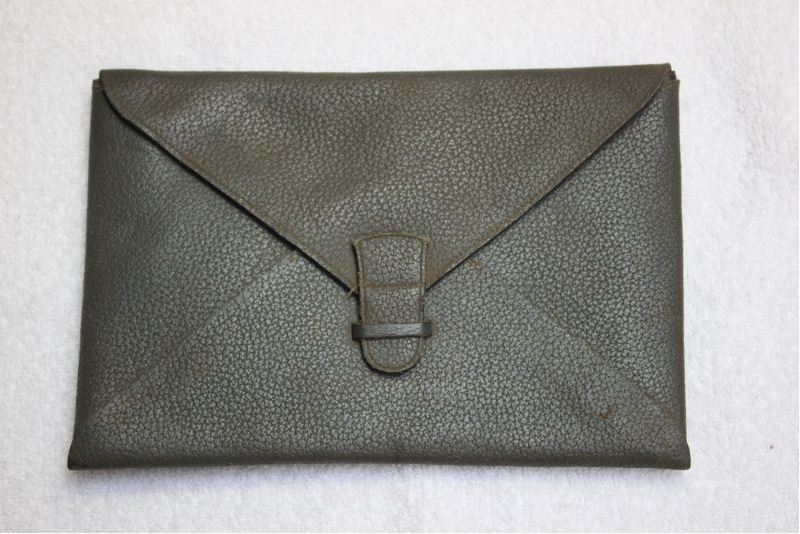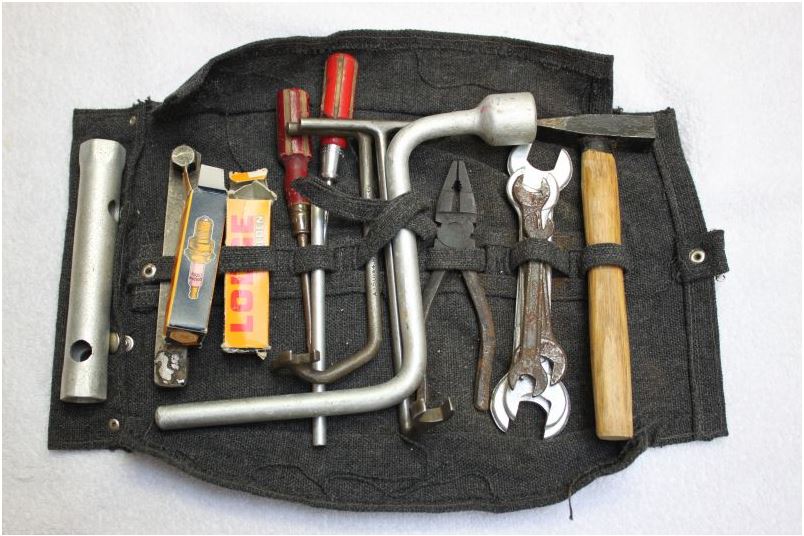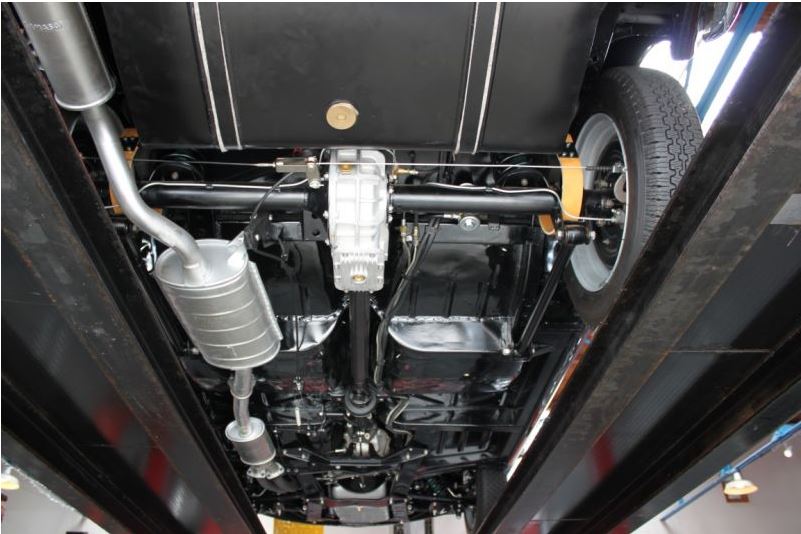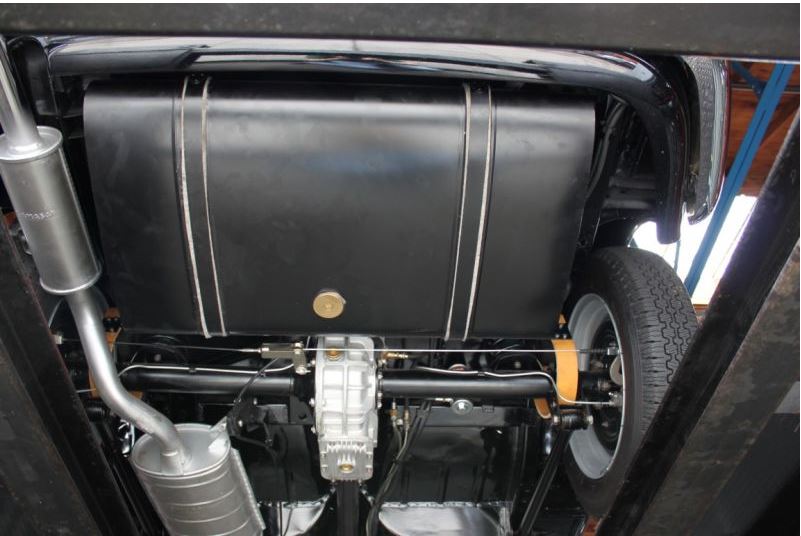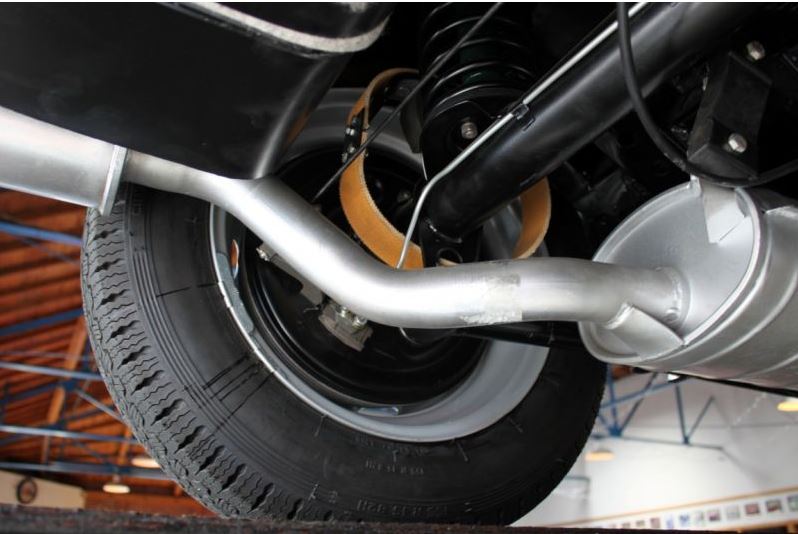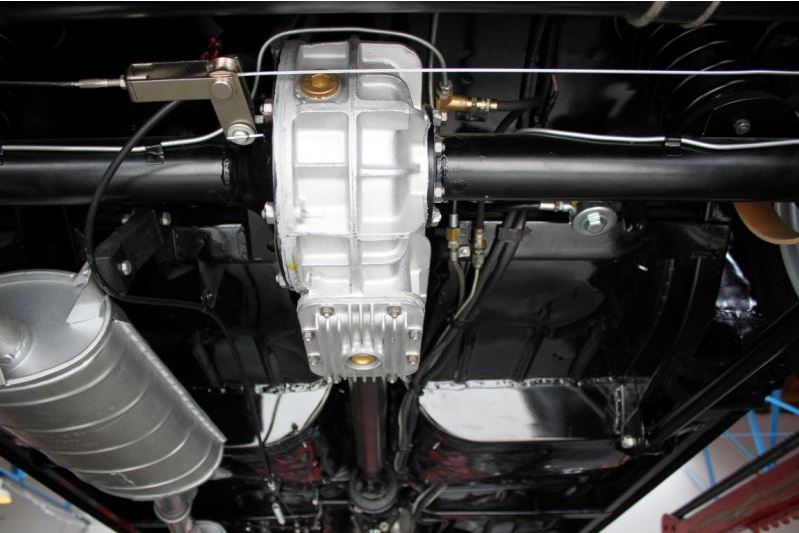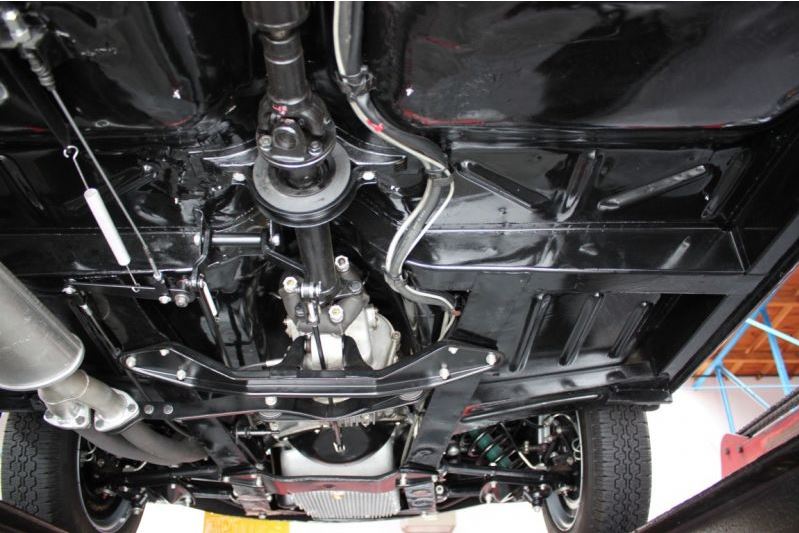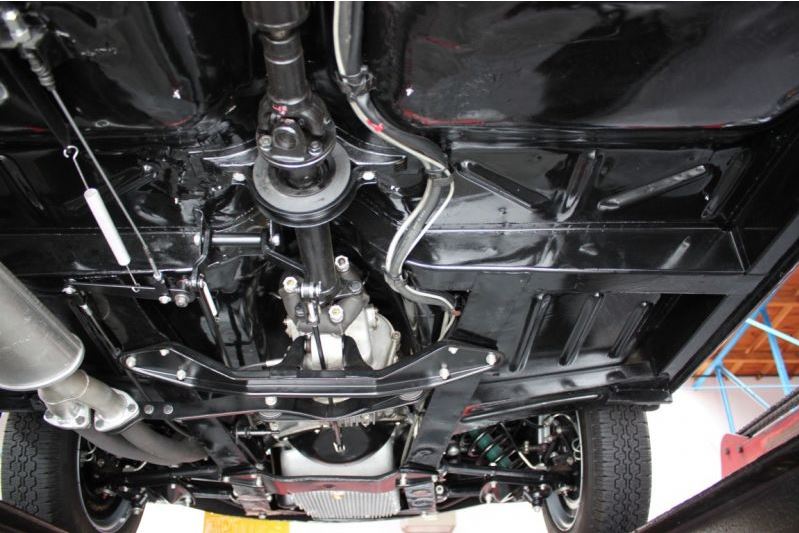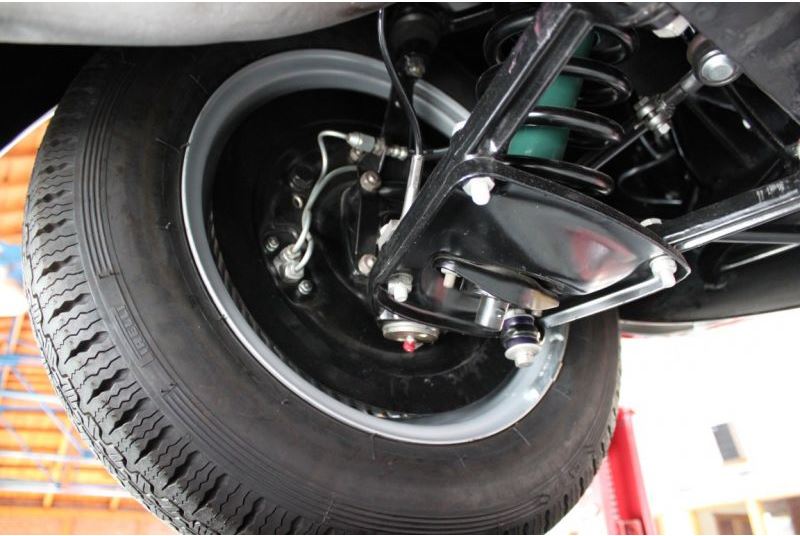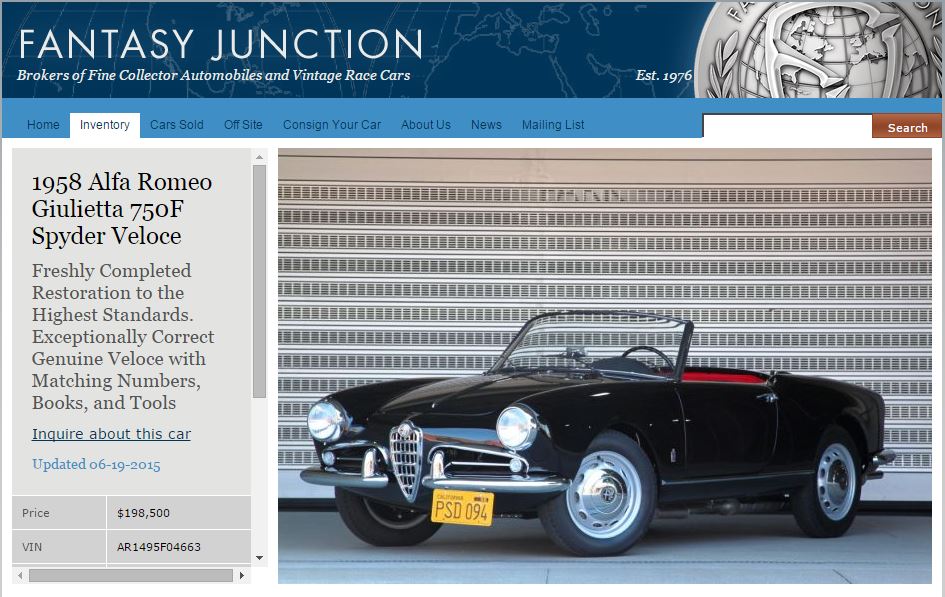 UPDATE August 2, 2016: Gooding and Company Auction Monterey Catalog (images from their website)
This 750F Giulietta Spider Veloce is an example of the ultimate expression of Alfa Romeo's 1,300 cc masterpiece. Utilizing the early SWB chassis and adding Weber side-draft carburetors, performance camshafts, and a specific oiling system meant to handle spirited use, the early Spider Veloces possessed a rare combination of performance and style.
This Veloce was completed on August 27, 1958, and supplied to the Hoffman Motor Car Company of New York. After sitting static since the 1970s, the Veloce was purchased a few years ago by a Los Angeles-based Alfa Romeo enthusiast, who commissioned a comprehensive restoration. Work completed in 2015 included the detailed refurbishment and reconditioning of components, including a rebuild of the drive train. The Veloce was refinished in its original black livery, and the red interior was re-trimmed in the correct material. It retains specific Veloce Weber sand-cast carbs and sump, and correct clamps, hoses, and decals were used where possible, resulting in a striking presentation. This spectacular Veloce also retains its matching-numbers engine, as documented by Alfa Romeo Automobilismo Storico and the original data tags.
Prized for their eager and balanced performance, impeccable road manners, and reliability, Giulietta Spiders have made their way into a number of the world's most important collections. This rare example is ready for a discerning new owner.