PREVIOUS OWNERS:
HISTORY: Chassis 101.18.390611 Car is currently set up for vintage racing. It has successfully competed in the Monterey Historics twice, Wine Country Historics four times in addition to numerous other CSRG events. As currently configured Tinney 1600 small port head, carillo rods, megacycle cams, veloce headers, alloy flywheel etc. 5.12 diff, konis, panhard rod, 8 gallon fuel cell, Switters close ratio trans, Panasport wheels, full Lexan windshield in original posts. If the day comes the car can easily be returned to full street trim as all the original parts have been retained including, but not limited too, the original motor, Tinney rebuild, seats, gas tank, airbox, brakes, heater, wiper assembly etc. Asking $90K Picture to be posted here with ad shortly, more details and pics available to interested parties, thanks, Fred.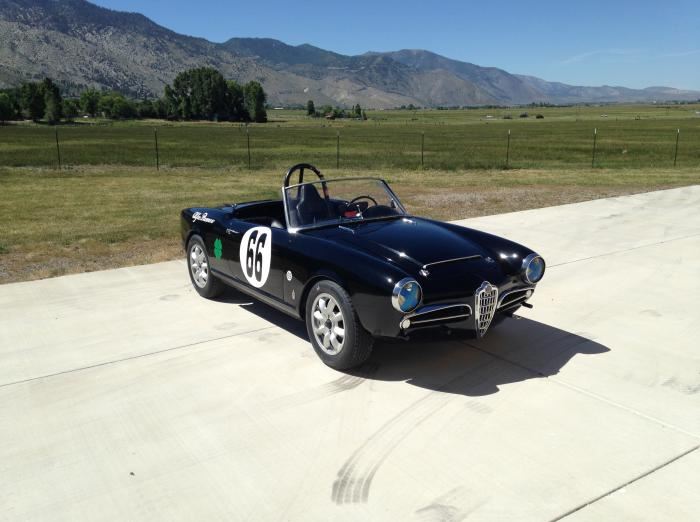 UPDATE: July 29, 2017 Car is for sale on the Fantasy Junction website.
Comments:
1965 Alfa Romeo Giulia Spider Veloce Race Car
s/n AR*390611*, Engine no. AR00112*08366*
Black with Red Interior
Alfa Romeo, the Italian giant of automobile manufacturing was not always a prolific producer of great sports cars. Prior to the Giulia and Giulietta, Alfa cars were handmade using detailed labor and complex fabrication. All this changed when the Giulia and Giulietta arrived. These sporty and charming, yet finely trimmed cars delivered an air of sophistication and performance to an eager public. Both cars enjoyed success, with strong sales in Europe and America. Among the most desired of these cars is the Giulietta Veloce. The Veloce featured a twin cam 1300cc in-line four cylinder engine, twin Weber carburetors, higher compression ratio, and spirited cam profiles, resulting in improved overall performance. Even better still was the lager displacement 1600cc Giulia Veloce, also with twin-Weber carburetors, but with front disc brakes as standard equipment.
This particular car is a genuine Giulia Veloce Spider that has been set up for vintage racing. The car has been in the collection of one of the most prominent and respected collectors in the world. During his ownership the car was dialed in for racing with reliability and performance in mind. Attention to detail and respect for authenticity were combined during the build in order to make a very capable performance car while still retaining the gorgeous design in tribute to the original.
The car is set up with a Terry Tinney built small port head 1600 motor assembled with Megacycle cams, JE pistons, Carrillo rods, alloy valves, a Spruell aluminum clutch and fly wheel, and an aluminum gear reduction starter. The frame was rebuilt with new rocker panels and floor pan in order to improve the structural rigidity of the car. Brakes were updated using ATE front calipers with rear finned aluminum drums in the rear. For improved suspension and handling, adjustable aluminum trailing arms and Panhard rod suspension was added, with Koni shocks, Orion springs, and a Dave Rough front sway bar. Panasport 6" x 15" wheels (including the spare) are shod with Hoosier vintage TDs tires.
The car is running an aluminum fuel cell, remote oil filter and oil cooler to assist in meeting the performance demands of racing in a wide range of conditions. The transmission is a Switters close ratio unit with a 512 locked rear end. Throughout the car, a great deal of attention was spent sorting out the mechanical needs and dialing the car in for optimal performance and safety on the track.
Cosmetically this is a nice car with good race car cosmetics, an excellent racing stance, and a purposeful presence. The paint is appropriate for racecar use with good gloss overall but showing evidence of track use. Various trim and bright work on the car is good overall with the grille and side vent trim handsomely accenting the front of the car. The Panasport wheels are in very good condition with nice finish overall and no major chips or marks on the rims. The bumpers have been removed and the bodywork has been finished to feature a clean look, further enhanced by the Italian flag colored stripes running the top length of the entire car. A roll bar is installed for added safety, adorned with a few stickers boasting of the premier west coast historic races where this car has competed.
The interior is a nice combination of original features and racing components. The original dashboard is in place with all three instruments centrally located behind a stock steering wheel. The finishes in the interior include red seating and door panels against the gloss black body color. Here again the contrasting fire extinguisher, competition seat belts, additional instrumentation, and safety cut-off switch all add to the purposeful agenda of this race-ready Alfa Spider Veloce. Under the hood, Alfa Romeo aluminum castings, Weber carburetors, and internal upgrades come together in a total performance package, which is presented in a clean and tidy engine compartment. The undercarriage is solid, showing no evidence of significant damage. The floor pans have been selectively replaced.
The car is a full-tilt racecar, and that is evident in the driving experience it supplies. The engine starts easily, revving up to a raspy and crisp bark when blipping the throttle. All eyes on the instruments indicate everything is ready to go and the clutch responds promptly. Shifting is smooth and direct as power comes on and the twin cam delivers that glorious Italian symphony as you launch to speed. Cornering is sharp, having been dialed in with suspension upgrades, slightly lowered stance, and eager Hoosier tires. Front disc brakes bring the car down smoothly without drift or significant dive, making cornering and acceleration delightfully rapid exchanges in and out of the apex.
It is unlikely that the build of this example could duplicated for the asking price. The car comes with original engine in complete long block form (minus carburetors and distributor), the original fuel tank, a wiper motor, a spare set of wheels, and a few suspension parts, but would not be easily converted back to street use configuration.
This Alfa Romeo Spider Veloce is a wonderful race prepped car, ready to deliver a rewarding driving experience on the racetrack or at vintage events. Built by racing professionals with an eye for competition performance and vintage flavor, this Giulia Veloce will excite racing enthusiasts who crave Italian performance, artistry, and dynamic motoring.