In 1954, Alfa Romeo followed up on the success of its 1900 series with the handsome Bertone-styled Giulietta Sprint coupe powered by a 1.3-liter aluminum-block version of Alfa's famous twin overhead cam inline-4 engine. A two-plus-two coupe of obvious sporting nature, the Giulietta Sprint used a twin-choke side-draft carburetor and a high-compression aluminum head, producing 80 HP and a top speed of 103 MPH. In 1955, Alfa added the Giulietta Salon, which became a huge commercial success, and a Pininfarina-bodied Spider. Alfa sold more than 16,000 Giulietta Salons by 1958; by 1961 it had also produced more than 14,000 Giulietta Spider convertibles. Perhaps the prettiest Giulietta was the lovely Bertone-bodied Sprint Speciale or SS coupe. Built in limited numbers from 1957 through 1962, the Sprint Speciale boasted a 100 HP version of the 1.3L engine with twin Weber twin-choke side-draft carburetors, giving it a top speed of 125 MPH. The suspension layout is typical of the period: unequal length a-arms, coil springs, tube shocks and an anti-roll bar up front, and at the rear a live axle located with trailing arms and an upper triangle link, tube shocks and coil springs. With that arrangement and reliable 4-wheel drum brakes, the SS was quick and nimble enough that many owners drove them in competition; indeed, they are still popular in vintage rallying and racing today. Collector Mario Sueiras purchased this 1961 Alfa Romeo Giulietta Sprint Speciale coupe in August 2006 from Joop Stolze Classic Cars in the Netherlands. Mr. Sueiras imported the car to his home in Guatemala and in 2007 commenced a comprehensive restoration using original parts that included rebuilding its Veloce-specification 1.3/100 HP twin-cam engine and fully detailing the engine bay. The completed car is the very picture of a classic postwar Alfa sports coupe, its flowing Bertone-designed curves cloaked in Italy's official racing color and showing off superb chrome and polished alloy trim. Contrasting red and white leather upholstery with white piping adorns the cleanly designed cockpit, which features restored gauges and the comfortable bucket seats and driver-friendly controls that have come to typify Alfa Romeos of all generations. This pristine Sprint Speciale coupe has been kept in a dry climate-controlled garage and has been driven just 150 miles since its restoration.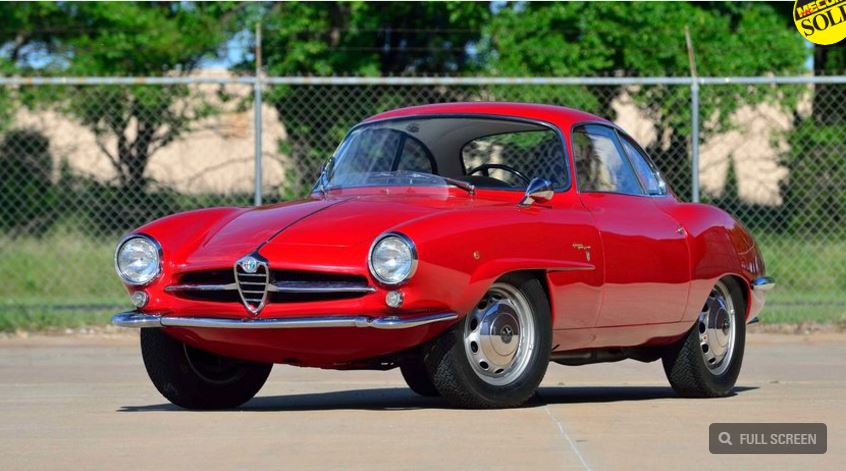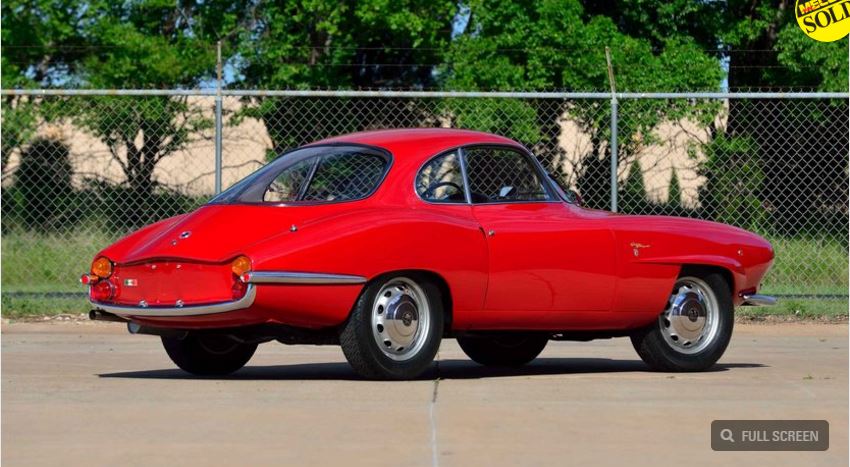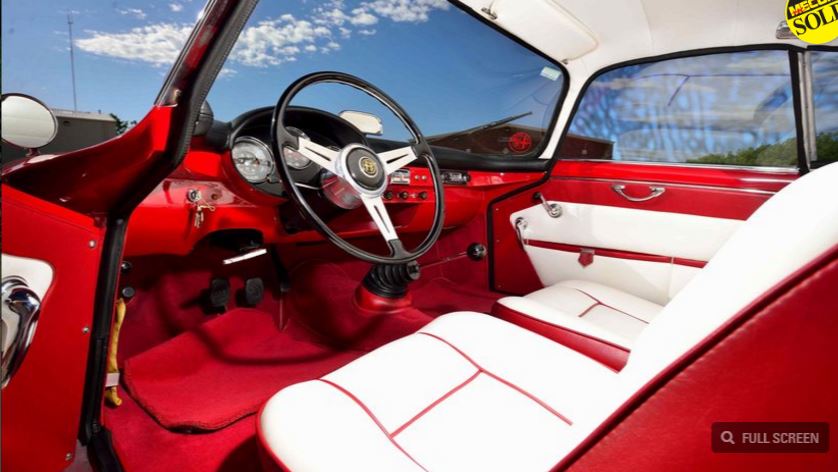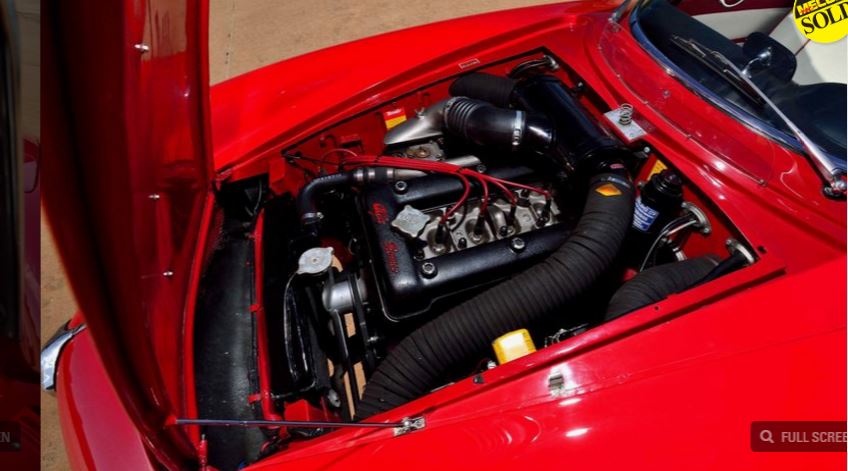 UPDATE: BRING-A-TRAILER 9/11/2017
This 1961 Alfa Romeo Giulietta Sprint Speciale is finished in red over a contrasting red and white leather interior. The previous owner was collector Mario Sueiras, who acquired the car in 2006 from Joop Stolze Classic Cars in the Netherlands. It was then imported to Guatemala, where it reportedly underwent a restoration using original parts where possible. Work included rebuilding the Veloce-spec 1.3L twin-cam engine and restoring the gauges. The seller purchased this example a year ago and had a rebuilt 5-speed manual transmission installed. The car has covered less than 1,000 miles since the restoration and is now offered with a clean Montana title in the name of the seller's LLC.
The Bertone-styled Giulietta Sprint Speciale was built in limited numbers between 1957 and 1962. The red finish shows well in the provided photos, and the seller notes that the chrome and polished alloy trim remain in nice condition.
The styling was rooted in the B.A.T. aerodynamic studies conducted by Bertone in the 1950s. The resulting design provided the SS with a distinctive look and very low drag coefficient for the time.
The Veglia instrumentation was rebuilt and includes a speedometer, combination gauge, and tachometer. All equipment is reported to function, including the push-button AM-FM transistor radio. The odometer currently shows 3,055 kilometers and is not accurate.
The contrasting red and white leather interior features red piping on the seats.
The Veloce-specification 1.3L twin-cam four has twin Weber carburetors and was rebuilt around 2007. A rebuilt and correct 5-speed transmission was recently installed.
The car features independent front suspension and a solid rear end with coil springs and 4-wheel drum brakes. Additional underbody photos are included in the gallery. This Alfa has been driven less than 1,000 miles since the restoration was completed, with 150 added by the seller.