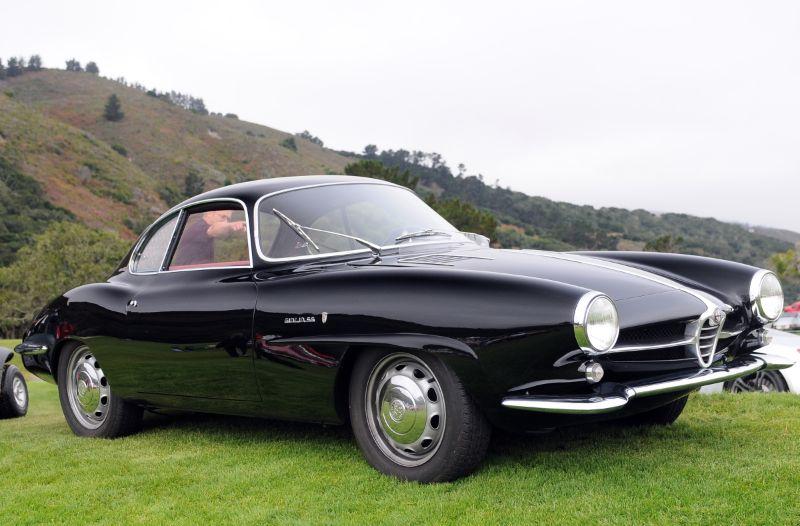 PREVIOUS OWNERS: 2009 John Nave, Steve Nylin 2002, 1994 Cosmopolitan Motors in Seattle


HISTORY: UNKNOWN:

UPDATE: MAY 26, 2020 BRING A TRAILER AUCTION - INFORMATION AND PHOTOS COPIED FROM THE ADVERTISEMENT

This 1964 Alfa Romeo Giulia 1600 Sprint Speciale is one of 1,400 examples produced and was first sold in Rome in 1966, after being built in July 1964. Chassis AR381268 was acquired by the seller in 2009 in Seattle from a Microsoft employee who had owned the car for about 10 years. A cosmetic and mechanical refurbishment was subsequently carried out in Washington, after which the seller drove the car to Monterey, California for the 2010 Car Week. It was displayed at the Concorso Italiano and was then driven back to the seller's home in Austin, Texas. Finished in black over red, the car is powered by a Veloce-spec 1,570cc DOHC inline-four paired with a five-speed manual transmission. Service in the last six months included refurbishing the fuel tank and freshening the rest of the fuel system, as well as rebuilding the pedal box. This Tipo 101.21 is now offered with correspondence on its history from Marco Fazio, records covering the seller's ownership, a tool kit, an instruction manual, and a clean Texas title in the seller's name.

The Sprint Speciale entered production for 1959 with styling by Bertone's Franco Scaglione, who drew inspiration from his earlier Berlinetta Aerodinamica Tecnica prototype designs. Offered as the Giullietta SS until shifting to the Guilia series in 1963, the model featured streamlined bodywork that yielded a reported drag coefficient of 0.28.

Originally finished in white, this example was repainted in black during cosmetic work carried out by Vintage Customs of Tacoma, Washington in 2009. The bumpers and brightwork were re-chromed during the project. A new windshield and rear window were installed by the seller after he brought the car to Texas. Closeups of the finish, trim, lenses, and glass are presented in the photo gallery below.

15" Fergat wheels are finished in silver and wear polished covers, with a matching spare housed in the trunk. Vredestein Sprint Classic tires are mounted all around. The Giulia SS model was equipped with disc brakes up front, and this example has also been fitted with rear discs.

Vintage Customs rebuilt the seats in 2009 and recovered them in red skai leather, in lieu of the original blue trim. Matching upholstery was also fitted on the door panels and lower dash. The upper dash was covered in black leather, and new charcoal carpeting was installed along with a correct headliner. The pedal box assembly was rebuilt in December 2019 and can be seen removed from the car in the gallery below.

A three-spoke steering wheel frames Veglia instrumentation that was refreshed in 2009, including a 220-km/h speedometer and 8k-rpm tachometer. The five-digit odometer shows approximately 29k kilometers (~18k miles), 2k of which have been added by the seller. A Bertone radio blanking plate is situated in the dash face, along with a clock.

The Veloce 1,570cc inline-four features dual overhead camshafts, hemispherical combustion chambers, and twin Weber 40 DCOE carburetors. Factory-rated output when new was 112 horsepower, which is sent to the rear wheels through a five-speed manual transmission. The engine was inspected by Wes Ingram in Burlington, Washington in 2009, and repairs were reportedly made as needed. The fuel tank was removed and refurbished in 2020, with the rest of the fuel system also refreshed at that time.

Suspension work carried out by Wes Ingram in 2009 included fitting Rugh springs all around, as well as new bushings. Additional underside photos are provided in the gallery below.

In additional to being shown at the 2010 Concorso Italiano in Monterey, California, where it is pictured above, the car participated in the 2011 ItalianCarFest in Grapevine, Texas, winning Best in Class. It was subsequently pictured on advertising material for the following year's Italian Car Fest, and was used for a photo project by a University of Texas art class. An email from Marco Fazio of Automobilismo Storico Centro Documentazione Alfa Romeo is shown in the gallery and lists the build date, sale date, and original colors.