PREVIOUS OWNERS: UNKNOWN
History: Details
Alfa Romeo has always been well known for their illustrious supercharged grand-prix cars of the 1930′s and 40′s. Even into the early 1950′s they were still very much considered an upscale acquisition for those seeking racing pedigree for the road. However, it was evident that Alfa Romeo would need a new volume based flagship to keep the company progressive and competitive across the market ranges. In 1954 the Giulietta was introduced to the world. Offered in various formats, it can be said the most popular and stylish was that of the Pininfarina Designed Giulietta Spider; offered in both Normale and Veloce Specification. Veloce, or fast in Italian, exemplified just that from the little 4-Cylinder, twin cam, Weber fed engine. Capable of over 100MPH, the Veloce offered Alfa buyers great options, and as such the company sold 100K's of Giulietta variants. The 101 Series, ranging from late 1959-1965 limited Spider Veloce specification examples produced to only 2,796 units. They are indeed rare today; offer a thrilling, high-RPM, top down experience that is certainly one of a kind.
The example offered here is a technically a 750 Series Alfa Rome Giulietta Spider Veloce. According to the Centro Documentazione Alfa Romeo, this example, chassis # AR1495*10115* was produced on the 30th of May, 1960, and was sold via Hoffman Motor Car on the 27th June, 1960. It has been verified as a true Veloce, and was manufactured as it is represented today, in Red with a black interior. This particular example is interesting in that it has a mix of 750 and 101 Series features, and is what is referred to as an interim car. It is a 750 Series car as per its chassis number but has many of the 101 series updates such as vent windows and a 5-speed transmission. Exact ownership history is unfortunately unknown prior to 1968. We can document that it sold into the ownership of a Pennsylvania owner on March 16th, 1968, where it remained until its most recent owner of nearly 25 years acquired it on August 6th of 1990. Prior to his acquisition, we are told, and as evident through thorough inspection, that this example received much attention in the way of a total restoration in the late 1980′s.
At the time of restoration a crack in the original engine block, # AR00106*00276* was discovered and repaired. Ultimately the decision was made to replace the block, and the job was completed with engine # AR1315*4350*, a 1,300cc Normale block. The engine and various original veloce components were all rebuilt and re-installed after a total strip and repaint in the original color was completed. At this time a new top, interior and refinished bright work were installed. The car still shows this quality restoration today, the workmanship at the time of completion was superb. As such the paint shows today as show worthy, needing absolutely no attention to be appreciated in its current state. It is very consistent, smooth, deep, and with only minute defects that would hardly be noticed even in concours judging. The body is completely straight with good trunk, hood, and door fitment showing excellent gaps when fully closed. The bright work is excellent throughout with only the windscreen and quarter window frames showing to be original and therefore with minor blemishes. The top appears to be new and fits very well. The windscreen wipers are of the correct type as are all of the lenses and trim pieces.
Receipts present with the car show documented service since 1990. At the time of acquisition in 1990 this example showed 60,111 original miles. Today the odometer reads 69,994 miles. Over this period of only 9,883 miles nearly $8,200 has been spent on keeping this Veloce totally up to date and turn-key. It has also been carefully enjoyed, stored, and as such the work completed in the late 1980′s could easily pass for a few years old, it is excellent. It is no surprise that entering this Veloce shows an impressive interior with new and very correct carpeting/mats. Excellent original gauges, steering wheel, knobs, and "PF" emblem on the dash adorn the restored interior with an element of originality. Behind the drivers compartment shows the correct and original Borrani wheel with original tire still mounted, original leather straps, jack, and a cover for the top when stowed. Turning any knob or switch instantly engages the desired function. This car is completely in order and turn-key. Starting this Veloce is done so with ease, naturally cold-blooded it only gets better as temperature builds. Once warm the throttle response is excellent and the sound and performance at the higher RPM is superb and as expected from a well restored Veloce. The clutch, brakes, steering, and suspension all operate without fault, are very tight, and responsive. Overall this Veloce has excellent road manners, a joy to drive, and shows great oil pressure at all times with absolutely no smoke or even a hint of mechanical fault.
The engine bay is tidy and very clean for a 25 year old restoration. Still show worthy but very much a driver that can be toured without worrying. The correct/rebuilt Moretti Magnelli distributor and starter are still installed. However, the generator is a bosch type unit, the original and correct Moretti Magnelli unit will be included with the sale. We have also noted a new hood pad and newer hoses as part of this cars up-to-date service. Overall the engine bay is very clean, correct, and needs no attention to be enjoyed at this time.
The trunk is another great indication of this cars history as a solid example. The trunk shows many factory spot welds in all of the correct places, is straight, clean, and shows well with the correct mat also in place. The undercarriage still retains its factory undercoating. The floors are the originals and are totally solid with no rust replacement evident. The other chassis members, rockers, inner fender wells, front valence are all rust free and appear to always have been. The underside is consistent with this examples show/driver quality theme, it is used but well serviced, not concurs clean but driven.
This Giulietta Veloce is a soulful and energetic example that has much to offer the collector or enthusiast seeking a prime example. Offered in a correct and genuine fashion, this Veloce is sure to offer its new custodian years of enjoyment as a superb investment; but also a great show worthy and tour ready driver. As Normale' prices continue to climb these performance and much rarer specification Veloce's will soon climb out of reach and pose as very good property. Included in the sale are the original engine block with crank and connecting rods. The Jack, spare, and all available records are also included. Thank you for the consideration and please inquire with any further interest.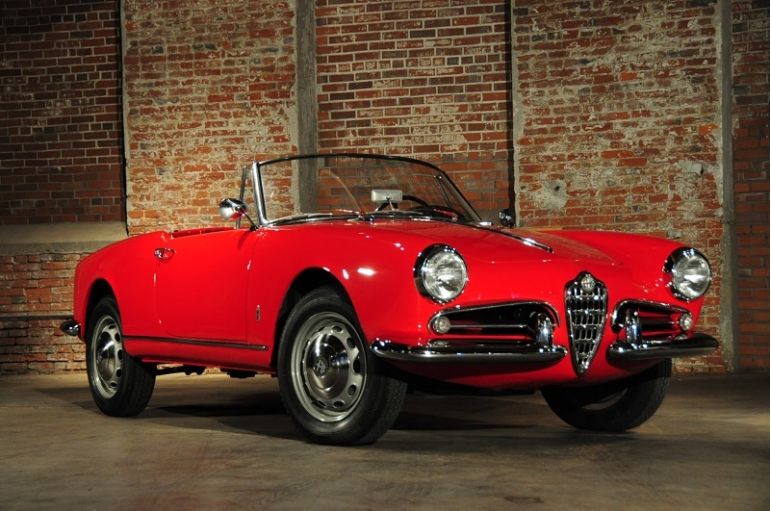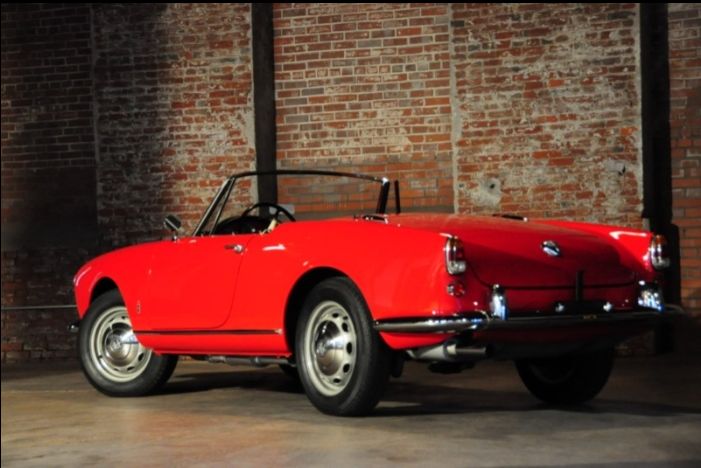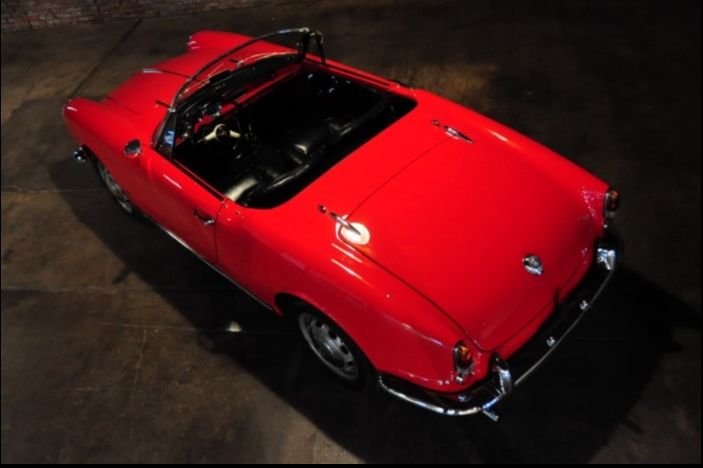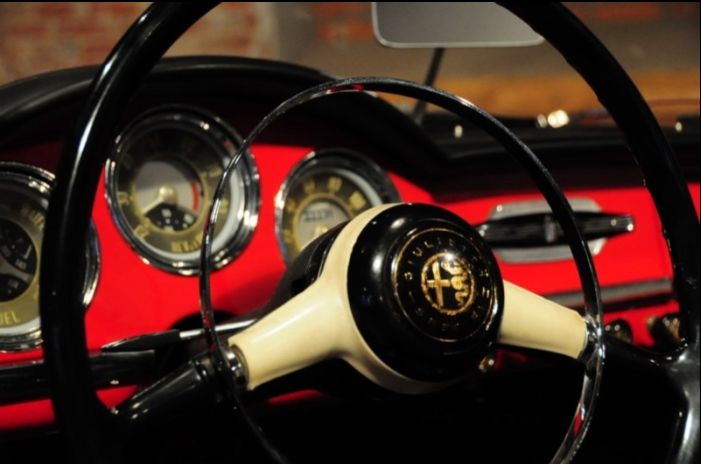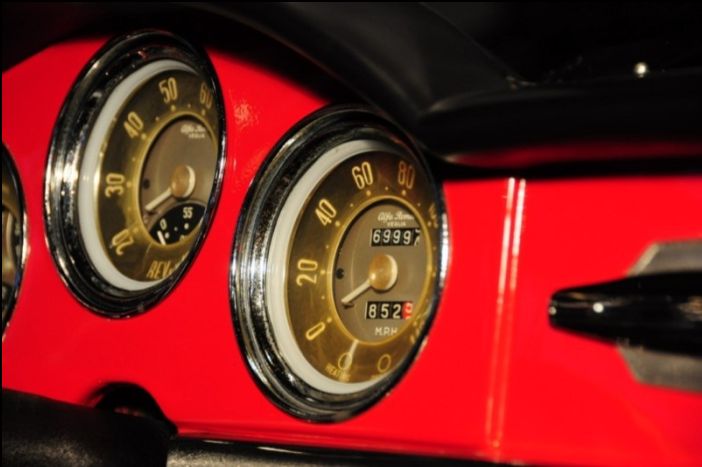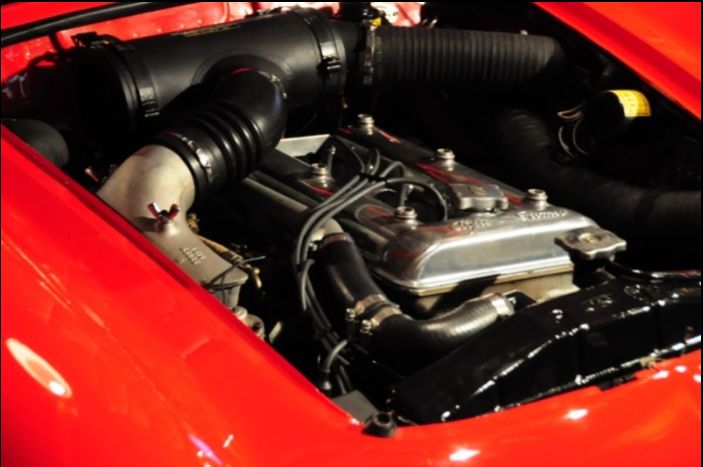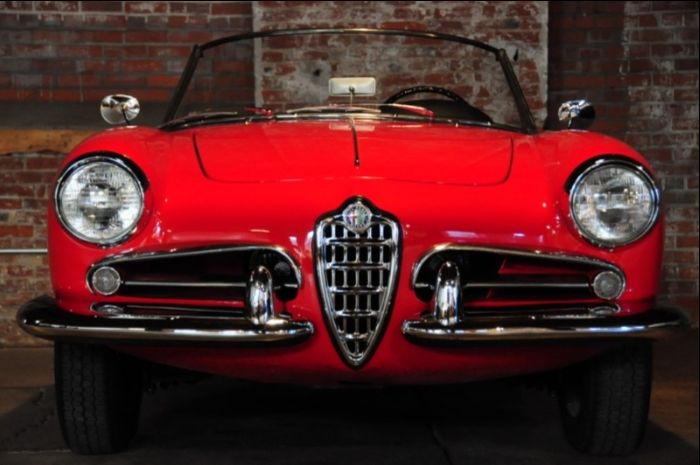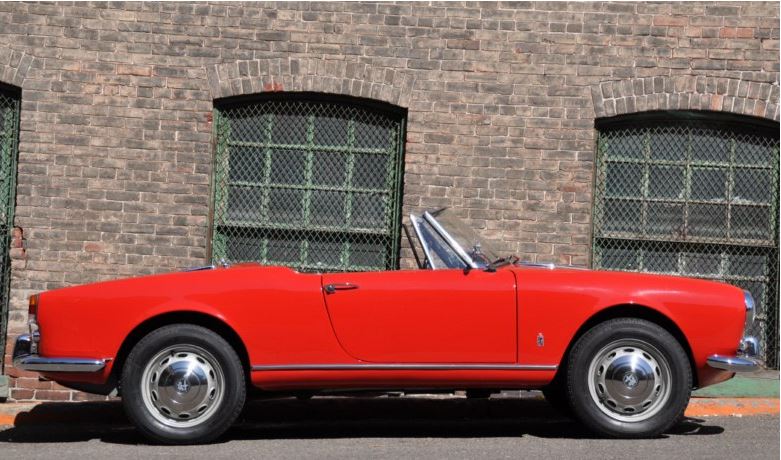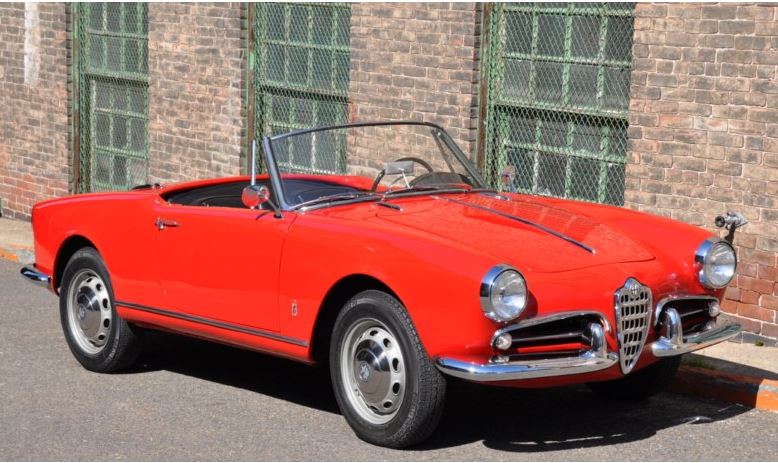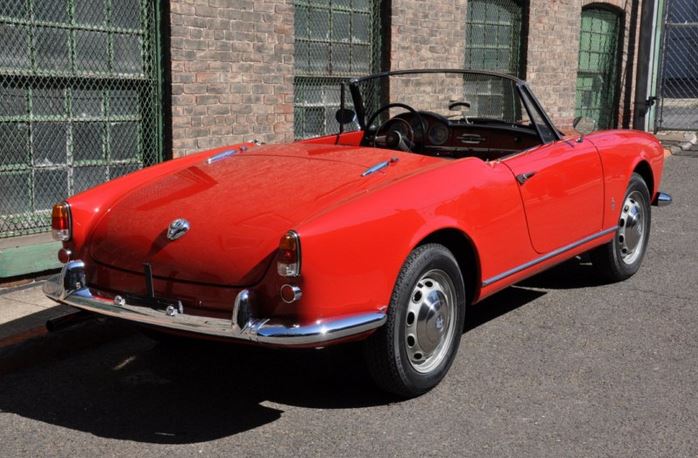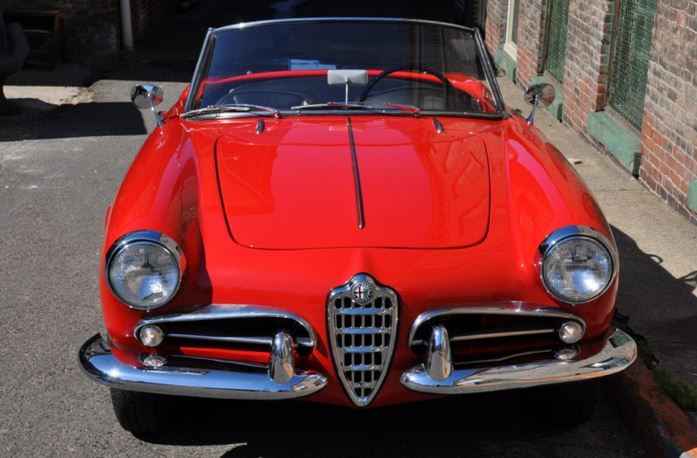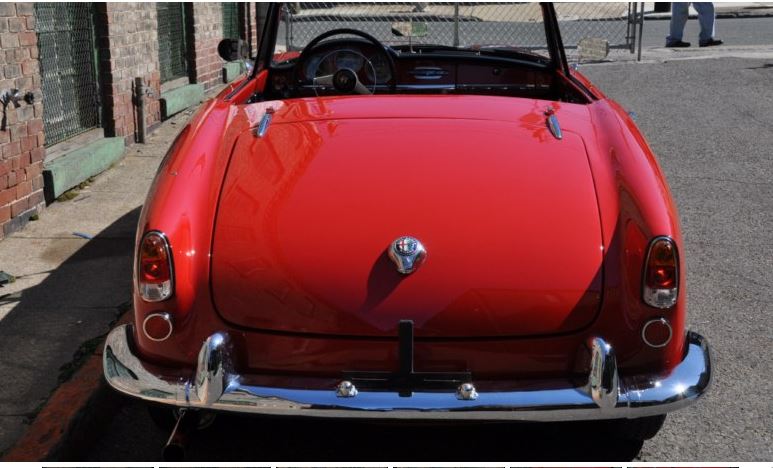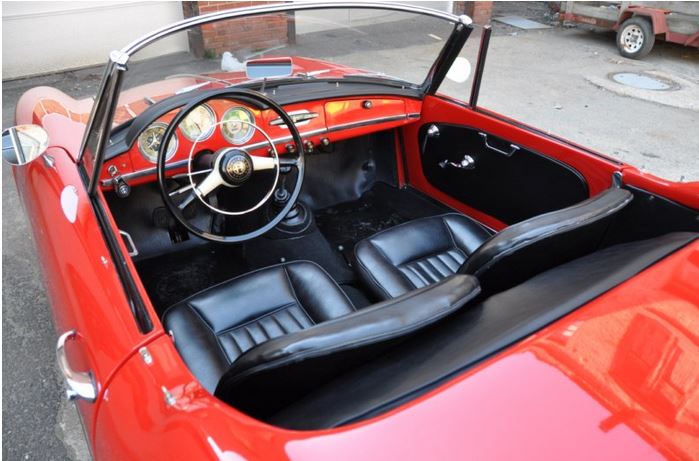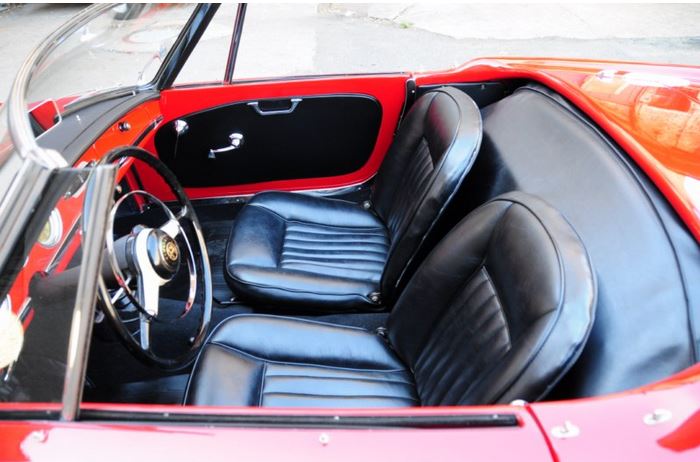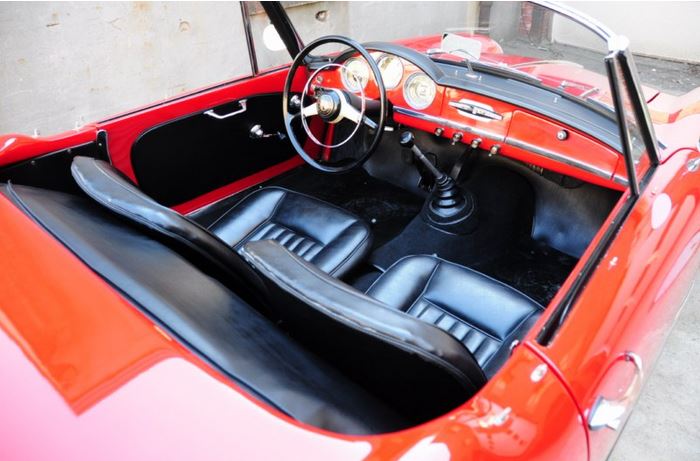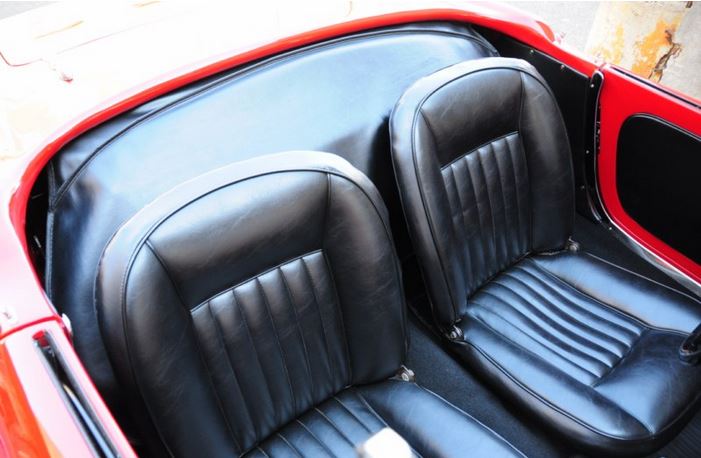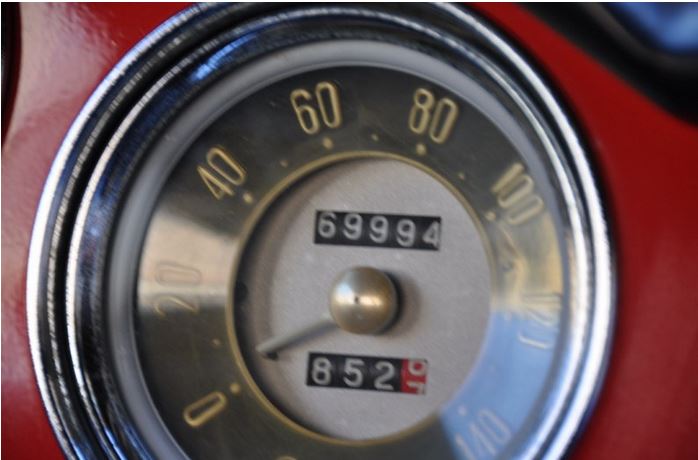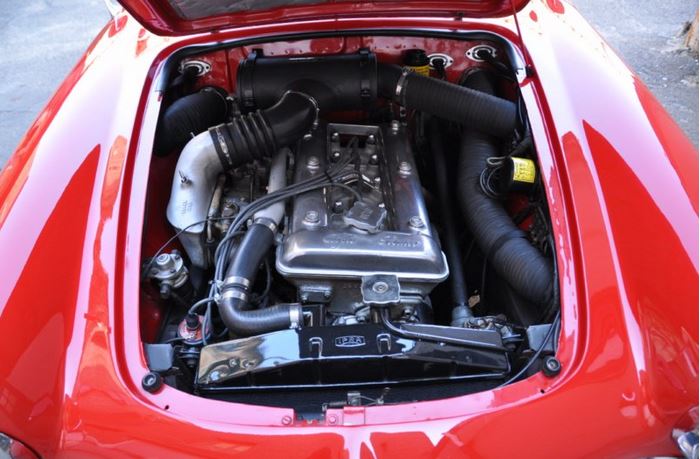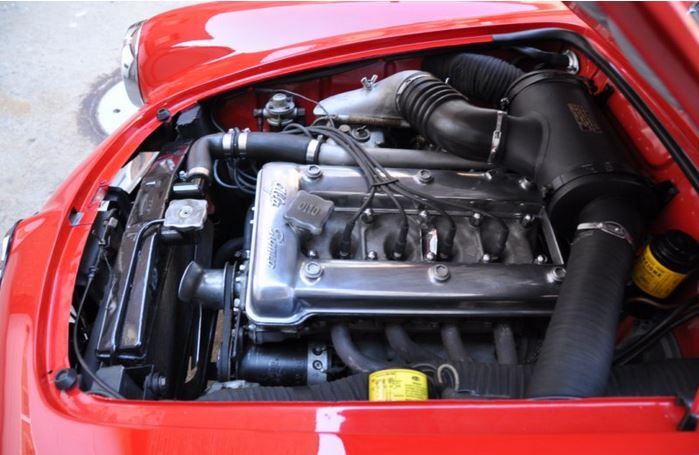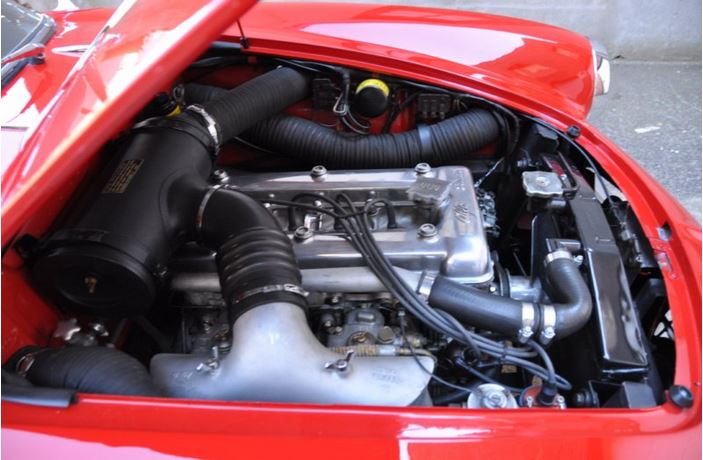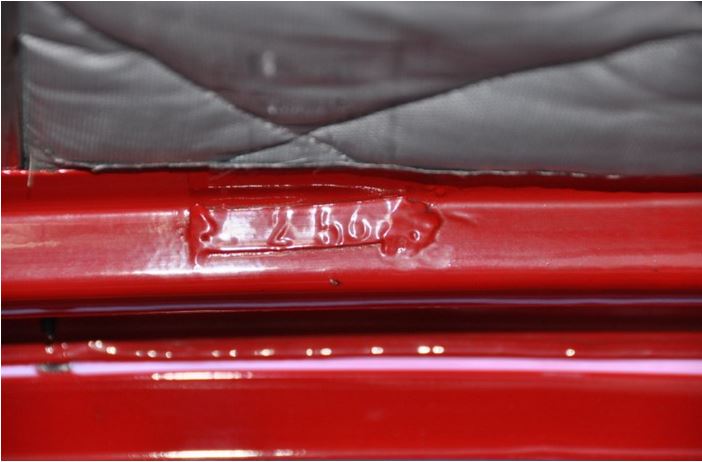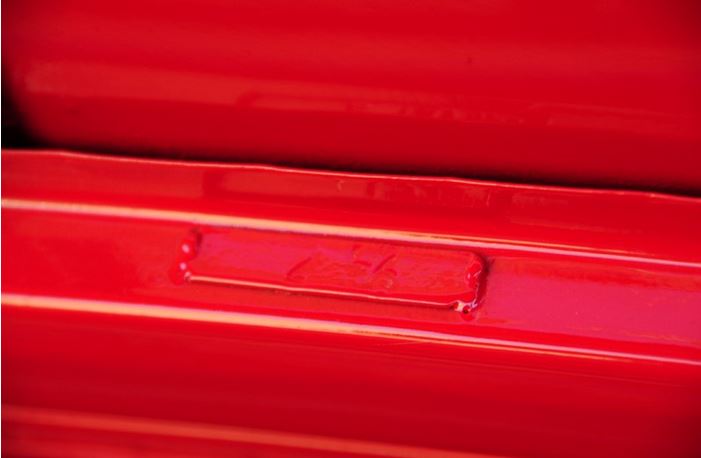 UPDATED INFORMATION JUNE 14, 2015 FROM CHECKERED FLAG INTERNATIONAL'S WEBSITE:
Description: Chequered Flag International Inc is pleased to offer this 1960 Alfa Romeo Giulietta Spider Veloce in Red with Black interior and top. Below is essentially what the previous seller wrote about this car:- The example offered here is a technically a 750 Series Alfa Rome Giulietta Spider Veloce. According to the Centro Documentazione Alfa Romeo this example chassis # AR1495*10115* was produced on the 30th of May 1960 and was sold via Hoffman Motor Car on the 27th June 1960. It has been verified as a true Veloce and was manufactured as it is offered today - in Red with Black interior. This particular example is interesting in that it has a mix of 750 and 101 Series features and is what is referred to as an interim car. It is a 750 Series car as per its chassis number but has many of the 101 series updates such as vent windows and a 5-speed transmission. Exact ownership history is unfortunately unknown prior to 1968. We can document that it sold into the ownership of a Pennsylvania owner on March 16th 1968 where it remained until its most recent owner of nearly 25 years acquired it on August 1990. Prior to his acquisition it receive a total restoration in the late 1980's. At the time of restoration a crack in the original engine block # AR00106*00276* was discovered and repaired. Ultimately the decision was made to replace the block and the job was completed with engine # AR1315*4350* a 1300cc Normale block. Included in the sale is the original block crank and connecting rods (shown). The engine and various original Veloce components were all rebuilt and re-installed after a total strip and repaint in the original color was completed. At this time a new top interior and refinished bright work were installed. The car still shows this quality restoration today the workmanship at the time of completion was superb. The paint is still excellent it's very consistent smooth deep and with only minute defects. The body is completely straight with good trunk hood and door fitment and gaps. The bright work is excellent throughout with only the windscreen and quarter window frames original and therefore with minor blemishes. The top appears to be new and fits very well. The windscreen wipers are of the correct type as are all of the lenses and trim pieces. Receipts present with the car show documented service since 1990. Over the period of only 9883 miles nearly $8200 has been spent keeping it up to date and turn-key. It has also been carefully enjoyed stored and as such the work completed in the late 1980's could easily pass for a few years old it is excellent. This Veloce shows an impressive interior with new and very correct carpeting/mats. Excellent original gauges steering wheel knobs and PF emblem on the dash (with the exception of a speedo replaced with one that reads in Kilometers) Behind the drivers compartment shows the correct and original Borrani wheel with original tire still mounted original leather straps jack and a cover for the top when stowed. All switches work properly. This car is completely in order and turn-key. Starts with ease naturally cold-blooded it gets better as temperature builds. Once warm the throttle response is excellent and the sound and performance at the higher RPM is superb and as expected from a well restored Veloce. The clutch brakes steering and suspension all operate without fault are very tight and responsive. Overall this Veloce has excellent road manners a joy to drive and shows great oil pressure at all times with absolutely no smoke. The engine bay is tidy and very clean for a 25 year old restoration. Still show worthy but very much a driver that can be toured without worrying. The correct/rebuilt Moretti Magnelli distributor and starter are still installed. However the generator is a bosch type unit the original and correct Moretti Magnelli unit will be included with the sale. We have also noted a new hood pad and newer hoses as part of this cars up-to-date service. Overall the engine bay is very clean correct and needs no attention to be enjoyed at this time. The trunk is another great indication of this cars history as a solid example. The trunk shows many factory spot welds in all of the correct places is straight clean and shows well with the correct mat also in place. The undercarriage still retains its factory undercoating. The floors are the originals and are totally solid with no rust replacement evident. The other chassis members rockers inner fender wells front valence are all rust free and appear to always have been. The underside is consistent with this examples showith driver quality theme it is used but well serviced not concurs clean but driven. Offered as correct and genuine this Veloce is sure to offer its new custodian years of enjoyment as a superb investment and a great tour ready driver. As Normale' prices continue to climb these much rarer specification Veloce's may soon climb out of reach. The Jack spare and all available records are also included. Inspections encouraged all sales AS-IS. Sales tax and license fees due if delivered in California. - Contact Chequered Flag for more information. - Please see more inventory and photos at www.chequeredflag.com. - Price: $96,500