PREVIOUS OWNERS: Before 1999 unknown, Mr. Corby, Howard Wise, JDS Classics,
HISTORY: Briefly the car was imported to England from Germany in 1999 when it was already red. It was owned by a Mr Corby who undertook a BP25,000 restoration at specialists Robin Lackwood over 119 weeks from 2007 to 2009.
He sold it to Howard Wise a collector/dealer who in turn sold it in 2012 to JDS Classics a well known Jaguar and collector car specialist in England. They were not happy with the finish and the car was repainted and detailed.
I purchased the car from them in early 2013 and have done further restoration and detailing, correcting the most obvious mistakes.
The trunk floor has been repaired, there is no number. The hood (bonnet ) has stamped 166 and the firewall has stamped AR390662. Next to this is a plate in German with the tipo 101.18 and various weights in kilos and AR390662.
Please add my 101.18 Spider Veloce to the register Details according to Centro Chassis AR 390662, Tipo 101.18 (Spider Veloce ) Manufactured 17 May 1965 Sold to Alfa Romeo Frankfurt Germany 22 October 1965 Original Color Sky (Celeste ) Blue, Black interior Block Not Known, Factory replacement engine no number. Owner Gary Jones Owner Notes: History Unknown to 1999, exported from Germany to UK, color red, restored 2007/2009 in UK,refinished 2012, sold to me April 2013 and exported to USA, refinished and corrections to restorations 2013/2014. Current location USA, Florida, Sarasota
UPDATE 02/18/2016
Location:

Sarasota, Florida 34239

VIN #:

AR 390662

Trans:

Manual

Condition:

Mint

Exterior:

RED

Interior:

BLACK
Description:
RARE GENIUNE ALFA ROMEO GIULIA SPIDER VELOCE IN OUTSTANDING RESTORED CONDITION
Only 1091 Guilia Spider Veloce's were built, less than 400 survive. According to Marco Fazio of Centro Documentazione Alfa Romeo this Spider Veloce Tipo 101.18 AR390662, Pininfarina # 107166 Engine # 02328 was built on May 17 1965 and sold to Alfa Romeo , Frankfurt ,Germany on October 22 1965.
Characterized by a substantial horsepower increse and other innovations over the Guilia Normale, the same engine as in the Veloce was used in the special bodied Sprint Speciale and GTZ models. Twin Weber carburettors, a racing cam, disc front brakes also resulted in a high spirited road car.. No further records have been found of AR 390662's life in Germany. Originally Sky Blue with Black interior.
In 1999 with 83,129 kilometeres on the odometer it was imported to the UK by a Mr Corby and registered at the DVLA. The Veloce remained in his collection for over 12 years and was subject over a period of 112 weeks to a complete restoration by Robin Lackford, Restoration Specialists of West Sussex, UK. Substantial invoices over $35,000 demonstrate the extent and thoroughness of Lackford's work. Subsequently purchased by Howard Wise Classic Cars, UK with 84,652 kilometres, the Veloce then attracted the attention of JDS Classics of Maldon, Essex, UK a renowned Jaguar, Ferrari and vintage racing restoration specialists who undertook further restoration including repainting to the present Alfa Romeo Rosso 514. The Veloce was purchased from JDS by the present owner and imported into the USA with all duties, taxes paid and with a clear Florida title in early 2013.
Since arriving in the USA, AR390662 has been the subject of a comprehensive refreshing and overhaul to bring it to the highest mint condition. This include NOS headers, new exhaust, brakes, suspension overhaul, a radiator rebuild and replacement of all coolant hoses. A rare Battaini jack was sourced and a partly original tool kit assembled. The car is fitted with period correct new Pirelli Cinturato tyres and tubes. Overall the excellent cosmetics have been further improved with new rubber, refinished instruments and interior enhancements. The fabric hood is in excellent shape and the rear plastic window clear and no tears. An oversize Group 27 battery is fitted in a period outercasing. All instruments show well and all gauges and lights function. The engine bay is exemplary, the chassis shows no rust and underbody is correctly body colored paint. All chrome is in concours condition and stainless trim is in outstanding condition.
The car runs very well with smooth gearshifts, direct steering and an excellent ride with recent Koni's. It has enjoyed annual fluid changes and regular exercise despite being driven less than 200 miles a year.
THE GIULIA SPIDER VELOCE is a very expensive car to restore correctly as many Alfa enthusiasts will attest. AR 390662 represents a great opportunity to add a no needs highly collectible car at a price significantly less than that attained at recent auctions. Offers over $100,000 considered.
Price: $109,000 negotiable 941 320 7761 
Photos are from the JDS offering: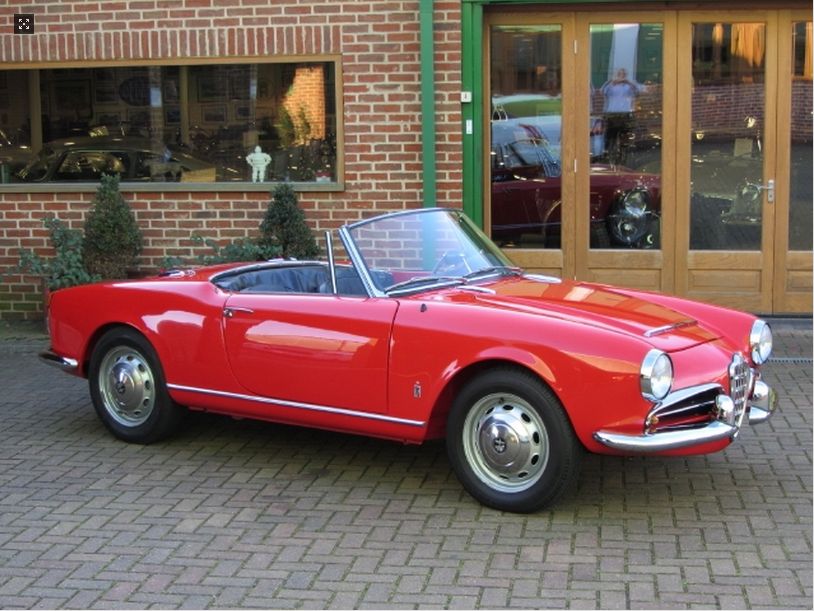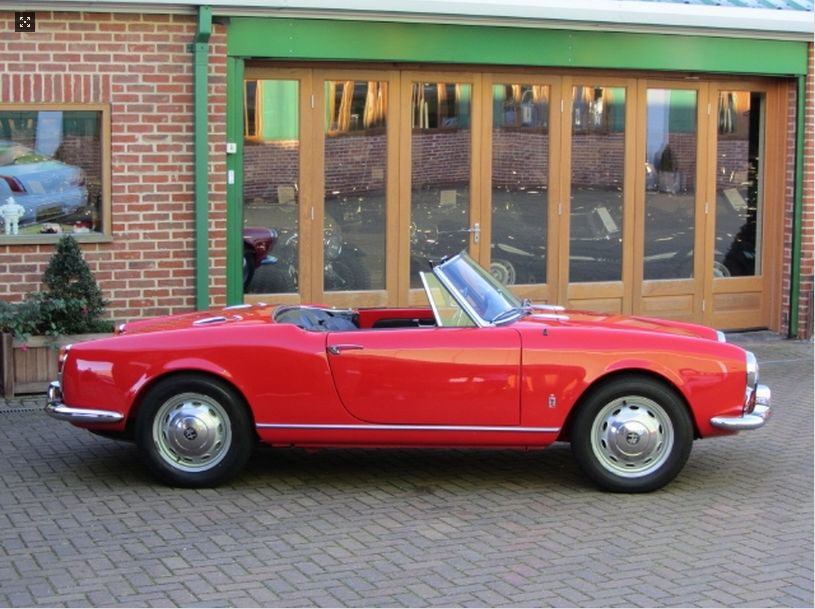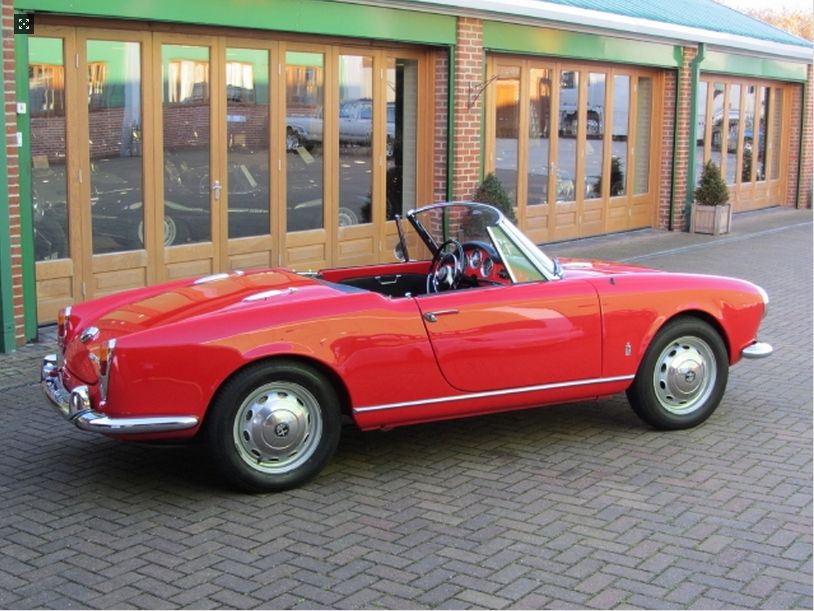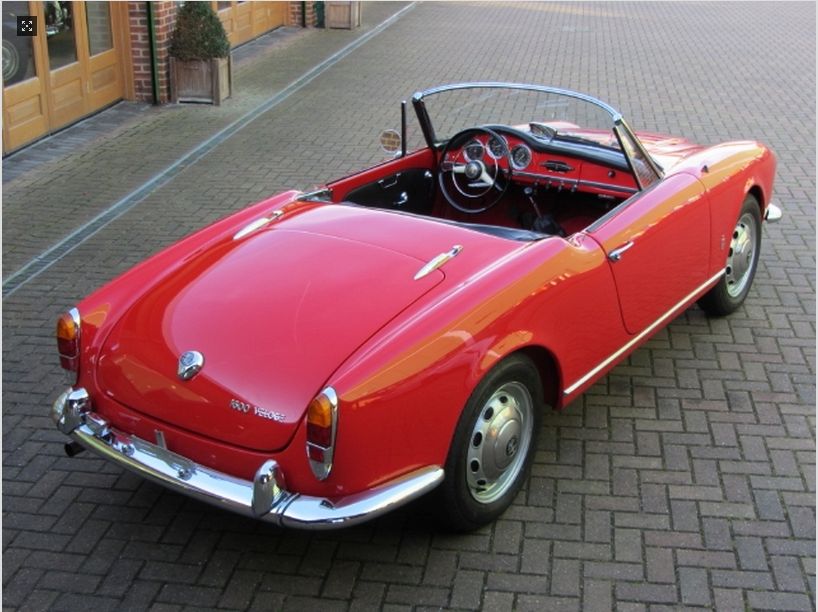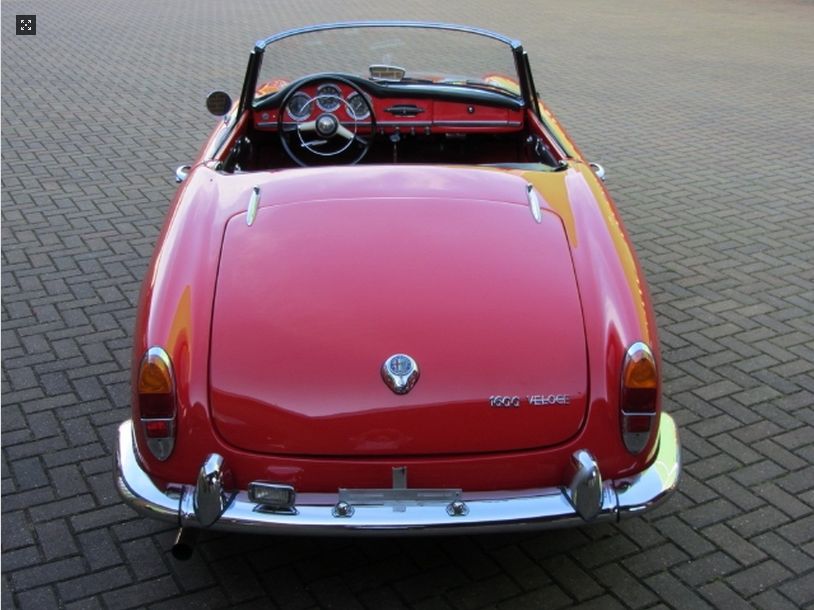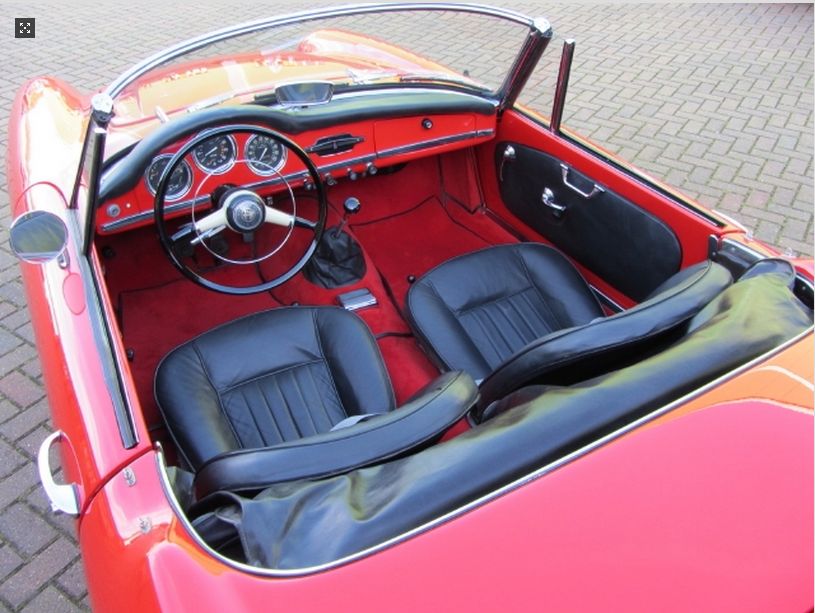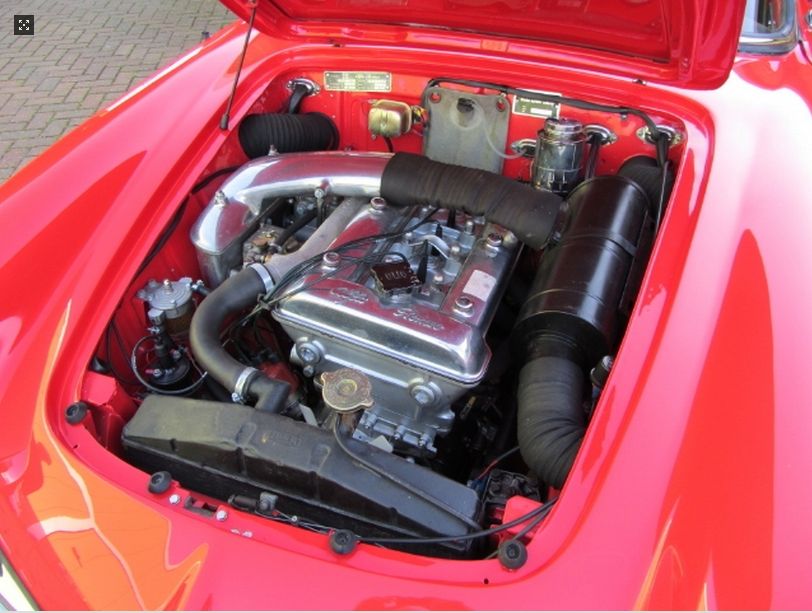 Latest ad on Ebay as of January 9, 2016.
ACCORDING TO MARCO FAZIO OF CENTRO DOCUMENTAZIONE ALFA ROMEO, THIS GIULIA SPIDER VELOCE MODEL 101.18 WAS BUILT ON MAY 17 1965 AND SOLD TO ALFA ROMEO, FRANKFURT, GERMANY ON OCTOBER 22 1965.

THE GIULIA SPIDER VELOCE WAS THE CULMINATION OF THE DEVELOPMENT OF GUILIETTA LINE FROM 1954, THE ENGINE WAS KNOWN AS "THE LITTLE JEWEL" AND BY 1965 THE ELEMENTS OF THIS SUPERB DESIGN BY PININFARINA WAS PERFECTED. SOME 801 WERE MADE IN 1965 AND IT IS BELIEVED BETWEEN 150 TO 350 SURVIVE.

THE GUILIA SPIDER VELOCE IS CHARACTERIZED BY A SUBSTANTIAL POWER INCREASE TO 112HP, TWIN WEBER SIDEDRAUGHT CARBURATION, A FIVE SPEED GEARBOX, RACING CAM AND FRONT DISC BRAKES. THESE AND OTHER IMPROVEMENTS RESULTED IN A HIGH SPIRITED ROAD CAR.

NO FURTHER RECORDS HAVE BEEN FOUND OF AR 390662'S LIFE IN GERMANY. ORIGINALLY SKY BLUE WITH BLACK INTERIOR,SOMETIME THE ENGINE WAS REPLACED WITH A NEW FACTORY UNIT. AS WAS COMMON AT THE TIME THE FACTORY REPLACEMENT BLOCK BEARS NO ENGINE NUMBER. IT IS BELIEVED THAT DURING IT'S LIFE IN GERMANY THE CAR WAS REPAINTED RED.

1N 1999 WITH 83,129 KILOMETRES (50,000 MILES ) ON THE ODOMETER IT WAS IMPORTED TO ENGLAND BY A MR CORBY. THE VELOCE REMAINED IN HIS COLLECTION FOR OVER 12 YEARS AND WAS SUBJECT OVER A PERIOD OF 112 WEEKS TO A COMPLETE BODY AND MECHANICAL RESTORATION BY ROBIN LACKFORD, RESTORATION SPECIALISTS OF WEST SUSSEX, UK. SUBSTANTIAL INVOICES OVER $35,000 DEMONSTRATE THE EXTENT AND THOROUGHNESS OF LACKFORD'S WORK. SUBSEQUENTLY AR 390662 WAS PURCHASED BY HOWARD WISE CLASSIC CARS UK, WITH 84,652 KILOMETRES ON THE ODOMETER IN MAY 2011.

THE VELOCE ATTRACTED THE ATTENTION OF JDS CLASSICS OF MALDON, ESSEX, UK A RENOWNED JAGUAR, FERRARI AND VINTAGE RACING RESTORATION SPECIALISTS WHO UNDERTOOK FURTHER RESTORATION WORK INCLUDING A REPAINT TO THE PRESENT ALFA ROSSO 514 RED. I PURCHASED THE CAR FROM JDS CLASSICS IN EARLY 2013 AND IMPORTED THE VELOCE TO THE USA IN APRIL 2013. CUSTOMS, FEDERAL AND FLORIDA TAXES PAID AND THE CAR HAS A CLEAR FLORIDA TITLE.

IN MY OWNERSHIP AR 390662 HAS BEEN SUBJECT OF A COMPREHENSIVE OVERHAUL OF MECHANICALS INCLUDING NOS HEADERS AND EXHAUST,
OVERHAULED BRAKE SYSTEM WITH NEW PIPES AND HOSES.
REBUILT RADIATOR AND NEW COOLANT HOSES.
NOS RUBBER MATS INCLUDING TRUNK.
INTERIOR LEATHER SEATS AND DOOR CARDS.
4 NEW PIRELLI CINTURATO CORRECT SIZE TYRES AND TUBES
REFINISHED INSTRUMENTS AND GAUGES, WHICH ALL WORK.
COSMETICS FURTHER IMPROVED WITH NEW RUBBER AND CORRECT FITTINGS.
NEW SPARK PLUGS AND LEADS
ENGINE TUNED AND SERVICED REGULARLY
AN OVERSIZE GROUP 27 BATTERY FITTED WITH "PERIOD" CASING


THIS GUILIA SPIDER VELOCE MAKES A GREAT IMPRESSION WITH VIRTUALLY FLAWLESS PAINT, A CORRECT FABRIC HOOD IN EXCELLENT SHAPE WITH CLEAR PLASTIC WINDOW. THE ENGINE BAY IS EXEMPLARY, THE UNDERCARRIAGE IS PAINTED CORRECTLY IN BODY COLOR AND SHOWS NO RUST. ALL CHROME AND STAINLESS TRIM IS IN OUTSTANDING CONDITION THE CAR RUNS VERY WELL, GOOD OIL PRESSURE AND MODEST COOLANT TEMPERATURES. OIL TEMPERATURE GAUGE WORKS. THE 5 SPEED GEARBOX HAS DIRECT SHIFTS WITH A GOOD CLUTCH BITE. STEERING IS DIRECT AND THE SUSPENSION ON RECENT KONI'S AND NEW REAR AXLE BUFFERS AND AXLE LIMITING STRAPS IS AS DESIGNED.

REVERSING LIGHT BELIEVED TO BE ORIGINAL REQUIREMENT IN GERMANY
ITALIAN LICENSE PLATES INCORPORATE DATE OF MANUFACTURE (DAY/MONTH/YEAR)
INDICATOR LIGHTS ORANGE EUROPEAN REQUIREMENT


IN MY OWNERSHIP ALWAYS STORED IN A CLIMATE CONTROLLED WAREHOUSE, THE CAR IS SOLD WITH A PARTIALLY ORIGINAL TOOL KIT, A RARE BATTAINI JACK AND CORRECT ORIGINAL SPARE WHEEL.

KNOWLEDGABLE COLLECTORS ARE AWARE OF THE INCREASING VALUES OF THESE RARE CARS, THE COST OF A CORRECT RESTORATION IS SUBSTANTIAL. THIS GUILIA SPIDER VELOCE IS AN OPPORTUNITY TO BUY A FRESHLY RESTORED EXAMPLE WHICH HAS BEEN CONSISTENTLY IMPROVED TO THE HIGHEST STANDARDS.

SELLER HAS CLEAR TITLE, ORIGINAL RECEIPTS AND HISTORY AS DESCRIBED ABOVE.
CURRENT MILEAGE IS 84,500 KILOMETRES (50,700MILES)
CAR SOLD AS IS WITH NO WARRANTIES GIVEN OR IMPLIED