PREVIOUS OWNERSHIP:
HISTORY: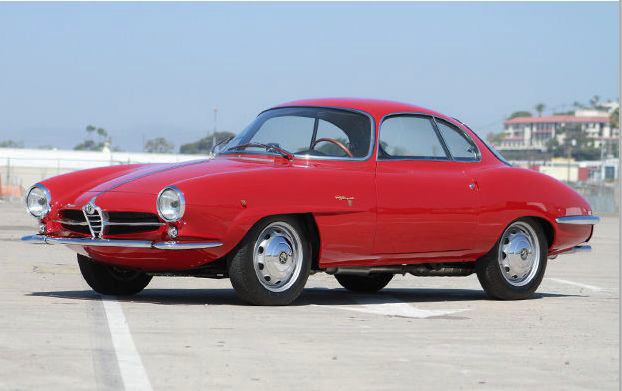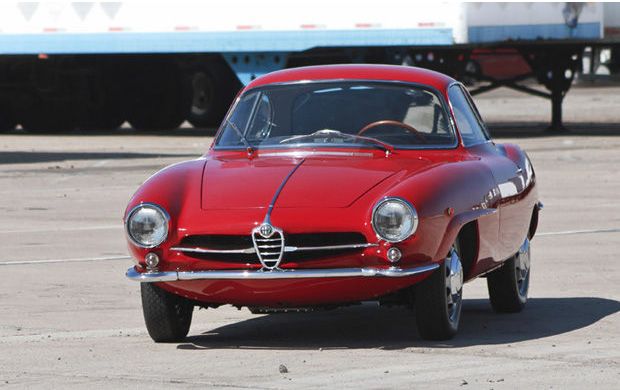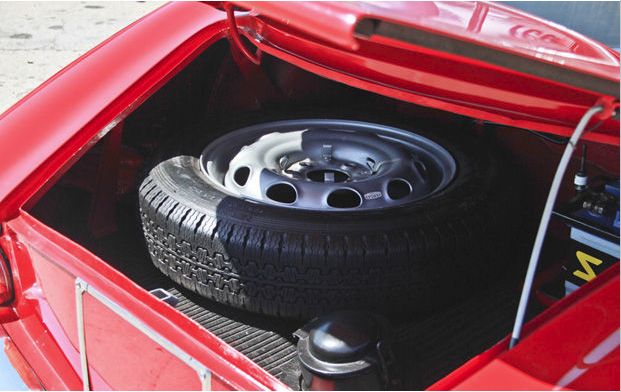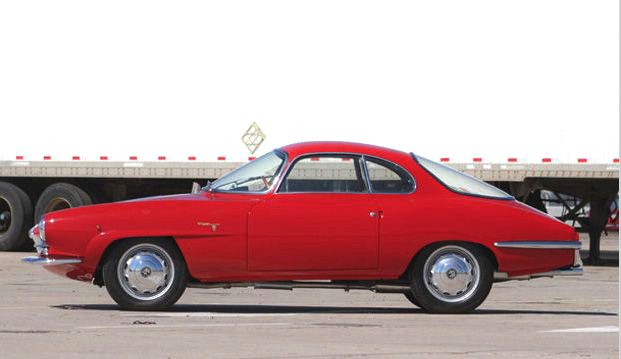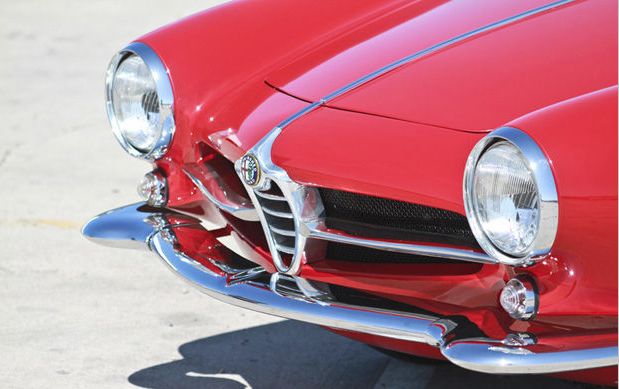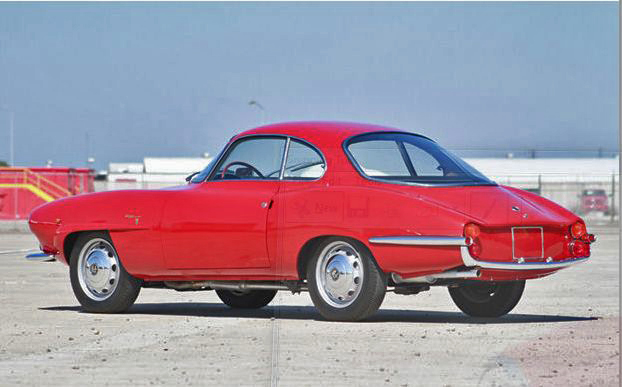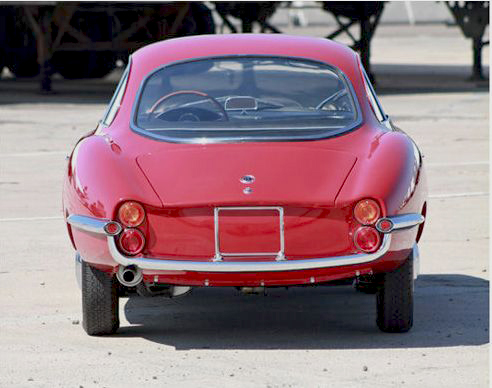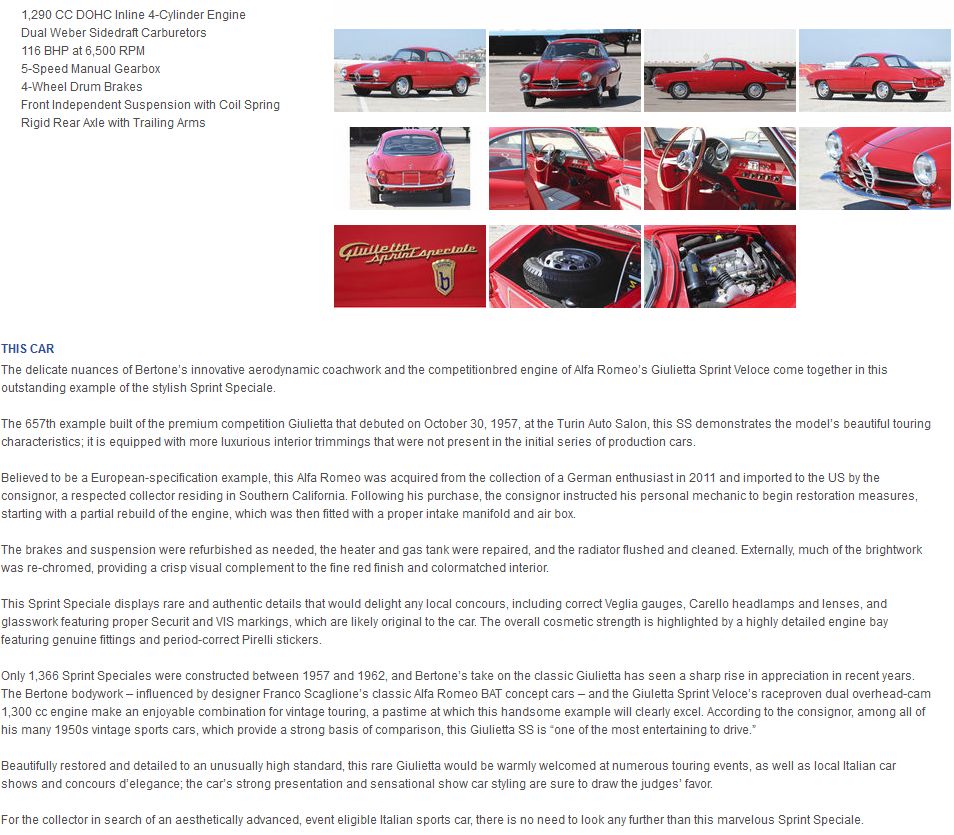 2023 PEBBLE BEACH AUCTIONS
1960 ALFA ROMEO GIULIETTA SPRINT SPECIALE
Coachwork by Bertone
Estimate $140,000 - $180,000| Without Reserve
Chassis AR 10120 00657
Engine AR 00120 00911
Car Highlights
Timeless Bertone Design by Franco Scaglione
Appropriately Finished in Red with Gray Accented Interior
Authentic Presentation Throughout
Ideal for Vintage Touring and Events
Among the Most Beautiful and Stylish Postwar Alfa Romeos
Technical Specs
1,290 CC DOHC Inline 4-Cylinder Engine
Twin Weber Sidedraft Carburetors
100 BHP at 6,300 RPM
5-Speed Manual Gearbox
4-Wheel Hydraulic Drum Brakes
Front Independent Suspension with Coil Springs
Rear Live Axle with Radius Arms and Coil Springs
The inspired design of Bertone's innovative aerodynamic coachwork and the competition-bred engine of Alfa Romeo's Giulietta Sprint Veloce come together in this outstanding example of the stylish Sprint Speciale. The 657th example built of the curvaceous coupe that debuted on October 30, 1957, at the Torino Motor Show, this Sprint Speciale demonstrates the model's beautiful design and appointments and is equipped with luxurious interior trimmings superior to those in the earlier production cars.
Believed to have been a European-specification example, this Alfa Romeo was imported to the US by a prior owner, a Southern California-based collector, who had substantial restoration work performed in the 2010s. The engine reportedly received a partial rebuild, the brakes and suspension were refurbished, and the heater and fuel tank were serviced. Externally, much of the brightwork was re-chromed, providing a crisp, visual complement to the fine, red finish. Acquired by the consignor 10 years ago, the Giulietta has continued to be enjoyed on the road and maintained by his professional, in-house staff.
One of 1,366 Sprint Speciales constructed between 1957 and 1962, this beautifully restored Giulietta would be warmly welcomed at numerous touring events, as well as local Italian-marque gatherings and concours d'elegance. For the enthusiast in search of an engaging, beautifully designed, quintessentially Italian sports car, look no further than this marvelous Sprint Speciale.