PREVIOUS OWNERS: 

The 1963 Alfa Romeo Giulietta Sprint Speciale finished in red with black interior was offered for sale at the 2006 Worldwide Group Auction held on Hilton Head Island. It was expected to fetch between $20,000-$25,000. It has been fitted with a rebuilt Giulia Spring 1600cc engine by Alfas Unlimited. Other improvements have been made to prepare it for Club and SVRA class racing such as the removal the bumpers, and the addition of a Perspex bug screen fitted before the windscreen. Louvers have been fitted on the hood to help remove heat from the engine bay. The interior has been void of any non-essential amenities. The front seats have been replaced with Duetto type seats. Borrani steel wheels can be found on all four corners. 

During the period of 1957 through 1962 there were 1,366 examples produced. In modern times there proved to be interest in the Bertone bodied Giulietta as it found a new buyer at the price of $22,000.
By Daniel Vaughan | Nov 2006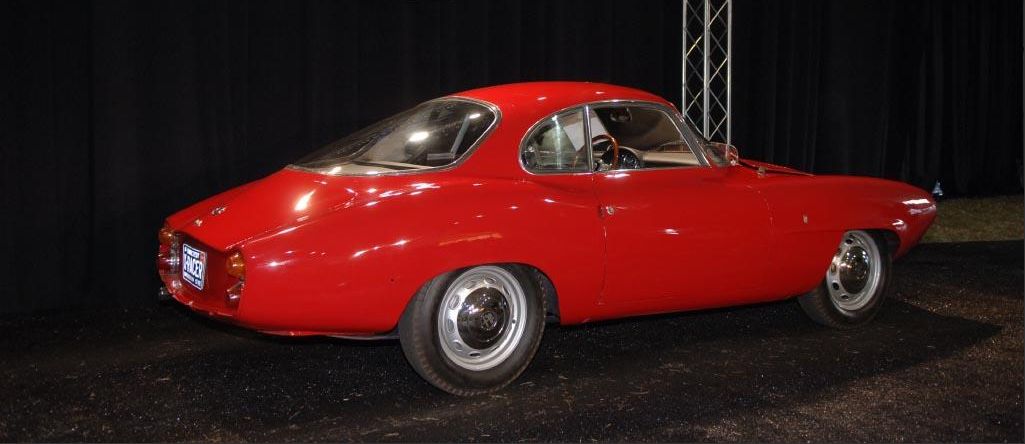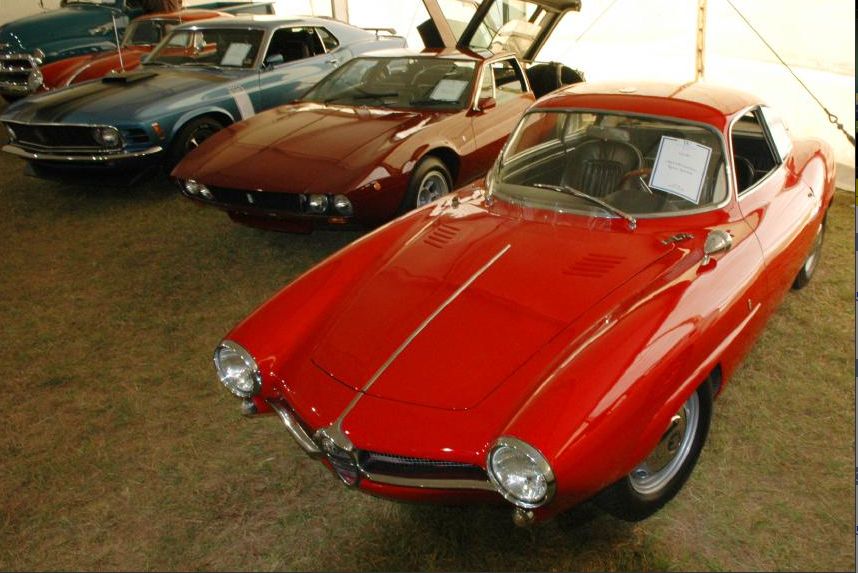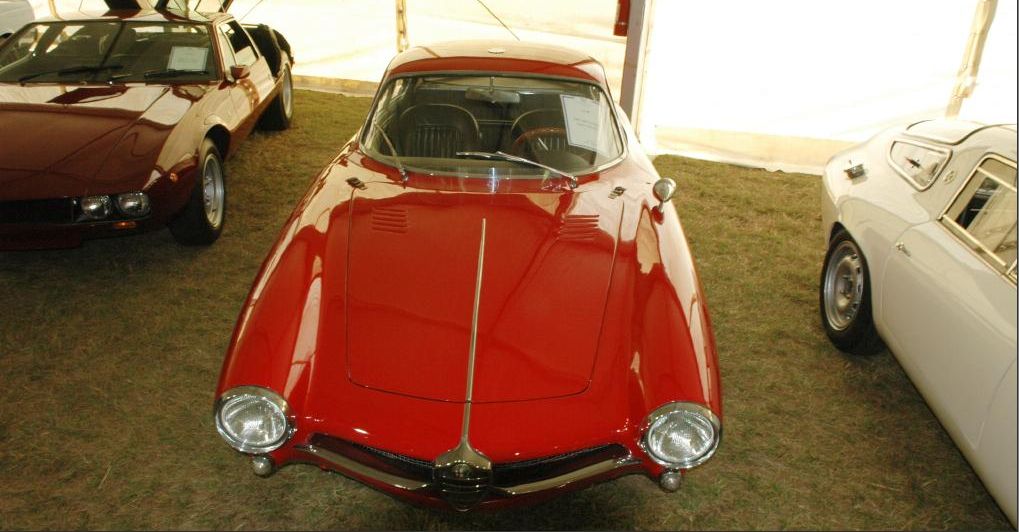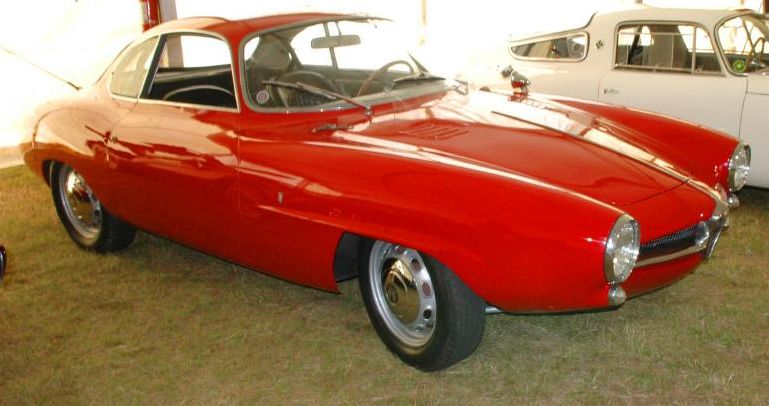 UPDATE: BONHAMS auction website 2007:
1963 Alfa Romeo Giulietta Sprint Speciale
Coachwork by Bertone
Chassis no. AR1012000393

Alfa Romeo's styling exercises are often closer to production than those of other manufacturers. Alfa's sense of Italian style and its ability to work hand-in-hand with carrossiers like Zagato, Pinin Farina and Bertone often saw show car elements, and even whole show cars, quickly transition from the stand at Geneva or Paris to the showroom. This process still functioned as Alfa Romeo transitioned its manufacturing methods from body on frame to unit body. It became more difficult, but Alfa and its favored carrossiers made the extra effort in the interest of style and exploring the integration of form, function and aerodynamics.

In 1952 Touring created a series of futuristic styling exercises, quickly adapted to Alfa's sportscar racing efforts. Called the Disco Volante, the 'Flying Saucers' voluptuous curves quickly caught worldwide attention. The Disco Volantes were followed by three legendary Bertone creations, the BATs or Berlina Aerodynamic Technica, designed by Franco Scaglione. These three extravagant coupés explored a variety of aerodynamic devices to minimize aerodynamic resistance and control air flow for maximum stability.

Alfa's new small car, the Giulietta, was a stupendous success following its announcement in 1954. The all-aluminum dual overhead camshaft 4-cylinder engine was a jewel of concept and execution, with performance that belied its small size and continued Alfa's tradition of excellence in achieving high specific output from its engines, enhanced by lightweight construction and responsive chassis. So successful, in fact, was the Giulietta that Alfa quickly began to refine it, announcing a new series of Giuliettas in 1957 which went into production in 1959.

The close collaboration between Alfa Romeo and Bertone, constructor of the Giulietta Sprint's coupé body, made it appropriate that the vehicle chosen to herald the 1957 announcement of the impending 101 Series Giulietta was a special berlinetta by Bertone. The Sprint Speciale was an artful blend of the aerodynamic principles learned in the BATs, with styling cues recalling the Disco Volantes. This was both a handsome exercise in styling and an even more impressive application of vehicle aerodynamics.

The Giulietta Sprint Speciale offered here is a 1963 model. It has been fitted with a later 1570cc. Giulia engine with a pair of twin-choke Weber carburetors and it has been prepared for historic racing but without spoiling its usefulness and enjoyment as a road car. The rear seats have been removed, a roll bar installed and the front seats replaced by a pair from a Duetto spider. A plexiglas bug deflector is mounted in front of the windshield and the bumpers have been removed. Competition seat belts and a Nardi woodrim steering wheel completes the package.

Finished in Alfa red with a black vinyl interior, this is an enjoyable, attractive, responsive Alfa with one of the most beautiful examples of Italian coachwork ever created.