PREVIOUS OWNERS: AL PHILLIPS, LOUISVILLE KY.
I bought the car here in Loiuisville about 10 to 12 years ago as a project, don't know beyond that.

Here is the hood plague info :

750 F
1495 06373
1315 32342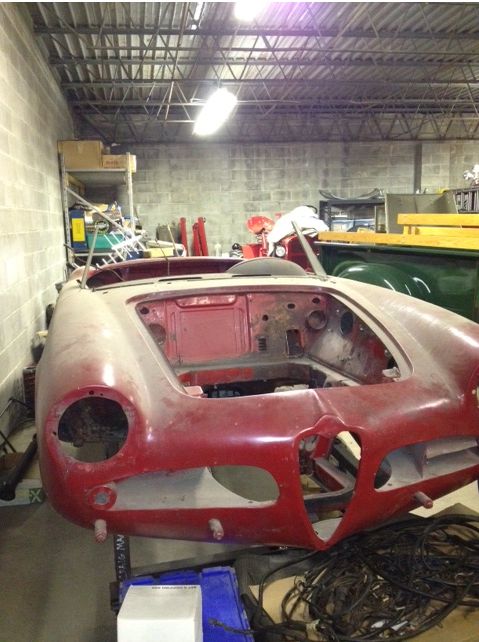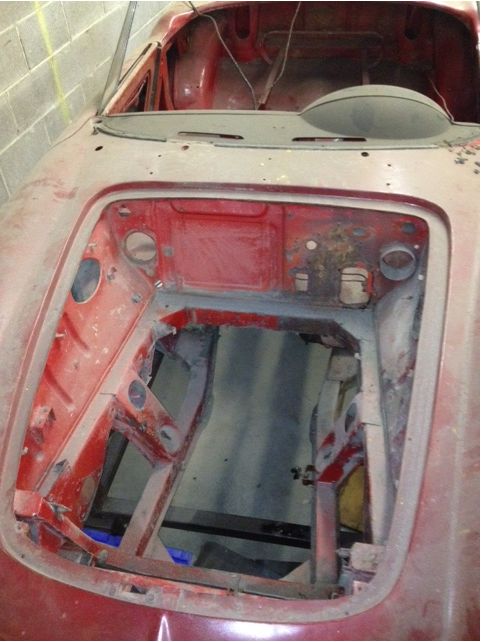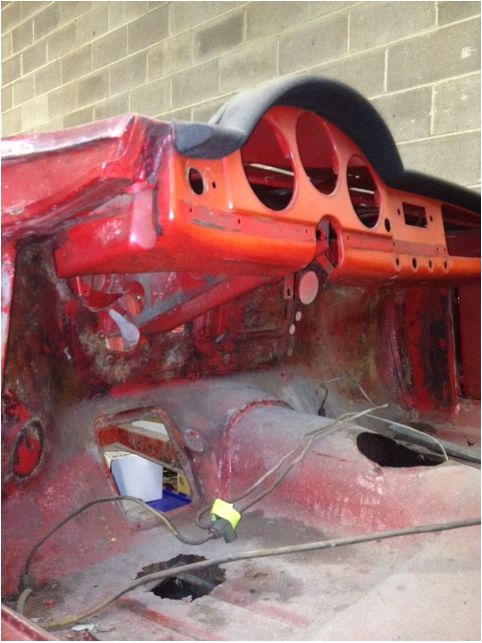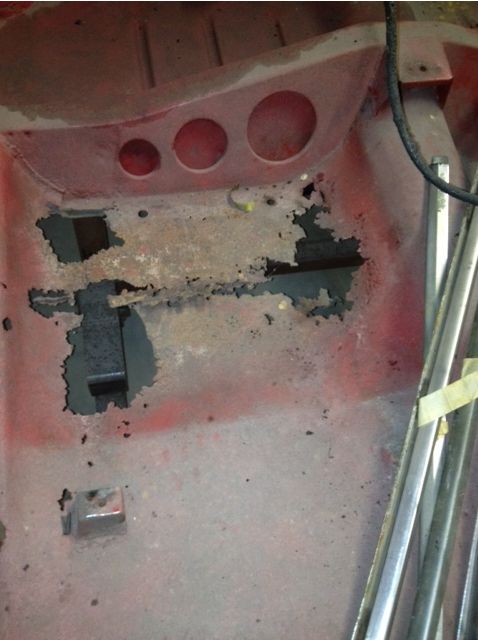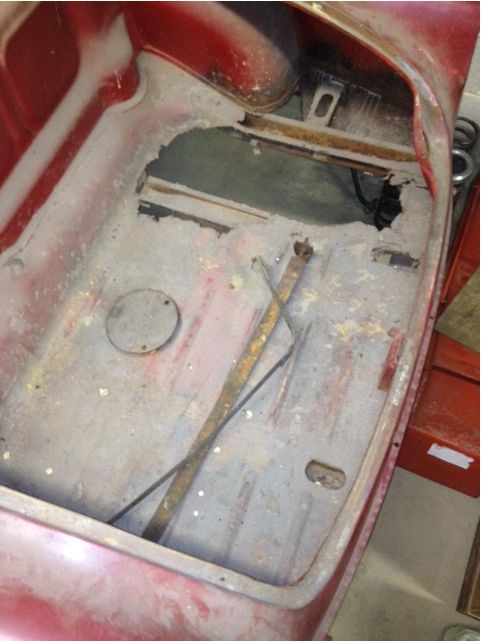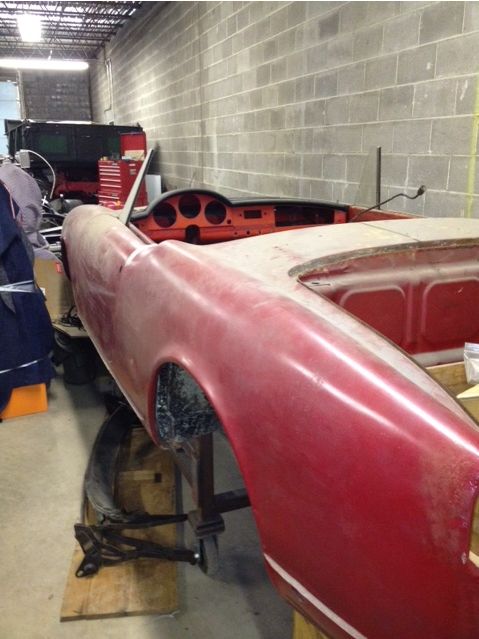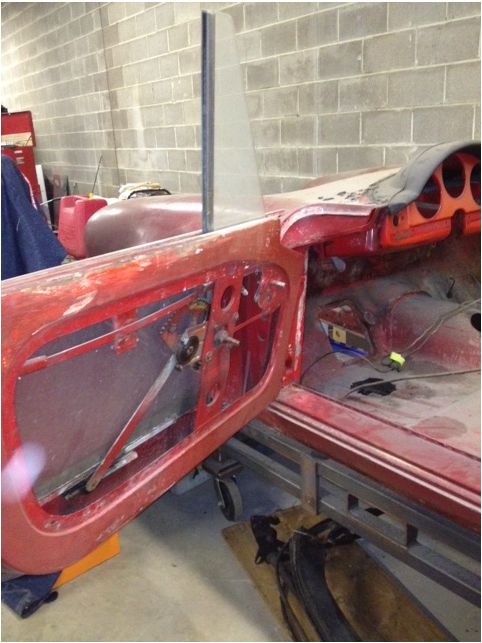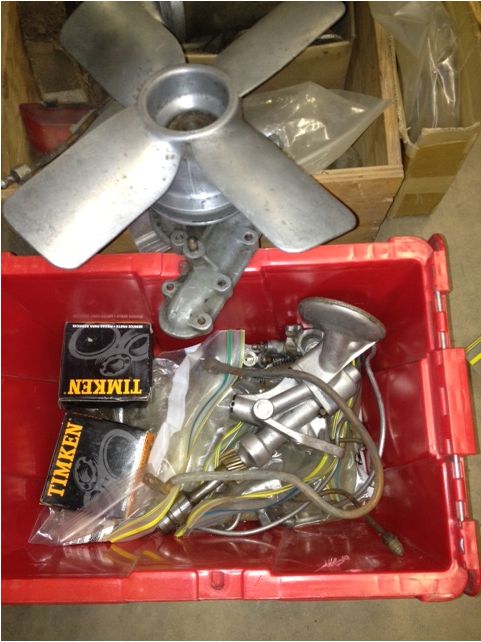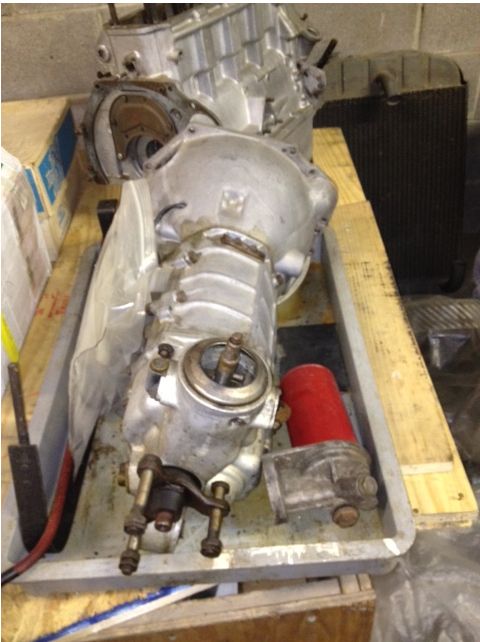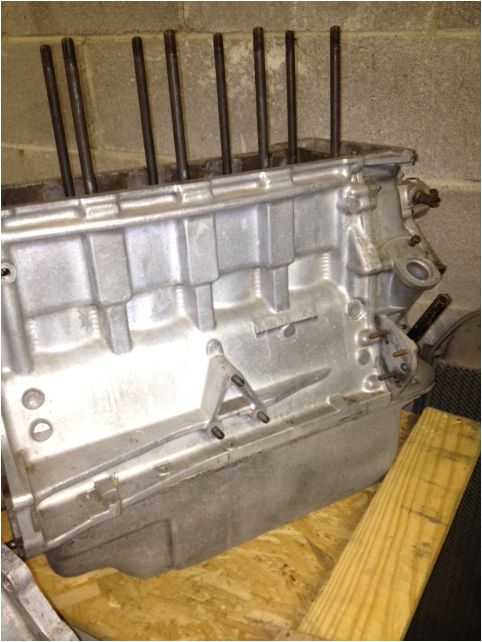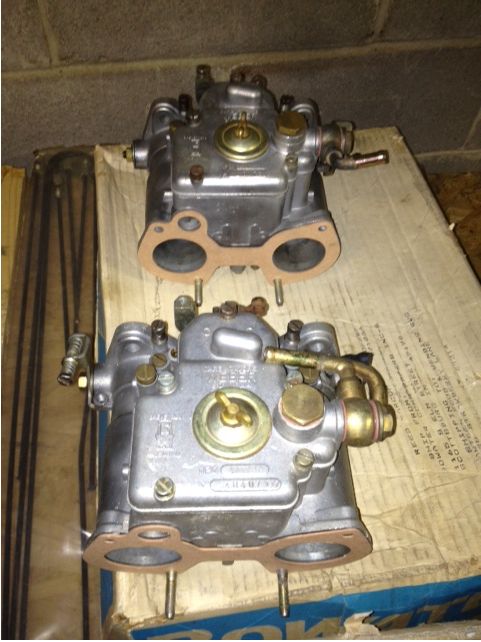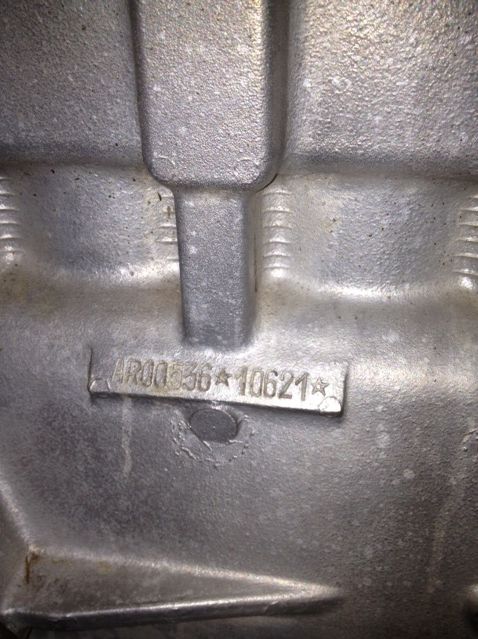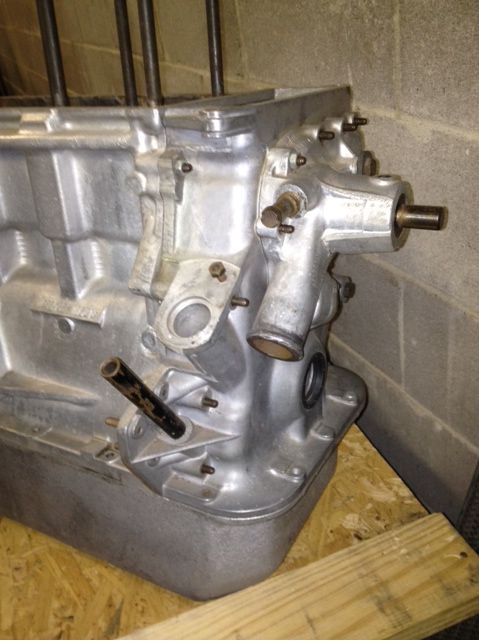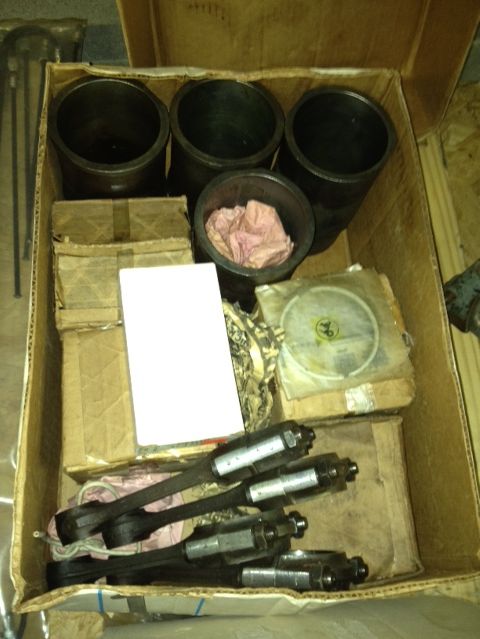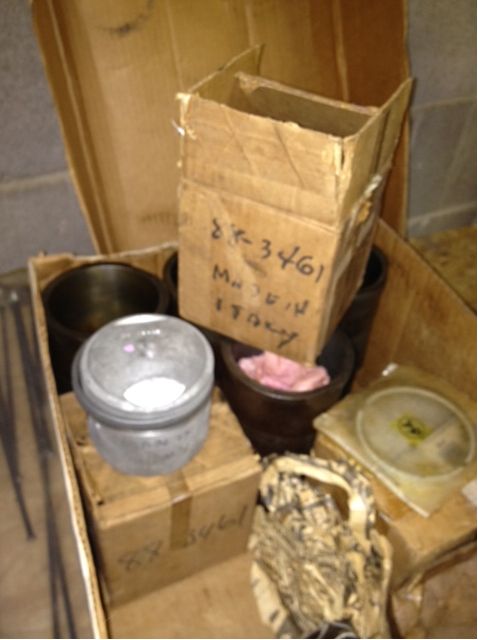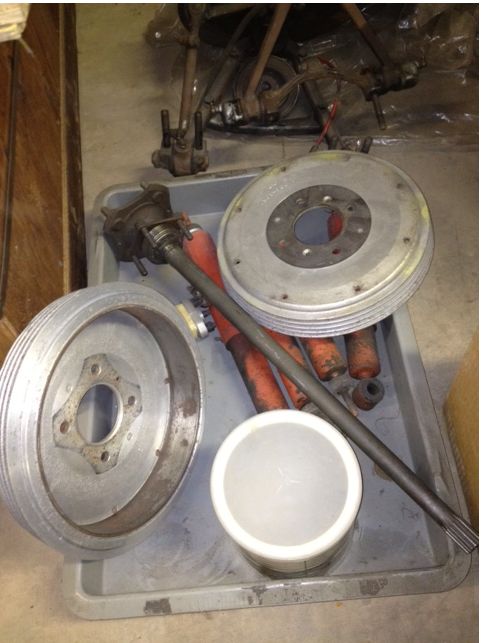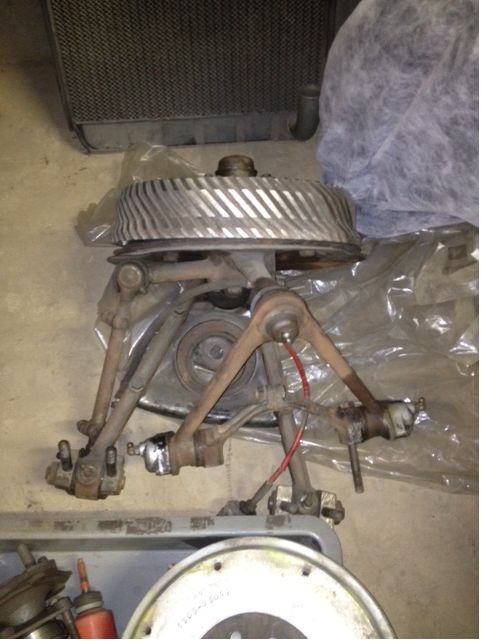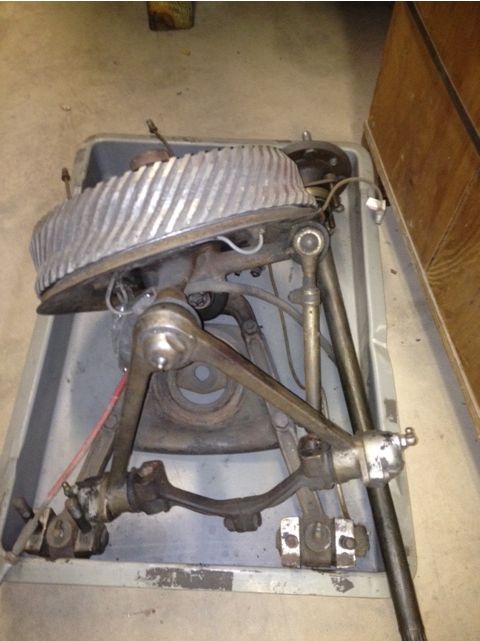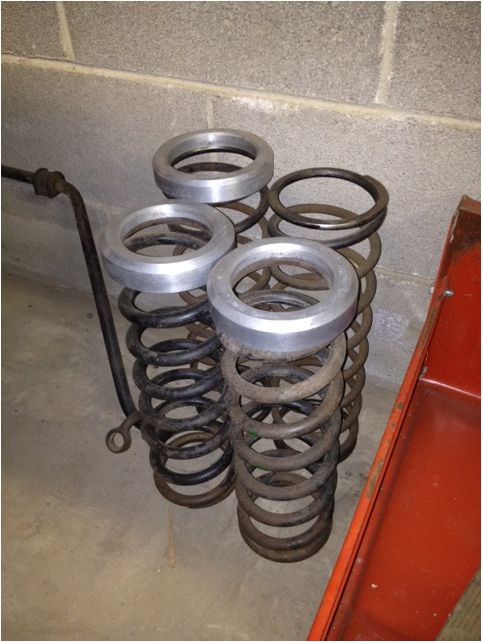 UPDATE JULY 29, 2017 as taken from the auction website:
1959 Alfa Romeo Giulietta Spider Veloce 750F
Coachwork by Pinin Farina
Chassis no. 1495.06373
Engine no. 1315.32565
1,490cc DOHC Inline 4-Cylinder Engine
2 Weber Carburetors
Approximately 105bhp at 6,500rpm
5-Speed Manual Transmission
Independent Front Suspension - Live Rear Axle
4-Wheel Drum Brakes
*Exquisite restoration of a factory Spider Veloce 750F
*Eligible for numerous driving events
*Italian coachbuilt thoroughbred
*One of the best driving 1950s sports cars
*One of just 2,796 Spider Veloces produced
THE ALFA ROMEO GIULIETTA
"The Alfa, in a few words then, is a small car with a rev-happy DOHC engine that can carry two people from point A to point B over all types of roads quicker than most cars twice its size. It does this not with blinding speed but with a wonderful combination of roadholding, compact size and sheer willingness" – Car & Driver on the Giulietta.
With the introduction of the Giulietta in 1954, Alfa Romeo established the 'small car, big performance' formula that would characterize its finest offerings from that point on. The Giulietta's arrival caused a sensation; demand quickly outstripped supply, causing Alfa Romeo to rethink its production strategy and become a high-volume manufacturer. Designed by Pinin Farina on a modified Sprint Coupe chassis, the Alfa Romeo Giulietta Spider was the company's second post-war model. The little two-seat Sports Spider was introduced in 1955 at the insistence of New York importer Max Hoffman, who saw how well small British and German sports cars were being received in America. The Giulietta Spider offered brisk performance (almost 100 mph) from its free-revving, all-alloy, 1.3-liter twin-cam four, mounted in a steel unibody chassis that weighed less than 1900lbs at the curb. The design was unmistakably Pinin Farina – very elegant, sporting and lithe.
From the time of their introduction, both the Sprint and Spider provided an exhilarating combination of character and performance, within the limits of what was possible with the well-designed twin-cam engine. However, as with pre-war Alfa Romeos, the dealers soon saw a demand for an updated version for buyers with competition in mind. In 1956, the Giulietta Sprint and Spider Veloces duly appeared, with high-performance engines and modified bodywork. High-crown pistons raised the compression ratio to 9.1:1 which, with a pair of twin-choke Weber carburetors and peakier camshaft profiles, raised the power by about 15%. Performance was certainly improved, with a top speed of 115mph and a more responsive engine through and through. Just 2,796 Giulietta Spider Veloces were produced, and they remain among the most collectible of the model today.
THE MOTORCAR OFFERED
Bonhams is pleased to offer this outstanding example of the rare and ultra-desirable Giulietta Spider Veloce 750F. This fine example was completed at the Milanese Alfa Romeo plant in 1959, as a left-hand-drive Spider in full Veloce trim. This car is unique in that it is the last year of the Type-750 Veloces (750F), which are sought after for their nimble-handling short wheel base. This particular example also features fixed wing windows, which are rare and seldom seen on a Type-750.
The Alfa Romeo, which carried a high-performance twin-cam engine with dual Weber carburetors, was believed to have been delivered to the US, possibly to Kentucky, where it has spent the majority of its life.
In the late 2000s, the Alfa Romeo Spider Veloce was found by the consignor having lost its drive train. After an exhaustive search, the consignor was able to secure a correct type and series Veloce spec engine and transmission.
The Veloce was soon after treated to a comprehensive restoration. The complete engine and transmission rebuild was performed by Glenn Oliveria of Oliveria Engineering in Berkeley, CA. The body, chassis, suspension, and brakes were completely refurbished, restored, and installed by Bill Gillham of Hooligan Racing in Jefferson, OR. The lithe Pinin Farina bodywork was stripped to the bare metal and painted in its correct shade of white by Nick's Rods & Rides, in Salem, OR.
The interior was fully restored as well, re-trimmed in the original red. The car retains a complete portfolio of receipts and photographs to document its restoration process. This complete, 2-year, no expense spared restoration was undertaken with the goal to return the car to factory specs; however, two updates were adopted to ensure the car's future longevity, namely stainless steel bumpers and fuel tank; aside from these, the mechanics, livery, and materials remain faithful to those employed by the factory on a 750F Spider Veloce.
The car's original steel bumpers are included with the sale, as is an original jack and owner's manual. Having formed part of the consignor's California-based Alfa Romeo collection, it has covered less than 150 miles since the completion of the restoration.
This rare, top-of-the-line Spider Veloce is eligible for exclusive driving events around the globe, and will surely provide its driver with many smile-inducing experiences. A fine example of open top motoring with excellent road holding and high-revving twin-cam performance, the Spider Veloce rightly claims the moniker "sports car" and one would be hard-pressed to find a near competitor at double the investment.








UPDATE: April 21,2018 from Top Classic Sale.com website:
Make: Alfa RomeoModel: Giulietta
Type: ConvertibleTrim: Spider 750F Veloce
Year: 1959Mileage: 355
VIN: 149506373
Color: Branco Spino White
Engine size: 1,290cc 90 hp
Number of cylinders: 4
Transmission: 4-Speed Manual
Drive type: RWD
Interior color: Red
Options: Convertible
Vehicle Title: Clear
Want to buy? Contact seller!
Description:
1959 Alfa Romeo Giulietta Spider 750F Veloce
A family tradition for over 50 years, selling classic & fine motorcars throughout the world.
1959 ALFA ROMEO GIULIETTA SPIDER 750F VELOCE chassis no. 149506373
Questions? Contact Us

Highlights
JUST IN FROM CALIFORNIA
SPECTACULAR, METICULOUS CONCOURS LEVEL RESTORATION RECENTLY COMPLETED
RARE AND DESIRABLE 750F GIULIETTA SPIDER VELOCE
ONE OF APPROXIMATELY 368 BUILT
OVER $10,000 SPEND ON FULL DRIVETRAIN REBUILD BY MARQUE SPECIALIST
CORRECT VELOCE SPEC. 1,290CC ENGINE
GORGEOUS PININFARINA BODYWORK
STUNNING COLOR COMBINATION
DOCUMENTATION INCLUDES OWNER'S MANUAL, RESTORATION PHOTOS, JACK, CALIFORNIA PLATE AND MORE
PERFORMS LIKE NEW!
QUITE POSSIBLY THE BEST EXAMPLE AVAILABLE ON THE MARKET TODAY!
Options Include:
VELOCE SPEC. 8,000 RPM TACHOMETER
15' BORRANI STEEL WHEELS
GIRLING SHOCK ABSORBERS
FIXED WING WINDOWS
In 1954, Alfa Romeo introduced the 1.3 liter Giulietta at the Turin Auto Show and it quickly caused a sensation. The platform would extend to the Sprint Coupe, the Berlina 4-door saloon and, per the insistence of importer Max Hoffman, the two door convertible Spider with coachwork by Pininfarina. Alfa Romeo's reputation for sporty, light weight cars plus their success on the track with wins at the Mille Miglia and the Targa Florio helped to make the Giulietta an instant success. Suddenly Alfa Romeo had become a major contender in the sports car market and demand pushed them into a manufacturer of higher volume. In 1956, the Spider Veloce was introduced. Featuring a higher camshaft profile, taller pistons and dual Weber carburation the Spider Veloce boasted 90 horsepower and appealed to the buyer who was more focused on racing competition than just style alone. The Veloce spec Spider was produced in limited numbers alongside the traditional Giulietta Spider until 1962. The 750F Spider Veloce is often regarded as the best performing Giulietta and is among some of the most sought-after Alfa Romeo's today.
The 1959 Alfa Romeo Giulietta Spider 750F Veloce featured here is finished in stunning Branco Spino White with a gorgeous new red interior. This magnificent motorcar has been meticulously renewed by marque specialists and drives like new. It is among one of finest examples available on the market today; don't miss the opportunity to own one of the best at an investment price! Classic cars have proven to be among the most resilient and rewarding investments in recent years with the Historic Automobile Group Index (HAGI) jumping 39% in 2013, 16% in 2014 and 17% in 2015 while posting gains of 467% over the last 10 years. Ready to make an investment you can actually enjoy? Please contact one of our expert sales consultants for more information. They will be happy to give you a complete walk-around, supply you with a more detailed description, and answer any questions you may have. Buy with confidence. Year: 1959 Make: Alfa Romeo Model: Giulietta Spider 750F Veloce Color: Branco Spino White
Mileage: 355 Stock Number: 406797_Giulietta Engine: 1,290CC 90 HP DOHC Inline-4 Transmission: 4-Speed Manual Style: Convertible SHOWROOM PRICE $129,900.00 DISCOUNT $10,000.00 BUY IT NOW PRICE $119,900.00 Daniel Schmitt & Co. is located in beautiful and historic St. Louis, Missouri. Our dealership spans 4 acres, boasts 3 luxurious showrooms, a state-of-the-art service department, a world-class restoration facility, and is only minutes away from Lambert International Airport. While we offer our cars for online sale and auction, we do also encourage you to visit our beautiful classic car showroom!
Daniel Schmitt & Co. Classic Car Gallery3455 N. Lindbergh Blvd, St. Louis, MO 63074Telephone: (314)291-7000 Fax: (314)291-0957 Email: info@schmitt.com Why buy from Daniel Schmitt & Co? Family owned and operated for over 50 years, we are a classic and luxury car gallery, committed to delivering some of the rarest, highest-quality classic cars, to customers worldwide. Throughout the years, our classic car dealership has built its reputation as one of the most trusted providers of classic cars to enthusiasts, collectors or investors. We offer truly unique and beautiful motorcars for sale.