PREVIOUS OWNERS: PETER KRELL, PLANO TEXAS, SOLD TO HOFFMAN MOTOR CAR COMPANY, 1975 JOHN/JACK KENYON, 1976 CHARLES MAGADINI, 2010 CHARLES COYT, STEVE DOLE 2012,
1958 ALFA ROMEO GIULIETTA VELOCE SPIDER. VIN# AR1495F04191   THE CAR HAS A 1962 GIULIA SPRINT OR SPIDER 800 TWIN CARB MOTOR  #0011205344 AND A 5 SPEED GEARBOX. I DO NOT KNOW WHEN IN WAS SWAPPED ,NOR DO I KNOW THE WHEREABOUTS OF THE ORIGINAL DRIVE TRAIN.  I HAVE AN INVOICE FROM 1979 WHEN THIS MOTOR WAS REBUILT BY BOB WALLACE CARS IN PHOENIX ARIZONA.IT HAS HAD ONE FAMILY OWNERSHIP SINCE THE LATE 70'S. I HAVE A REPAIR ORDER FROM 1989 WITH 35546 MILES. 
THE CAR RUNS AND DRIVES, BUT THE CARBS NEED REBUILT, THERE IS SOME POWER LOSS DUE THE CAR HAVING BEEN STORED FOR A LONG TIME. I HAD THE GAS TANK CLEANED,NEW FUEL PUMP,REBUILT THE MASTER CYLINDER AND A NEW BATTERY. THE BRAKES ARE HARD,I HAD THE LEFT FRONT WHEEL CYLINDERS REBUILT DUE TO LEAKS, BUT THE BRAKES STILL NEED MORE WORK. IT STOPS, BUT HAS A HARD PEDAL. THE CARBS NEED REBUILT. YOU CANT DRIVE THIS CAR HOME.   BODY- VERY SOLID AND STRAIGHT BODY ,NO RUST HOLES OR PATCH PANELS. ORIGINAL FLOOR AND TRUNK IN EXCELLENT ORIGINAL SHAPE. PAINT IS AN OLD PAINT JOB THAT SHINES, BUT HAS CHIPS AND SCRATCHES AND FADED SPOTS AND A FEW DINGS. THE HOOD HAS BEEN REPAIRED ,THE FRONT OF THE HOOD HAS A FEW BUBBLES ,MISSING THE LONG CHROME TRIM,AND THE UNDERSIDE CROSS STRUCTURE WAS MODIFIED. BEST TO GET ANOTHER HOOD EVENTUALLY. CHROME IS DECENT. GOOD GLASS. TIRES OLD. TOP IS BLACK, BUT HAS SHRUNK BECAUSE IT HASNT BEED USED FOR OVER 30 YEARS.   INTERIOR- GOOD DRIVER QUALITY.   OIL PRESSURE IS 55 WHEN ENGINE IS  RUNNING.
PLEASE LOOK AT ALL THE PHOTOS. I HAVE ADDITIONAL PHOTOS I CAN EMAIL . CAR CAN BE SEEN BY APPOINTMENT IN PLANO,TX 75074 . GOOD CLEAR TEXAS TITLE IN HAND. TEXAS RESIDENTS TO PAY 6.25 % STATE SALES TAX AND ALL LICENSE FEES. NO FEES TO EXPORT OR OUT OF STATE BUYERS OR DEALER.  SOLD AS IS. VEHICLE AND TITLE RELEASED WHEN FUNDS CLEAR.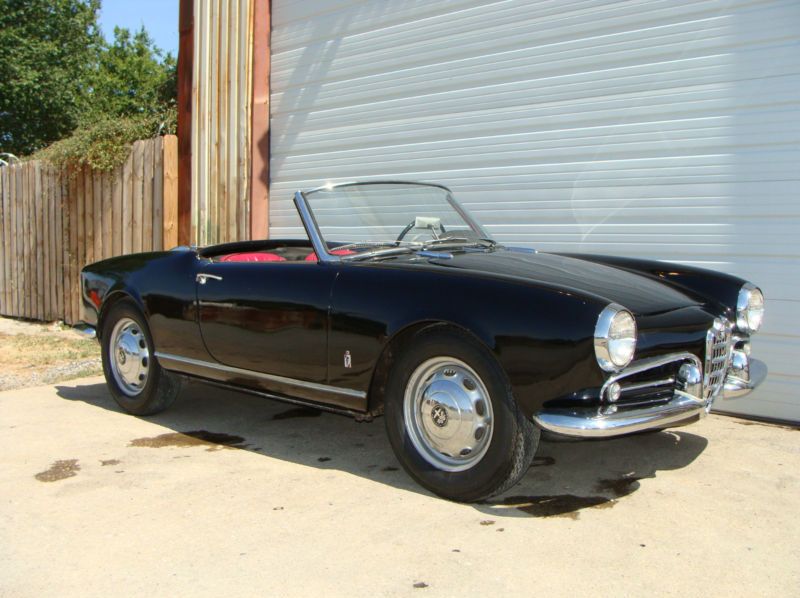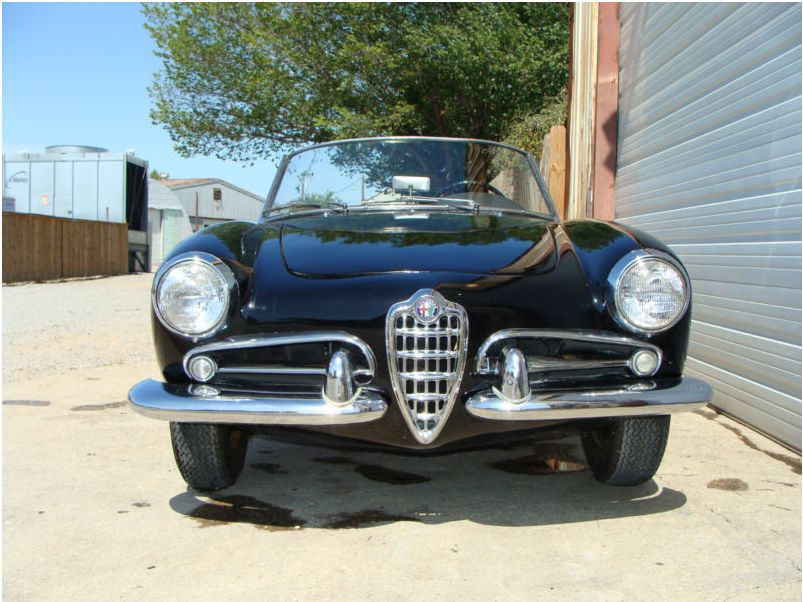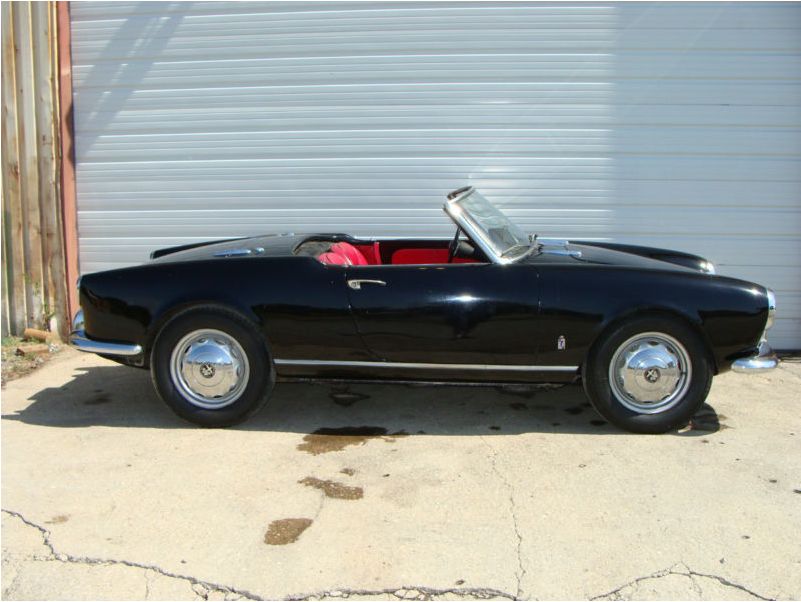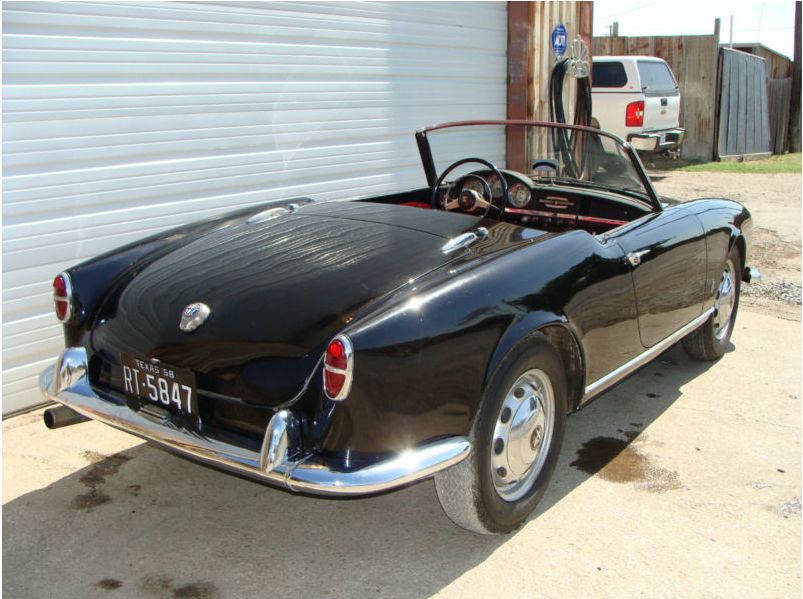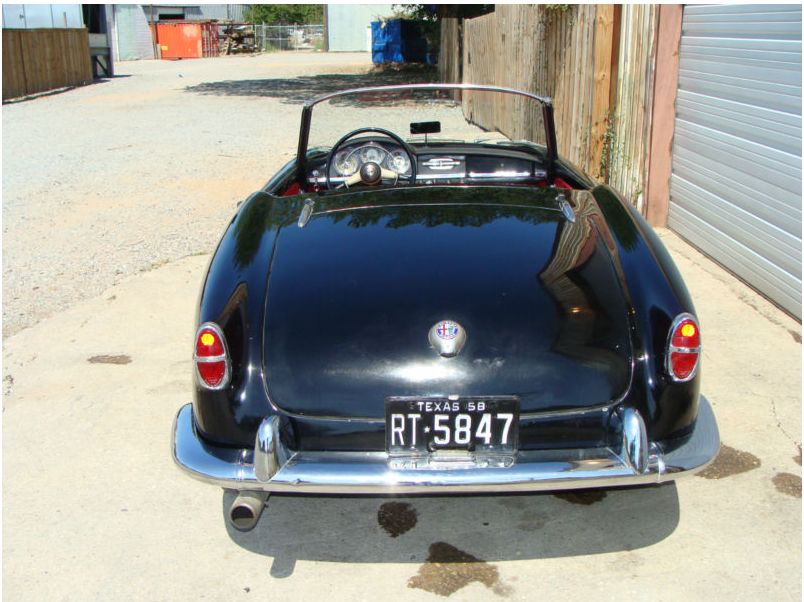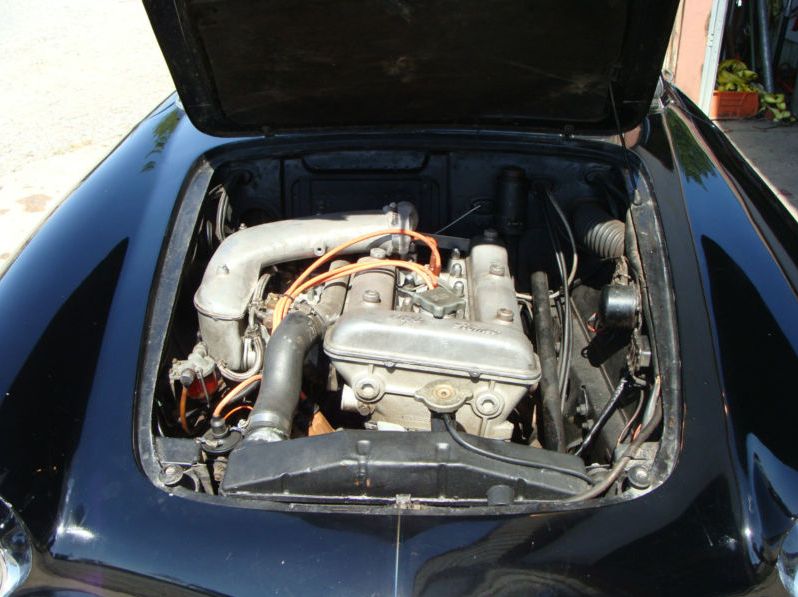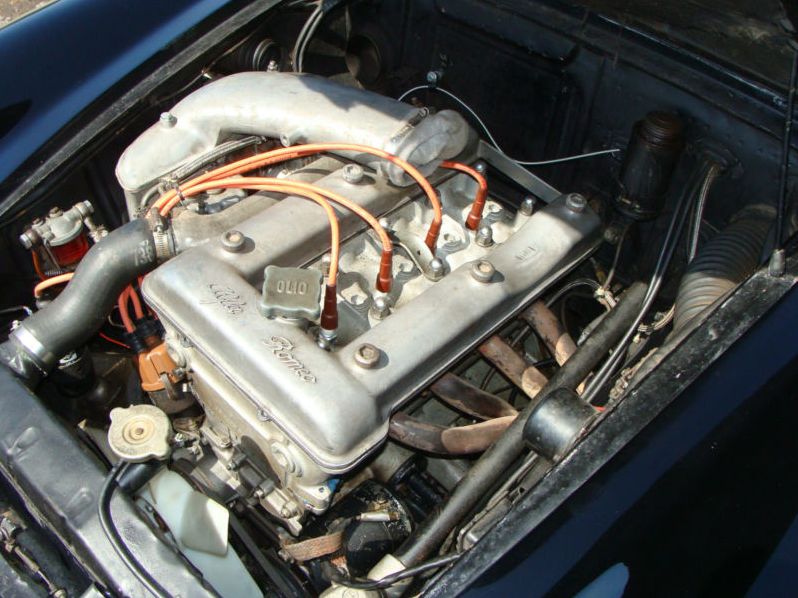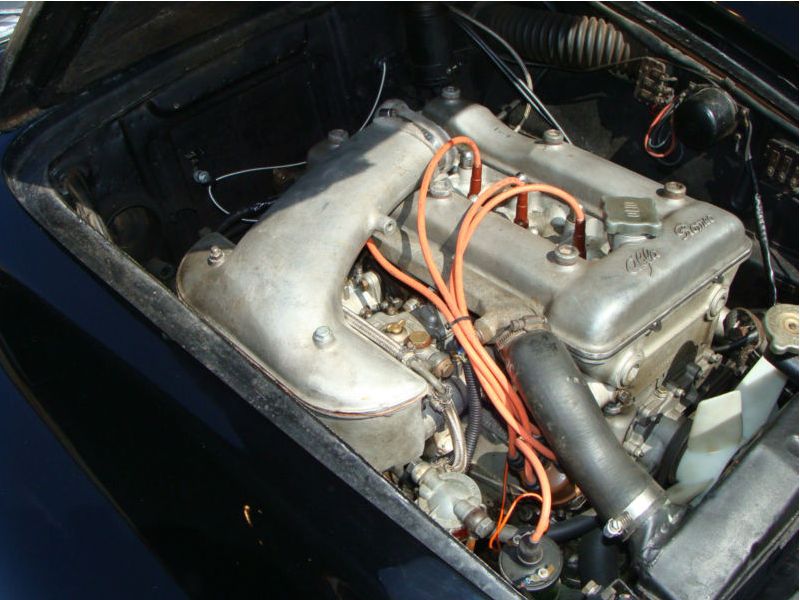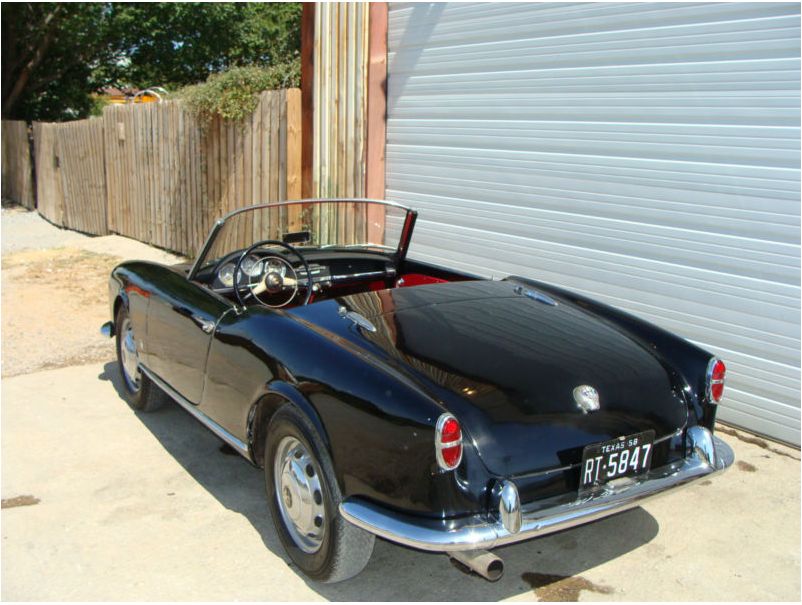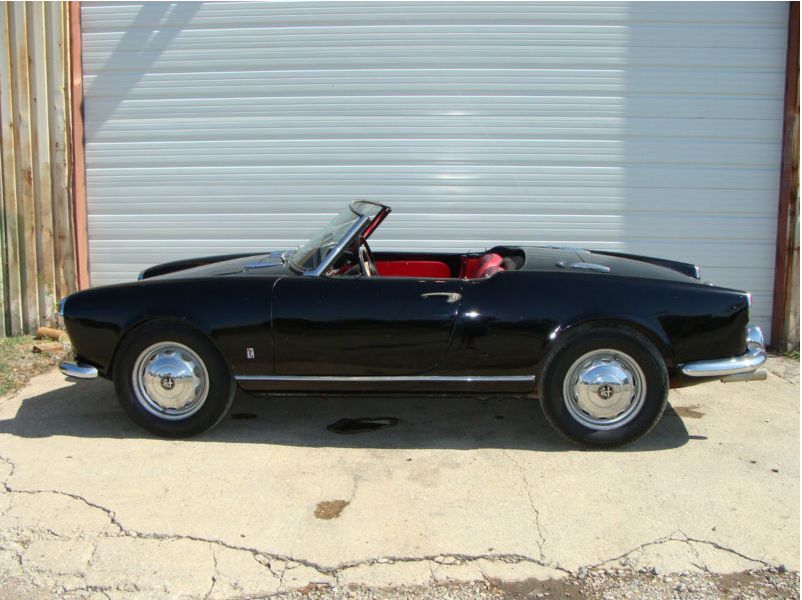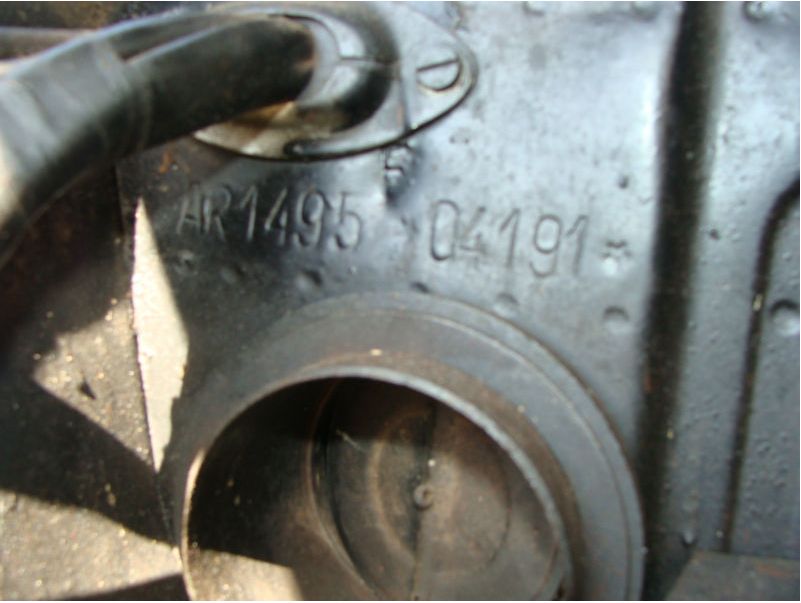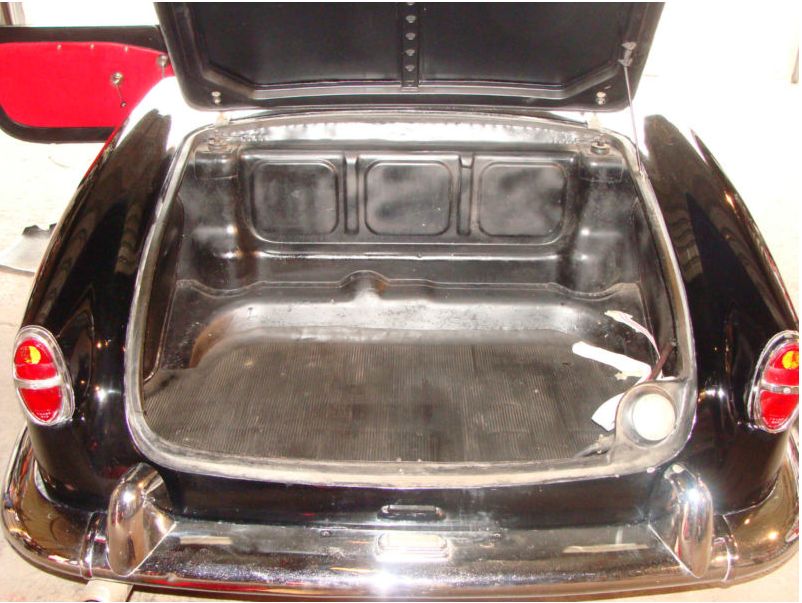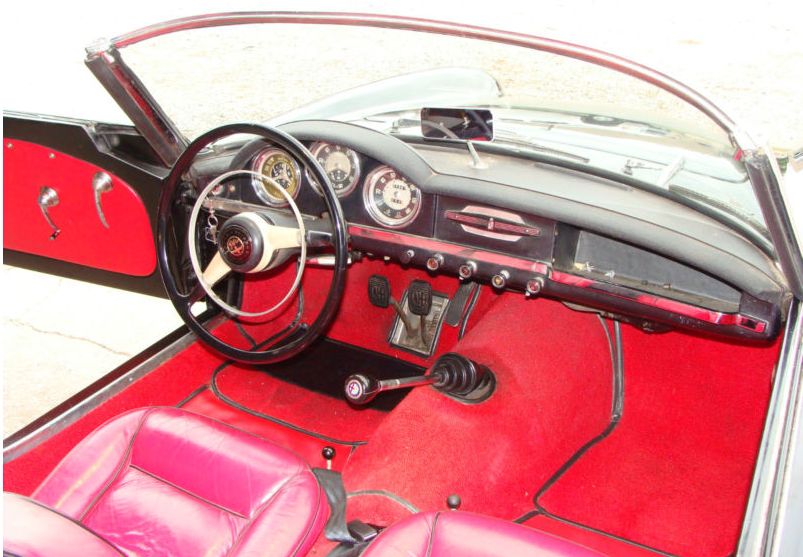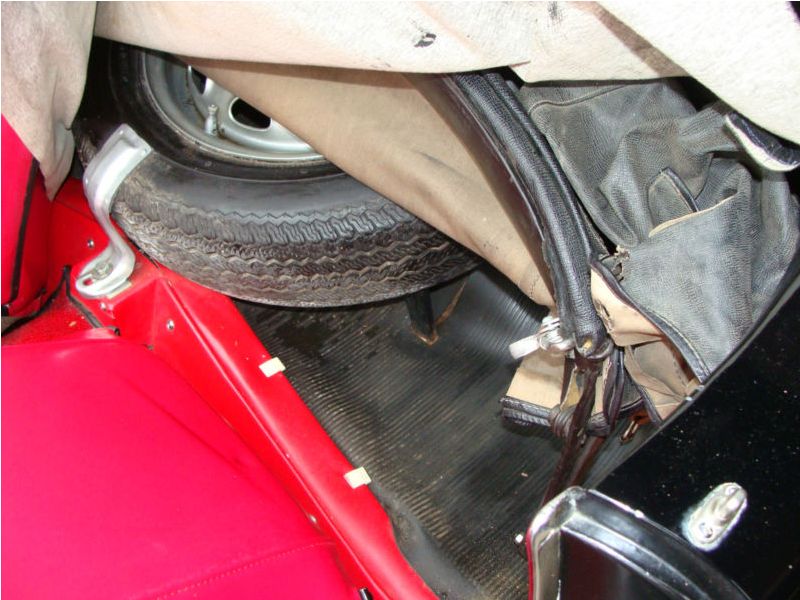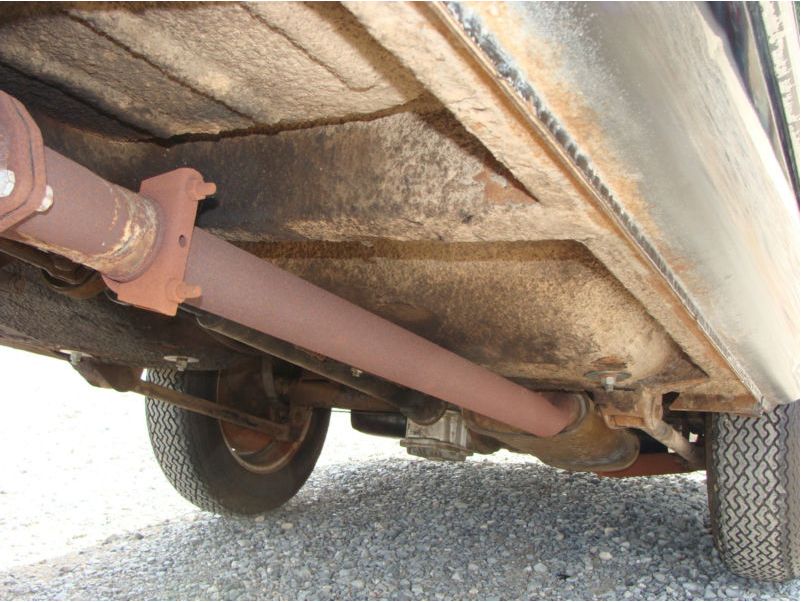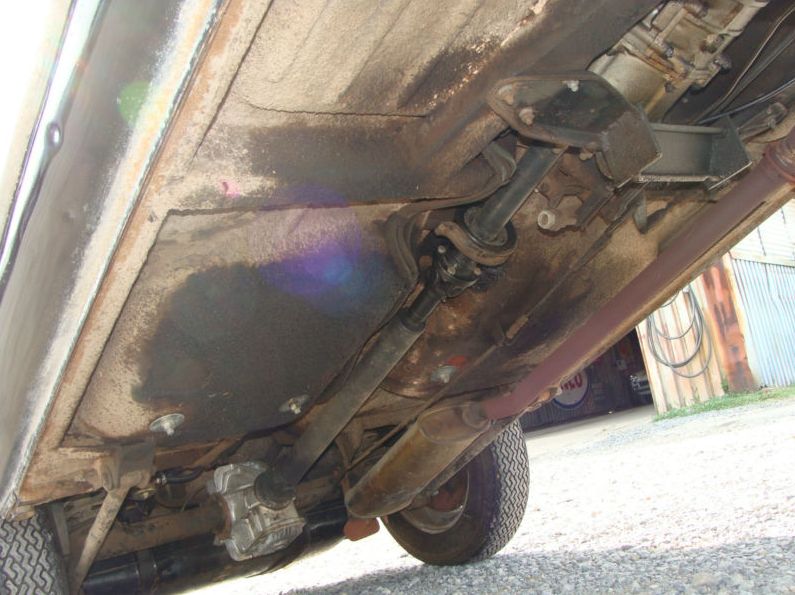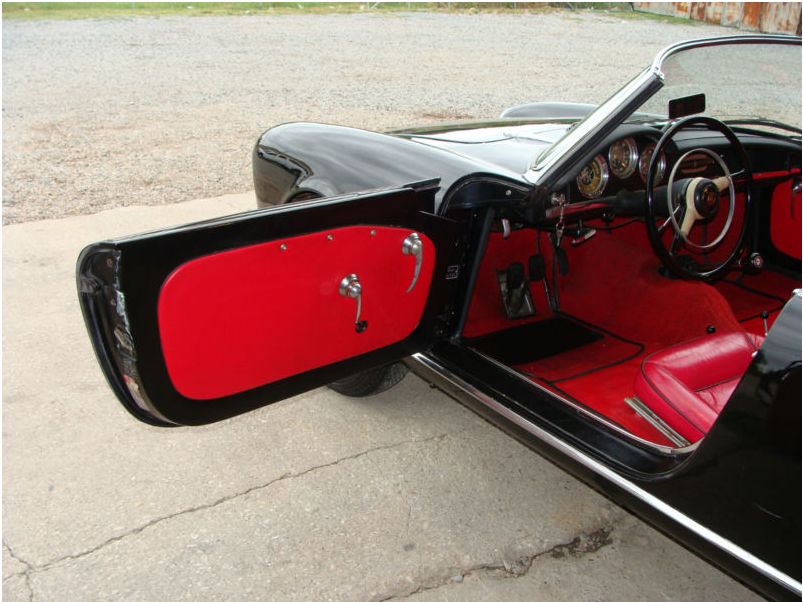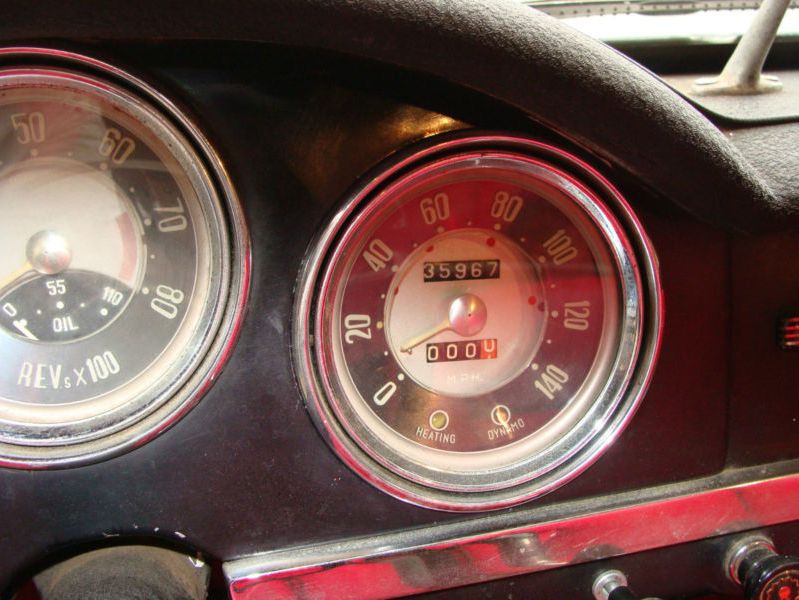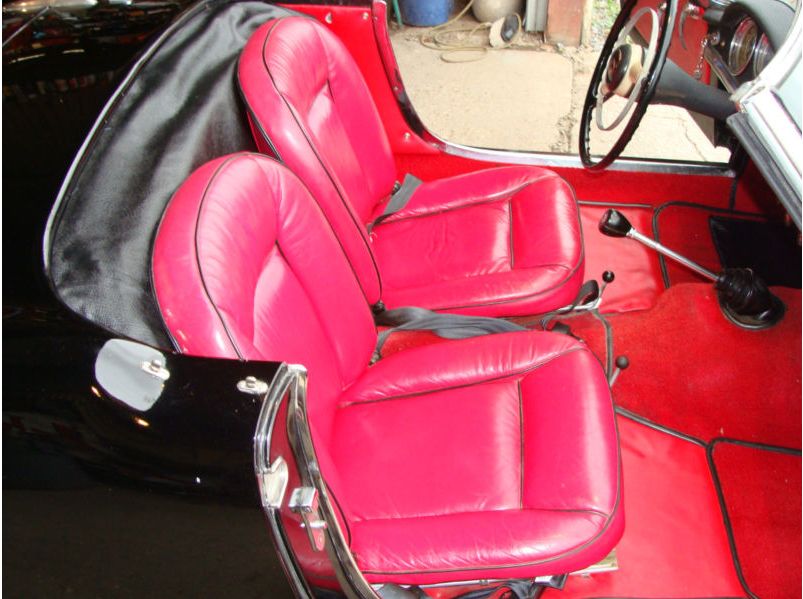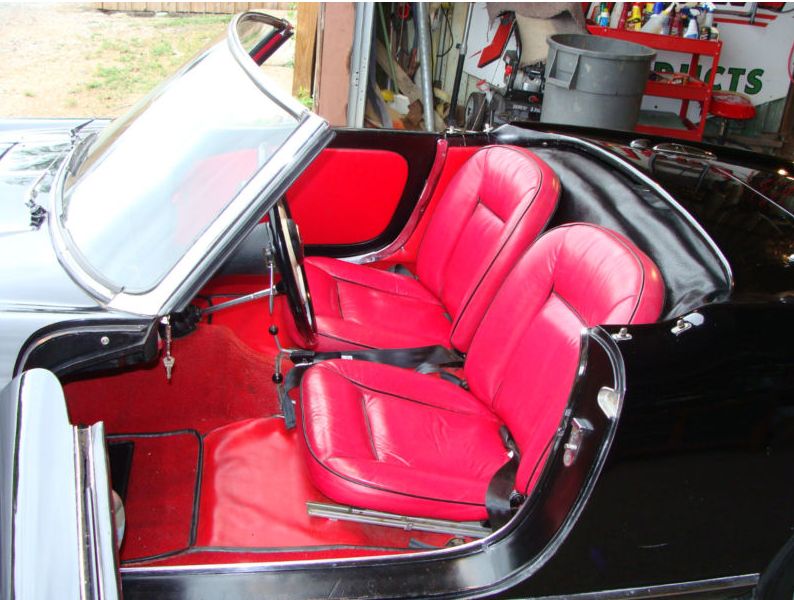 UPDATE: JULY 2021 BRING A TRAILER (information and photos taken from the website)
This 1958 Alfa Romeo Giulietta Spider Veloce 750F was manufactured in June 1958 and delivered to Hoffman Motor Car in New York the following July. The car later spent time in Arizona and Texas, and it was acquired by the seller in August 2012. Power is provided by a 1.6-liter inline-four equipped with dual Weber carburetors and mated to a five-speed manual transmission, and the car is finished in black with a black soft top over red upholstery. Work during prior ownership is said to have included paintwork and replacement of the powertrain, and work performed during current ownership include replacement of the tires and service of the valvetrain, brakes, and fuel system. A spare 1.3-liter inline-four was rebuilt in 2014 and is included in the sale. This Spider Veloce is now offered with service records, correspondence on its history from Marco Fazio, spare parts, black California license plates, and a clean California title in the seller's name.
The Pinin Farina-styled body is finished in black, and the seller notes that the body was partially refinished to address imperfections. The car is also equipped with a black soft top, Lucas tail lights, and an enamel Milano badge on the trunk. Close-up photos of blemishes in the paint are shown in the gallery below, along with images of Sekurit glass etchings.
Cabin finishes include red upholstery with black piping accompanied by color-coordinated door panels and interior trim. A Pinin Farina-logo radio blanking plate is affixed to the body-colored dashboard, and lap belts are fitted for both occupants.
The two-spoke steering wheel frames Veglia instrumentation, including a Veloce-specification 8k-rpm tachometer and a 140-mph speedometer as well as a combination gauge for fuel level, oil temperature, and water temperature. 37k miles are shown on the five-digit odometer.
The replacement 1.6-liter DOHC inline-four is equipped with a pair of Weber side-draft carburetors and was rebuilt by Bob Wallace Cars of Phoenix, Arizona in November 1979. Power is sent to the rear wheels through a five-speed manual transmission that was reportedly installed at the time of the engine rebuild. Work during current ownership is said to have included a servicing of the valvetrain, installation of a stainless-steel fuel tank, and replacement of the water pump.
Additional photos are presented in the gallery below showing the suspension, chassis, and driveline, as well as corrosion on portions of the mechanical components.
The included spare 1.3-liter Veloce inline-four is shown above and was rebuilt by Tom Sahines of Milpitas, California in 2014. Additional items accompanying the sale include service records, a spare hood, intake components, and ID plates. An email from Marco Fazio of Automobilismo Storico Centro Documentazione Alfa Romeo is shown in the gallery and lists the build date, sale date, and original color.