Cars History:
My Veloce was manufactured on May 31, 1965. Shipped to Frankfurt Germany on June 16th.Original Owner- William R. Pitner who purchased the vehicle from Auto Konig, Munich Germany on July 3, 1965.
Leo Payne Pontiac of Lakewood Colorado purchased the car and sold it to Louise R. Dice of Lakewood Colorado on December 12, 1967. The car was subsequently sold to Neufeld Motors, Inc., San Carlos CA.on July 31,1968. Wilber Russel Johnson, Redwood City, CA was the next owner who bought it on September 19,1968. On November 25, 1969 he sold it to Tors Foreign Cars, Lompoc CA.I purchased this car on Febuary 10,1970 for $1400.
Factory hardtop #
How I came to acquire this car is an interesting story. I took one of my service buddies down to the repair place where he was to pick up his bugeyed Sprite. I was driving a VW bug at the time with rally lights and was looking at getting a real rally car! I had test driven an MGB but didn't like the noise level with the top down. Had to yell to hear each other! I drove in and there sat this shiney silver spider. I got out and went over to look at it. The badge on the grille said ALFA ROMEO MILANO...hmmmmm, an Italian sports car! I got in and checked out all the guages and went through the gears...1,2,3,4....I wonder...5 GEARS!! I asked for a test drive, but the owner said that for insurance purposes his son would give me a ride. Heck, we got the to edge of town and he floored it going through the gears. When it got to 80 in 3rd I was sold...it was going faster in 3rd than my VW would do flat out down hill in 4th! Went back..put a $100 down and went to the credit union. I still have the loan papers somewhere. Three days later I owned a REAL ALFA ROMEO! The car has had a new paint job with each owner. It was painted grey originally, yellow and silver when I took delivery. I repainted it black lacquer. It will be repainted back to the original color.
I met Charles "Chuck" Lee who took me under his wing and taught me the lore of the marque and how to work on Alfa's. He set me on a course for the rest of my life that I didn't know was coming. Chucks home was a virtual parts house for Alfa's and he had 4 when I met him.
With in 3 months my engine went south. I was coming back from Long Beach going up Sepulveda Pass in Los Angeles. I looked out the back window and saw a plume of smoke that was so thick it covered the cars behind me. I nursed the car back to Vandenberg AFB where I was stationed. Upon tearing the engine down I found that the rings had broken in to a handfull of metal. Over the next 6 months I had the car repainted, rebuilt the engine, trans and rear axle. This fixed all of the problems that had come up in its short life. There were many.
In the next 3 years I put 50,000 trouble free miles on it. I only had to check the oil and water when I changed the oil. Adjusted the valves and carbs every 12,000 miles. The rest of the time was drive the heck out of it and collect tickets from cops. The car now resides in my garage ready for a total restoration.
The speedometer shows 106,400 miles.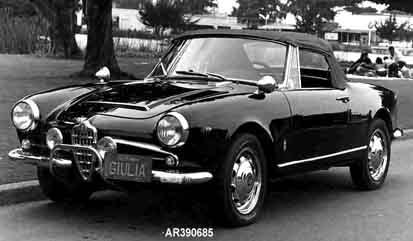 Photo taken around 1973 at Monterey California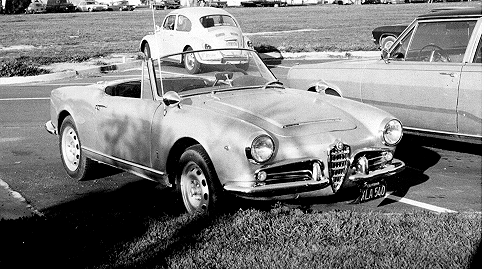 Photo taken at Vandenberg AFB 1970.

Photo taken by Dale Whitney at Orange County Raceway about 1971