Previous Owners:
(named "Julie")
Came from Licari's Foreign Cars, NJ or NY? Purchased from Mercury dealership in 1968. Sold in 1975.
Laurence Bumbalough. Drove the car until the engine seized, attempted to overhaul engine and never finished.
Walter Tice's Alfa in Orlando Florida replaced engine with 800 Normale as block was to bad to repair.
Car subsequently sold to someone in Altamonte Springs Fla.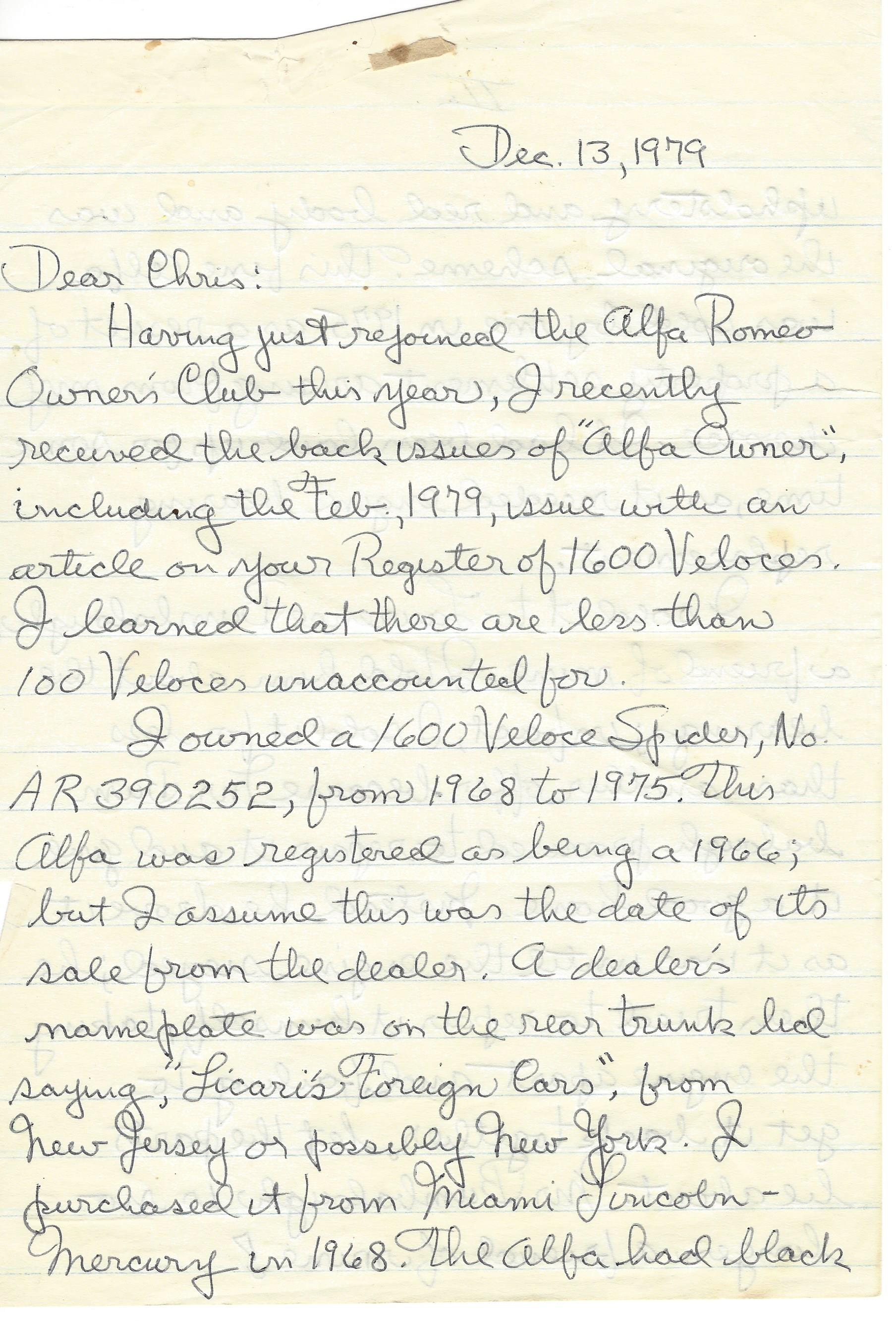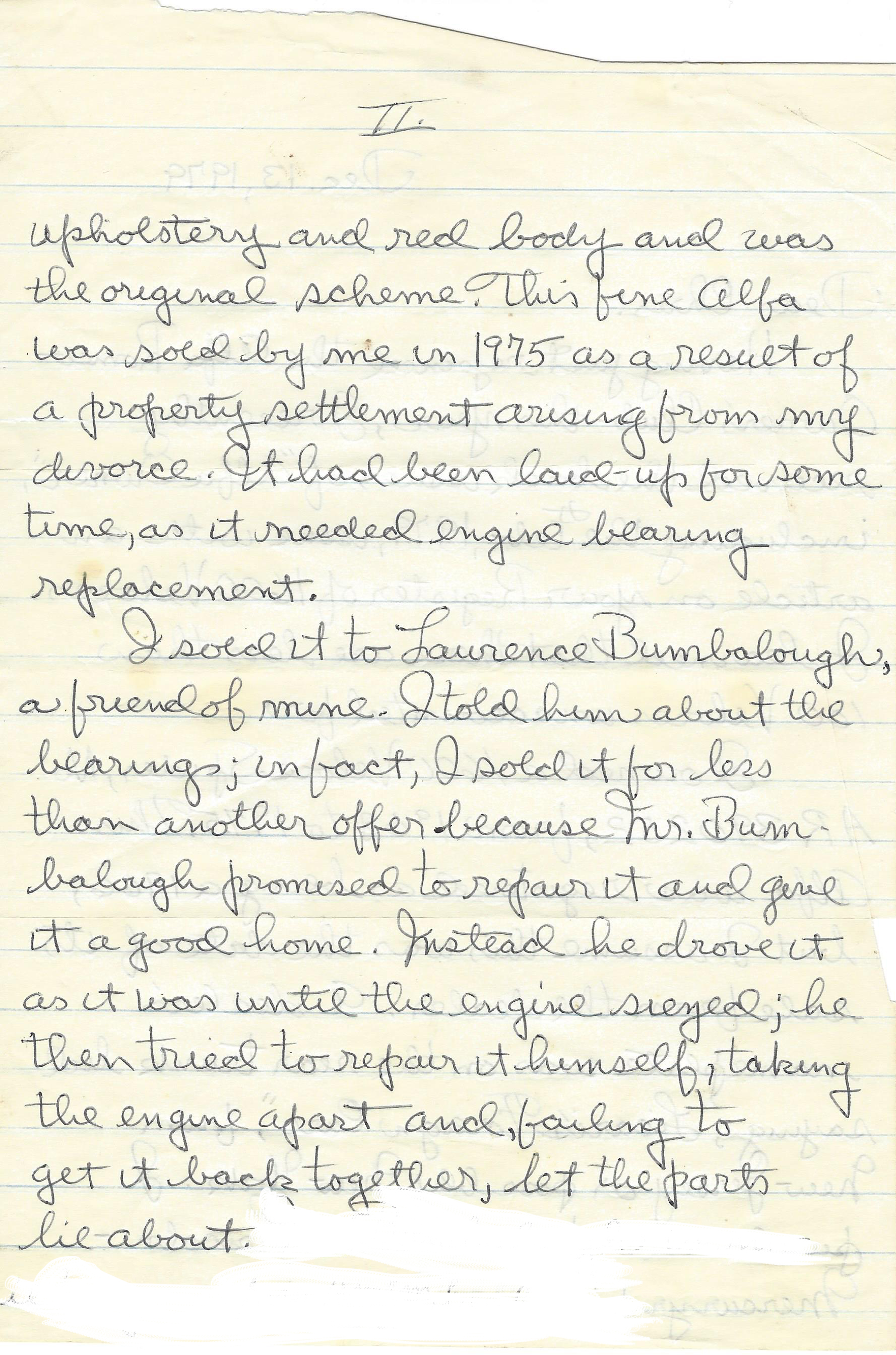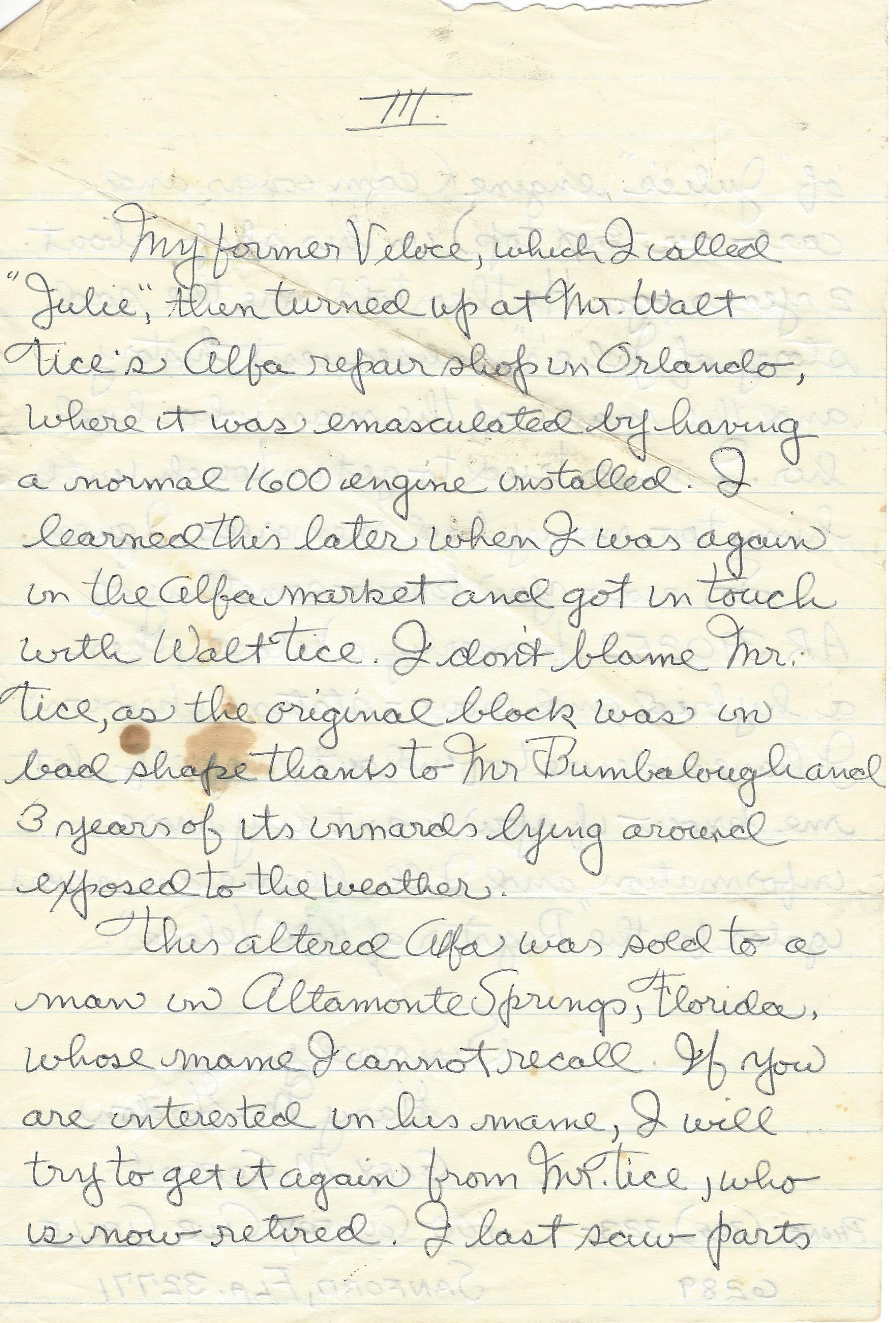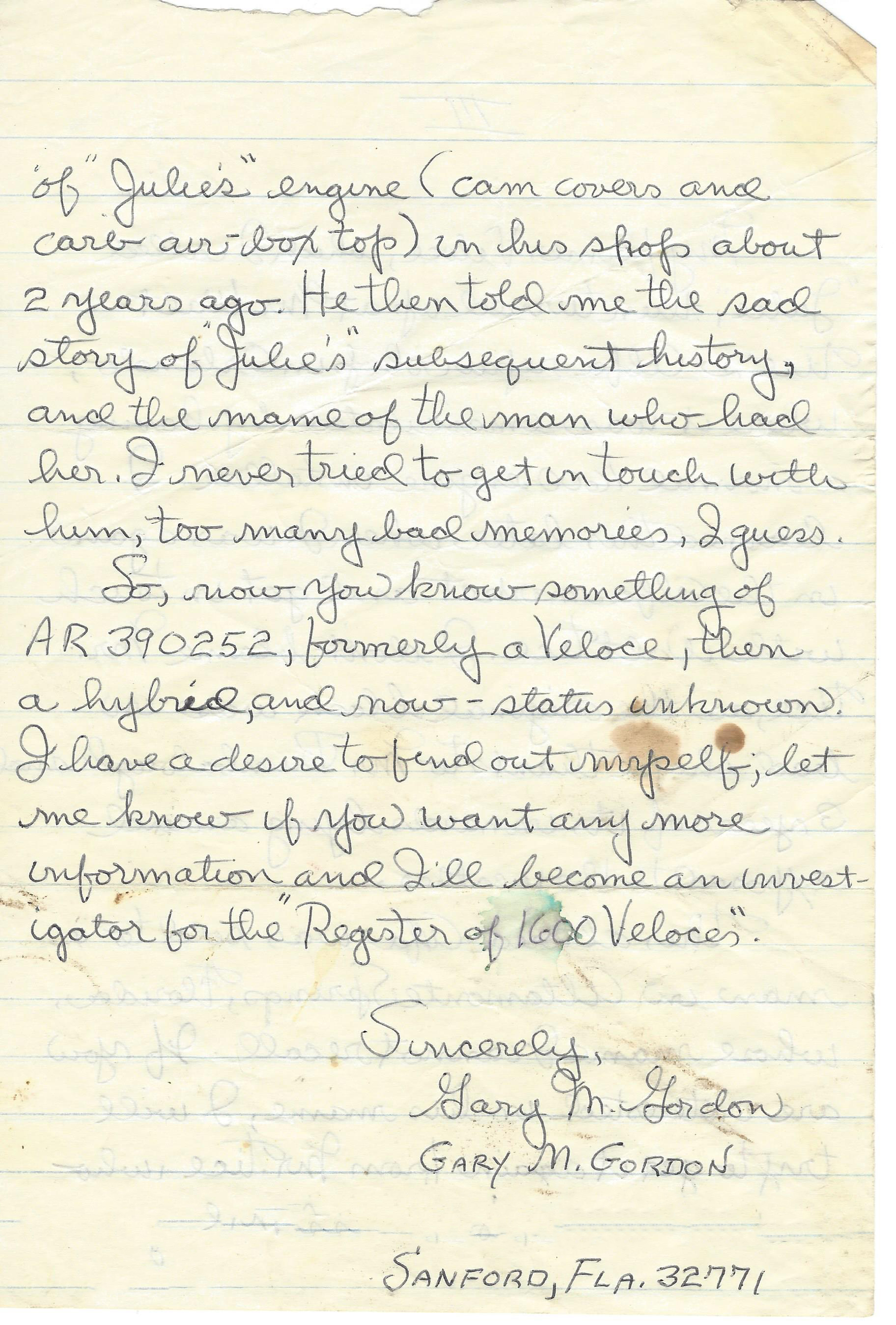 UPDATE: October 30, 2016 CLASSICARS FOR SALE.COM
Description: 1964 Alfa Romeo Spider
Here for sale is a rare 1964 Alfa Romeo Spider Veloce VIN AR*390252 engine AR00112*15201
This car can be found in the list atGiulietta website.
28700 miles.
Selling for my friend.
This is one of a rare edition of Alfa Spiders built for performance and handling.
A twin cam dual twin choke carburetor 1570cc high revving 112bhp engine coupled with an aluminum 5 speed close ratio gearbox.
It has 3 piston calipered disc brakes up front and large air cooled drums at the rear normally found on heavier cars.
Coil over shocks front and rear with quick steering.
Makes these a blast to drive a true sports car.
For those of you who know this model understand its features and rarity.
This is a stalled project that was being restored upuntillast week.
Like a lot of restorations the owner has decided that time and money has run out on this one. It has been in dry storage for 25 years to be driven once 12 years ago prior to being dismantled for restoration.
The car had fluids changed and fresh fuel added started and driven a short distance. The oil pressure was spot on and the engine ran as it should.
The engine has not been touched as the car has 28,700 miles on it and there is really no need.
The engine was removed for restoration split from the gearbox and the clutch and flywheel are perfect the car was not driven far so we do not know the condition of the gearbox and back axle, ut they feel tight.
The brake system has been gone through master cylinder
rebuilt calipers rebuilt with stainless pistons rear cylinders rebuilt. The steering and suspension are as should be.
The body.
OK as great as they are 1960s cars suffered from corrosion, he Alfas being no exception. This one though is very good compared to others we have seen.
The trunk area front and suspension points are great.
The floors had holes and were professionally welded as was any other corrosion point. There is some rust on the trunk lid and door "see photos" the bonnet is excellent. Bearing in mind this is now 41 years old and comes with what those years have thrown at it, t is till a very fine example. The bright work and rubber.
As shown in the photos the lights were sent for chroming they managed to reach the copper stage and the chrome company went bust. The owner was lucky to get them back. The windshield supports are the same. Most rubber is fine some will need replacing.
The stainless is very bright and only needs polishing. The bumpers need re-chrome the rear one has a dent. I have pictures for all the various parts to many to put here.
Interior and top.
The interior is there it needs reupholstering the top is good rear window clear but would benefit from new headliner. Has tonneaucover. Instruments wiring etc.
Instruments are great the wiring harness is good the horn button surround needs repair has a crack. Switches are all there except dash light dimmer "have knob" Has correct generator but regulator is not.
Glass.
At present we can not find front side glass we think it is in a warehouse but can not gainaccessas yet, o at this stage assume it is missing.
We can not find headers or exhaust the hood chrome and a couple of small items but they could be in same warehouse.
Radiator has been gone through and is excellent.
OK I can not list all the parts we have assume something may be missing we have bags and boxes.
In 2014 a restored car same as this sold for $135000 and last year a barn find for $50,100 With a rare car like this and due to its value Irecommendhaving it checked or checking it yourself.
The car has a clear Florida title showing 1966 as this car was built late 64 it probably arrived here in 65. Could even been a military bring back.
You must do everything to check out what you are buying I have researched this carthoroughly at to the best of my knowledge everything I see appears correct. please contact for more info and pictures.

On Feb-07-16 at 11:11:14 PST, eller added the following information: The veloce aluminum intake is there.Plus more I have not photoed.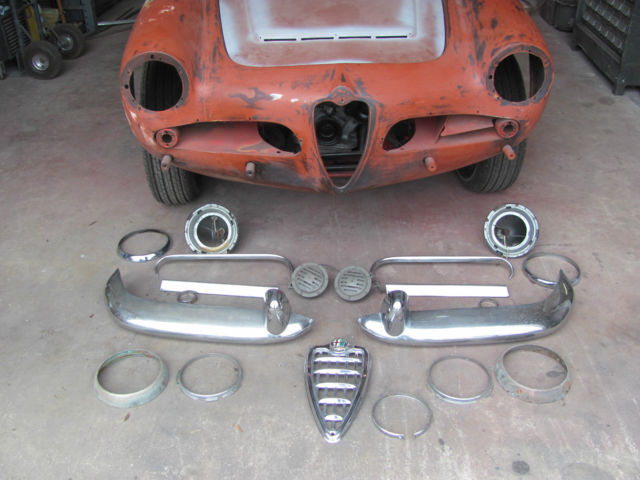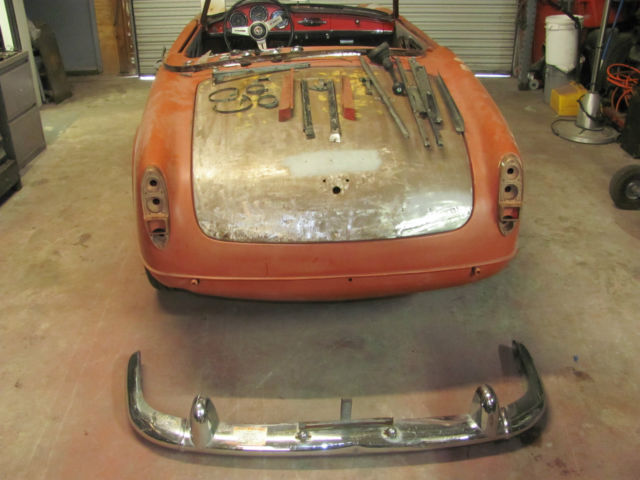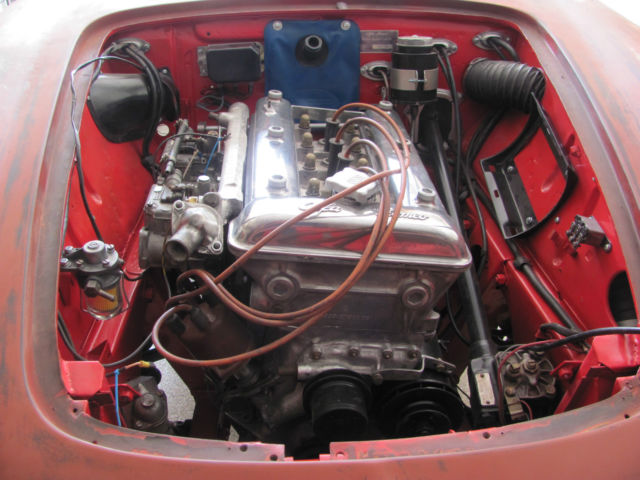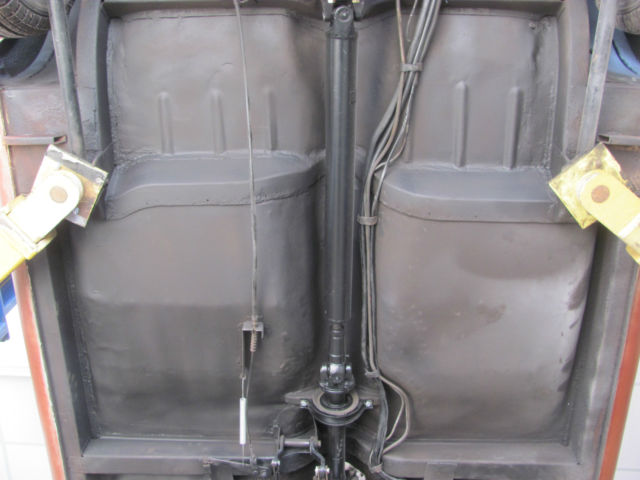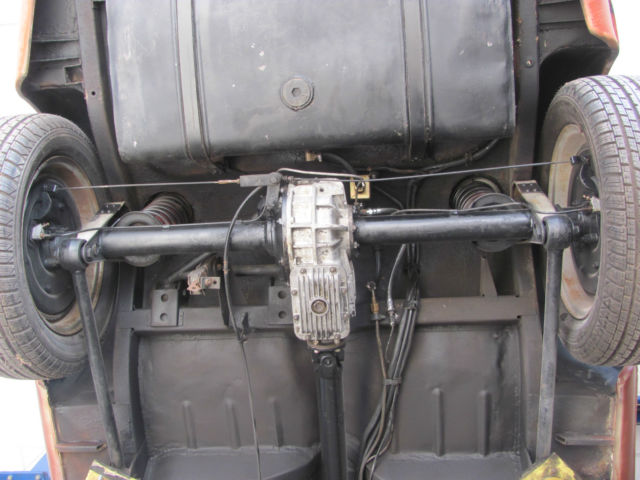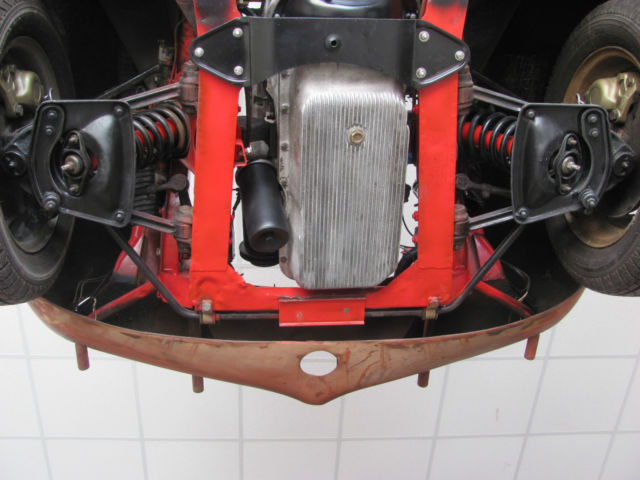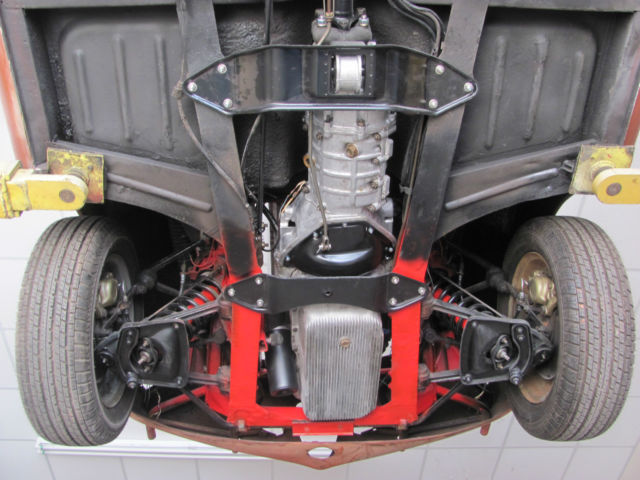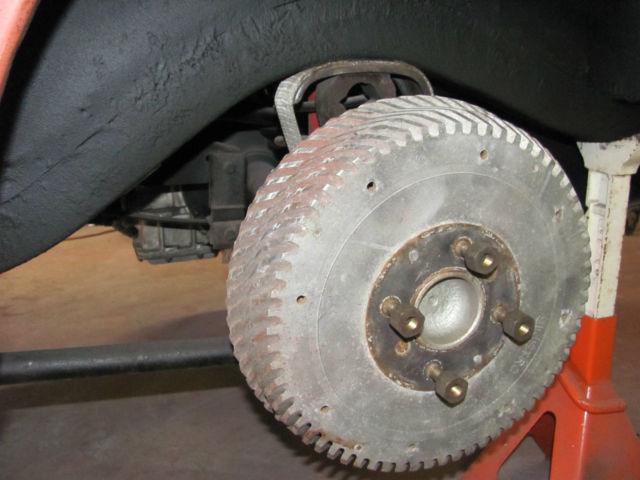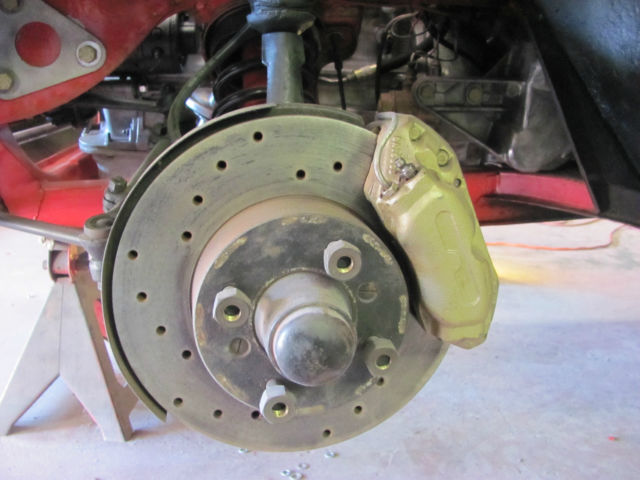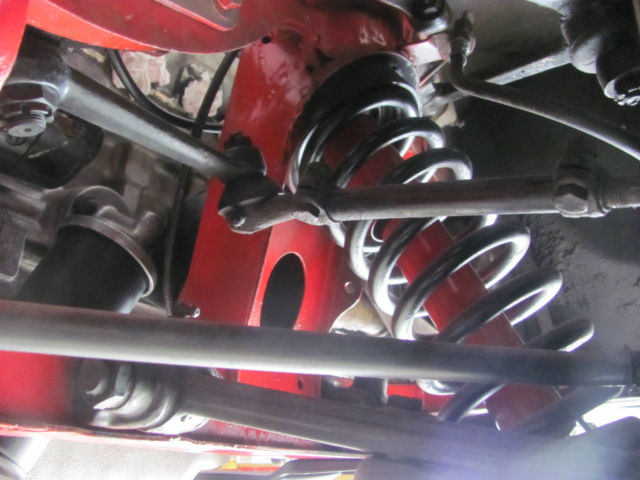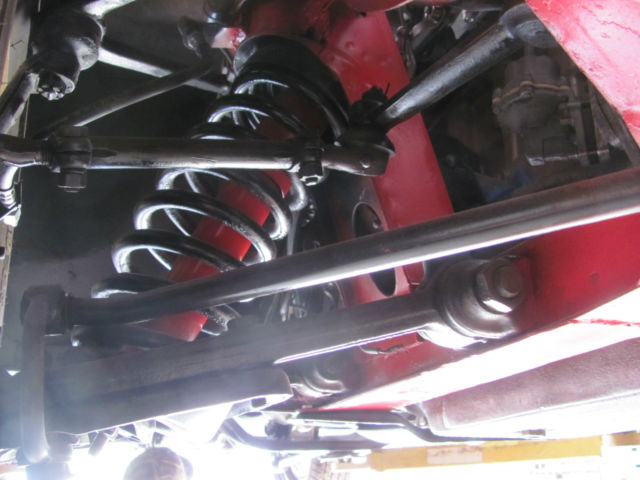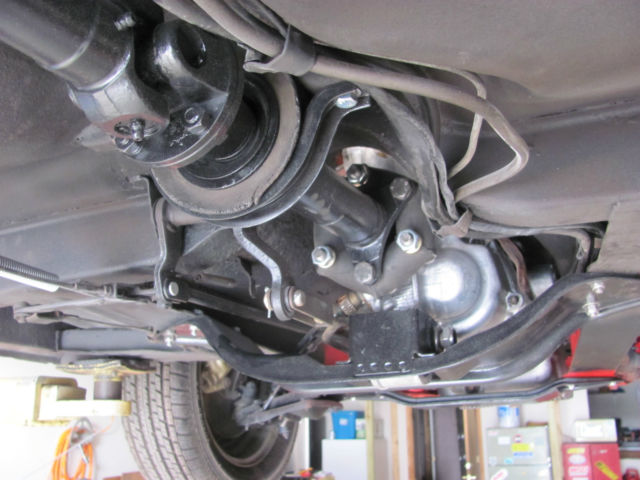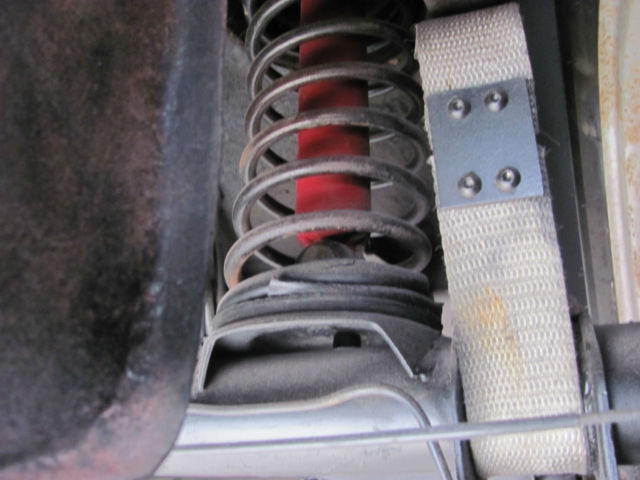 UPDATE: SEPTEMBER 08, 2022 CAR & CLASSIC WEBSITE: <
The Alfa Romeo Spider is one of only a handful of cars to be instantly recognisable even to people who have little interest in motoring – thanks mostly to its film-star good looks and indeed film appearances!
The famous bloodline started with the 1955 Giulietta Spider, which was styled by Pininfarina and featured Alfa Romeo's legendary all-aluminium twin-cam four-cylinder engine in 1300 guise. In 1959 the 101 variant replaced the 750, with a lengthened chassis and the addition of disc brakes on the front. Then in 1963 the 101 Giulia Spider was introduced with the engine capacity increased to 1600 and 5 speed gearbox. The bonnet air scoop is an easy way to tell a Giulia from Giulietta.
In 1964, the engine from the Sprint Speciale was fitted to the Spider in order to create the Veloce model, now extremely rare. Running on twin Weber 40 DCOE2 carburettors, this uprated unit kicked out 112bhp, which gave the Spider Veloce a level of performance that complemented its timelessly elegant styling and best in class handling.
This Alfa Romeo Giulia Spider Veloce has been painstakingly restored to concours standard and has a fascinating history. Built on 27 July 1964, chassis number 390252 was dispatched to American distributor Max Hoffman on 7 August. Within a year it had been resold by Licari's Foreign Cars in New Jersey, and its Title was registered in Florida in 1966. In 1967-'68, it was obviously used by someone who either studied or worked at the University of South Florida, because their paper parking permit was still attached to the bumper when the current owner purchase the car in 2016! Proof if any were needed that this unique Veloce saw very little use during 50 years of its life.
In 1968, the Spider Veloce was part-exchanged at the Miami Lincoln-Mercury dealership, which in turn sold it to Gary M Gordon of Sanford, Florida. Gordon held on to it until 1975 – he later explained that it had been laid up 'for some time' prior to that because it needed new engine bearings.
He sold the Alfa to a friend of his by the name of Laurence Bumbalough on the understanding that he'd fix the engine and give the car a good home. Unfortunately, Bumbalough continued to drive the car as it was until eventually the engine seized. He then stripped it down but didn't manage to complete the rebuild, and instead the engine stayed in bits until he sold the Alfa to dealer Walter Tice for $200. Tice fitted a Normale engine to replace the dismantled Veloce unit and sold the car in 1979 to a young Vietnam veteran. When he sadly died, his family kept the Spider in dry storage for most of the subsequent 30 years.
It then passed to an engineering company in Daytona Beach, which started to strip it down in preparation for a full restoration before deciding instead to sell it to the current owner. A fastidious marque enthusiast, this latest custodian set about finding a Veloce unit that had the correct serial number for the car's 1964 chassis number. That meant it needed to be numbered between 00121-1600 and 1970, and his search suggested that there was only one anywhere in the world.
The block in question was with retired Alfa Romeo mechanic and dealer Enzo Passetti in Tressino, Italy. Passetti offered to build an engine using that block – serial number 00121-1644 – plus new, correct parts that he also had in stock, including a pair of New Old Stock Weber DCOE2 carburettors.
The Passetti engine was then mated to the original gearbox, which had been rebuilt by Bob Dove Motorsport. The rest of the Spider Veloce, meanwhile, had been stripped to a bare shell and was discovered to be remarkably sound and original – testament to how well it had been stored. The sills were strengthened and zinc-plated, and the body was restored and repainted in the original shade of Pininfarina rosso corse by Finishing Touch in Weston-super-Mare.
No expense was spared – the transmission, suspension, brakes, steering and electrical systems have all been either refurbished or replaced, and somewhere in the region of 1250 hours were spent restoring the car to its current pristine condition. Less than 100 miles have been covered since the completion of the restoration.
Now being offered for private sale, this Alfa Romeo Giulia Spider Veloce is ready to be enjoyed for the next 60 years and comes with a detailed photographic record of its restoration and a 2" binder of receipts.