PREVIOUS OWNERS: Bonhams, RAF Museum, Hendon, London

Manufactured on 1st April 1964, this left-hand drive example was supplied new in France via Socit. Francais Alfa Romeo and first registered on 20th April 1965.

The car is believed to have spent its entire life in Paris before coming to the UK a few years ago.

It was purchased by the vendor, for showroom display, and registered here in March 2004 having been re-sprayed earlier in the year.

New door rubbers were fitted at the same time, while other recent servicing has included fitting a new clutch, crankshaft main oil seal and anti roll bar bushes.

The odometer displays a total of 39,200 kilometres (approximately 24,343 miles), the vendors belief that this is almost certainly a genuine figure being supported

by the condition of the unmolested grey cloth and blue vinyl interior.
Finished in white, the vehicle is offered with current MoT, road fund licence to March 2005 and Swansea V5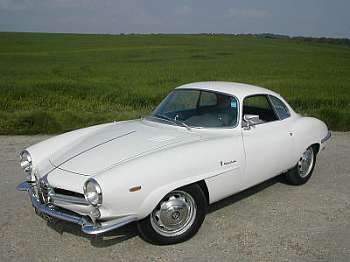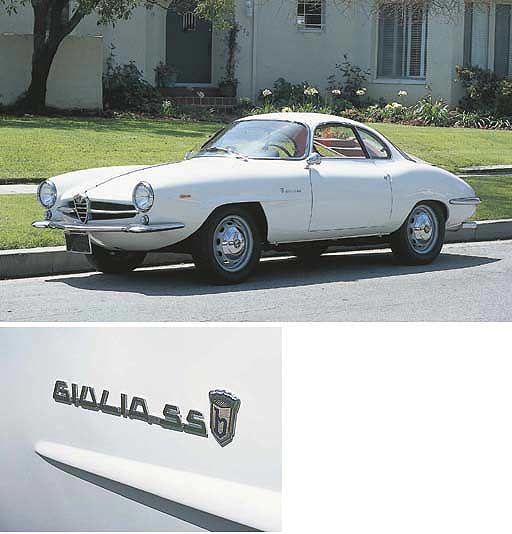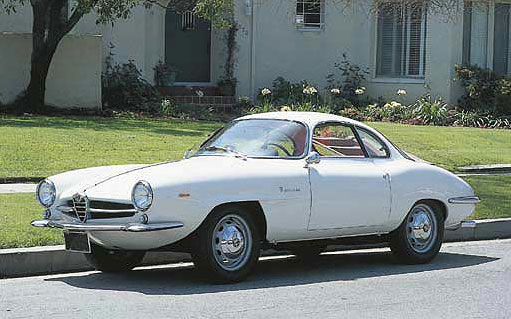 Another description from another website: Chassis No. AR380419 Engine No. AR0012100970 White with blue and grey interior Engine: four cylinder in-line, twin overhead camshafts, 1,570cc, 112bhp at 6,500rpm; Gearbox: five-speed manual; Suspension: front independent with unequal A-arms, coil springs, rear coil springs, radius arms; Brakes: front disc, rear drums. Left hand drive. The prototype Alfa Romeo Giulietta Sprint Speciale made its debut at the Turin Salon in October 1957 and went into limited production in mid 1959. The Bertone design was futuristic and reflected the streamlining principles that had been incorporated on the B.A.T. concept cars. Typically, the engine was a sweet jewel, free revving and sporting. Coupled with a new five-speed gearbox, the mechanical specification was almost as revolutionary as the inspired body design. The SS engine was uprated to 1,570cc and henceforth the car became known as a Giulia Sprint Speciale. It was introduced in Geneva in March 1963 and there were further interior improvements, as well as the addition of the script along the front wing and tail. Mechanically the torque was much improved and in a Road and Track feature, the testers commented on the impressive acceleration of the new SS, with a 0-60mph time recorded in 12 seconds. Indicated on the French 'Carte Grise' registration document, this Giulia SS was registered on the 20th April 1965. This fine example displays just 38,000kms on the odometer and judging from the unmolested grey cloth and blue vinyl interior, one would assume this figure to be genuine. No doubt having benefitted from a more temperate French climate there are no obvious signs of corrosion and thus the exterior presents very well, especially having just been treated to a fresh respray earlier this year. Though not driven by this cataloguer, the vendor informs us that the vehicle drives extremely well indeed and is content and trouble free both in modern traffic and on the open road. When the car was painted, new door rubbers were installed and recent servicing work notably includes the fitment of a new clutch, crankshaft main oil seal and anti-rollbar bushes. In the history file is the (French) registration document and bills relating to car's maintenance over the last decade or so. These charming little cars are becoming increasing rare to find and viewing of this example is highly recommended.