PREVIOUS OWNERS: PAUL SKORA, PAUL MERRIGAN, TIM HUNT 12/1998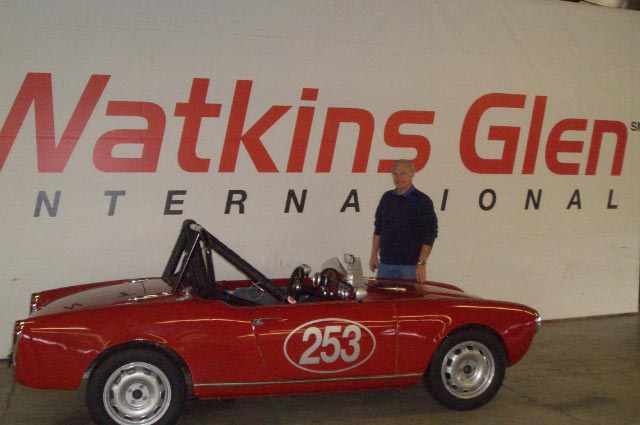 Attached is a current photo of the car at the snowed out October VRG event at Watkins Glen.  As you can see, the car is now red.  I have been over every inch of the car and have not seen any evidence of it being gray but it could have had a very thorough repaint.  While treating some rust on the floors I did notice a dark gray paint layer when stripping areas to bare metal.  Maybe it was gray finish coat and not primer as I had assumed. 
    The current engine is a 105 800 built by Peter Krause number AR00536*09105.  The original block when purchased was number AR00514*61245.  The original block and head let go during my SVRA DOP at Pocono in August 1999 leading to the K&E rebuild.
    There is evidence that the wheel arches have been replaced so the car may have had SCCA flares at some point. 
    The car came with a VSCCA log book with entries by Holly Merrigan at Laguna Seca 10/26/91, 7/4/92 and the HMSA Pre-Historics 8/14/93.  The log pictures show the car red, no fender flares and number 35.  The next entries are without name for vintage events at NHIS in 1997 and 1998.  I assume the car was entered by Tim Hunt.  My first log entry was 7/99 for the Pocono DOP.  After a very long rebuild (money and time) I first raced the car at VIR for a VDCA event on 4/18/08.  I've since had the car to 10 vintage events including Roebling Road, VIR, Summit Point, NJMSP and Watkins Glen.
    Strangely, the car came with a Virginia title under the name of Hochheiser, Louis, Irwin issued 5/26/95 and signed as sold with no date again I assume to Tim Hunt in Vermont.