PREVIOUS OWNERS: MARK ESBENSHADE 2007 (10 years), Greg Pettit in Indiana
He was located close to Muncie, but I do not remember the exact city. The story behind his ownership is that a Giulietta Spider was his first car, and so his wife had bought this one for him as a memory. He was mostly into American classics. His knees were getting bad when I met him, and he was no longer able to drive manual cars. I did ask him about prior ownership as well, but he didn't have any additional information. Hope that's helpful. Best regards,Mark
HISTORY: BRING A TRAILER 2019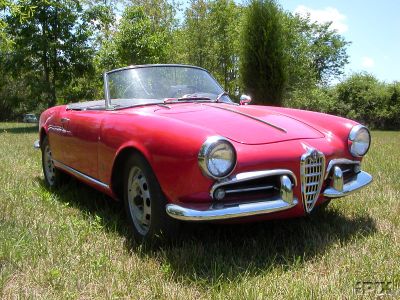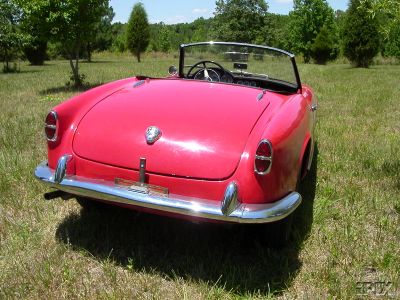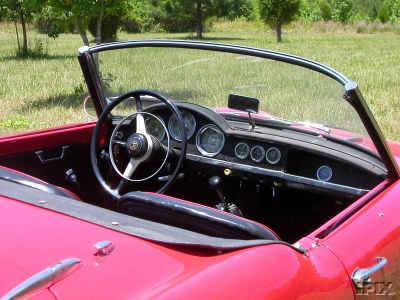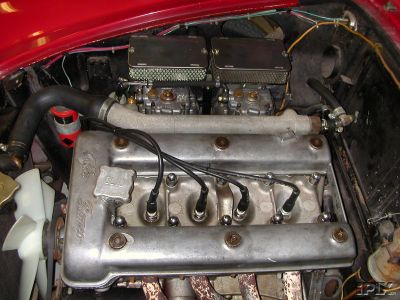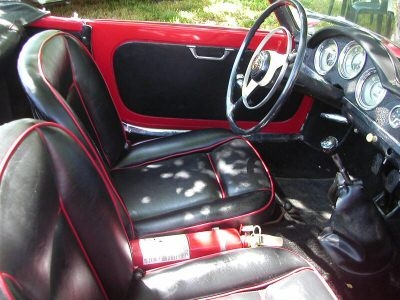 This is a true 750 F Veloce (chassis# 1495 F 05545, engine# 1315 32051), with electric fuel pump, split left air intake, etc, unique to that model. Fusi identifies the numbers as a '58 build Veloce chassis and a '59 build Veloce engine, so the engine may have been replaced with a true Veloce engine at some time, but it's more likely that the factory build dates were not exact. I have owned the car for about 5 years, and drove it regularly on the street until last year. It's in a heated garage, and I drive it around the block every couple of weeks on sunny days. This is a pretty, smooth running car, with no body or structural rust or damage. Several modifications had been made before I bought it: the carbs had been replaced with later model DCOEs, and the air filter system replaced with flat "pancake" filters (I do not have the original parts). The gearbox is a later model 5-speed, the dash has a black crackle finish, and several extra instruments were added. The original instruments are in place. The trunk floor and foot wells had been replaced. The top is off the car and needs new cloth. The paint is good and there are only a few minor "dings." The chrome strip under the driver's door is missing, but the rest of the chrome is good. Shocks are Konis. I've redone the brakes all round. Seats are in good shape. New 165-55/15 tires. Matching wheels, which have been refinished at great expense! The electrics all work, and it passed annual road inspections before I took it off the road. Needs include: Floor mats all around. Front springs, and maybe rears as well. The gearbox sags, and probably needs a new rear mount. The windscreen is scratched. A number of small spare parts, extra instruments, door handles, etc are included. The car would be classified as a "daily driver," probably a Condition 3 by Sports Car Market, which values a Condition 1/2 of this model at $25 - $30k. It is great fun to drive, pretty to look at, and has real potential as a collector. If you know the model, you can appreciate how much better looking it is than the later 101 series cars. It would take some work to make it concours, but then it would be worth much more than I'm asking! Clarification in response to queries: I infer the rear gearbox mount is soft because it jumps out of second gear on the overrun. If I were keeping the car, I would replace the springs because it rides lower than stock. Neither of these are serious issues.
Specs & Info
Auction Date: 
05 Jun 2003
Sold For: 
$10,000 (reserve met)
# Bids: 
14
VIN: 
AR 1495 F 05545
Miles: 
86,000
Engine: 
4 cyl
Transmission: 
manual
Interior Color: 
black w/red piping
# Produced: 
~2,300
Price New: 
$3,519
Auction: 
ebay
CONDITION: 
3-
Lot #: 
2417004982
Book Value: 
$7-23k
3YR UPSIDE: 
good
Seller Rating: 
(25)
Bidder Rating: 
(207)
FAIR PRICE: 
$12.5k
Commentary: 
$10k is a good buy. This car represents a fairly 'simple' restoration project, and the market will reward the investment. I think it could have achieved $12.5k as it is. These cars up 16% last year. A classic Alfa ready for a mild freshening-up or complete resto. It's the right color combo. Car will appreciate steadily. ~~~ This is the type of auction that turns on a collector (at least one looking for a fixer upper/driver). Presentation was very honest and to the point. You can tell the owner knows the car well, and understands the market. CL
UPDATE: BRING A TRAILER March 2019
This 1959 Alfa Romeo Giulietta Spider Veloce is a short-wheelbase 750F model that was imported to the US when new by the Hoffman Motor Car Company and reportedly left the factory finished in Celeste Blue. It is powered by a numbers-matching 1,400cc twin cam inline-four paired to a replacement 5-speed manual gearbox and currently wears an older red repaint over a black interior. The seller acquired it from a collector in Indiana and drove home to Cincinnati. From there he took several road trips as far as St. Louis before shipping the car to Arizona where he now resides. He initially purchased the car with plans to perform a rolling restoration, however that never materialized and the seller ended up just addressing the mechanicals and driving the car as-is. This Giulietta Spider Veloce is now being offered with ten years of service records, correspondence from Alfa Storico, some spare parts, and a clean Arizona title in the seller's name.
A repaint in red was performed under prior ownership, though evidence of the original Celeste Blue (AR 301) finish is reportedly visible in some areas. Rust bubbling and cracks are present around the rear wheel wells. Closeups of these areas and other small imperfections around the body have been provided in the gallery below.
The black convertible top and frame stow behind the seats and a few blemishes are present in the canvas. Factory steel wheels wear a set of chrome hubcaps, and the seller indicates the brakes are currently pulling to the right and should be serviced before the car is driven any considerable distance.
The interior is trimmed in black vinyl with accenting red piping. Factory instrumentation consists of a trio of Veglia gauges including the Veloce-specific 8000 RPM tachometer. A Pininfarina blanking plate is present on the dash. 98k miles are shown on the 5-digit odometer, approximately 10k of which were added by the seller. The fuel gauge is currently inoperable.
The original twin cam inline-four received an overhaul in 2008, which included a new set of 1,400cc pistons and liners from International Auto Parts, as well as new main and connecting rod bearings. Induction is through a set of replacement Weber DCOE carburetors mounted with a later-model intake. A replacement 5-speed model gearbox was installed sometime prior to the seller's ownership.
Engine block number AR1315*32051* is shown above and matches the chassis tag, which can be seen in the gallery below. Veloce engines were denoted by the 1315-3xxx prefix, and a closeup of the "F" stamped into the firewall is shown in the gallery below.
The cabin and trunk floor were patched with sheet metal screws and aluminum under previous ownership. Some play is noted in the steering system, and a rebuildable steering box, as well as an extra 4.56 rear axle, accompany the sale. Additional photos of the floors, suspension, and drivetrain have been provided in the gallery below.
A cold-start video is shown above and a driving video can be viewed here. This is a car that could serve as the basis for a restoration, or driven as is with some sorting work.