PREVIOUS OWNERS: Dr. Landry in Portland new until around 1997. Ben Schotz-Austin TX until about 2003. Bill Gillham until 2007. 106,000 miles, unrestored, been a daily driver since new.
built in September 1960 and sold new to a doctor from Portland, Oregon, in May 1961. In fact he picked up the car in Rome at Autosalone Barberini Dalla Vecchia (there's a trunk badge) in early May, used it a bit in Europe, then shipped it to Portland from Amsterdam, where it was processed through Rambo Motors. This is an unrestored car that was used for regular transportation from new til the 1990s, when the original owner sold it to an Alfa guy in Texas who didn't use it much over several years, then to another Alfa restorer in Oregon who kept it about a year and a half, selling it to make room for the Giulia Spider Veloce he'd always wanted.

This Spider came with a complete history from new, including original receipt from Alfa (for $2727), Certificato d'Origine from Alfa, Dichiarazione di Vendita, registration and taxation documents from Italy, shipping and insurance documents to the US, and virtually every receipt to the late 1980s. With such a complete file of documentation, coupled with an unrestored but wonderfully patinaed car that shows its history on its sleeve, I thought it would be fun to recount its ups and downs over the years as gleaned from the geologic record of maintenance receipts, oldest at the bottom and newest at the top, like sediment in a lake. This to me is a pretty typical story for such a car, back when it was used as a real car and not as a collector's item. So I don't think there's anything remarkable about the car in particular, only that its historical record is so complete and visible.
ADDITIONAL INFORMATION FROM ALFABB: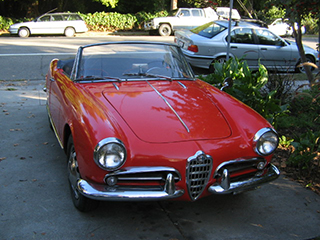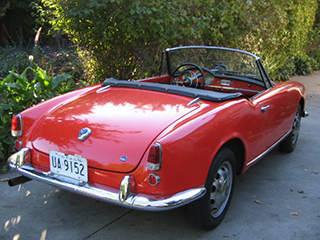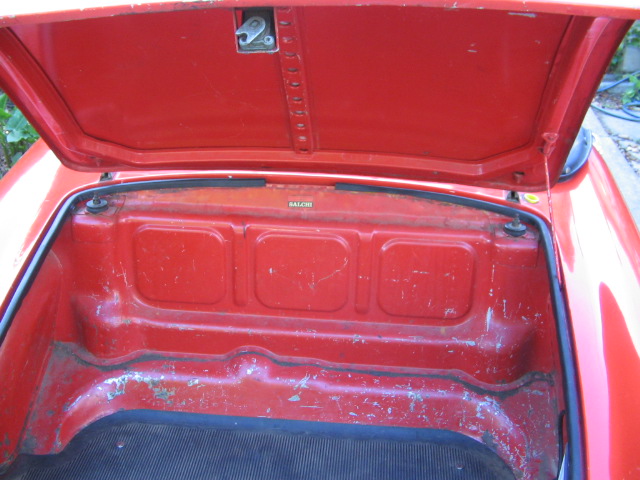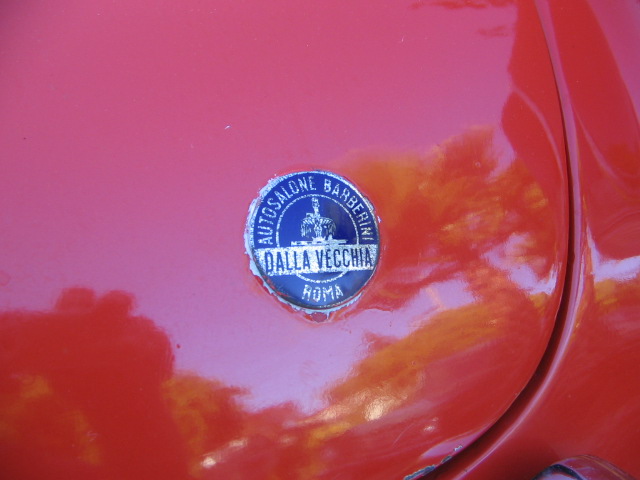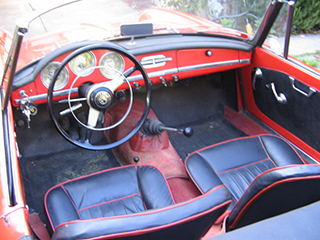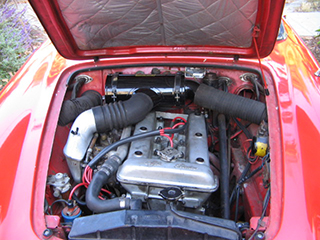 MORE INFORMATION FROM THE ALFABB 2022: I purchashed it from Derek Tam-Scott, an automotive journalist and influencer who kept the car for a little less than 2 years. I didn't take that as commentary on the car, (he is 35 and has owned 50 cars, so keeping one 18 months is a positive reflection).
No dissapointments in the car, and it is a delight to drive. Brakes are straight and strong (with high pedal effort), The engine burned no oil, and produces no smoke even after long sections of engine braking down the PCH hills, which are very steep.
While the seats are broken in, even broken down, they were remarkable comfortable for long hours of challenging driving. My wife and I were very impressed with the air flow with the top up or down, very minimal buffeting. Its just a delightful little car. Got to meet Andrew too, that was fun, and he was kind enough to talkabout the cars history and share some old pictures that I will add to the car's provenance.
All in all, put about 800 miles on her so far.
My plan is to correct the little rust she has, and put cosmoline or lanolin in all the internal cavities while I have laproscopic openings. I expect to be able to preserve all of the factory spot welds, and do only butt weld in the middle portions of the few affected panels.
UPDATE: AUGUST 8, 2022 BRING-A-TRAILER WEBSITE
This 1961 Alfa Romeo Giulietta Spider Veloce was completed on September 28, 1960, and was collected by its original owner in Rome, Italy, before it was imported to Portland, Oregon in July 1961. The car was acquired by the current owner in July 2021, and service since 2020 has included overhauling the engine and rebuilding the carburetors in addition to replacing the water pump, fan belt, and spark plugs. Finished in red over black vinyl, the car is powered by a 1.3L twin-cam inline-four mated with a four-speed manual transmission. Equipment includes a black soft top, Marchal headlamps, and 15″ steel wheels with chrome hubcaps. This Spider Veloce is now offered with Italian-language purchase documents, manufacturer's literature, service records, and a clean California title in the seller's name.
The Pininfarina-designed bodywork is finished in red, and equipment includes a black soft top, chrome bumpers, a fender-mounted side mirror, and Marchal headlamps with yellow bulbs. Fading and wear are visible around the body and on the trim, and paintwork under prior ownership is noted. Service in 2022 included repairing rust in the trunk and repairing the brake lights. There is a dent on the left-front fender and a hole on the right-rear quarter panel from a previously installed antenna. The seller reports rust on the rocker panels, behind the rear wheels, and on a right-side chassis outrigger. Exterior blemishes are shown in the gallery below.
Silver-finished 15″ steel wheels wear chrome hubcaps and are mounted with Vredestein Sprint Classic tires. Stopping power is provided by four-wheel drums. Service under prior ownership is said to include rebuilding the brake master cylinder and relining the brake shoes in 2013, replacing the sway bar bushings in August 2015, and rebuilding the wheel cylinders in June 2017.
The cabin features low-back bucket seats that are said to have been reupholstered in the 1970s and are trimmed in black vinyl with red piping. The seat slider was repaired in 2022. A wrinkle-finish dash pad tops the red dashboard, and worn rubber floor mats cover faded red carpeting. Equipment includes a dash-mounted rearview mirror, manual-crank windows, and lap belts.
The two-spoke steering features a chrome horn ring and fronts a 140-mph speedometer, a tachometer, and a combination gauge for oil temperature, water temperature, and fuel level. The five-digit mechanical odometer shows 14k miles, approximately 1k of which have been added under current ownership. True mileage is known.
The 1.3L twin-cam inline-four was rebuilt in February 2020, and work at that time included resurfacing the cylinder head and replacing the piston rings, valves, valve guides, motor mount, and rear main seal in addition to honing the cylinder walls and rebuilding the carburetors. Service in May 2022 included the replacement of the spark plugs, engine fluids, water pump, and fan belt as well as tuning of the carburetors and idle mixture.
The engine block stamping is shown above, and the engine number is listed on the sales invoice, which is available in the gallery.
Power is sent to the rear wheels through a four-speed manual transmission. The center driveshaft bushing was replaced in February 2020, and the transmission fluid and differential fluid were replaced in 2022. Corrosion is visible on underbody components, and additional photos are presented in the gallery.
Italian- and English-language documentation will accompany the vehicle, including the certificate of origin, purchase invoice, manufacturer's literature, Italian registration, importation paperwork, and service records.
The yellow California license plates shown in the gallery will not accompany the car.