PREVIOUS OWNERS:
HISTORY: Images are the letter I received in 1973 from TG POWELL, DERBY OHIO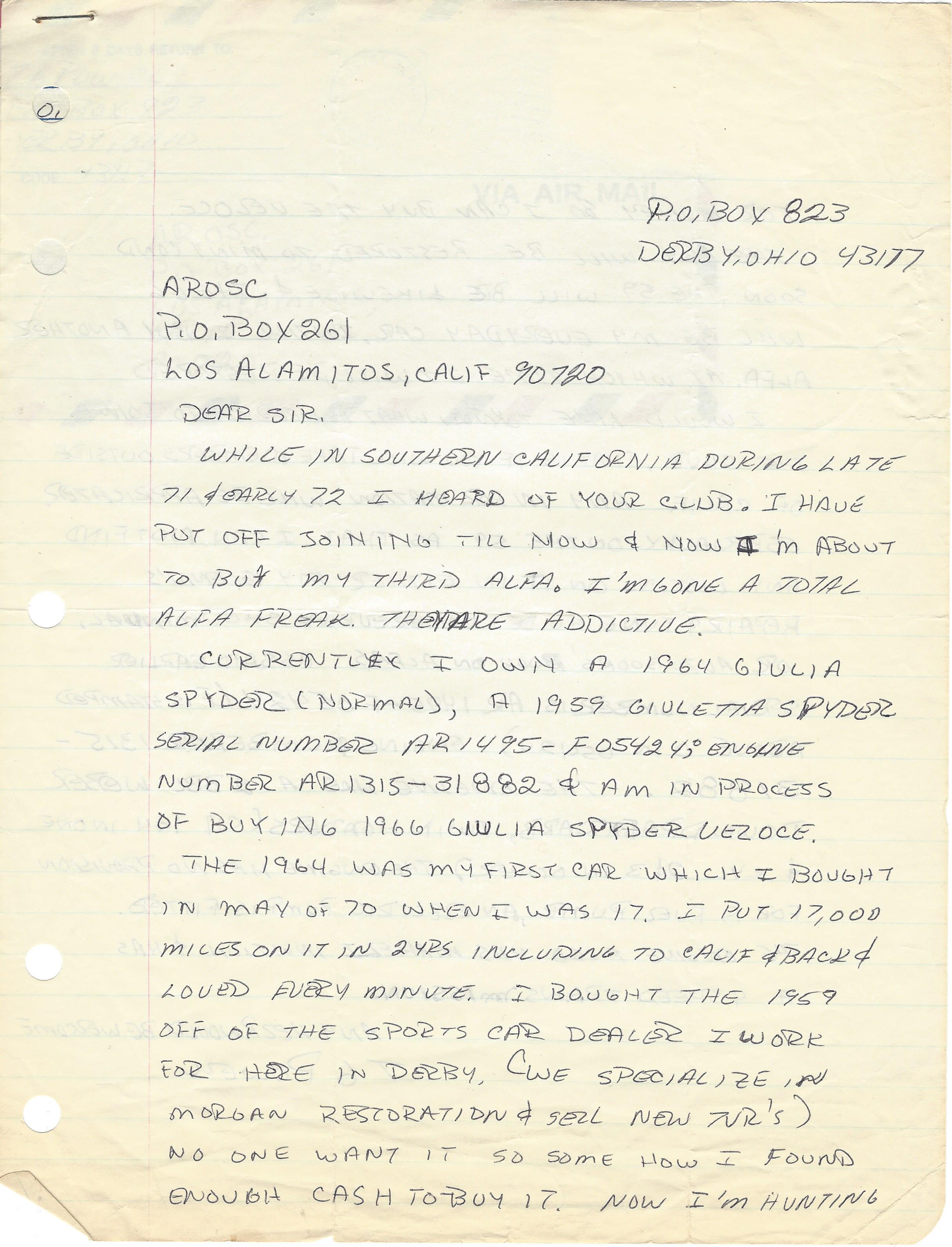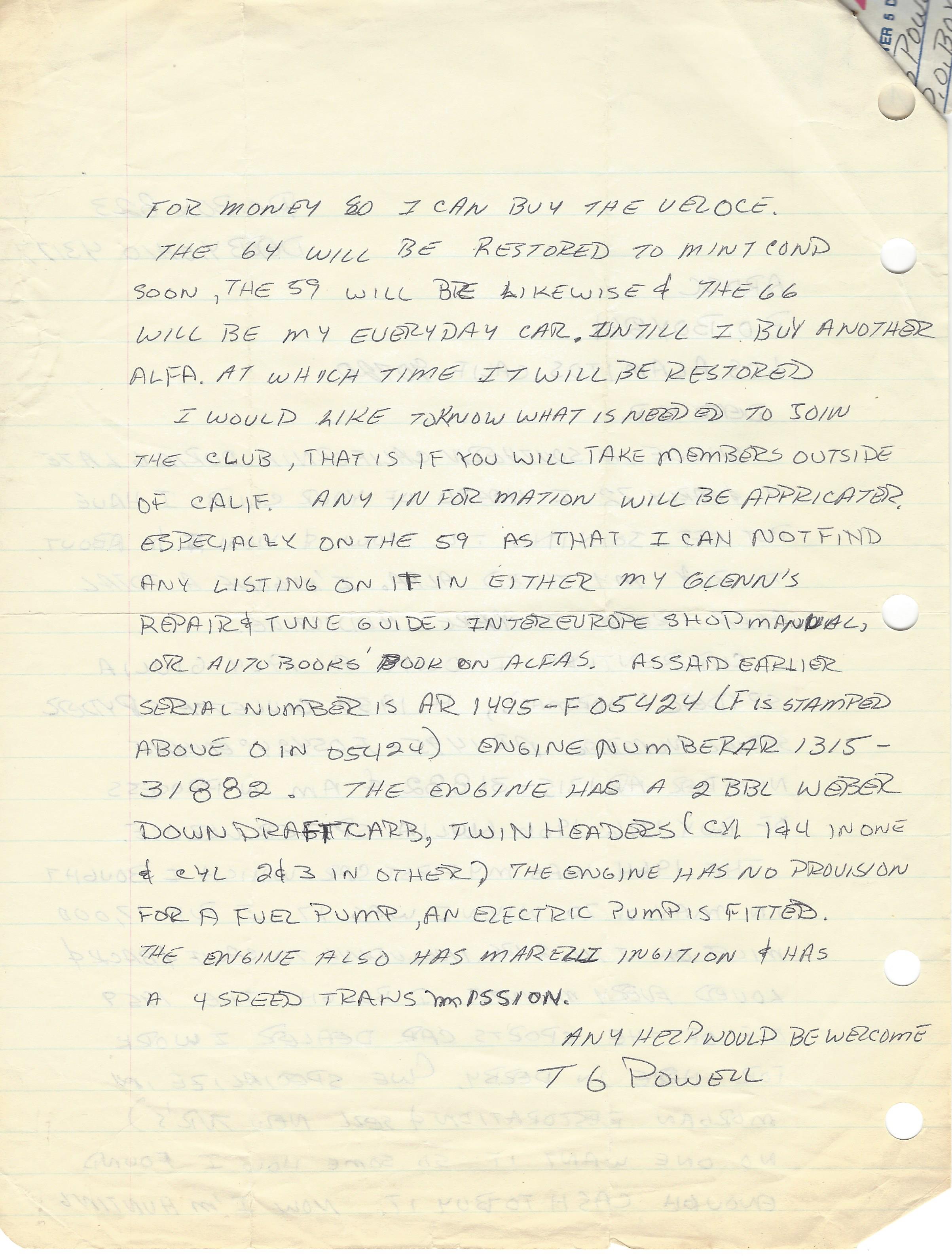 Vehicle Description
Here we have for Auction, with NO RESERVE!

The Proverbial Barn Find!. Only you do not have to get your hands dirty. In Mid Restoration; Ready for finishing. This Matching Number Body/Engine Short wheel base 750F Spider Veloce has had the hard work done for you. All that is needed is the assembly with new or rebuild parts.

All the original parts that you will need are there. The very few things missing are available by Alfa vendors. This has been my dream restoration but finances and having to move keeps me from finishing it. Another lucky Alfista now can get their chance of owning one of the most Cherished and Beloved of the Giuliettas. The bodywork and metal work has been done to this car, using 22 and 18 gauge metal. A skim coat of filler was then used. The car is 100% solid and all Metal. The car is now in grey PPG etch primer.

All it needs is YOU to decide what exterior and interior color it should be in. The Vehicle was Originaly White with Black interior. Some time in it's life it was painted red. You pick.

What is missing:
1- The side spears (Available at: www.reoriginals.com)
2-Passenger side eyebrow (Available in stock : www.international-auto.com)
3-Grille Center Bars (Also at www.international-auto.com)
4-The carburator Stock intake , and filter canister (at: www.centerlinealfa.com).
5-The windshield is cracked on the passenger side. Reoriginals stocks them.

Interior:
All the interior handles, knobs, seats, instruments and switches are there and original to the car. The correct sandblasted Spider top is intact (Works and retracts) The Instruments are the correct Veloce instruments and work.

Suspension: The suspension seems in perfectly usable condition. The wheels are BORANI and will need to be checked and finished. The braking system is intact; and will need to be gone over.

Chrome: All Chrome pieces with the exception of the afformentioned, are there and ready to be restored. Engine: Original Engine that matches this SPECIFIC CHASSIS, is included, and is Complete. Transmission is 5 speed fully synchronized unit and shifts through the gears fine. Weber DCOE40 Carburetors are included but will need to be rebuilt. The MAGNETTI MARELLI Distributor, Generator and Starter are included. The Original radiator is there. From Alfa Romeo Museo Storico:
=============================================== Dear Mr. *****,
with reference to your request we are informing you as follows. According to our documentation files, the chassis number AR 1495 F 05424 originally corresponds to an Alfa Romeo Giulietta Spider Veloce, manufactured on the 9th December 1958 and sold on the 8th January 1959 to Hoffman Motor Car Co., New York, U.S.A.
The body colour is white, with red or black interiors.
Yours, Sincerely,
Marco Fazio
Automobilismo Storico Alfa Romeo
Viale Alfa Romeo – I 20020 Arese (Mi)
Tel. +39 02 444 29 115
Fax +39 02 444 28 152
Mob. +39 334 629 53 81
============================================= Obviously The car is a 1958; and was titled a few months later as a 1959 which is as it apears on the Clear Ohio Title, in my hand.
PLEASE Remember that you are buying an Unrestored Project Vehicle. If you are not ready for a restoration and what it entails; then this is NOT the car for you. Buyer is solely responsible for shipment.
Please contact me if you are a serious buyer with questions.


On Jan-13-08 at 14:37:34 PST, seller added the following information: I forgot to mention that the Magnesium Two Piece Veloce Sump is there, with the matching "Goose Neck" Oil pump.