PREVIOUS OWNERS: Paul O'Henlon (as per SS register by Leslie Hegedus)
HISTORY: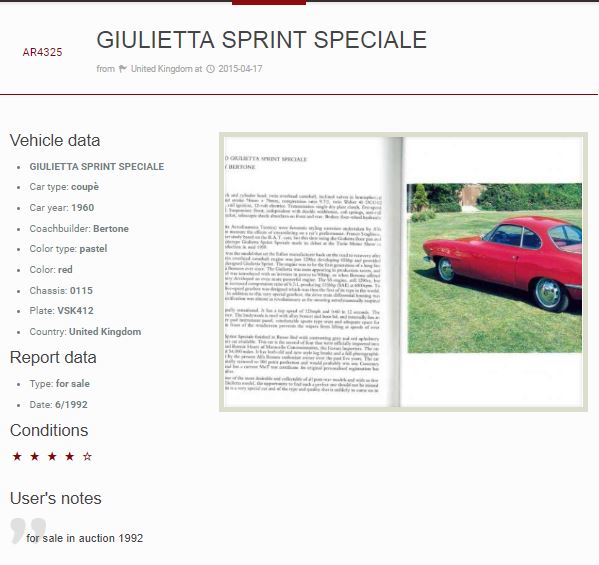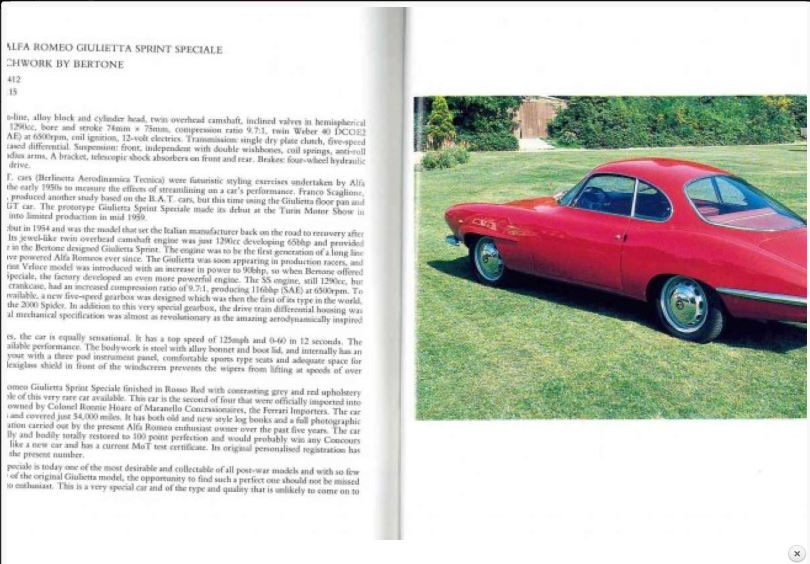 UPDATE: APRIL 20, 2021 HISTORIC AUCTIONEERS WEBPAgE (IMAGES AND DESCRIPTION FROM THEIR WEBSITE)

The stunning Sprint Speciale coupé directly descended from Carrozzeria Bertone's brilliant Bertone Aerodynamica Technica (BAT) design studies of the mid-1950s. With its extremely low drag coefficient of 0.29, it was aimed at competition, and a limited number were produced to meet FIA homologation rules.

The Speciale utilised lightweight construction that had been built on the chassis of the popular Giulietta Spider, and it came with a domed roofline and gracefully peaked fenders. The Giulietta's sturdy 1300cc, all-alloy, four-cylinder engine was fitted with a pair of Weber side-draught carburettors, and it could produce a healthy 116 hp. This was enough power to push the slippery two-seater to almost 125 mph, considerably faster than its conventionally bodied Giulietta Sprint coupé and spider siblings. The unique plastic air deflector mounted ahead of the windscreen, which was more commonly seen on competition Ferraris of the era, added to the car's racy flavour. It is estimated that no more than 1366 Sprint Speciales were produced between 1957 and 1962, in both Giulietta and larger-engined Giulia form.

The included copy of the Christies catalogue in which this very pretty, early 'Sprint Speciale' car was auctioned in 1992 states that it is one of only four that were officially imported into the UK and is believed to have been imported by Colonel Ronnie Hoare of Maranello Concessionaires, the first UK Ferrari importer blessed by the great Enzo Ferrari himself. Famous for running 'RU' number plates on cars he imported and raced, this car was initially registered 'RU 6' making it highly likely to have been imported by the great Colonel. The car changed hands regularly throughout the 1960's, having an engine replacement on 3rd June 1970, before being bought by Paul O'Hanlon in 1971, a great Alfa man, racer and later AROC Competition Secretary. Known as a true '70's' man when 'sex was safe and racing was dangerous', he was a much loved and respected member of the racing scene, particularly in Alfa circles. He later sold the car on to Mr. Robin Redcliffe who spent five years on a full restoration, of which there is a photographic record in the history file. When he sold the car, (in the Christies sale previously mentioned), he retained the number plate '3 RBJ' that had been on the car since 1970 and it became 'VSK 412' which it wears to this day. The vendor bought the car post auction in 1992 having toyed with the idea of buying it for several years. He went about showing the car and enjoyed good success with it at concours events until it was put into storage around 1998 as his career started to require him to travel much more.

Sadly, a tree branch broke a large hole in the double garage where he was storing the car, (along with the Duetto Spider also in this sale), which caused both cars to slowly fall into a state of disrepair. Whilst the paint shows significant blistering, the car is complete and the interior is in remarkably good condition. The bodywork appears to be very solid, the interior is very good and whilst the car requires recommissioning, it suggests a relatively straightforward restoration.

Supplied with its V5C logbook, tool kit, original logbooks, history file, MoT test certificates, magazine articles, restoration photos, concours history, trophies and Guilietta Owners Club magazines. The beautifully presented history file shows the love and care that was given to the car and it was a great sadness for the vendor that its condition deteriorated whilst stored. This Alfa represents a very rare opportunity to restore a former concours winner with a fascinating history and is one not to be missed.

Auction info
Ascot Racecourse
May 15th 2021
Pre-Auction Viewings
Wednesday 12th 2021 9am - 5pm
Thursday 13th May 2021 9am - 5pm
Friday 14th May 2021 9am - 5pm
To gain entry you simply need to purchase the auction catalogue.