PREVIOUS OWNERS: William R. Roberts New Jersey
HISTORY: It was acquired by its caretaker in the mid-1970's and has been off the road for quite some time. However, it appears very solid and honest with all the bits. Most definitely a Black over Red car. The trunk floor reads 21493, Decklid 493, and bonnet 1493.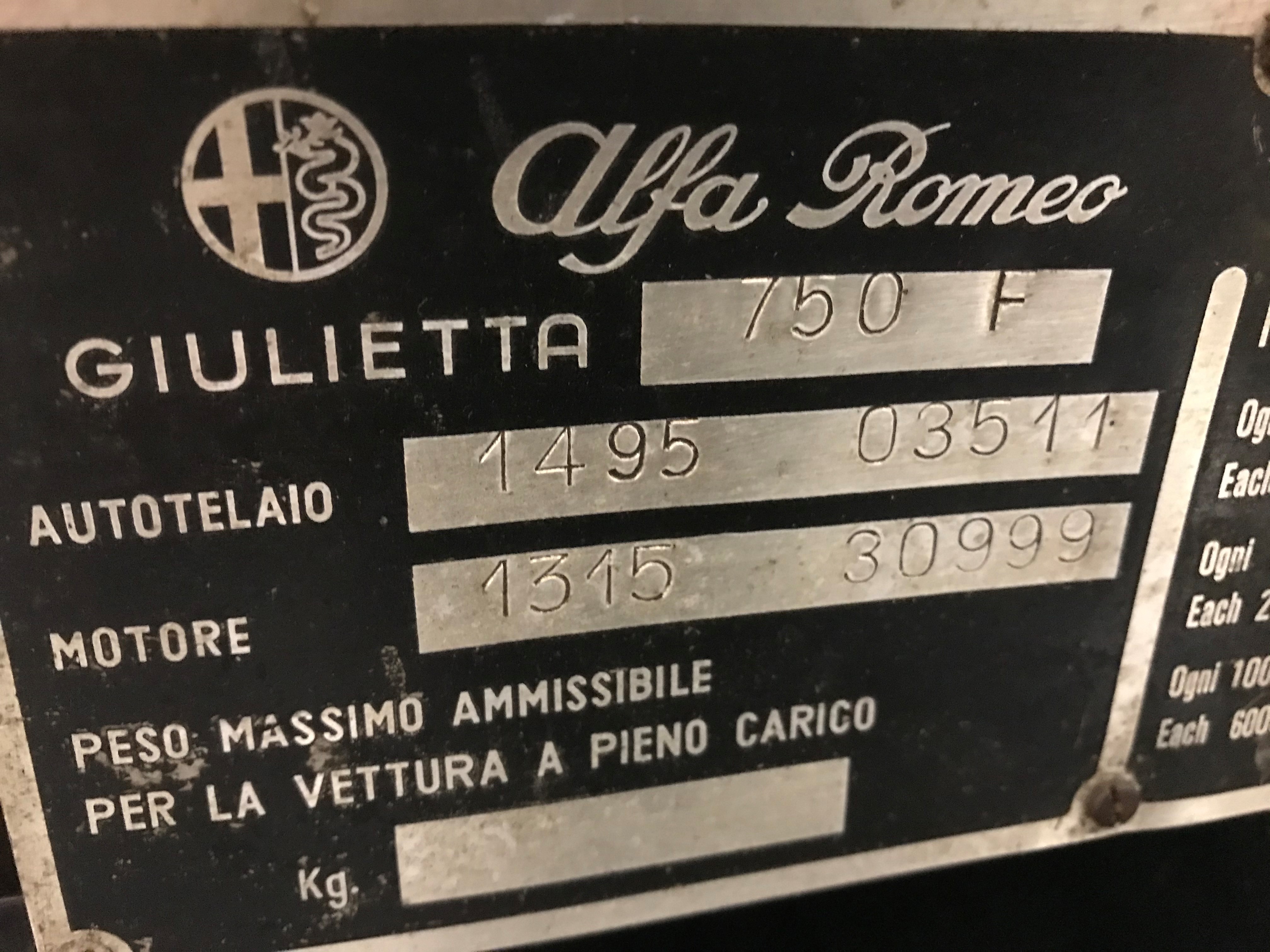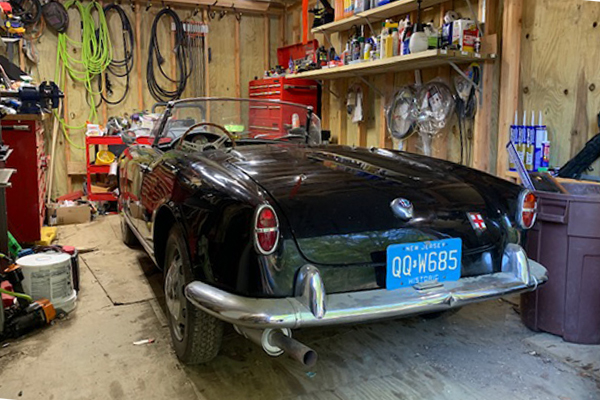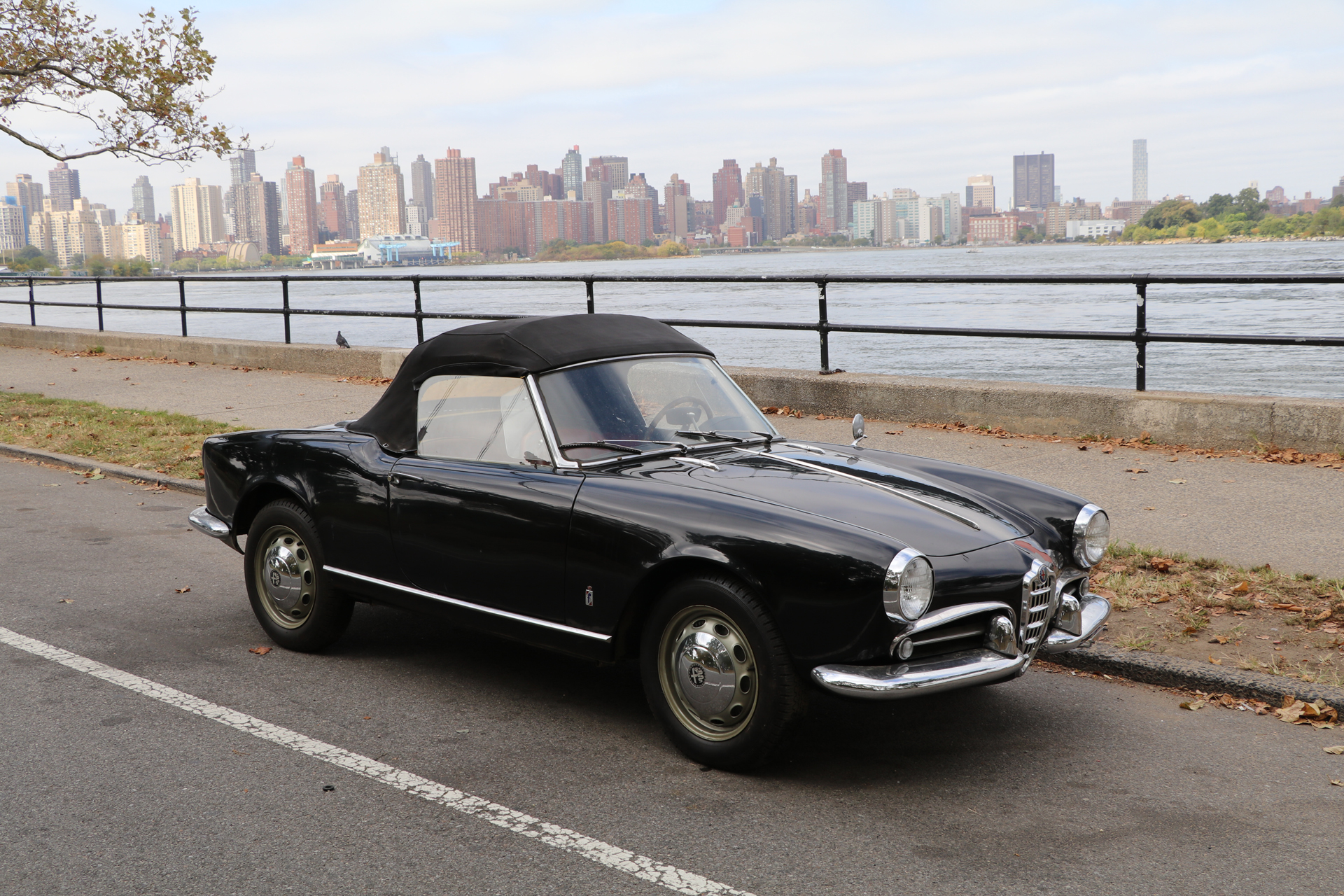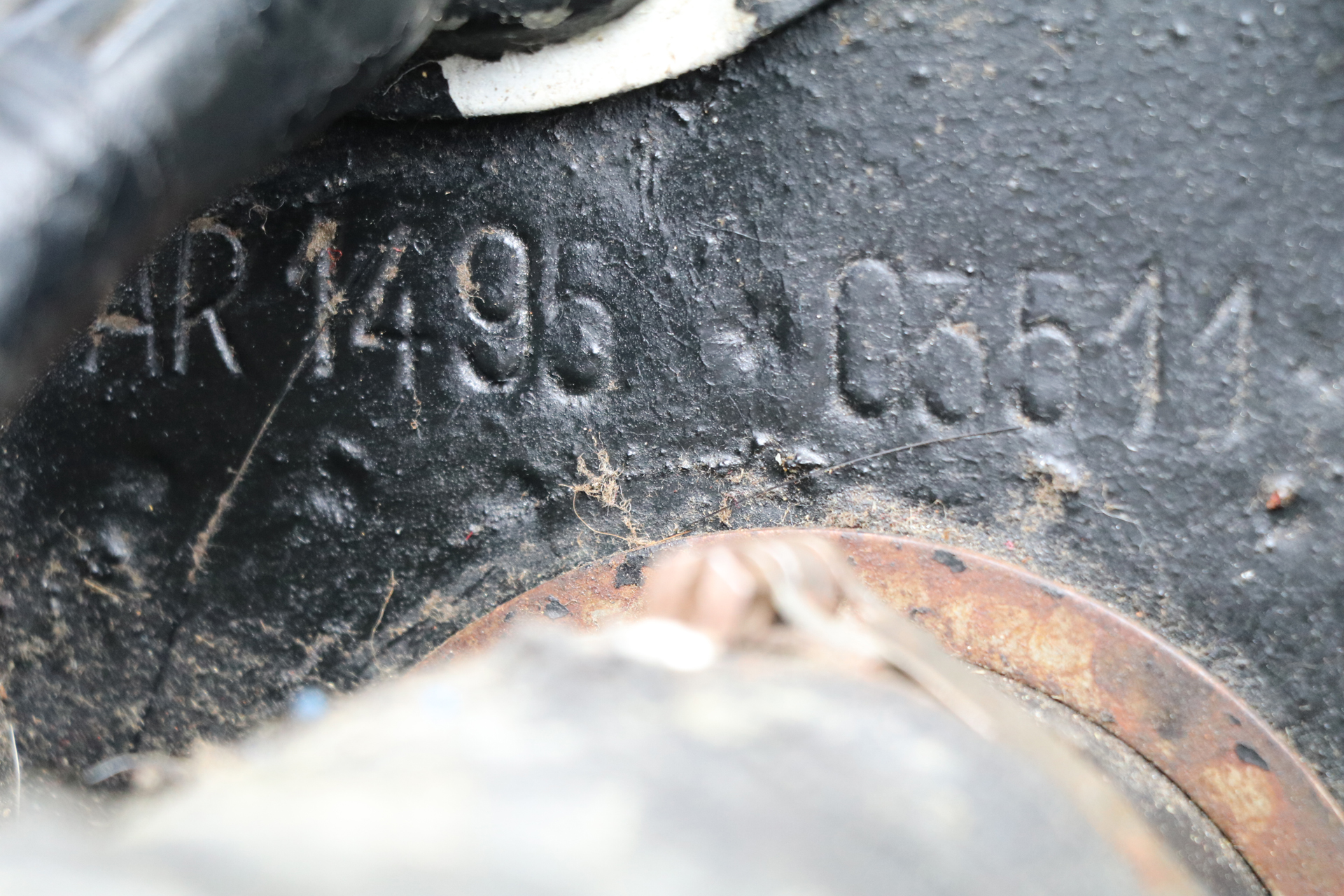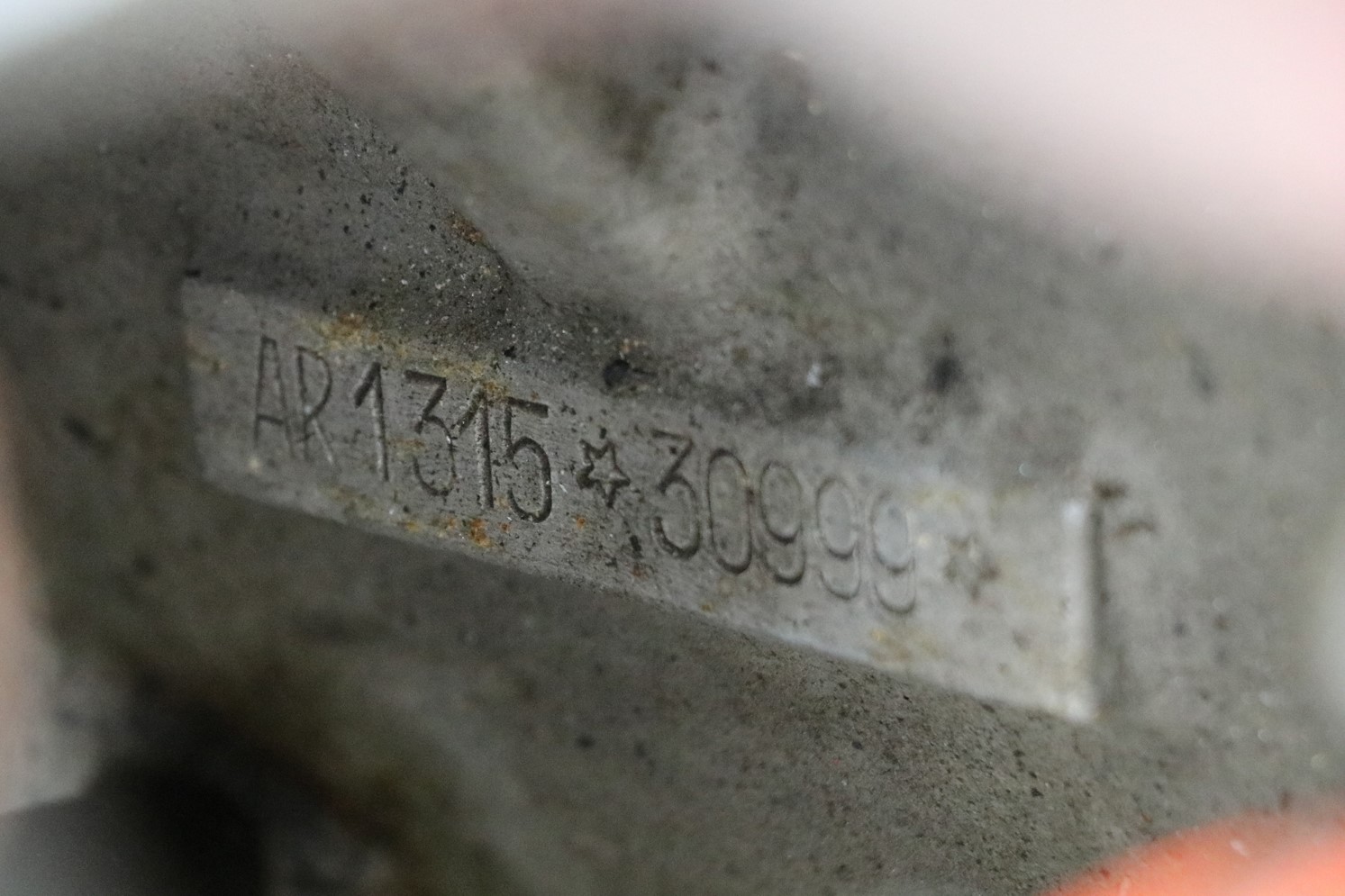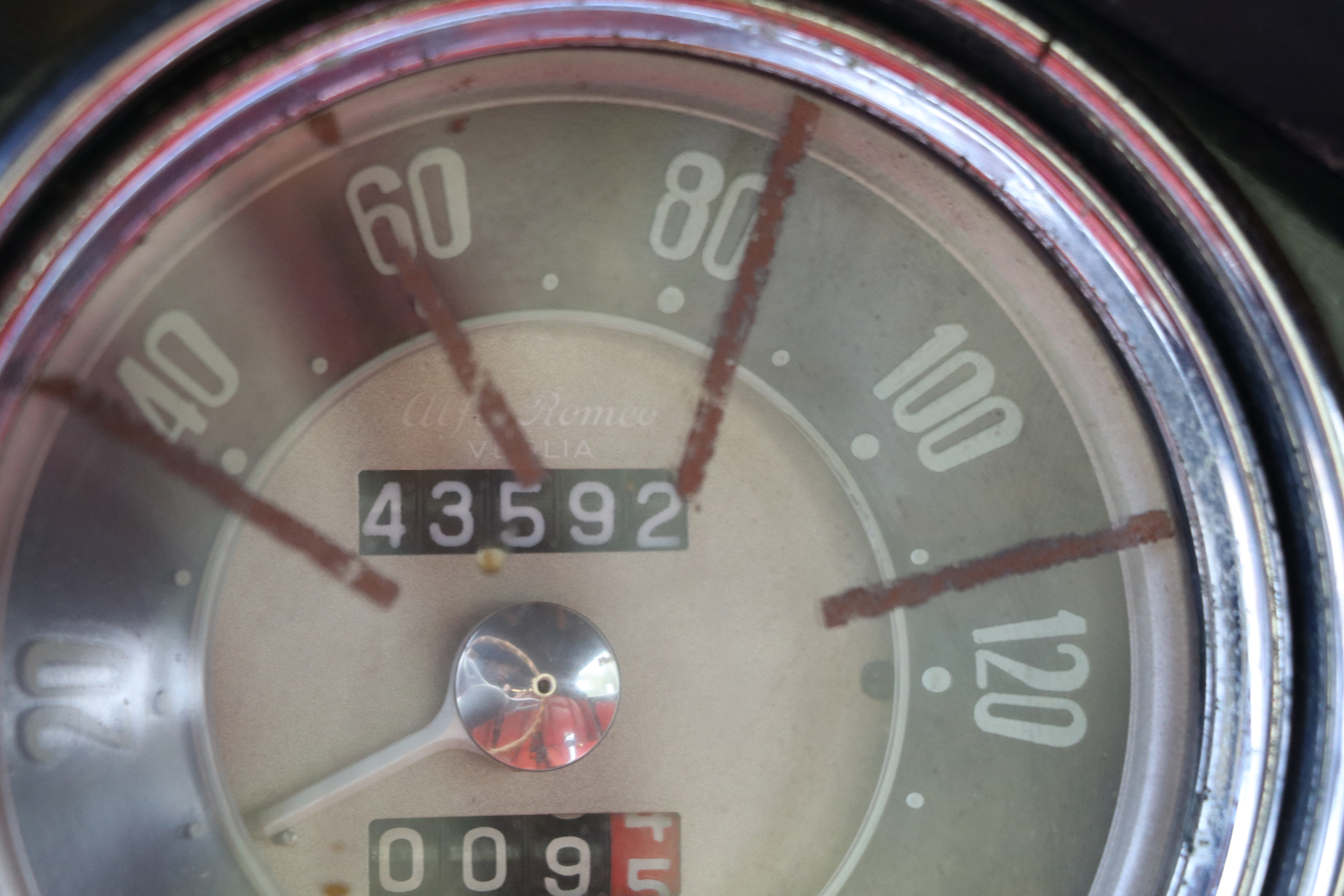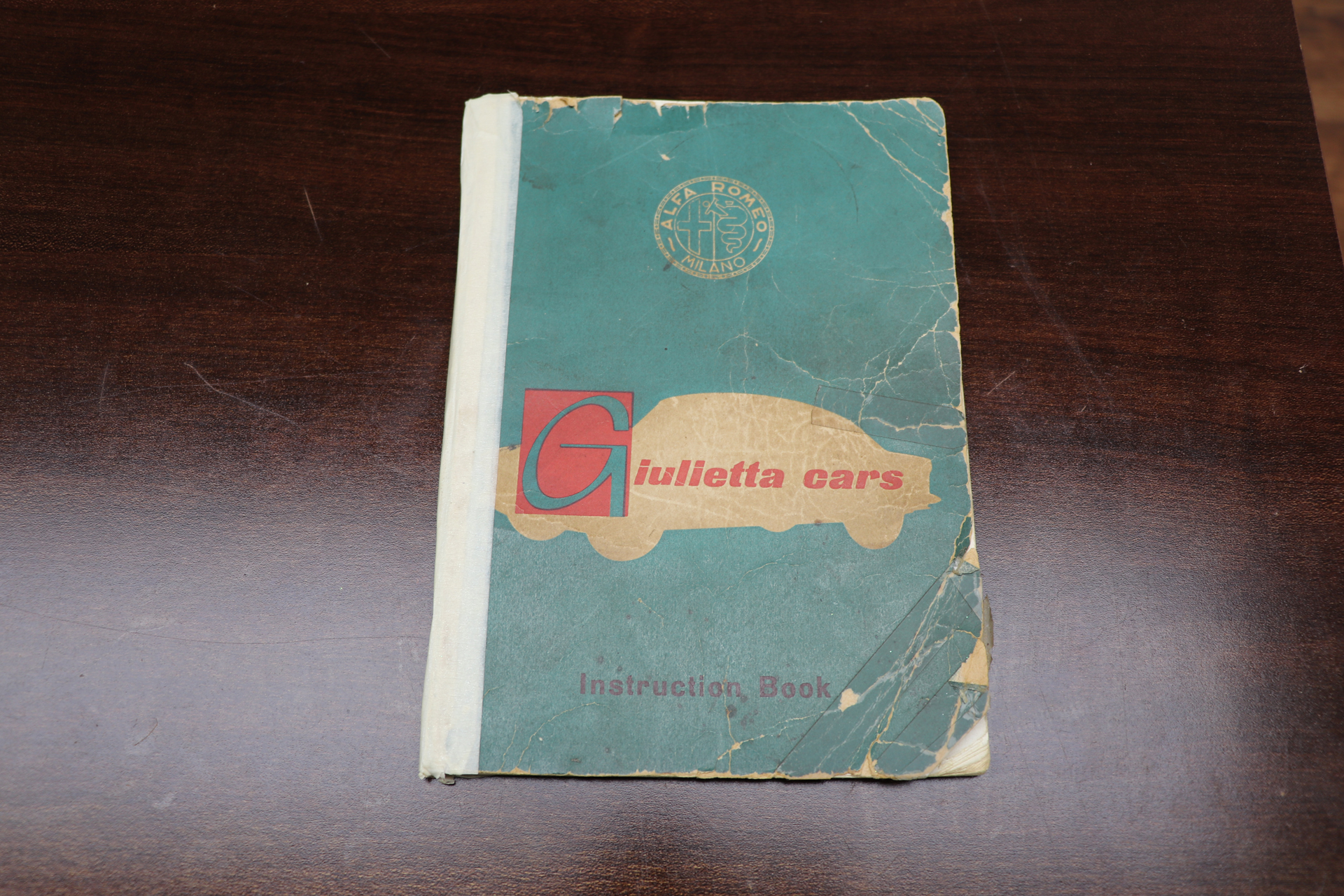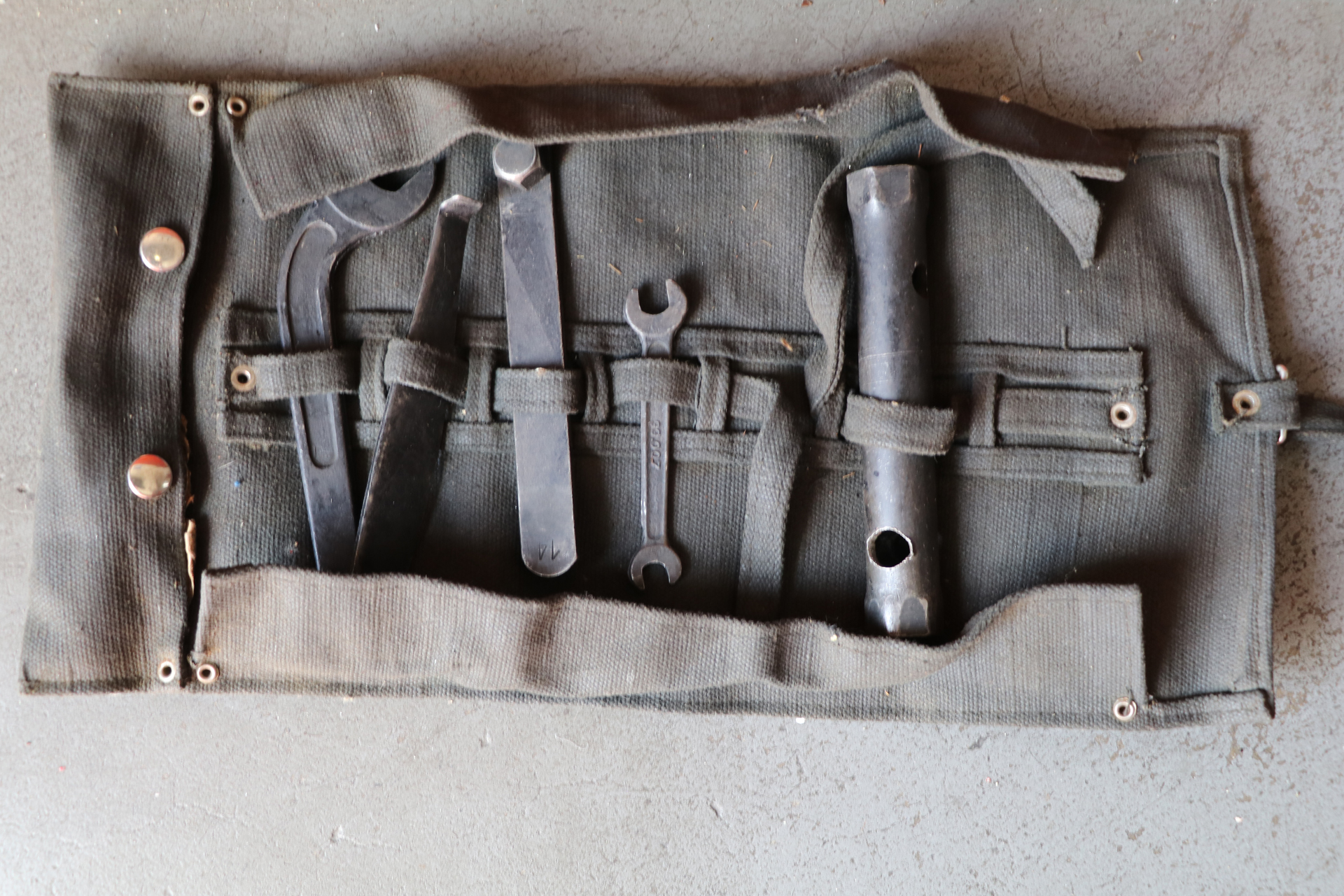 UPDATE May 13, 2020 Sold on BringAtrailer
This 1958 Alfa Romeo Giulietta Spider Veloce is said to have remained with a longterm owner in New Jersey until recently being discovered in his workshop. The car is finished in black over red and is powered by its numbers-matching 1,290cc twin-cam four. Additional features include an IPRA heater, Lucas sideview mirror, tunnel-case four-speed gearbox, 15″ Fergat wheels, and period AMCO wind wings. The car was acquired by the selling dealer a few months ago, and recent service included installing a new distributor, ignition coil, spark plugs and wires, front wheel cylinders, front wheel bearings, and brake hoses. This Veloce 750F is now offered as part of DriverSource's Spring Motoring Collection with a tool roll, jack, spare parts catalog, original keys, and a clean Texas title.
Pinin Farina-styled bodywork is finished in black and features a single Lucas sideview mirror mounted on the driver-side front fender. The car is also equipped with a black soft top, Lucas taillights, clip-on AMCO wind wings, and a period enamel Milano badge on the trunk. Close-up photos of blemishes in the paint are shown in the gallery below, along with images of Sekurit glass etchings.
The 15″ wheels retain Fergat decals and wear chrome hubcaps along with older Pirelli Cinturato tires. A fifth Fergat wheel is located in the trunk and wears a Pirelli tire. New front wheel bearings and wheel cylinders have reportedly been installed, along with new front and rear brake hoses.
The seats were reupholstered during previous ownership in red with black accents. Features include a period IPRA heater and lap belts, and a set of factory rubber floor mats is included in the sale and can be seen in the gallery below.
A wood-rim steering wheel frames Veglia instrumentation, including a Veloce-spec 8k-rpm tachometer and a 140-mph speedometer, as well as a combination gauge for fuel level, oil temperature, and water temperature. 43k miles are shown on the five-digit odometer.
In Veloce spec the aluminum 1,290cc DOHC inline-four was rated for over 100 horsepower from the factory. The seller states that a new distributor, ignition coil, and air filter were recently installed. The dual Weber carburetors were cleaned in 2020, and a tune-up was also performed. Recent compression check results can be seen in the gallery, showing between 140 and 155 psi.
Block stamping *AR1315 30999* can be seen above and matches the engine number listed on the chassis plate.
Power is sent to the rear wheels via a tunnel-case four-speed manual transmission. Additional underside photos can be seen in the gallery.
tool roll and jack are included in the sale, along with a parts catalog, a few spares, and original keys. Walk-around and drive footage is viewable below, along with a video highlighting the entire Spring Motoring Collection.
Images copied from BringATrailer website May 13, 2020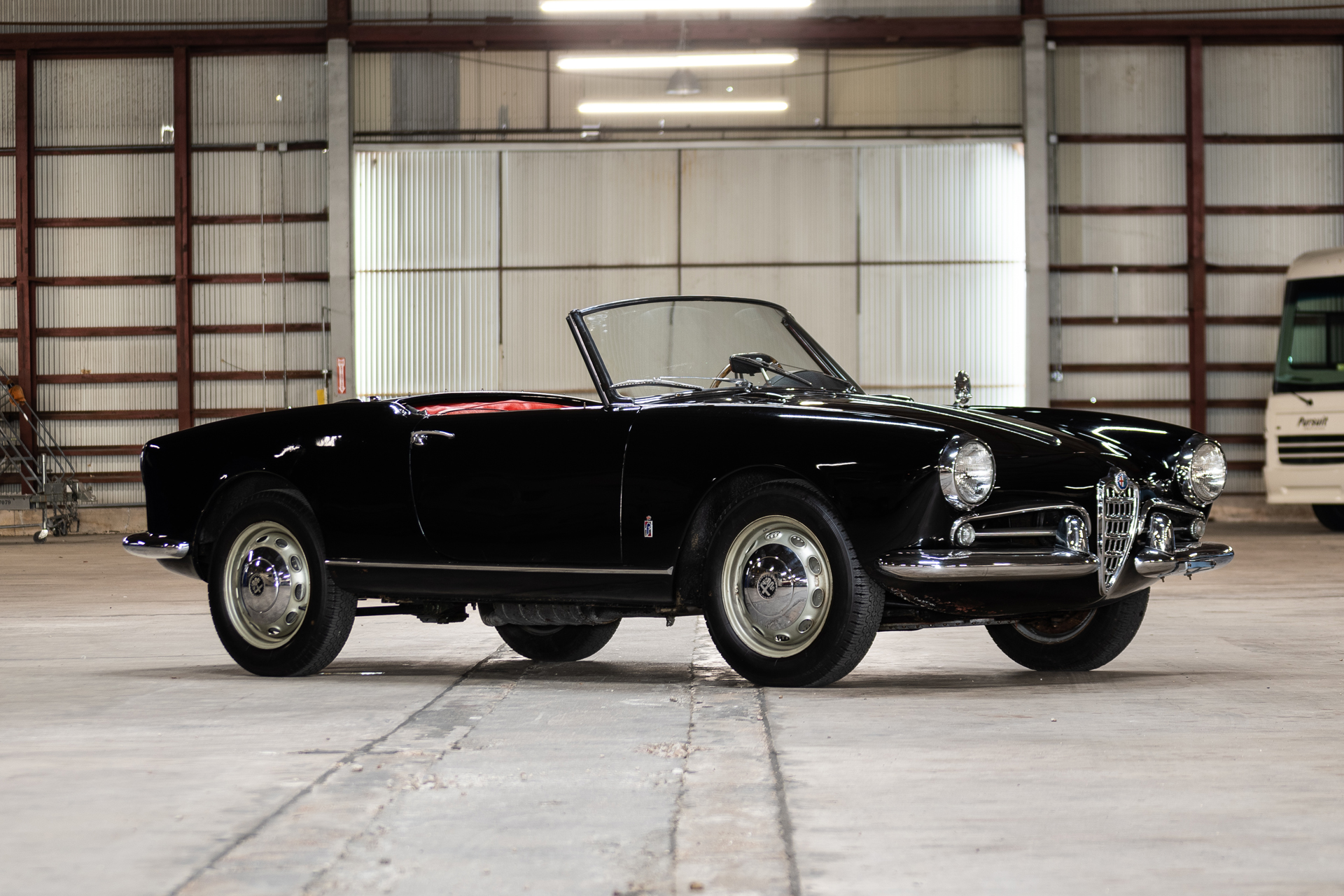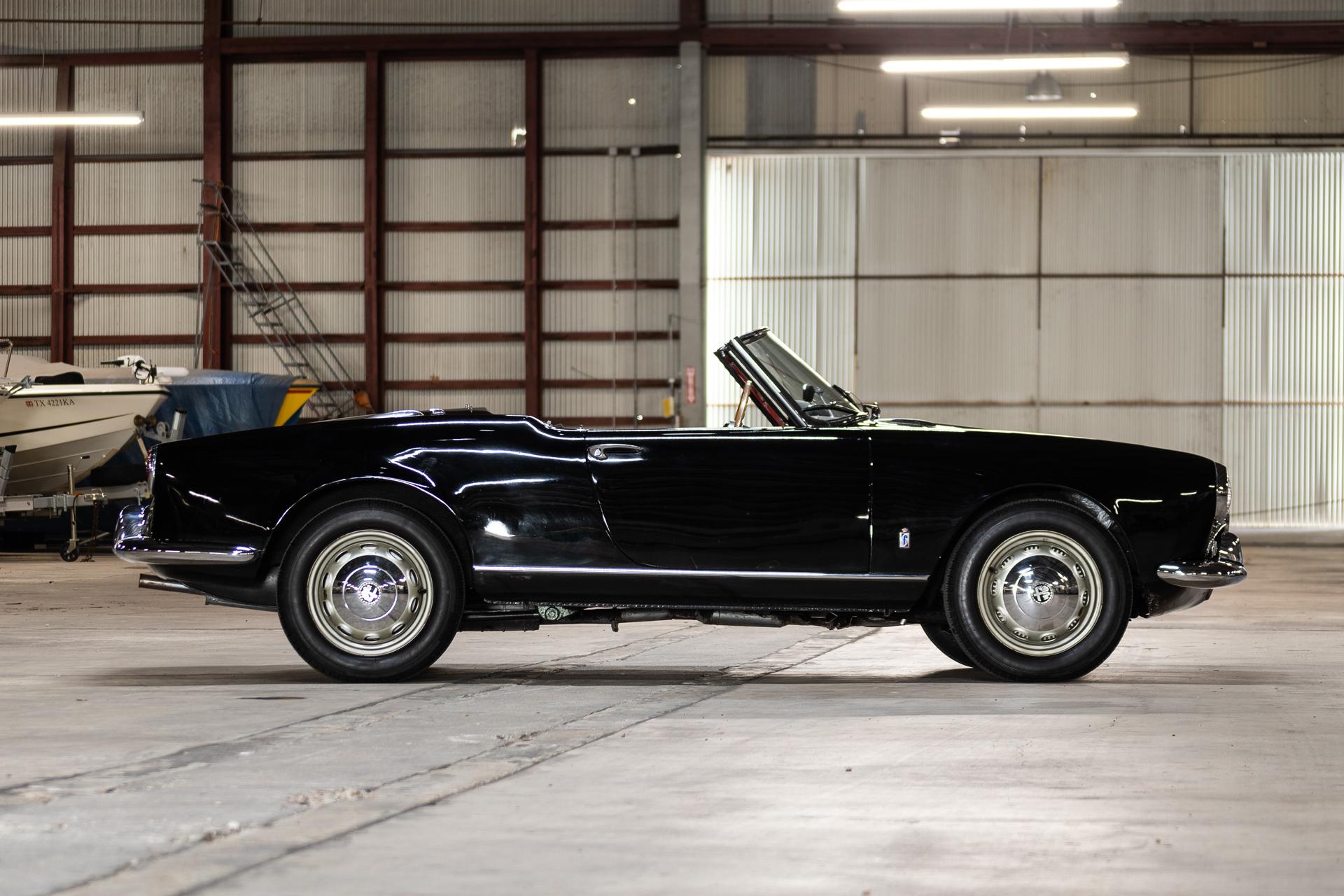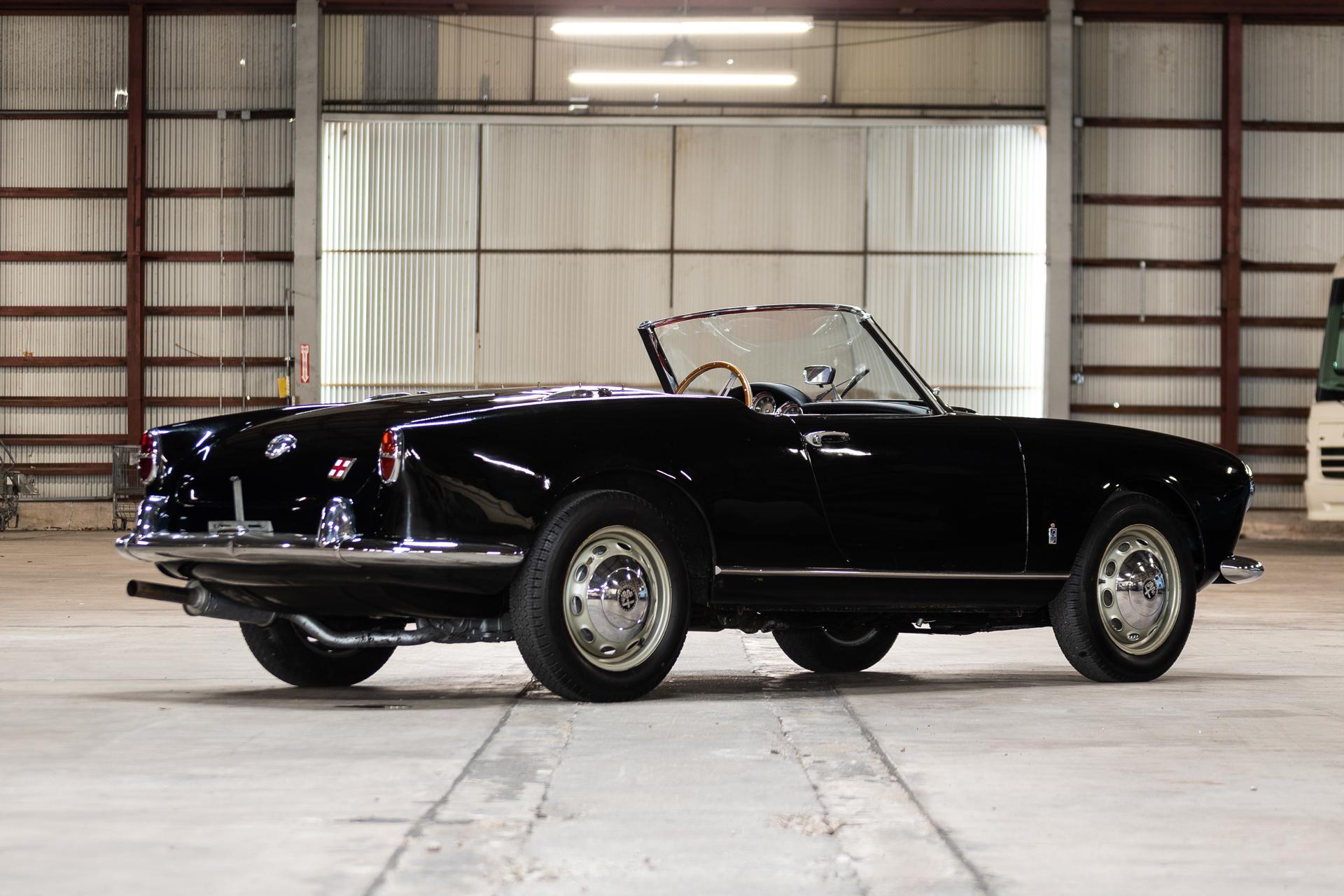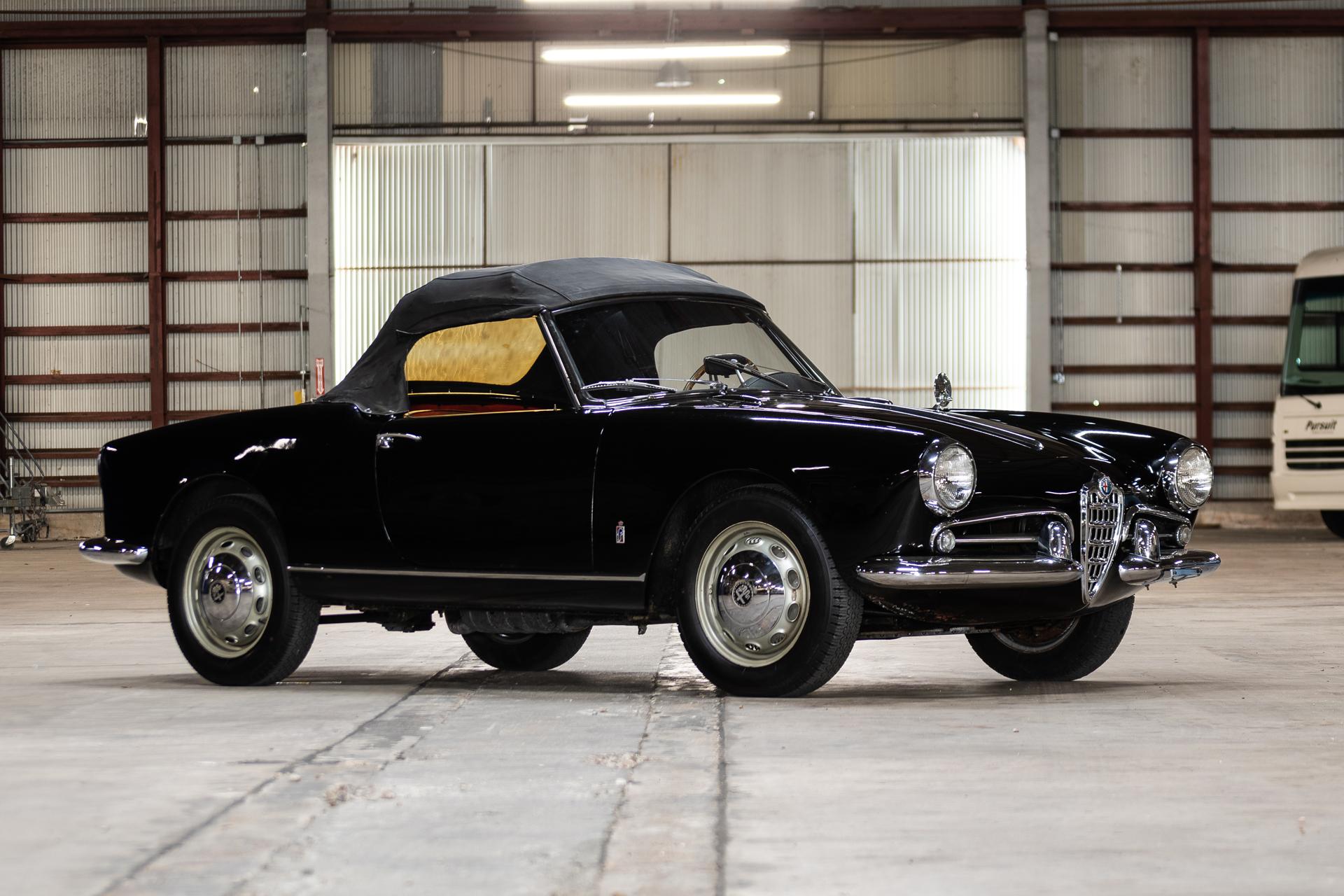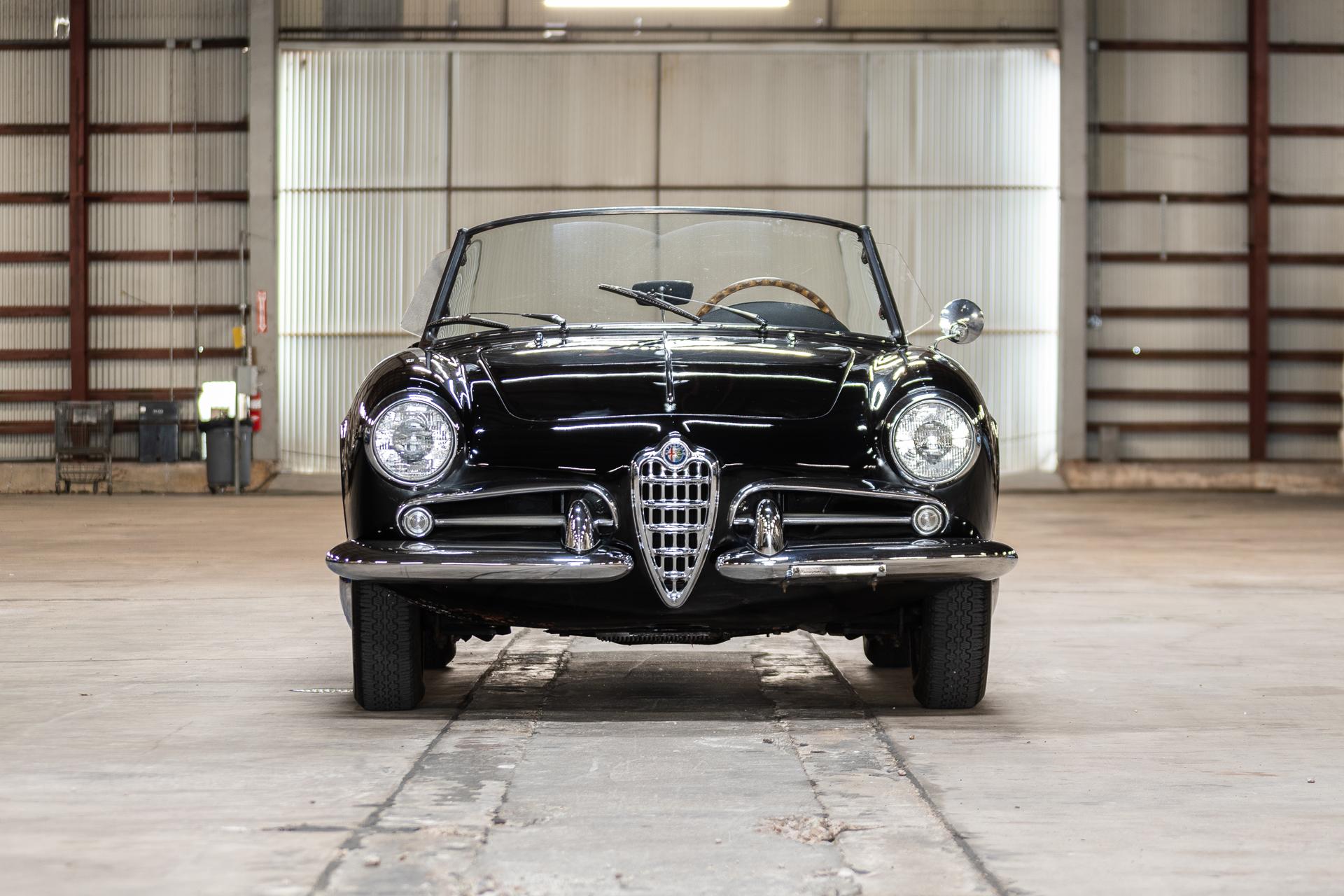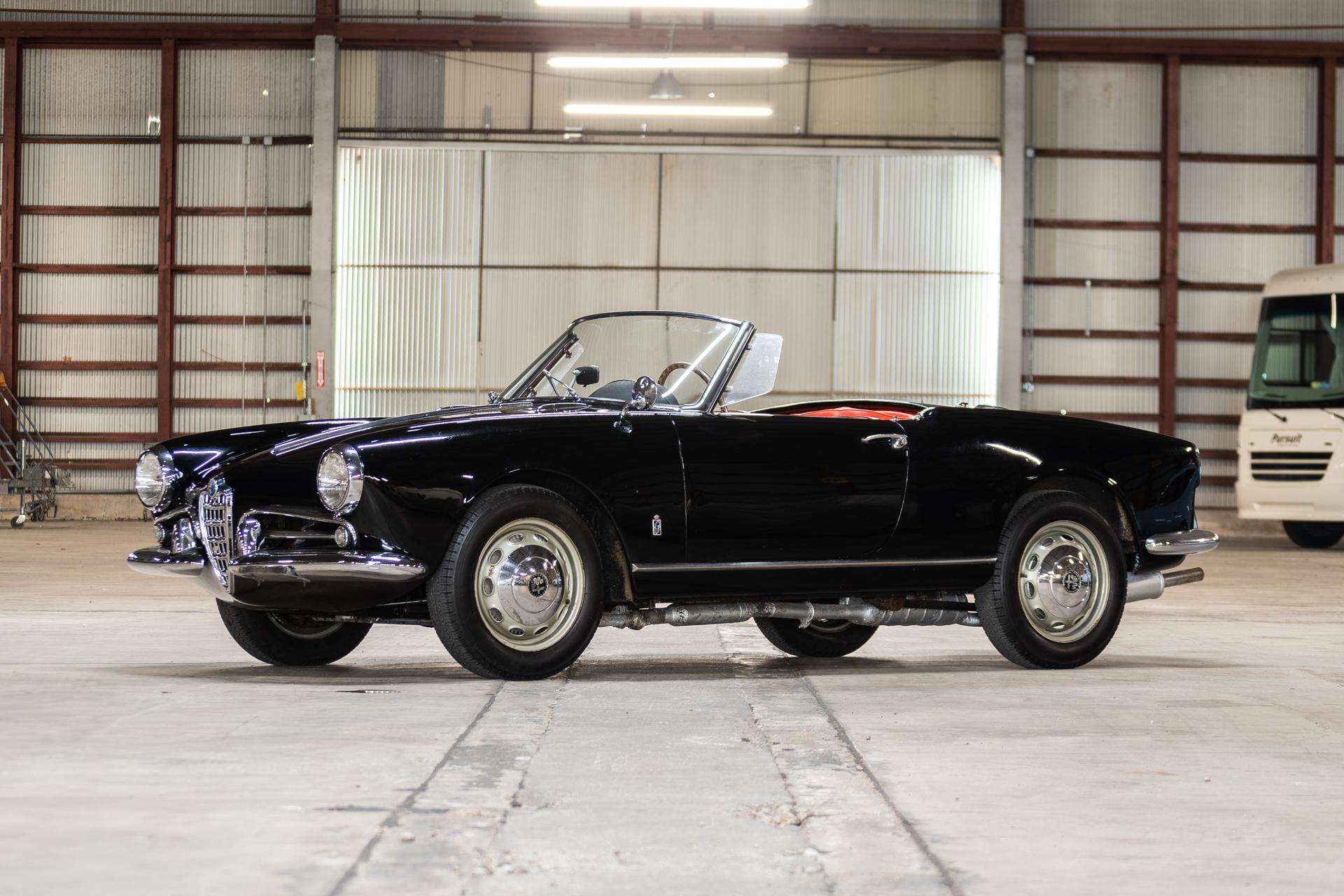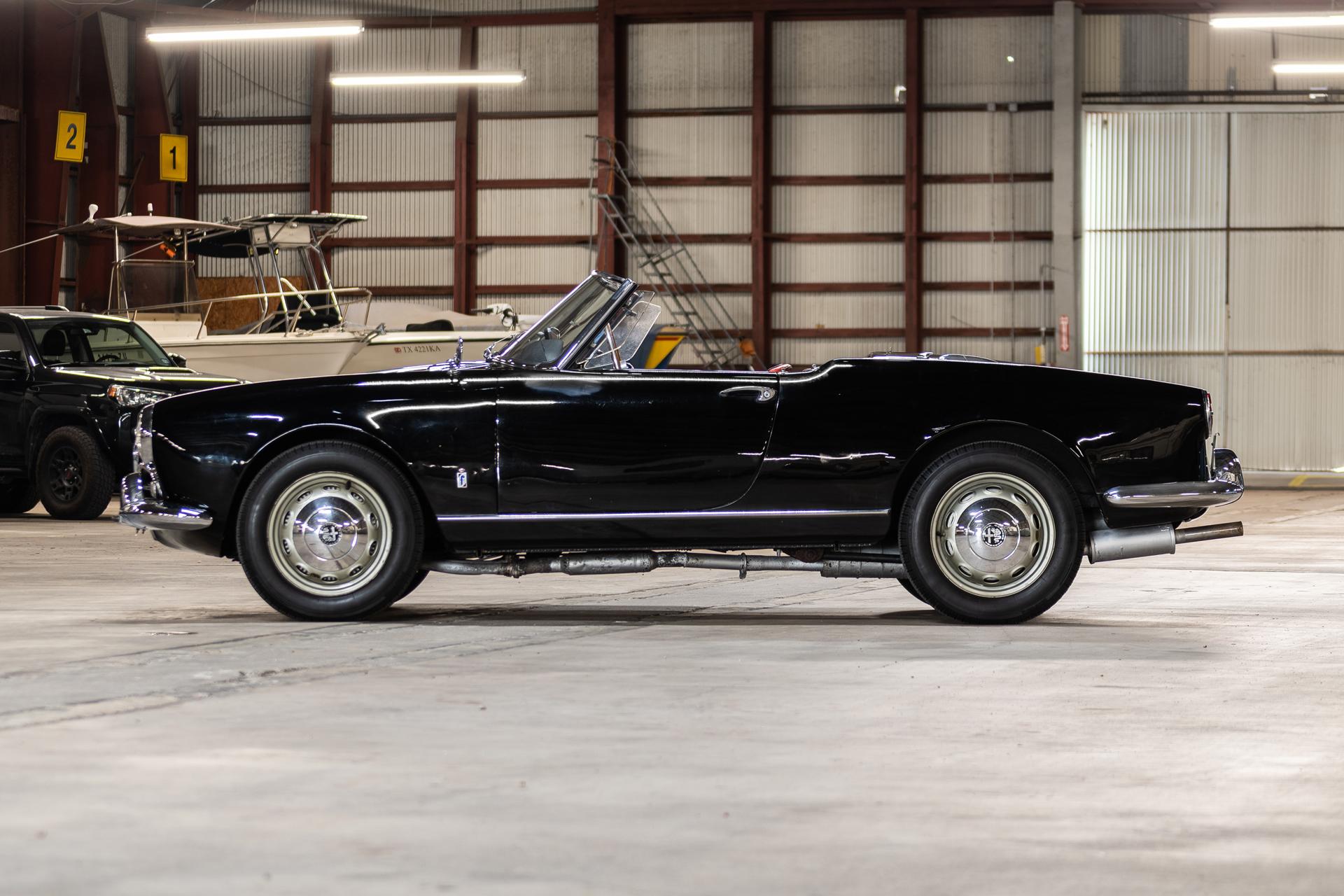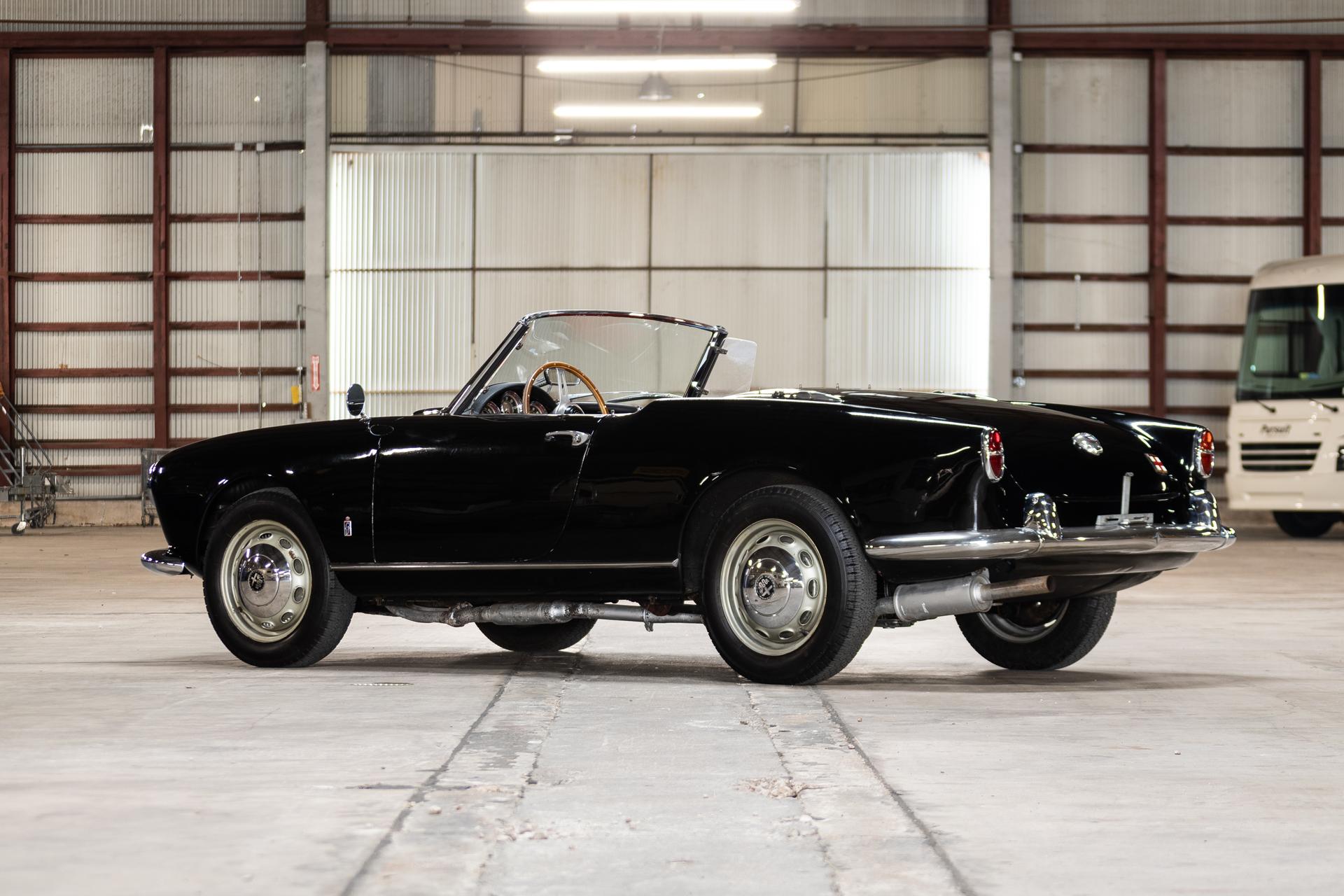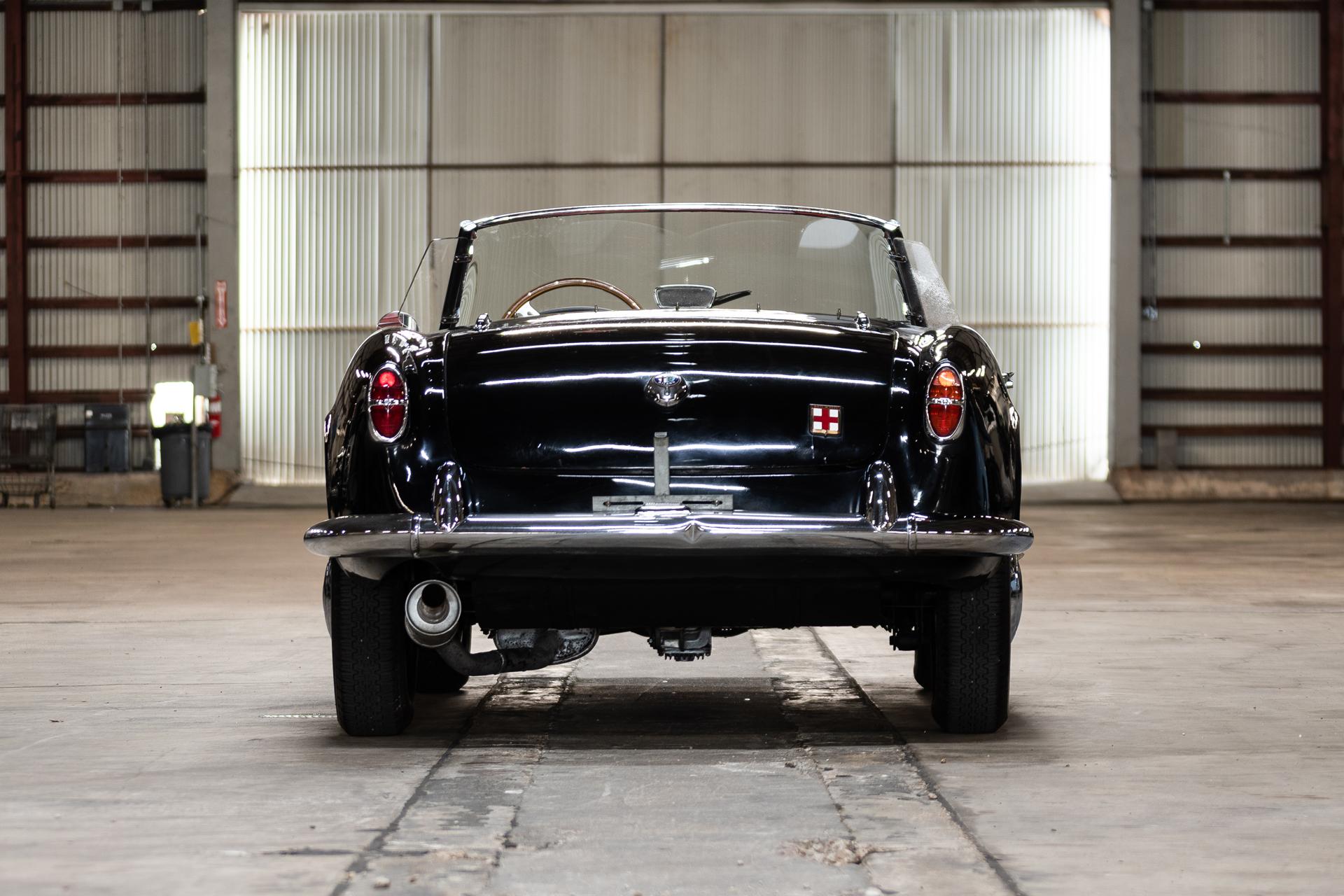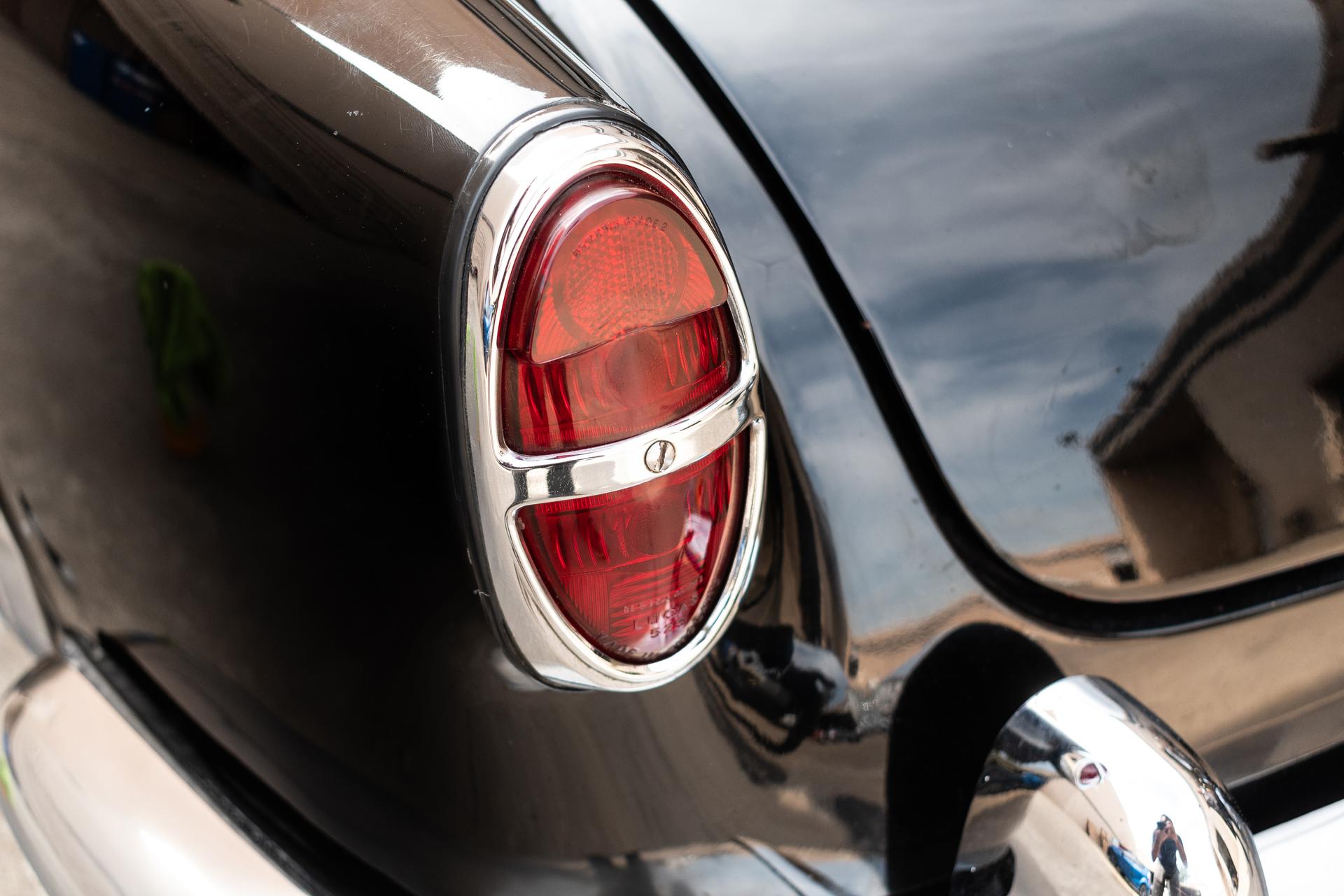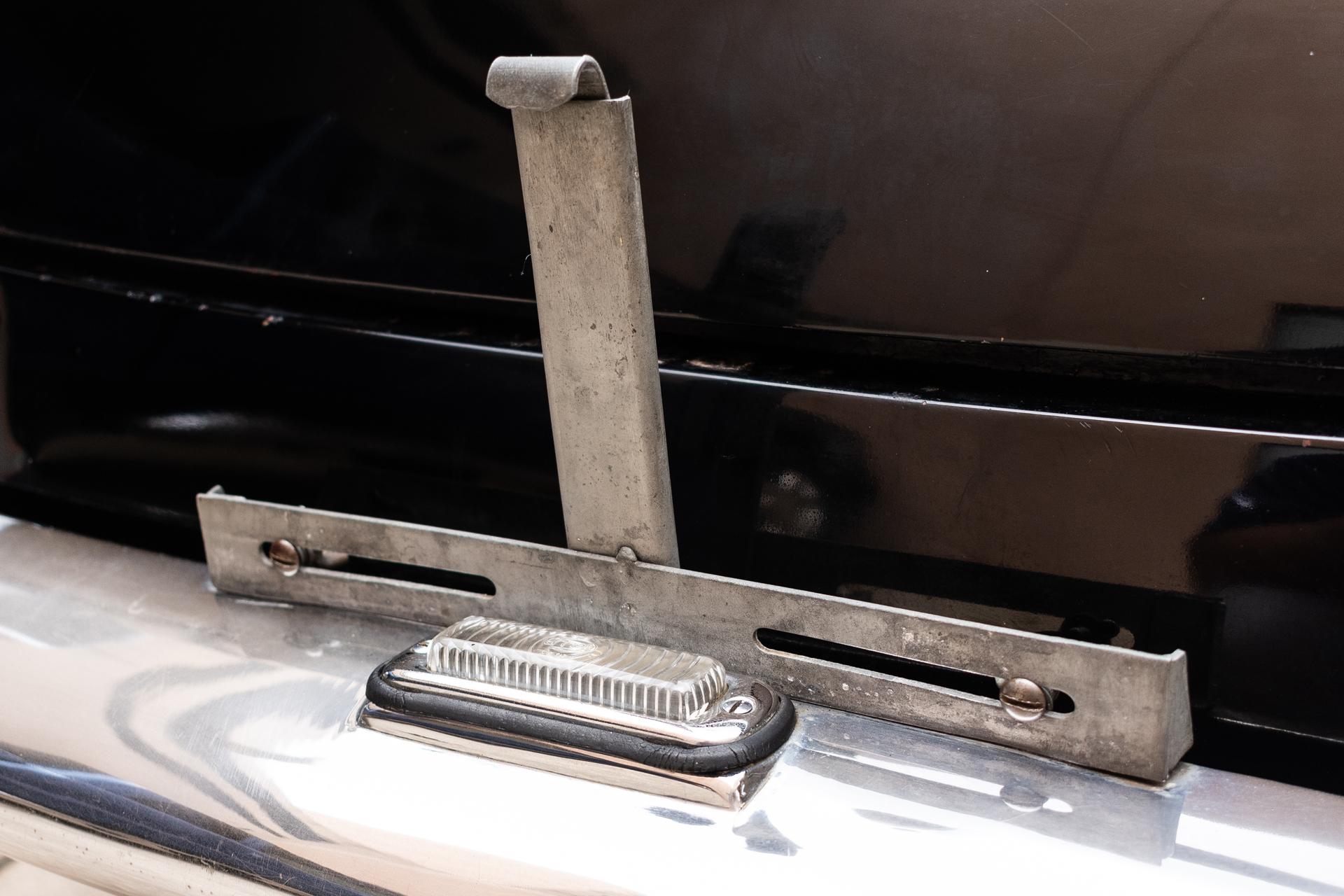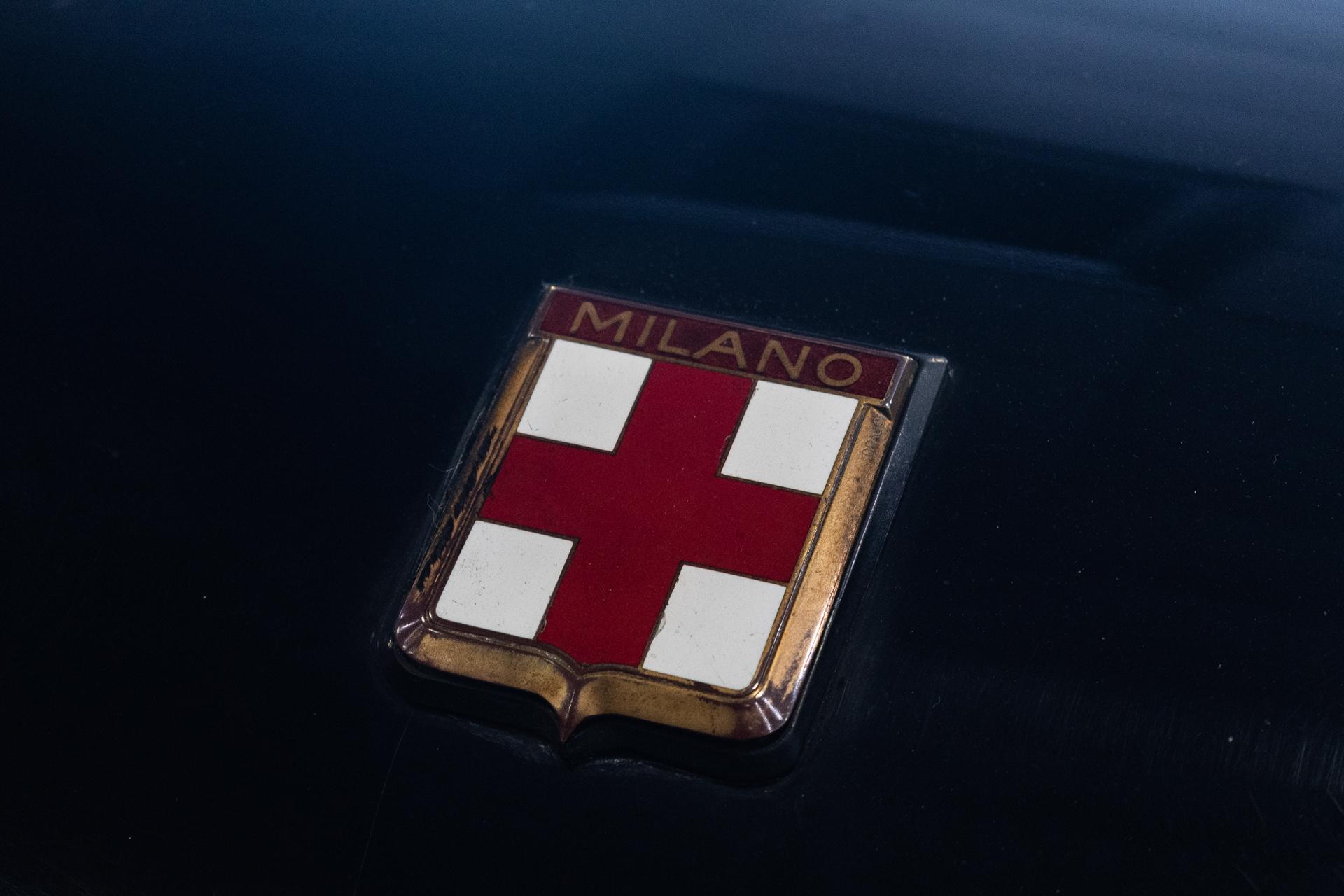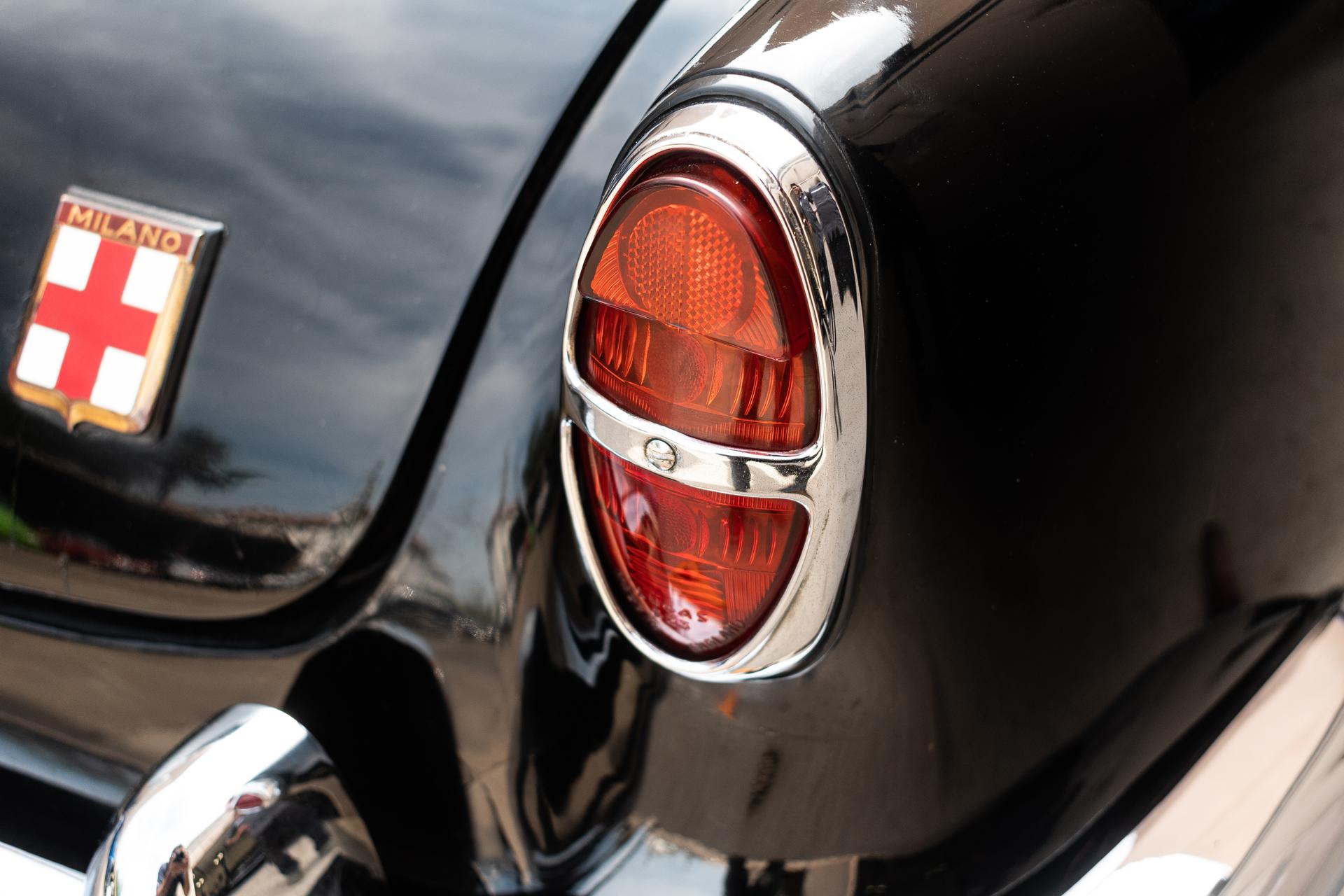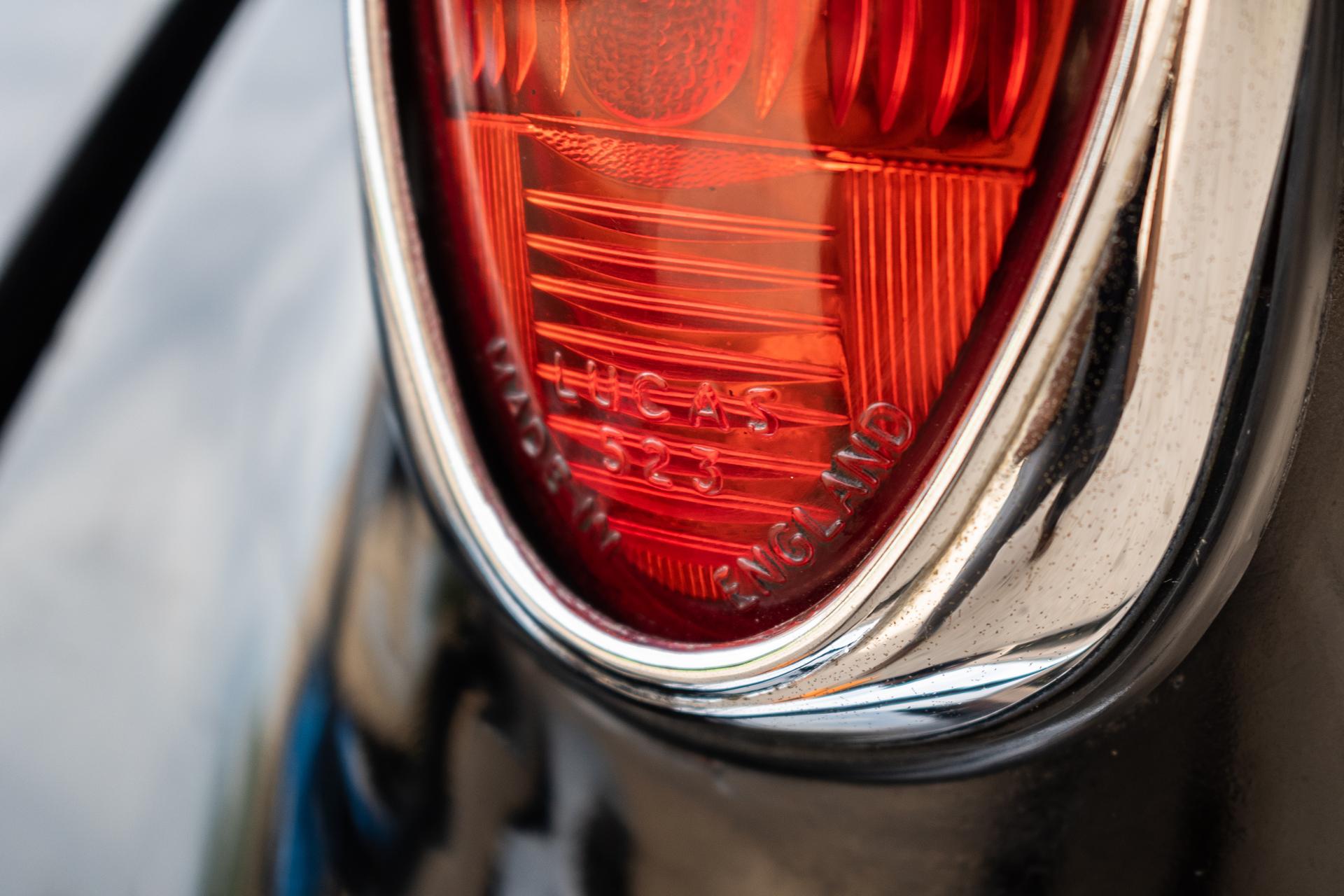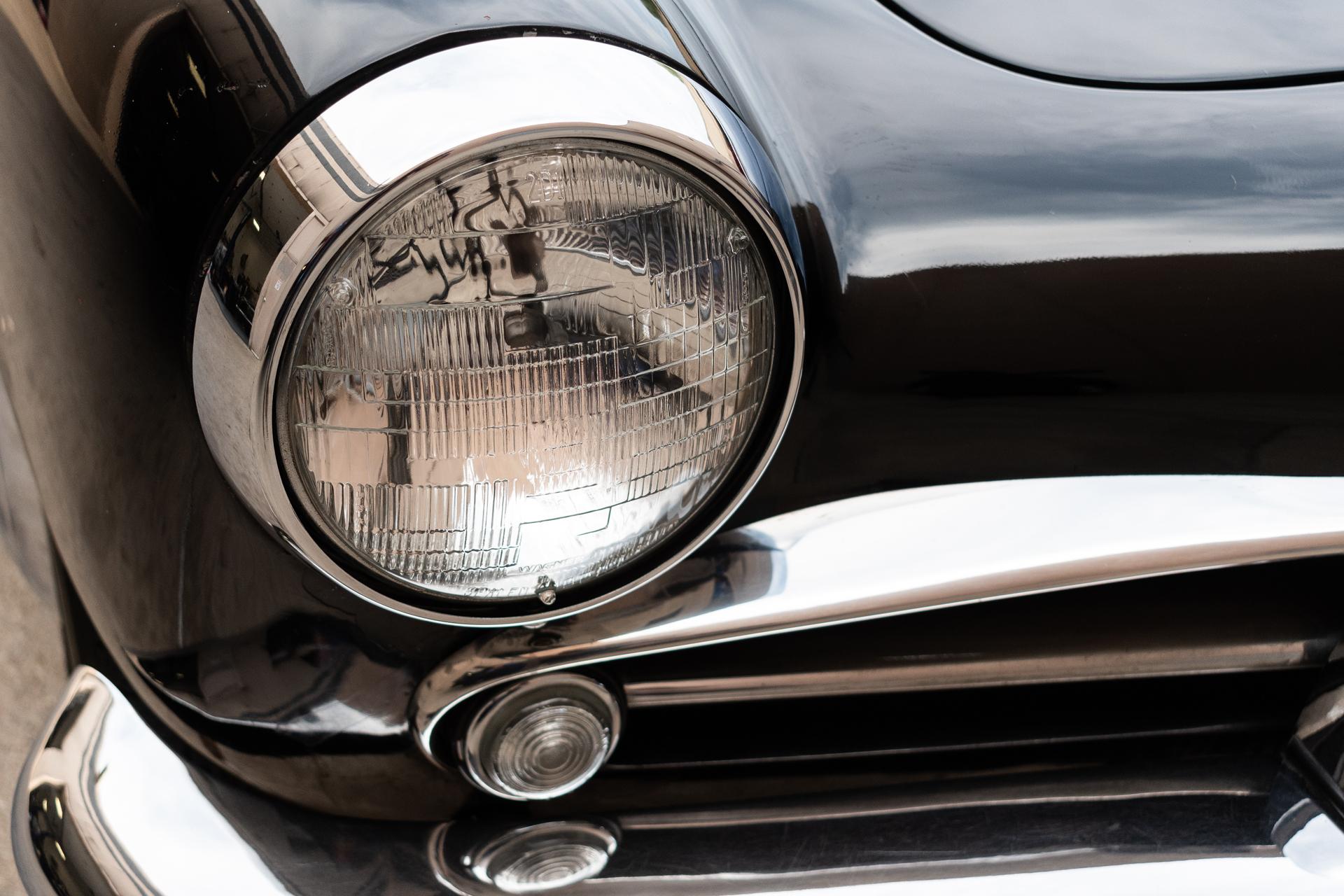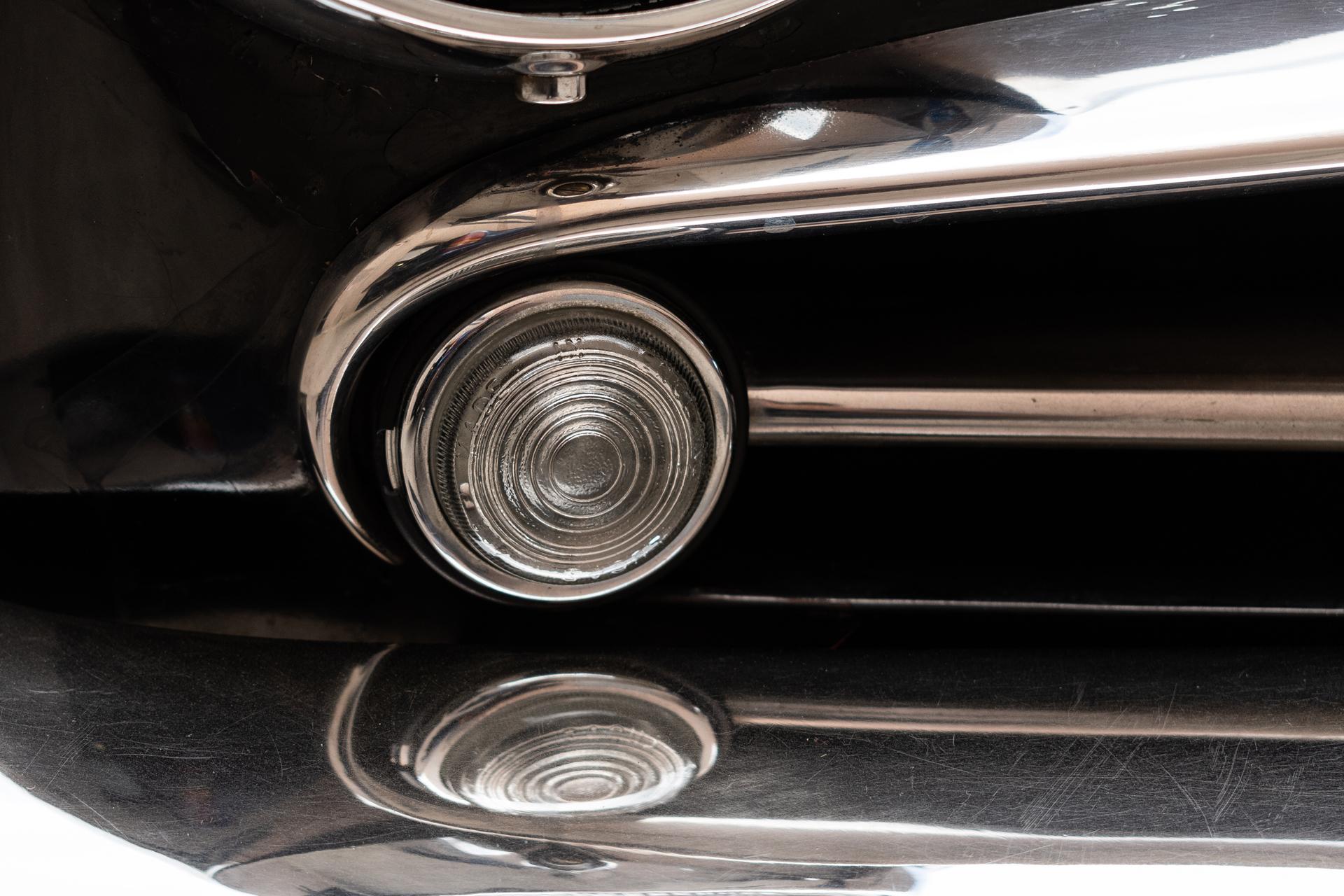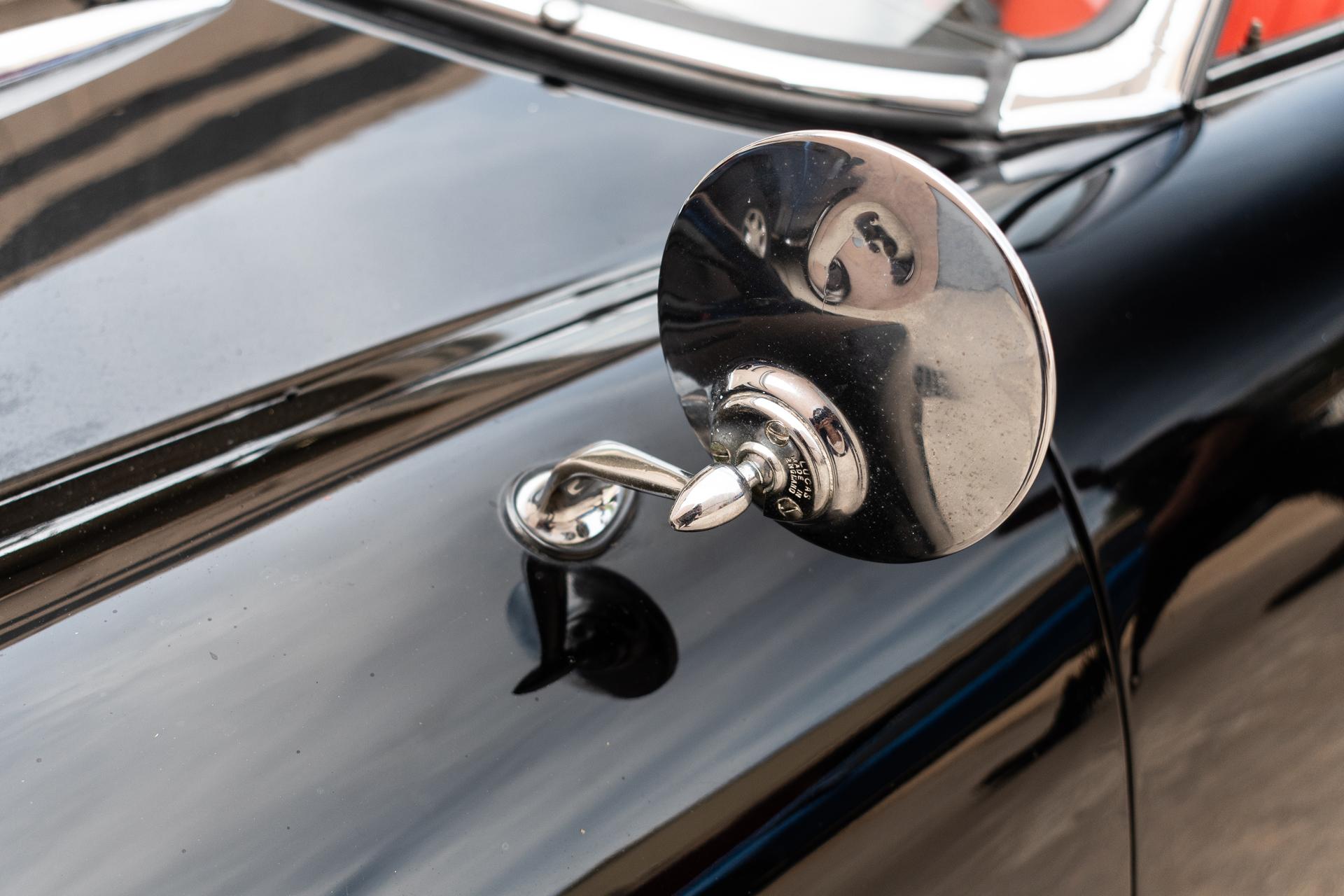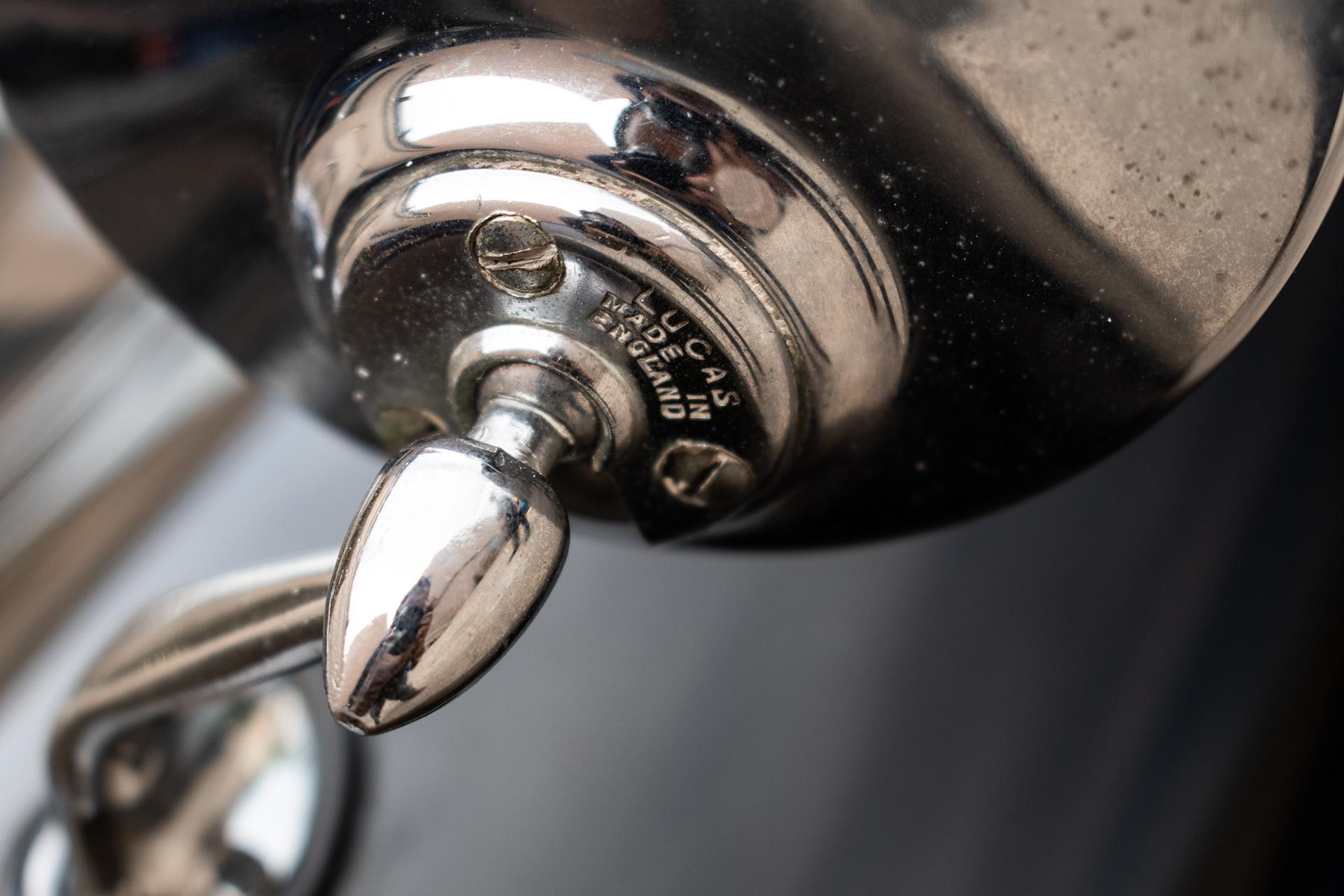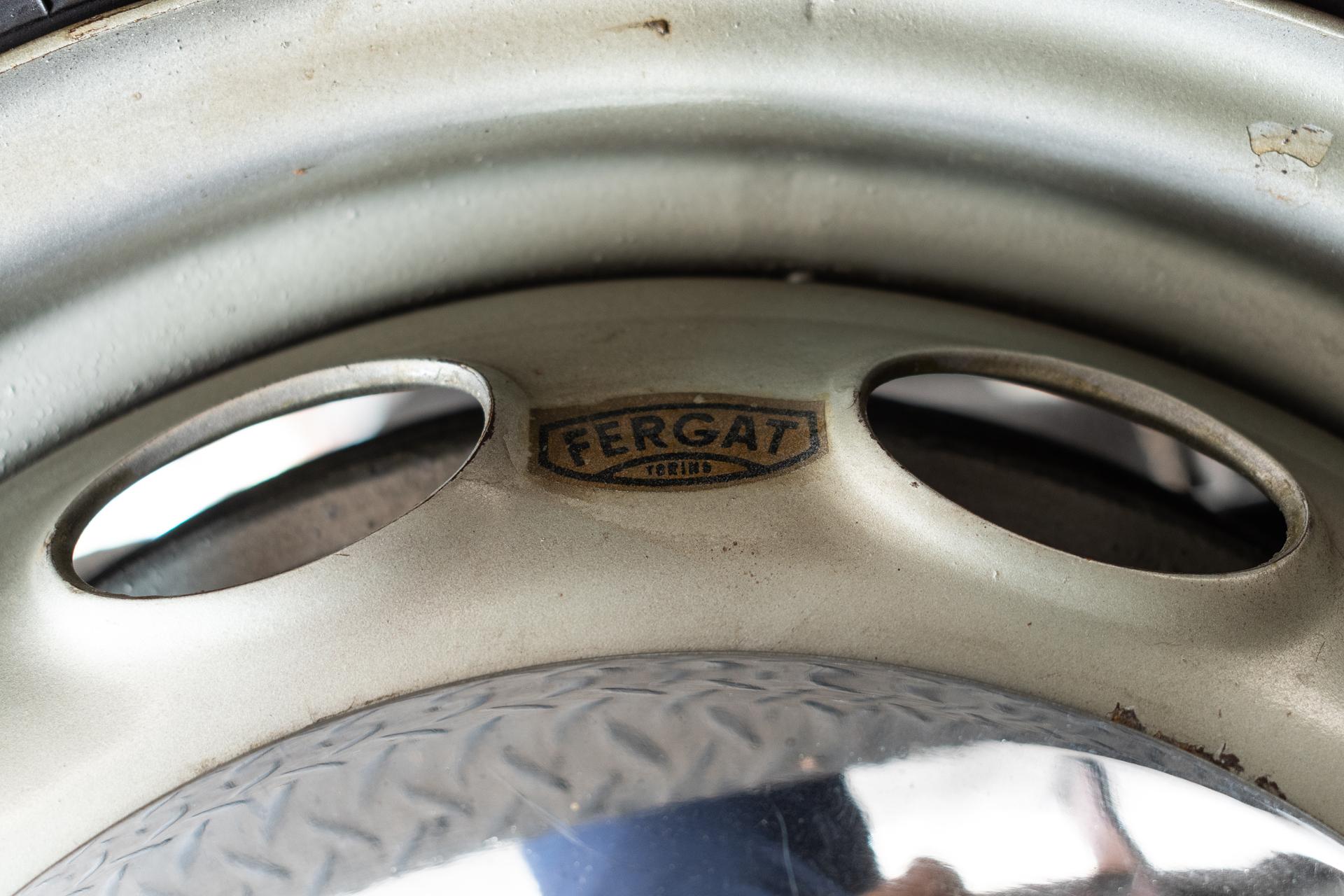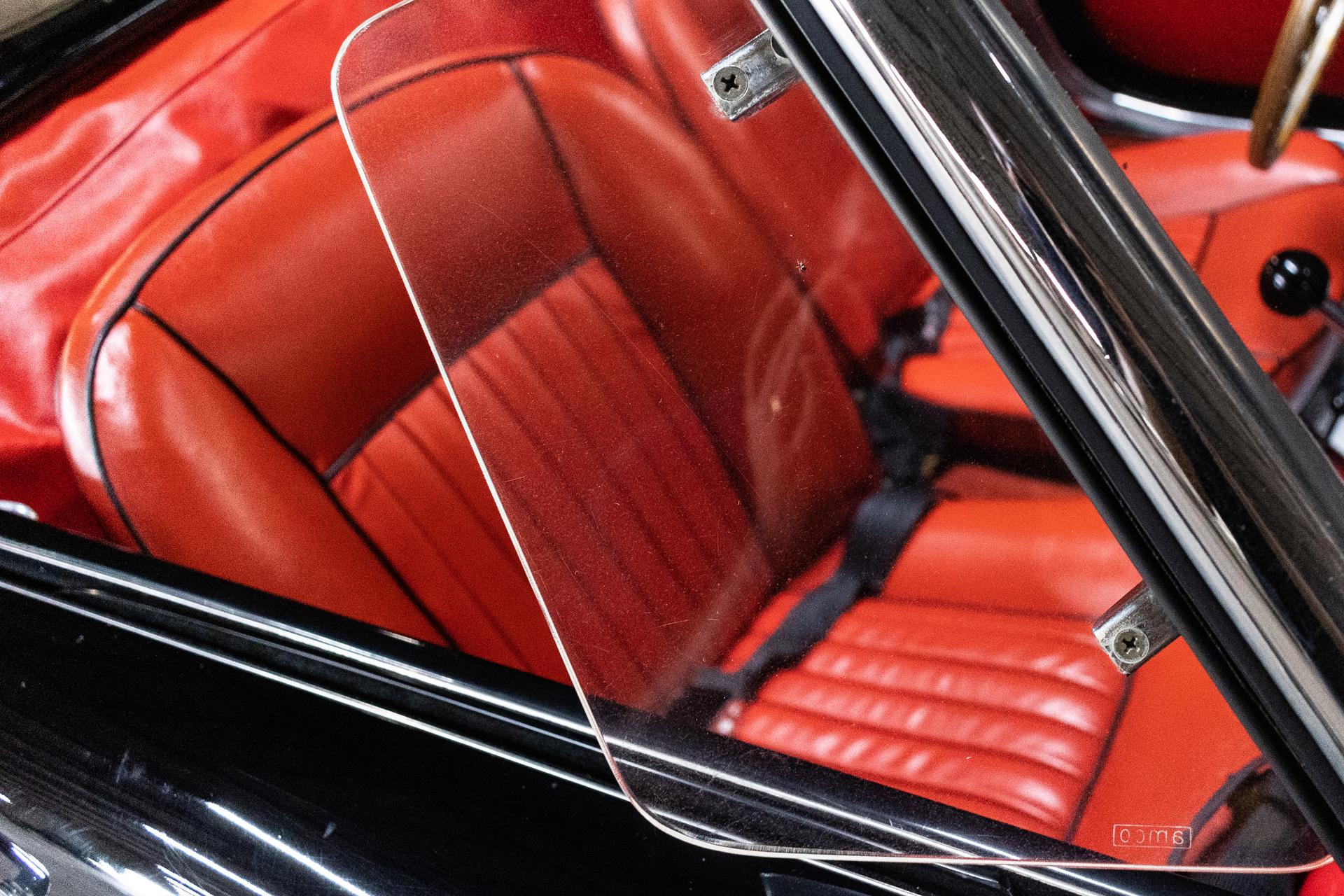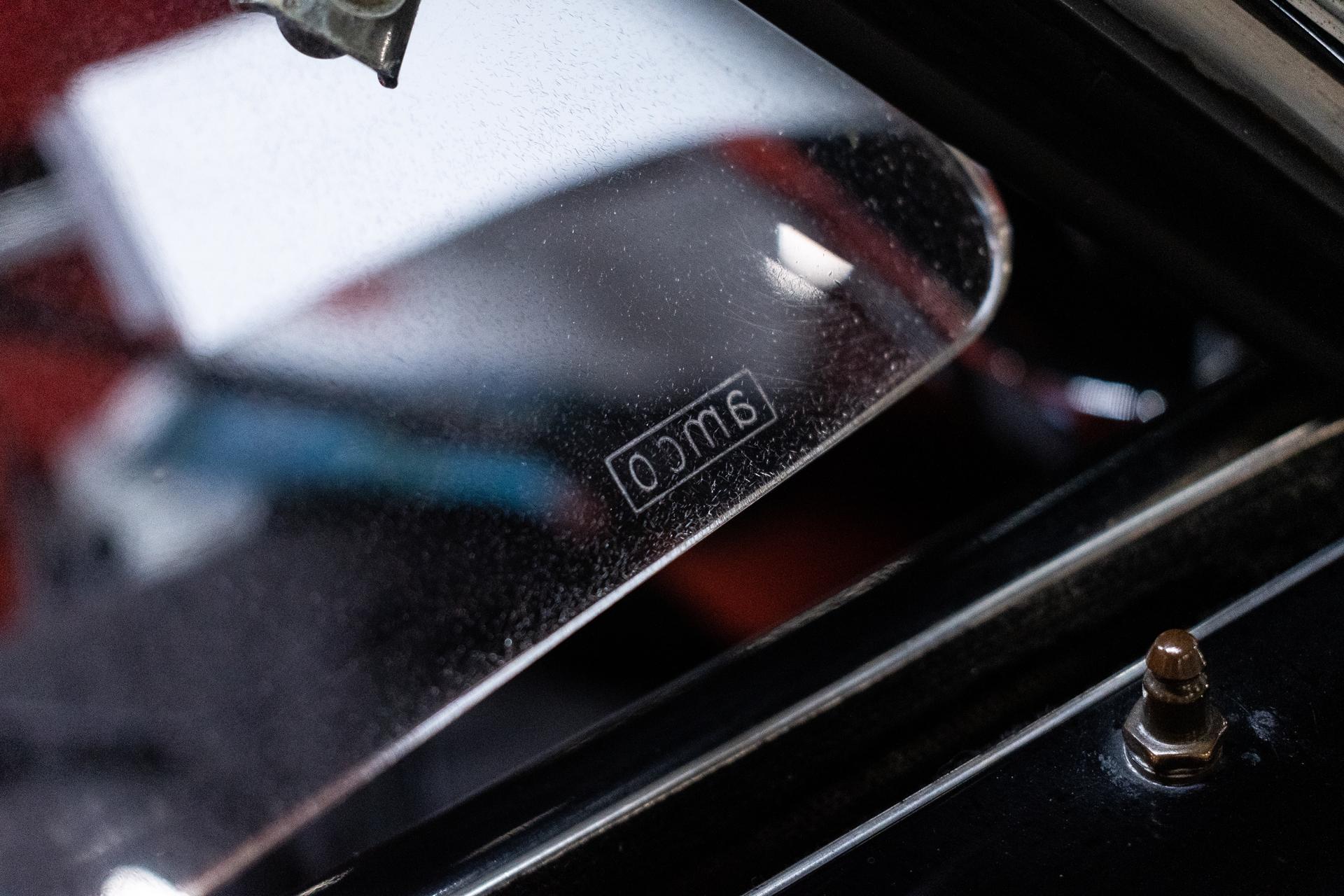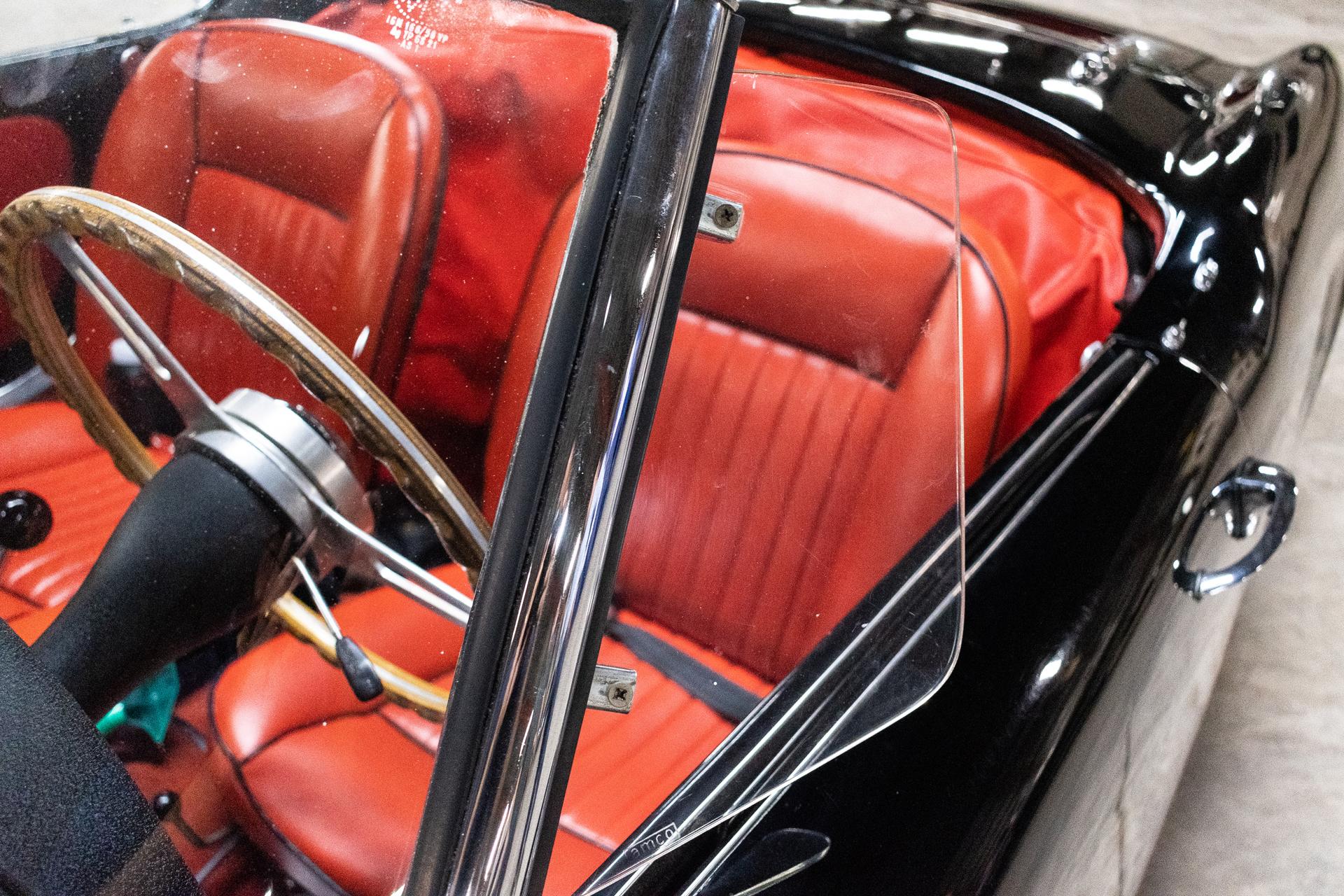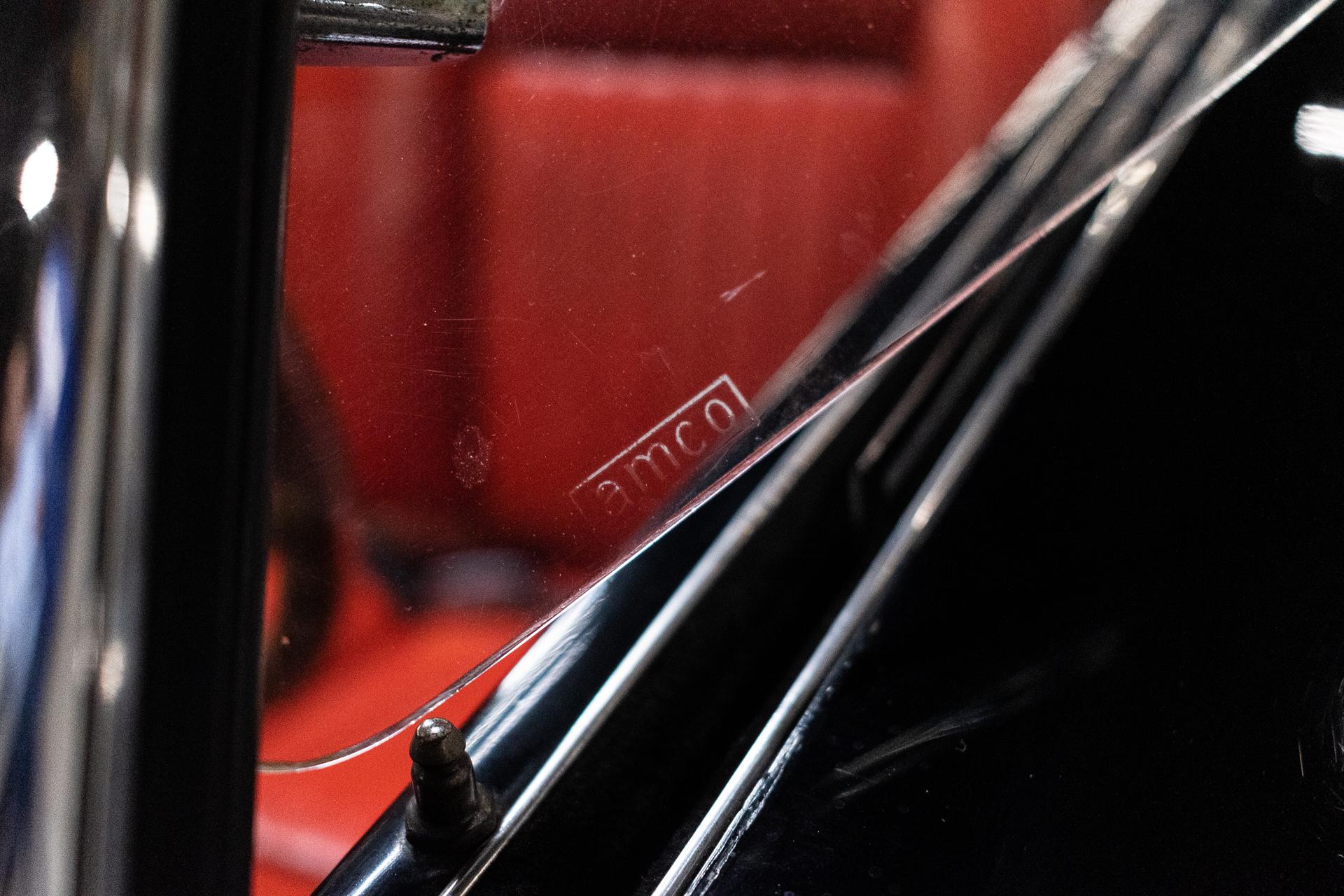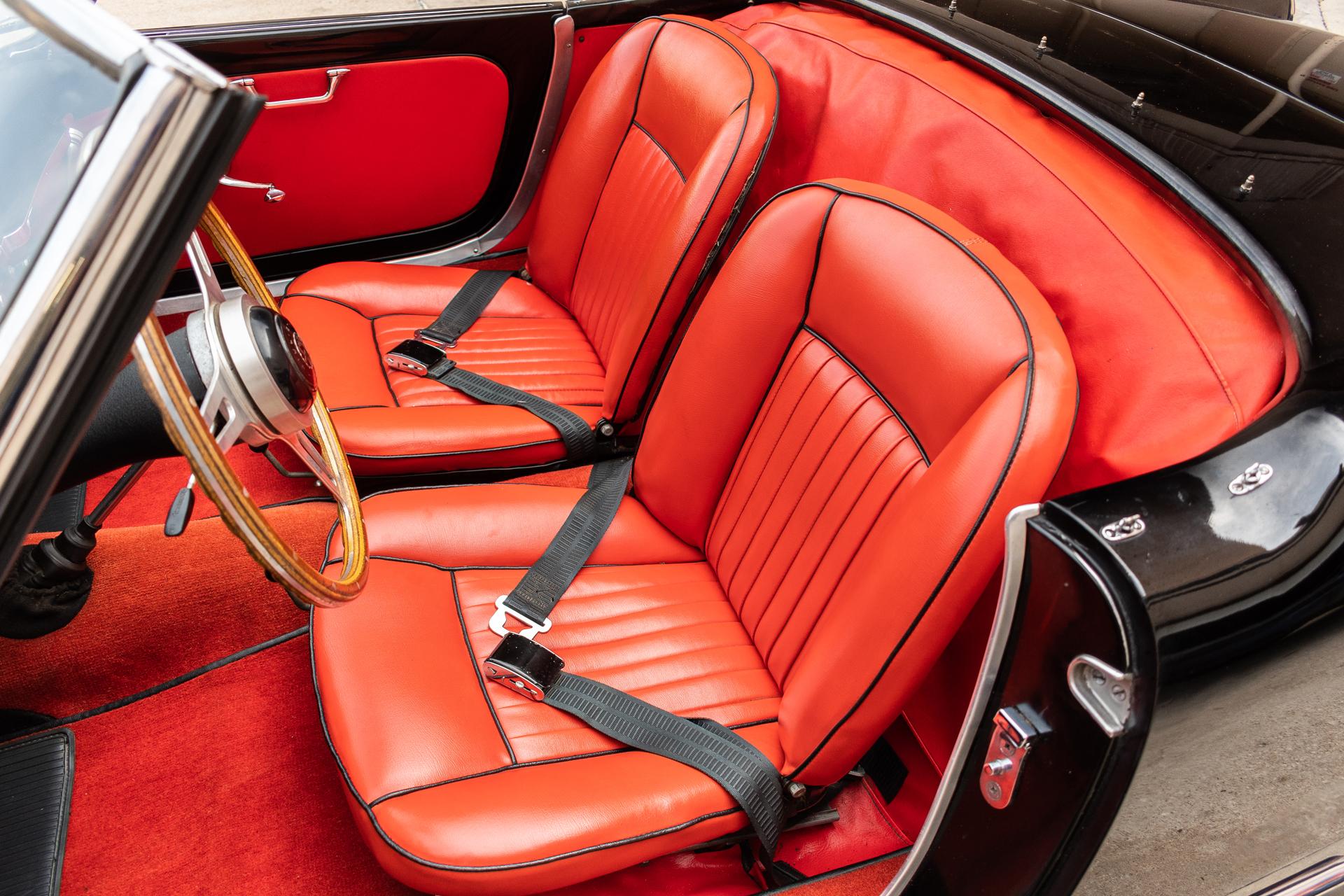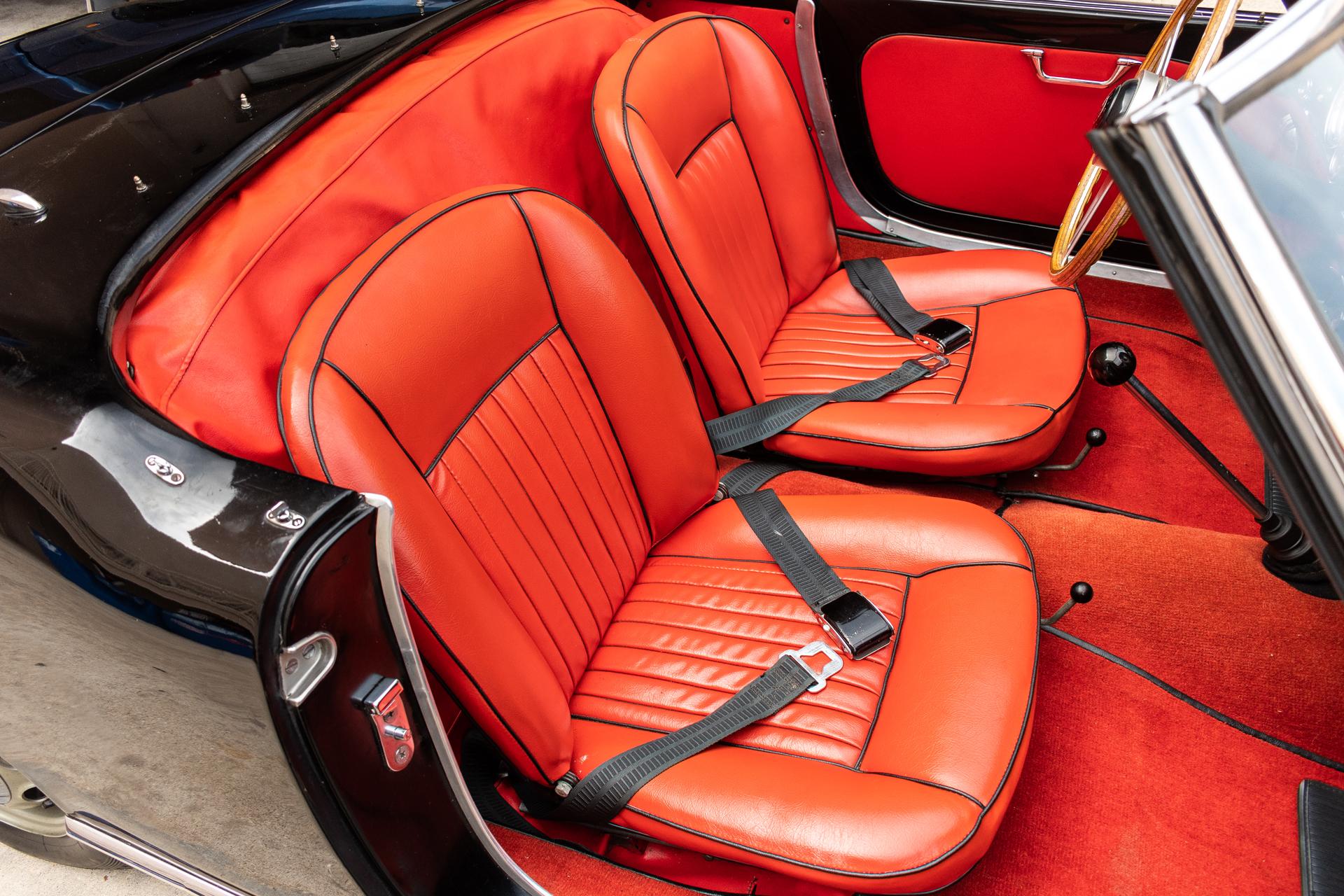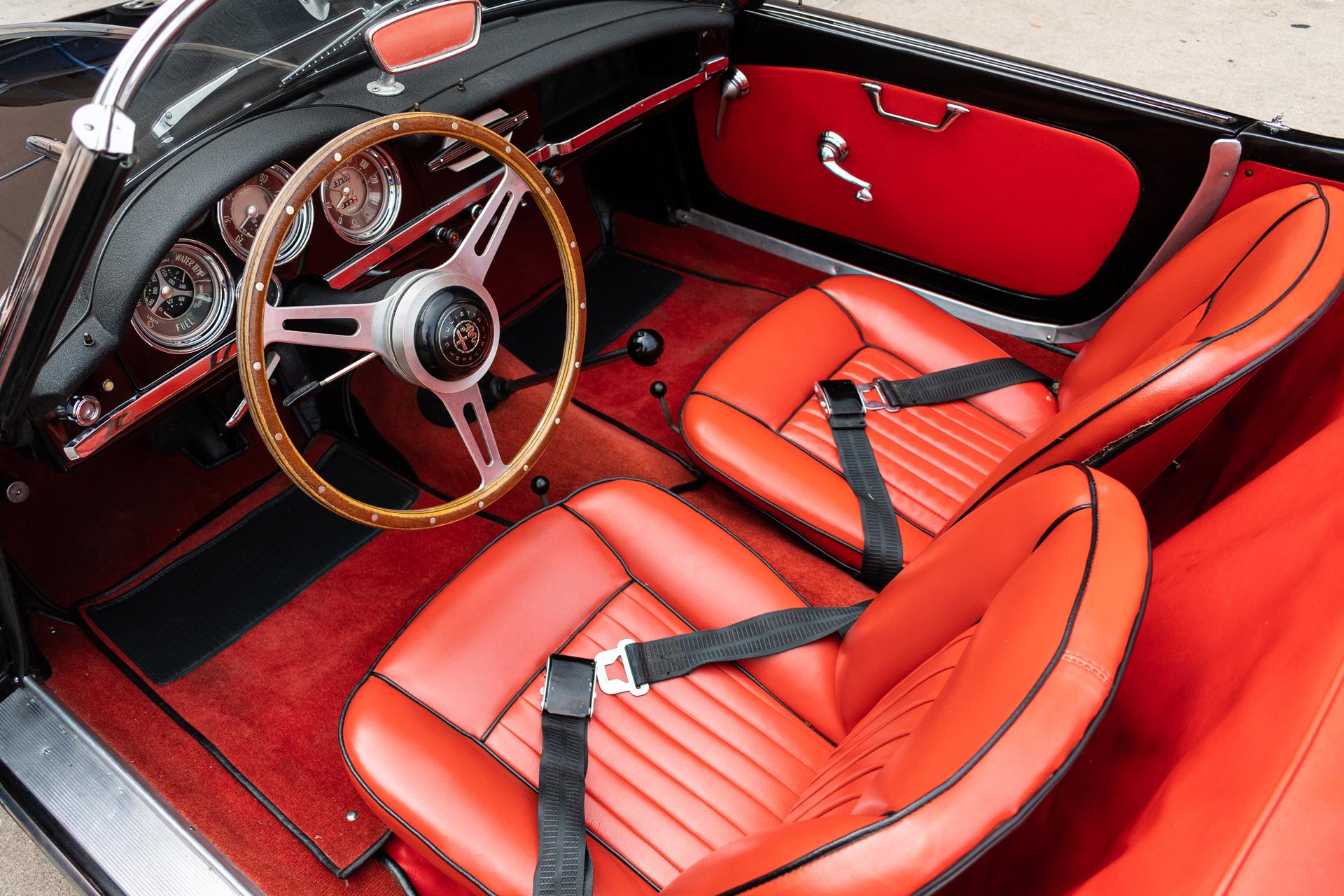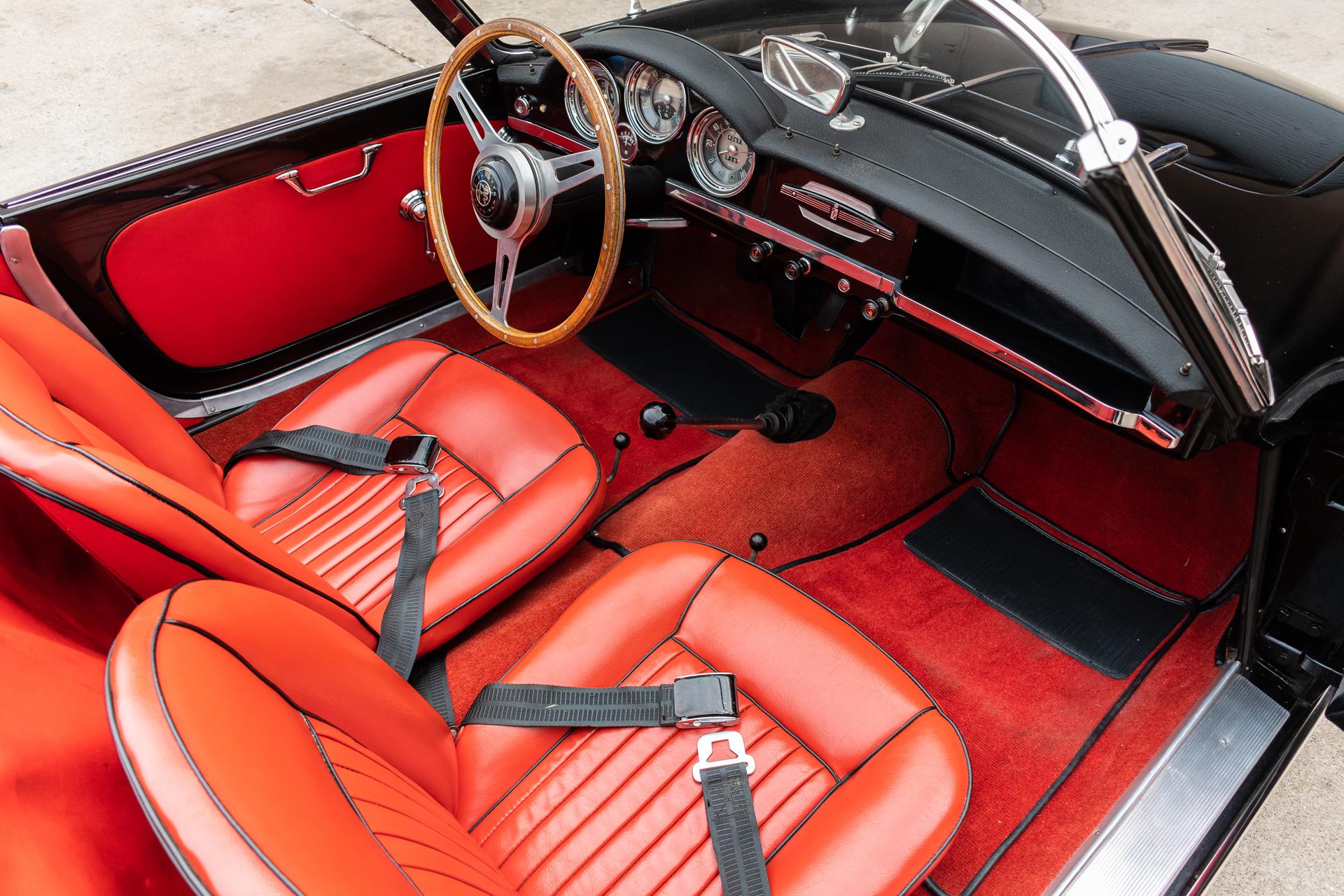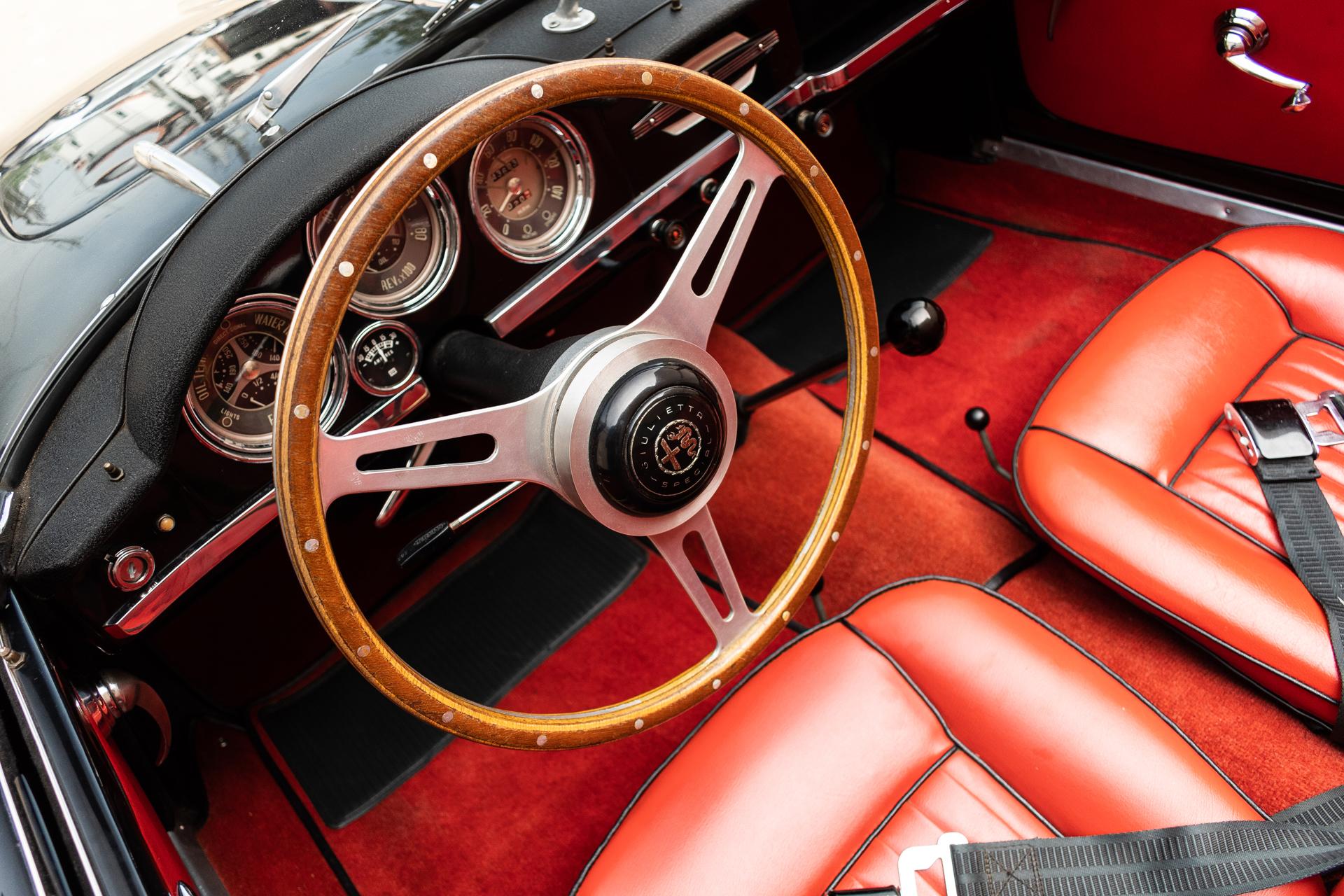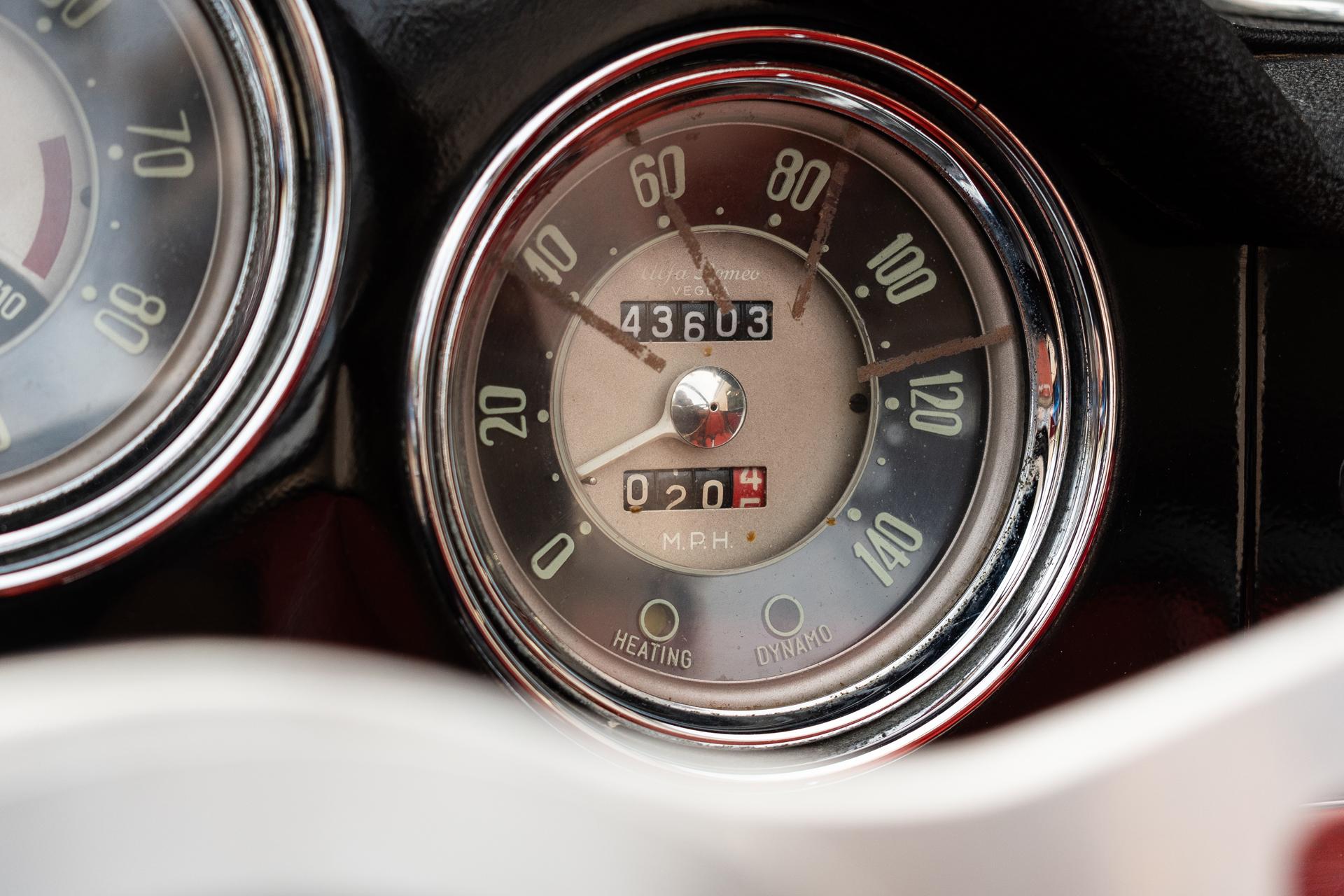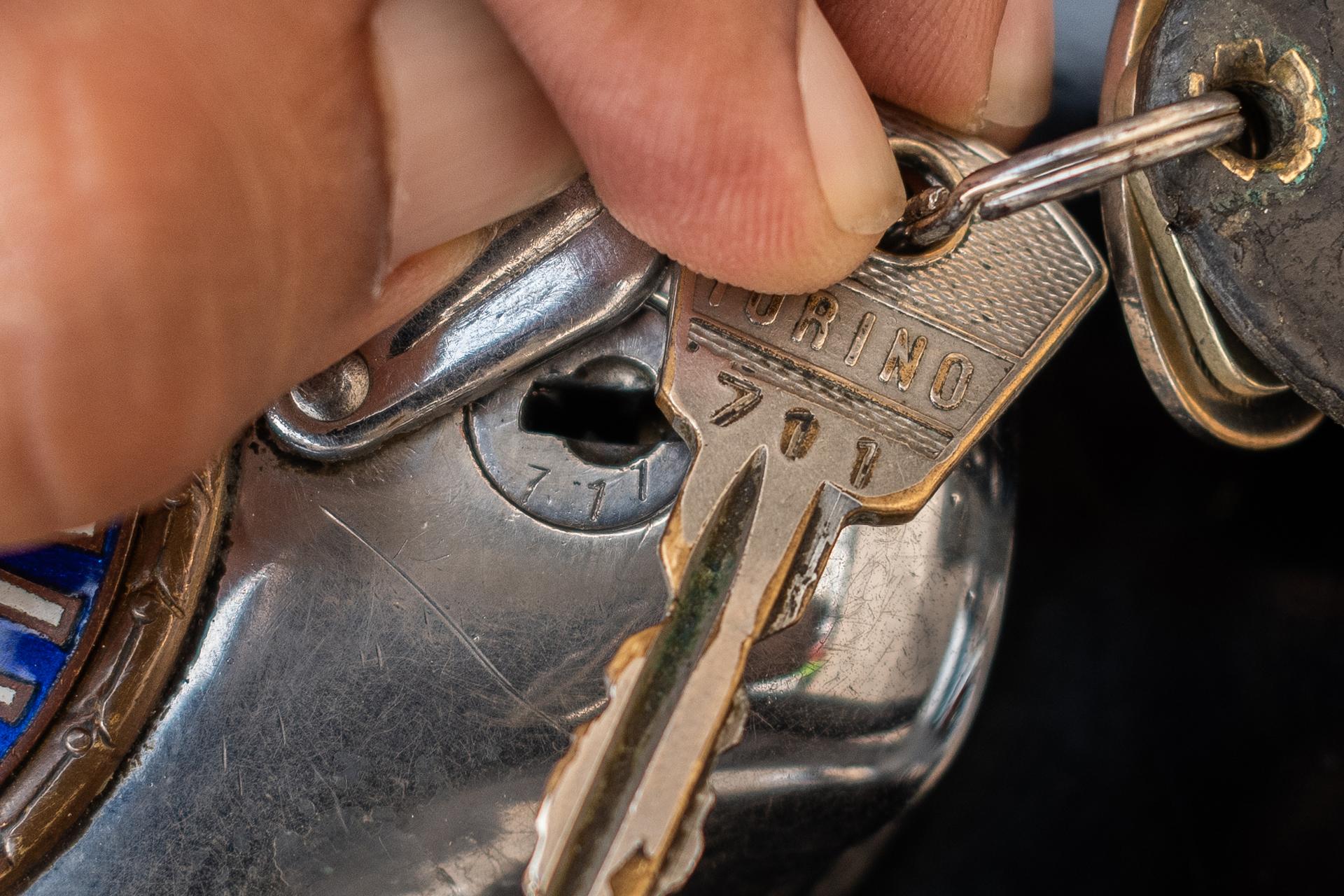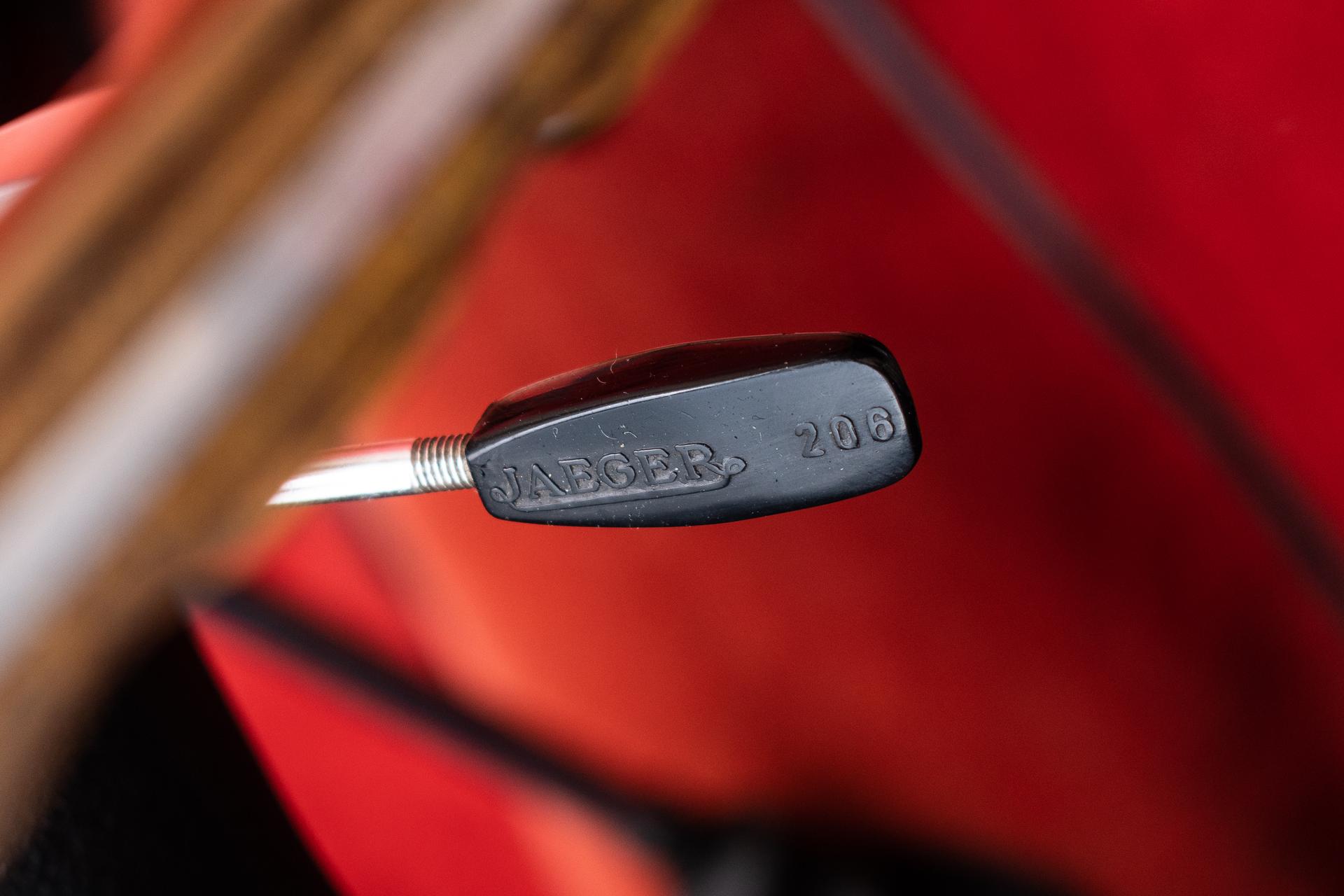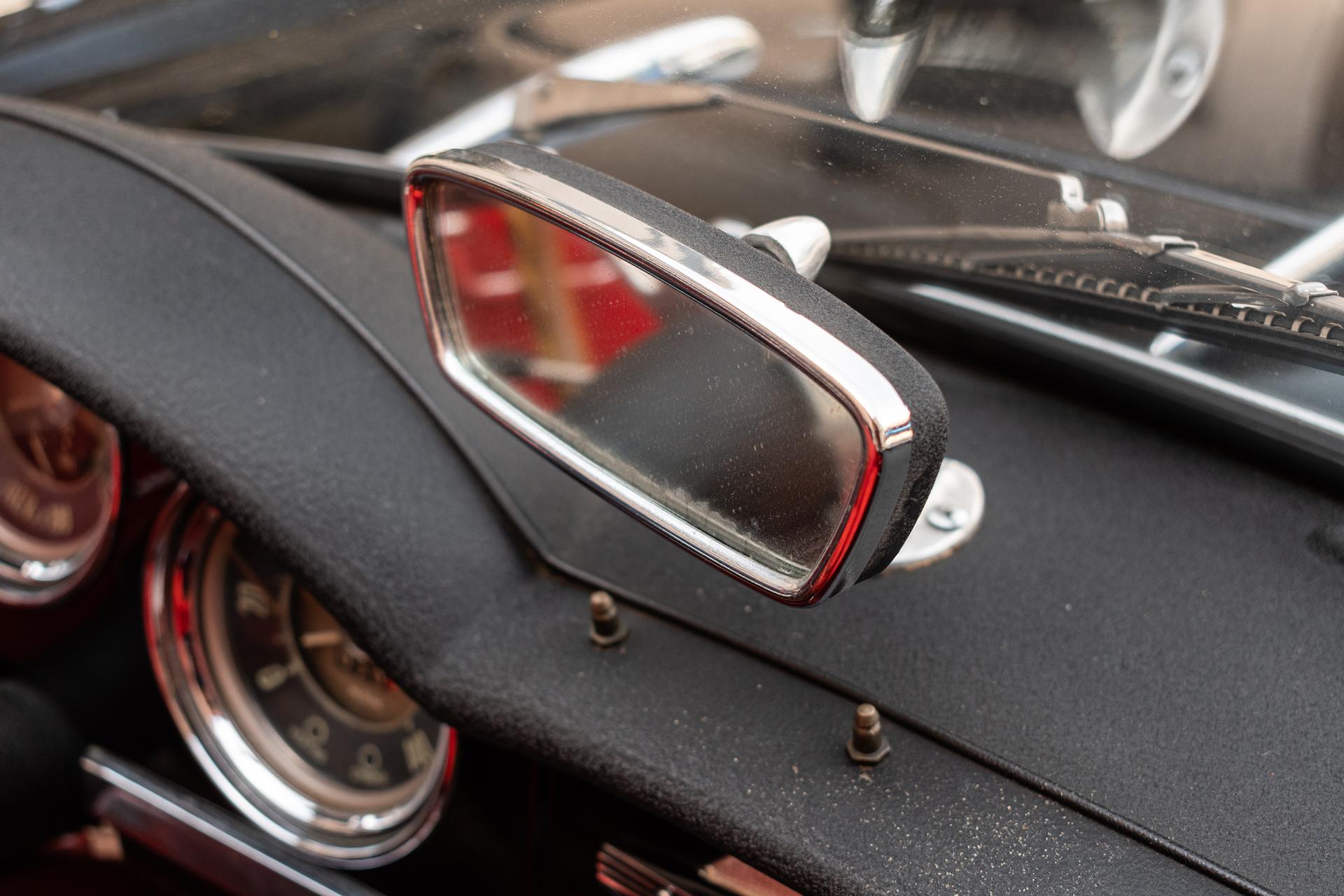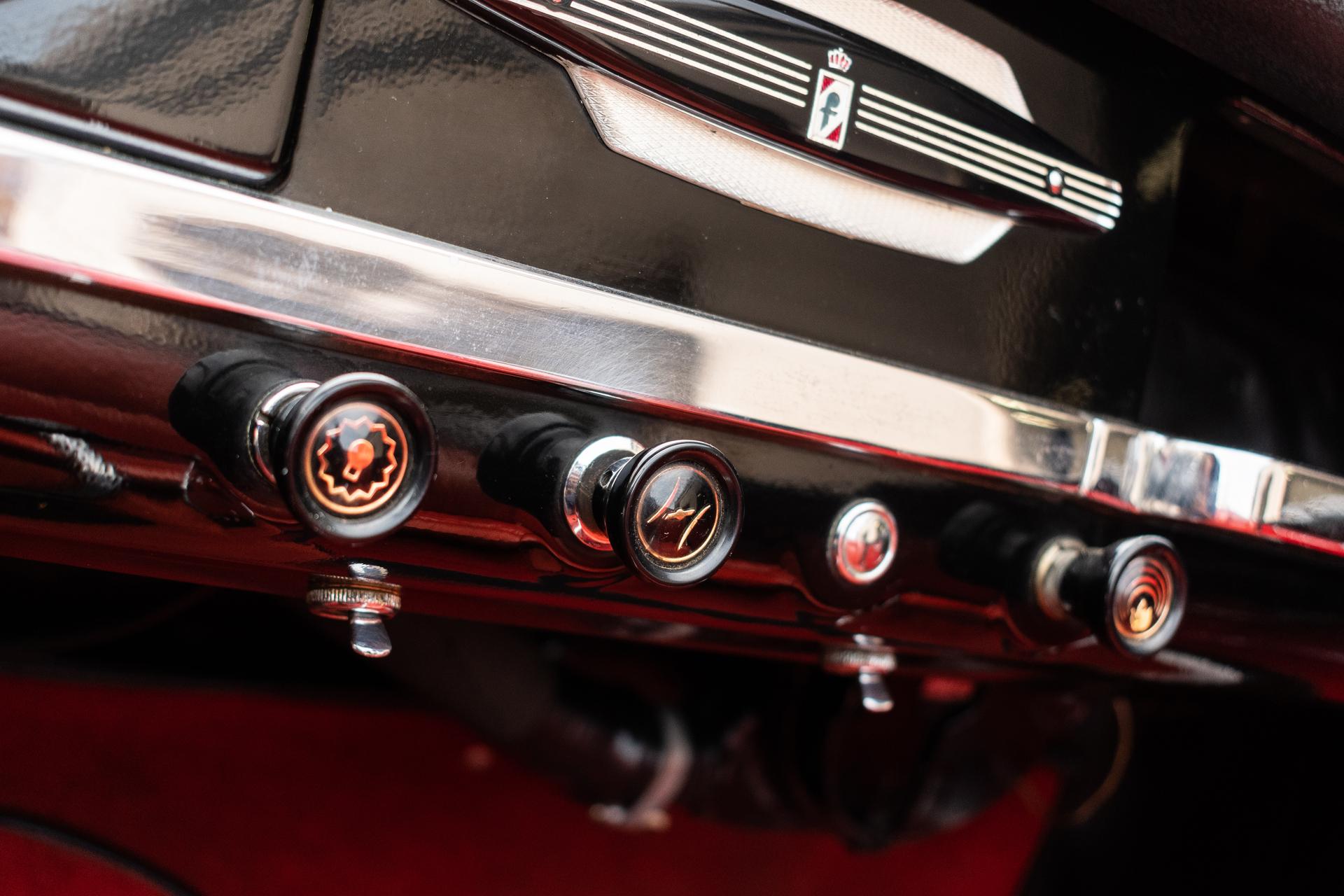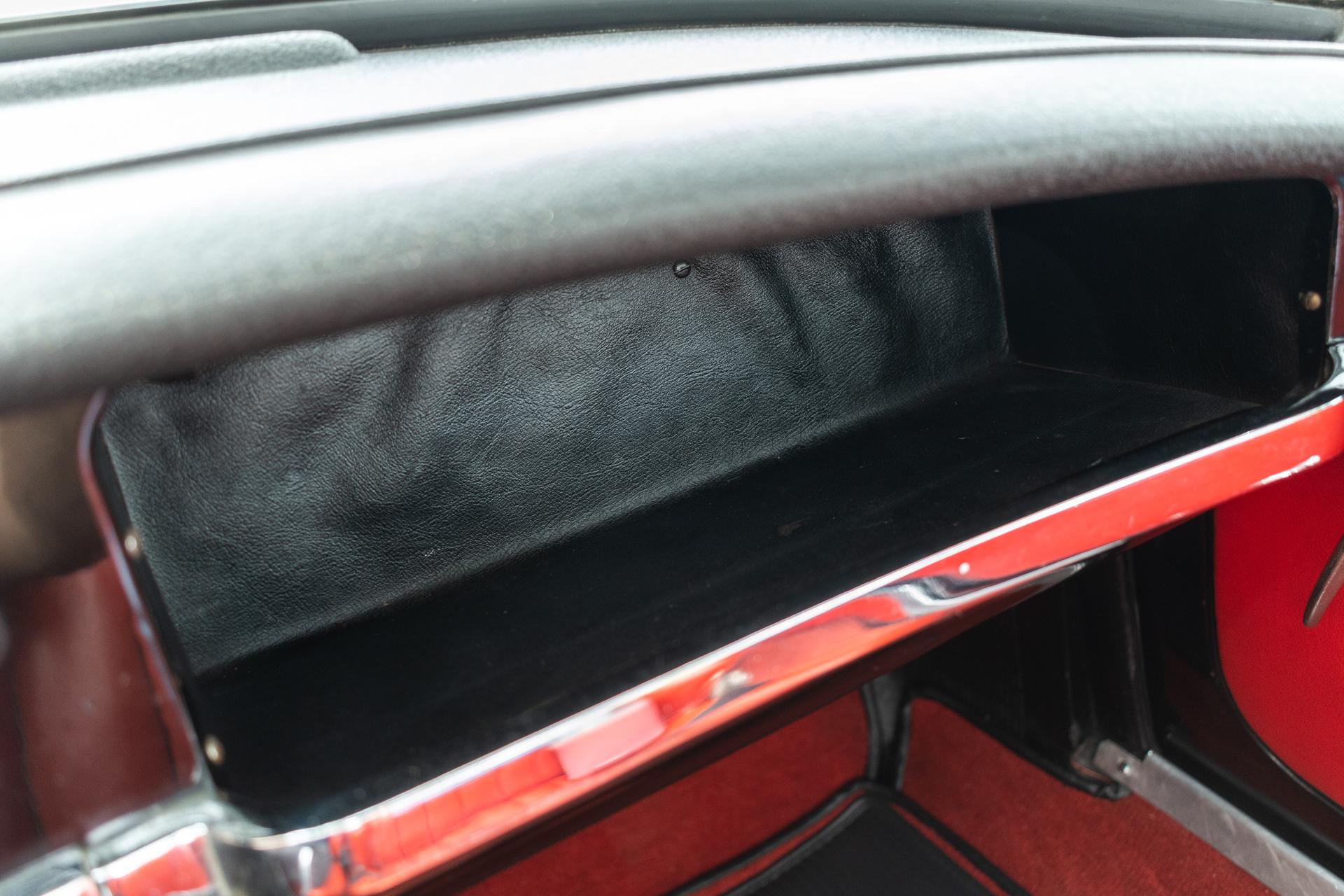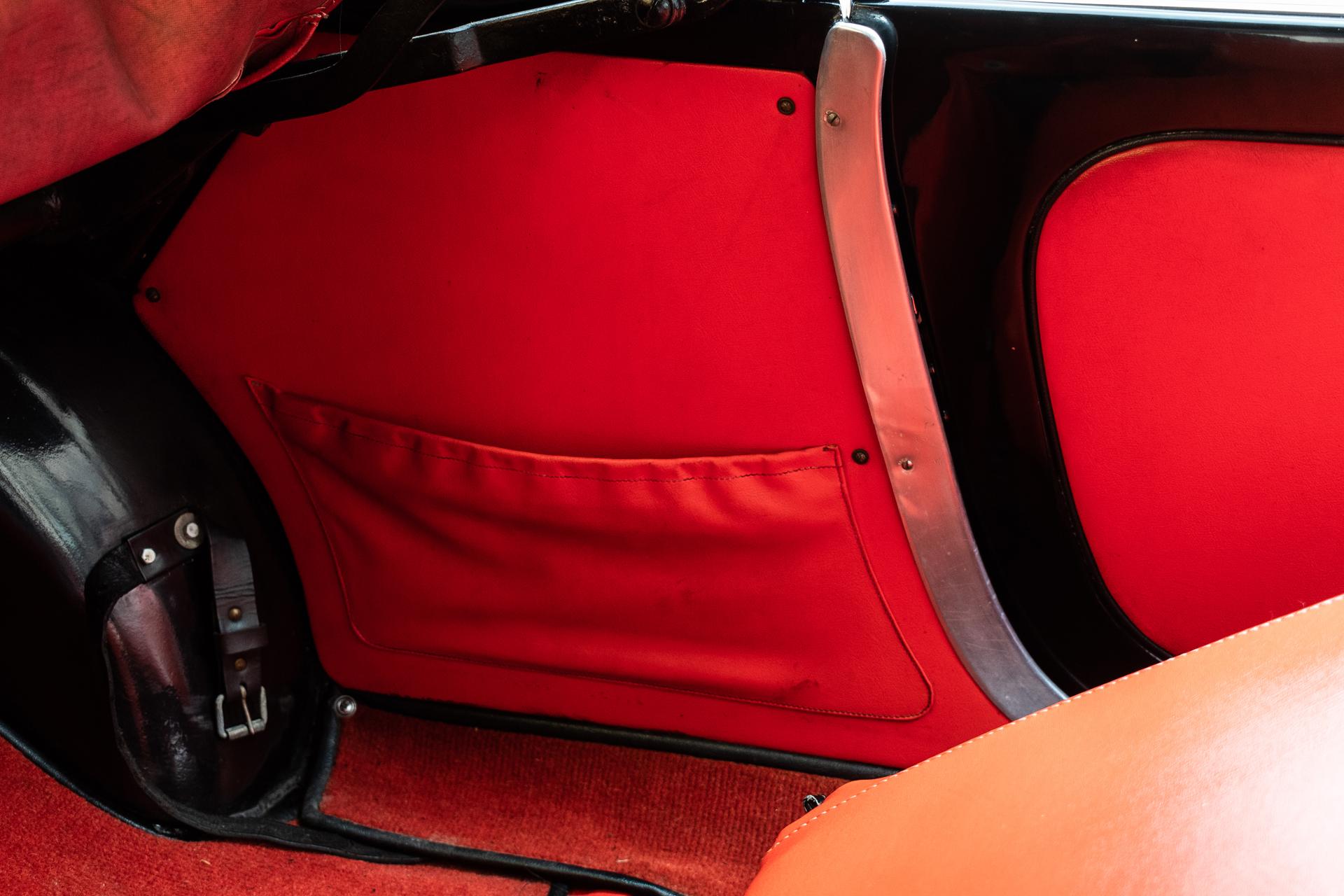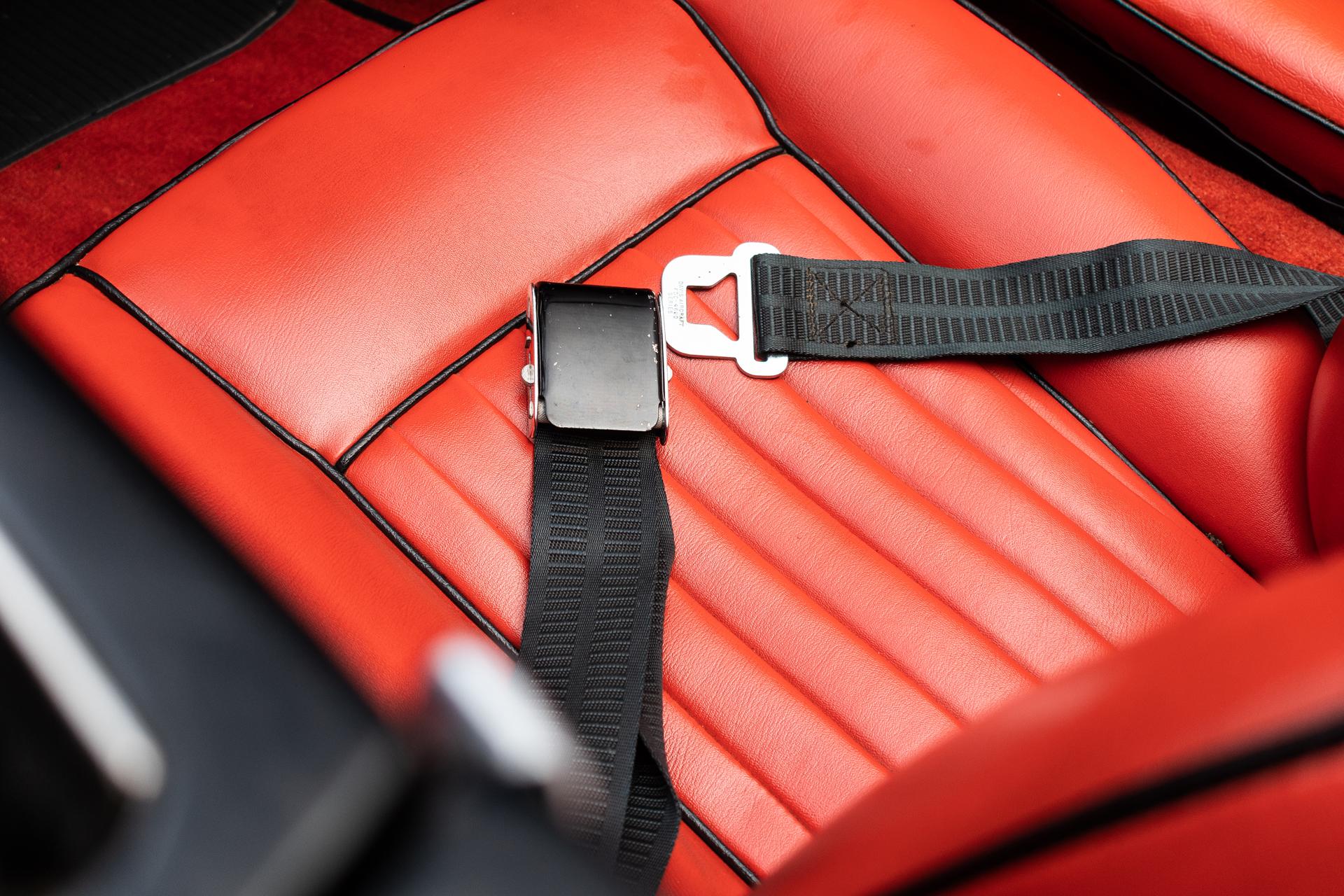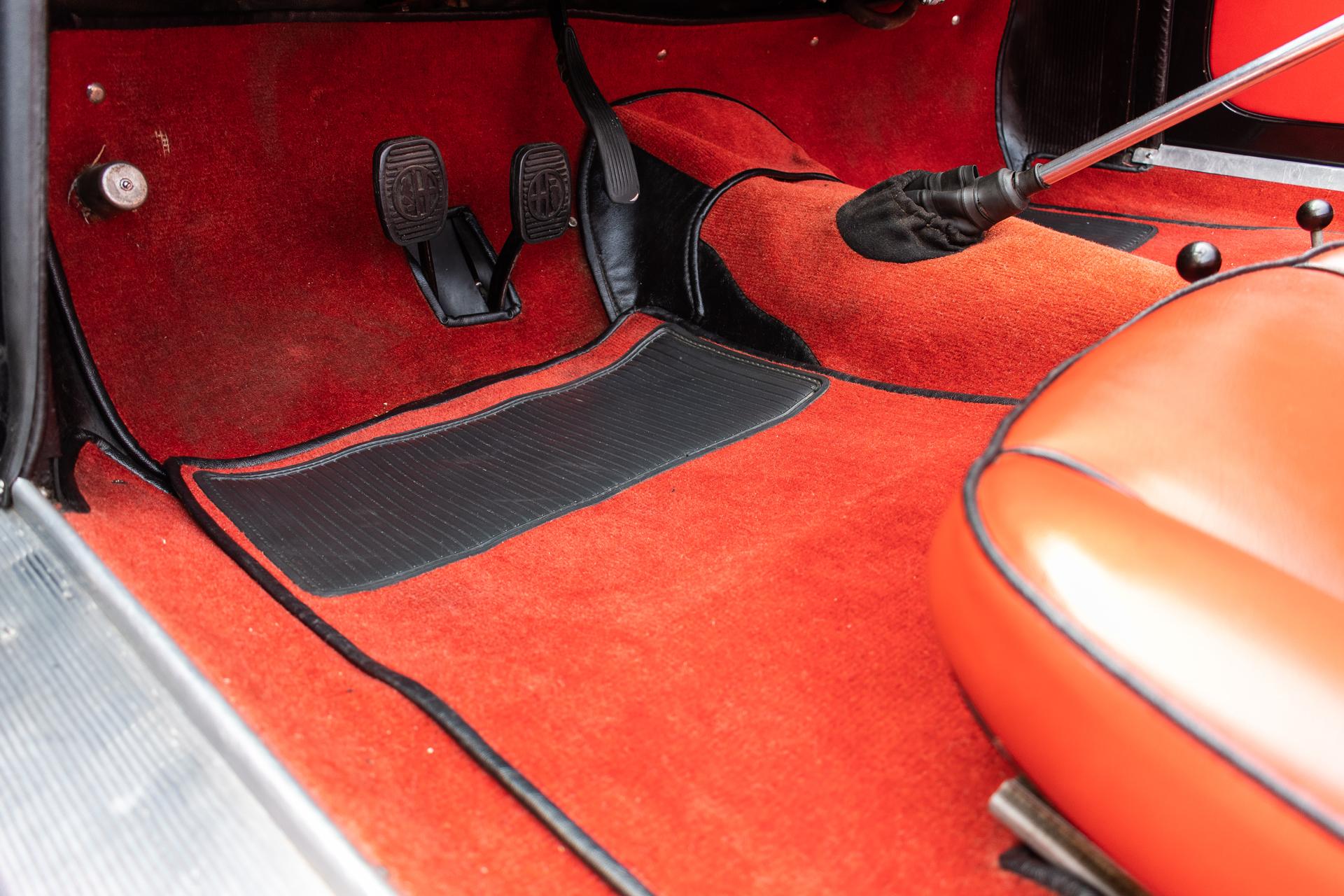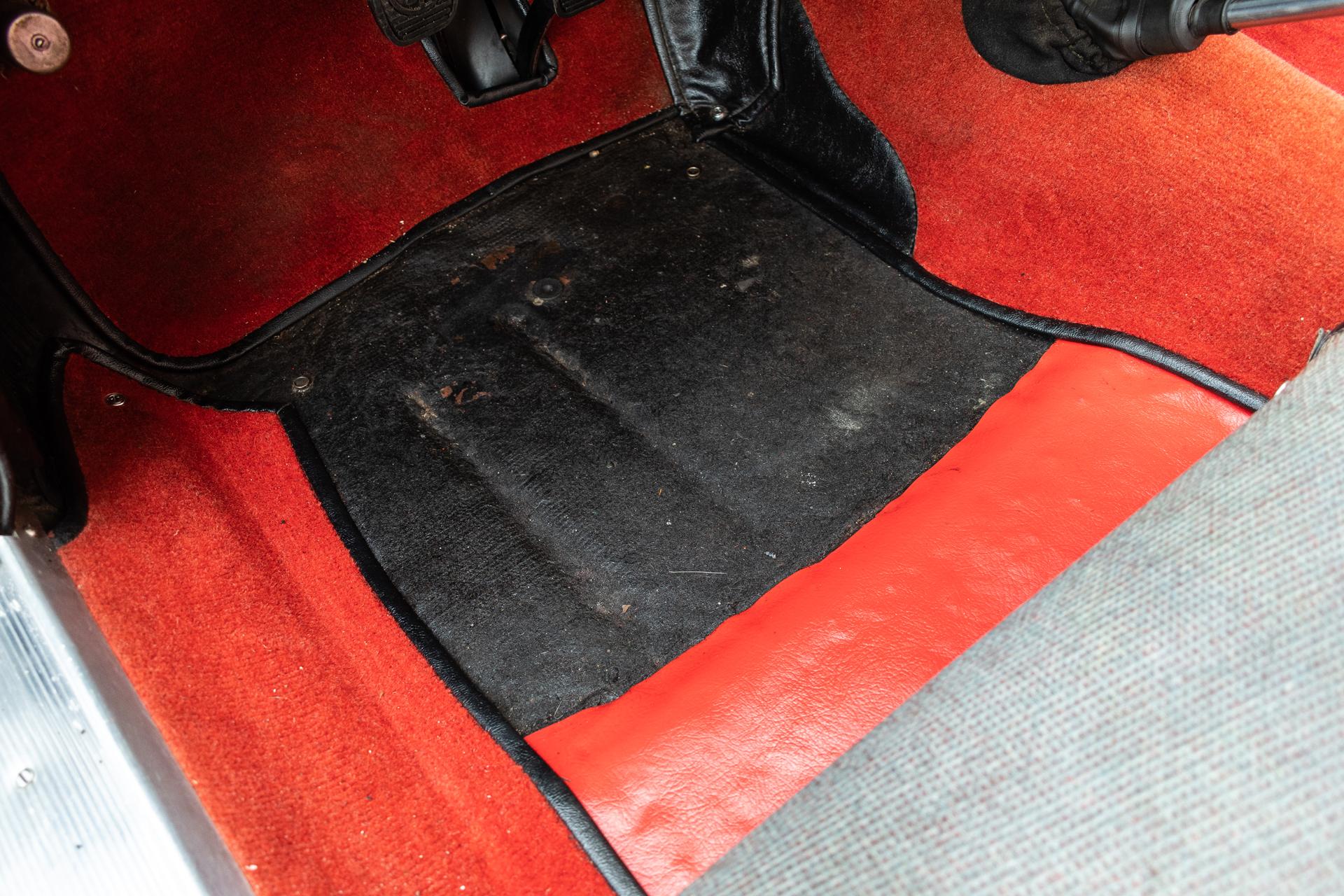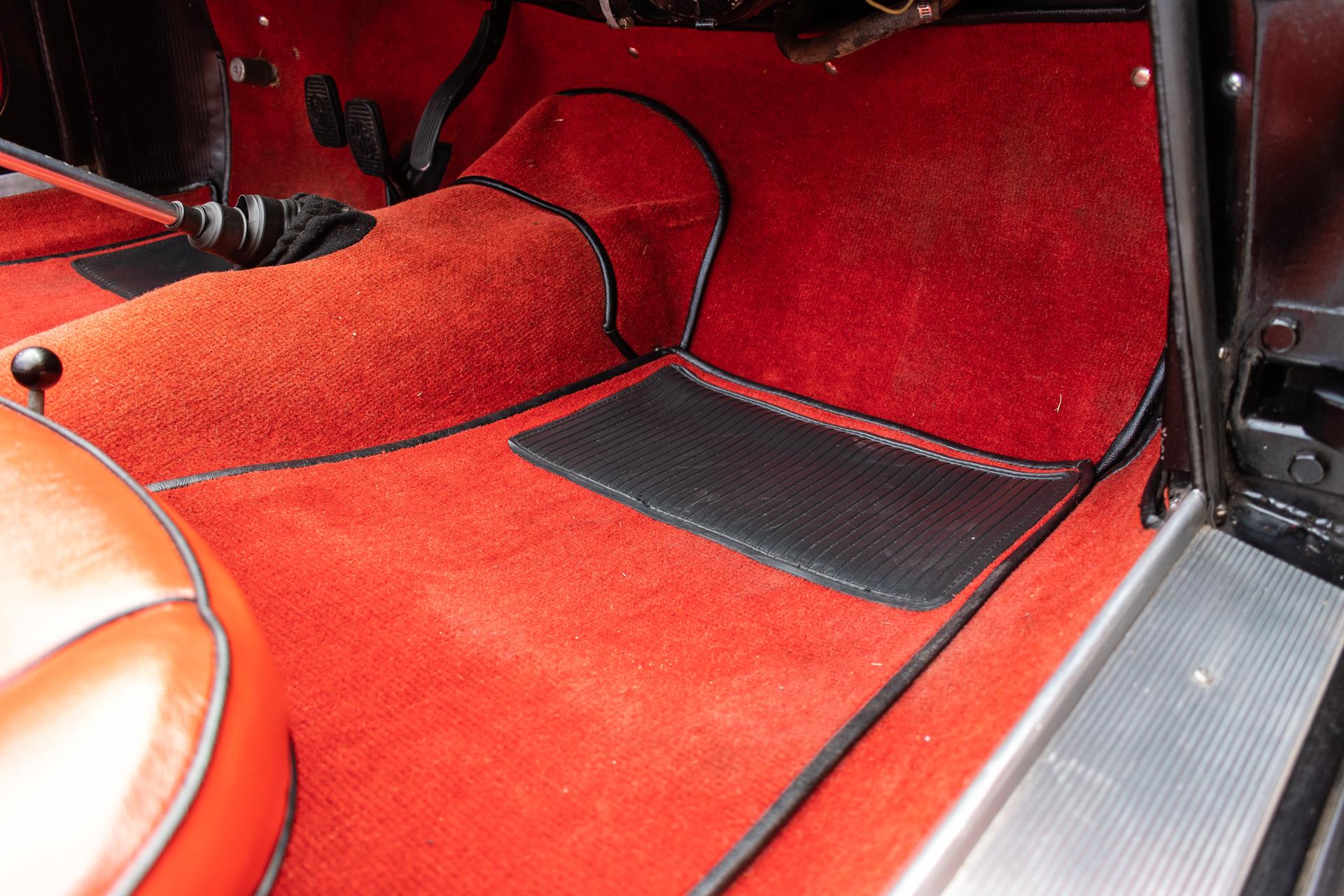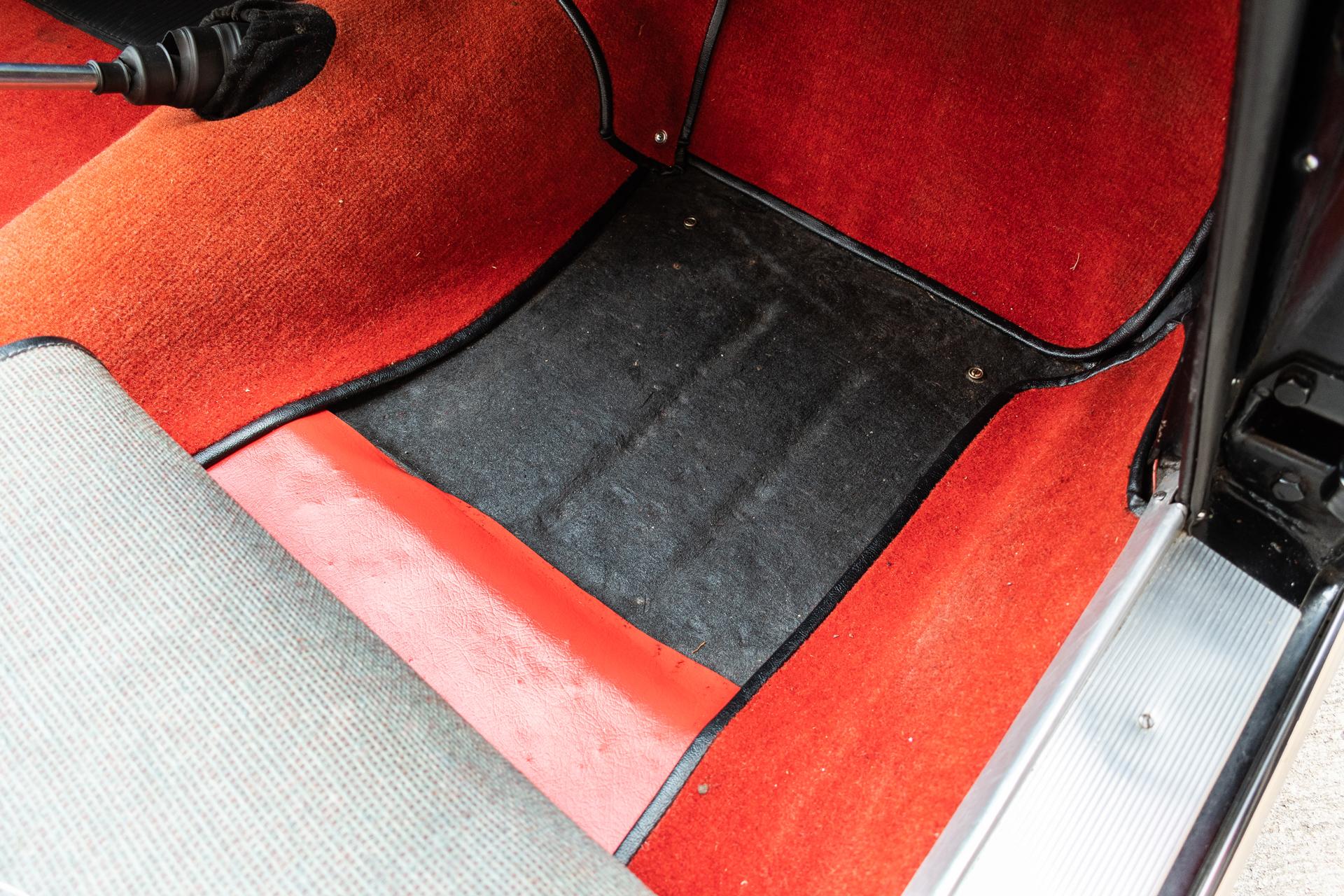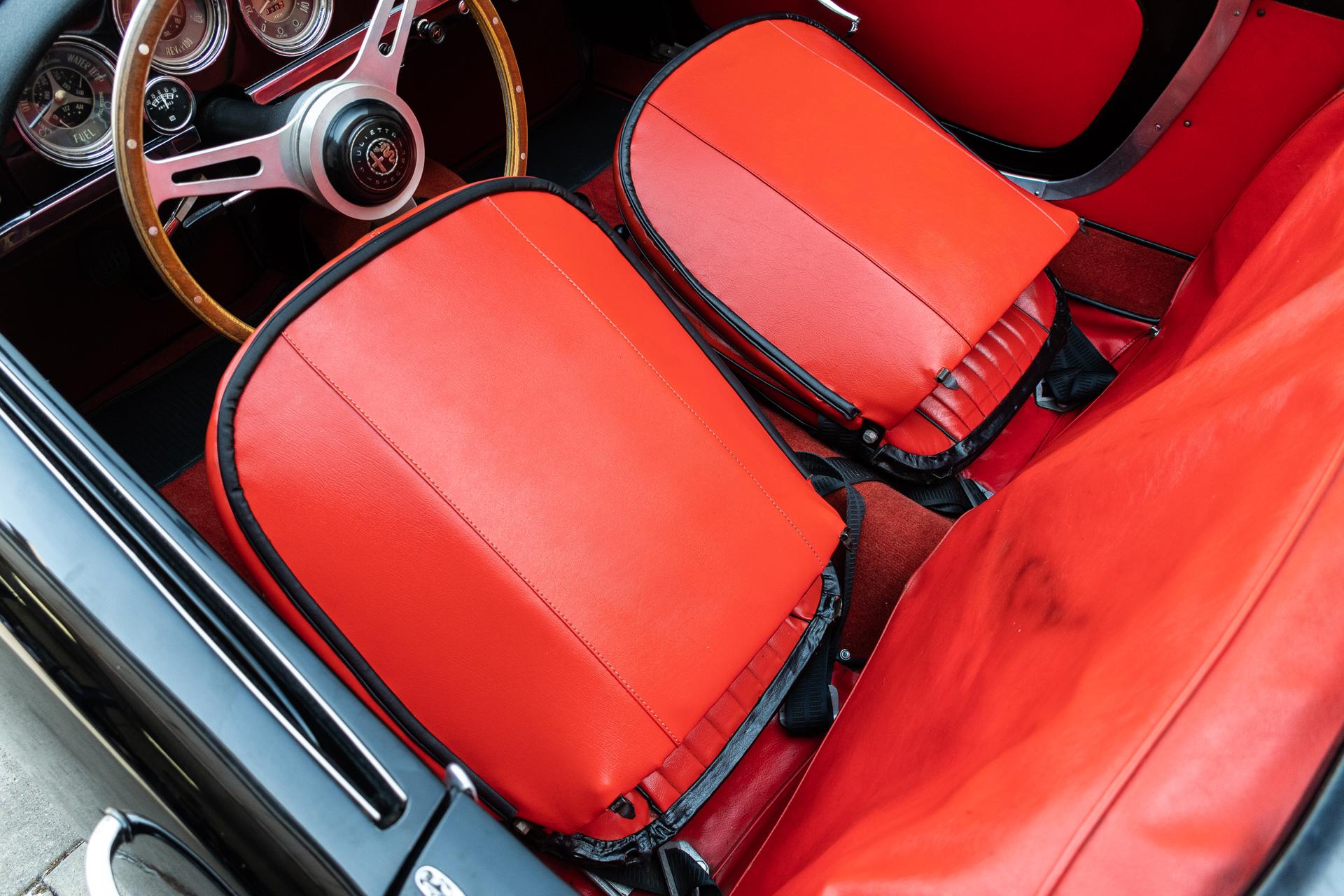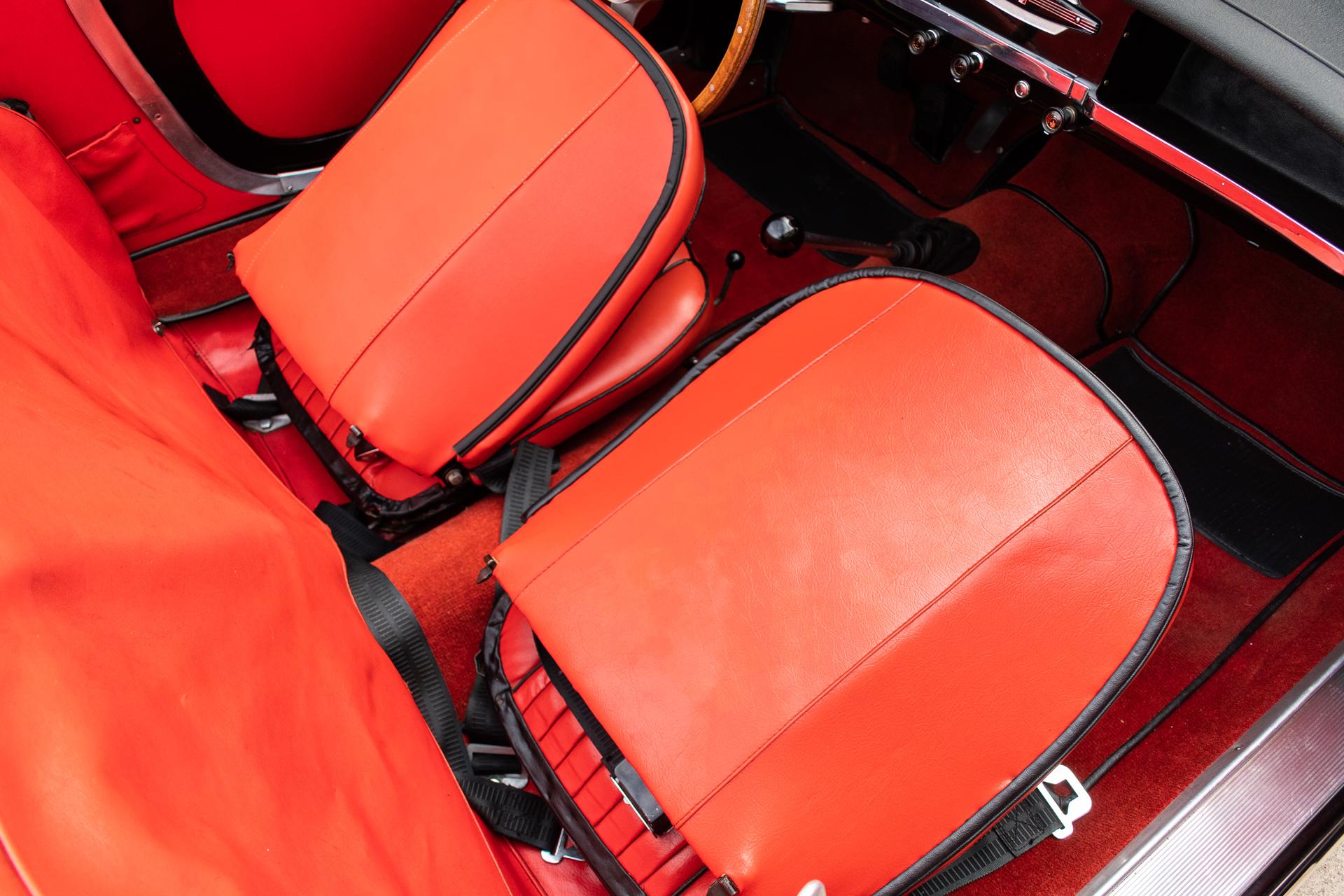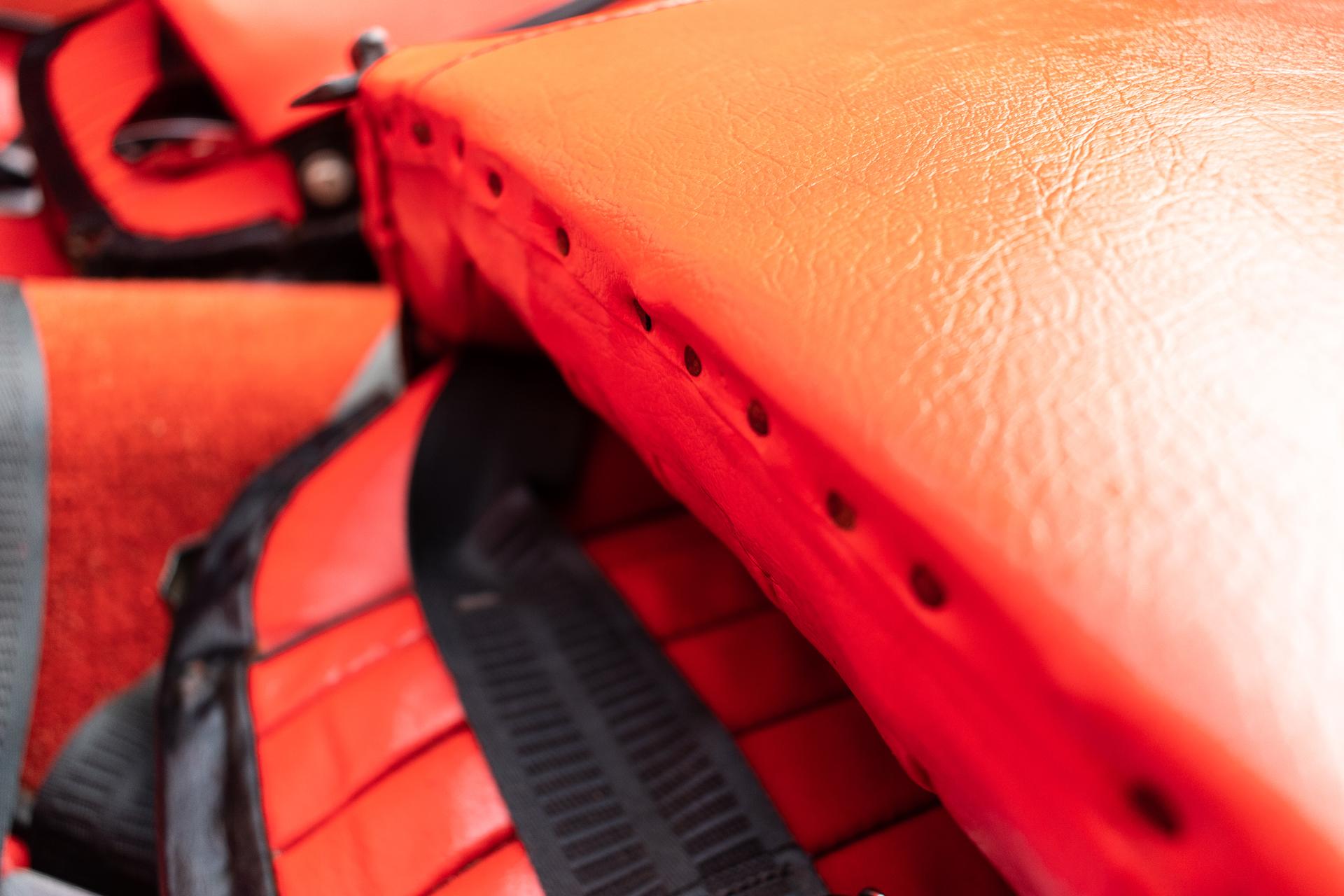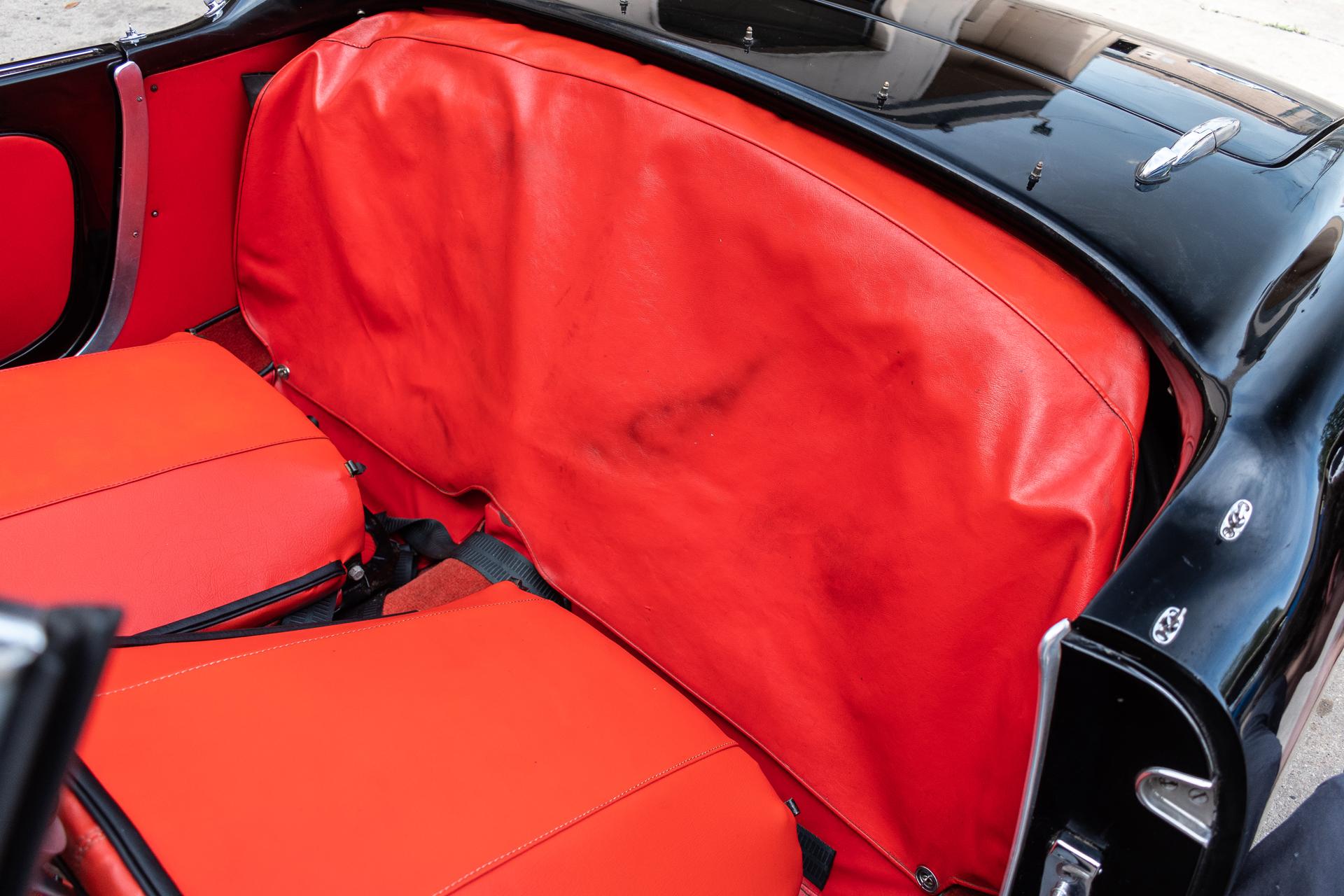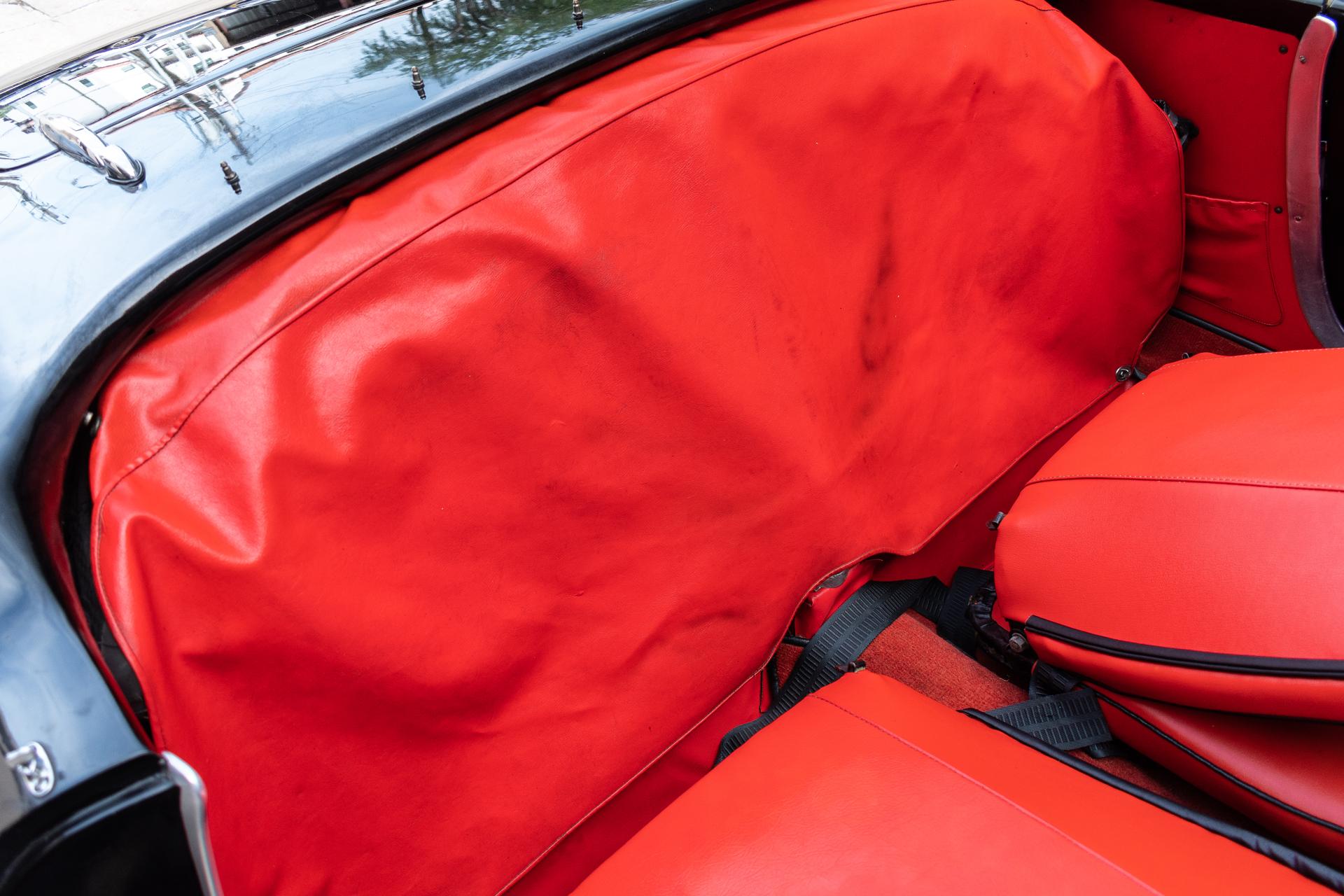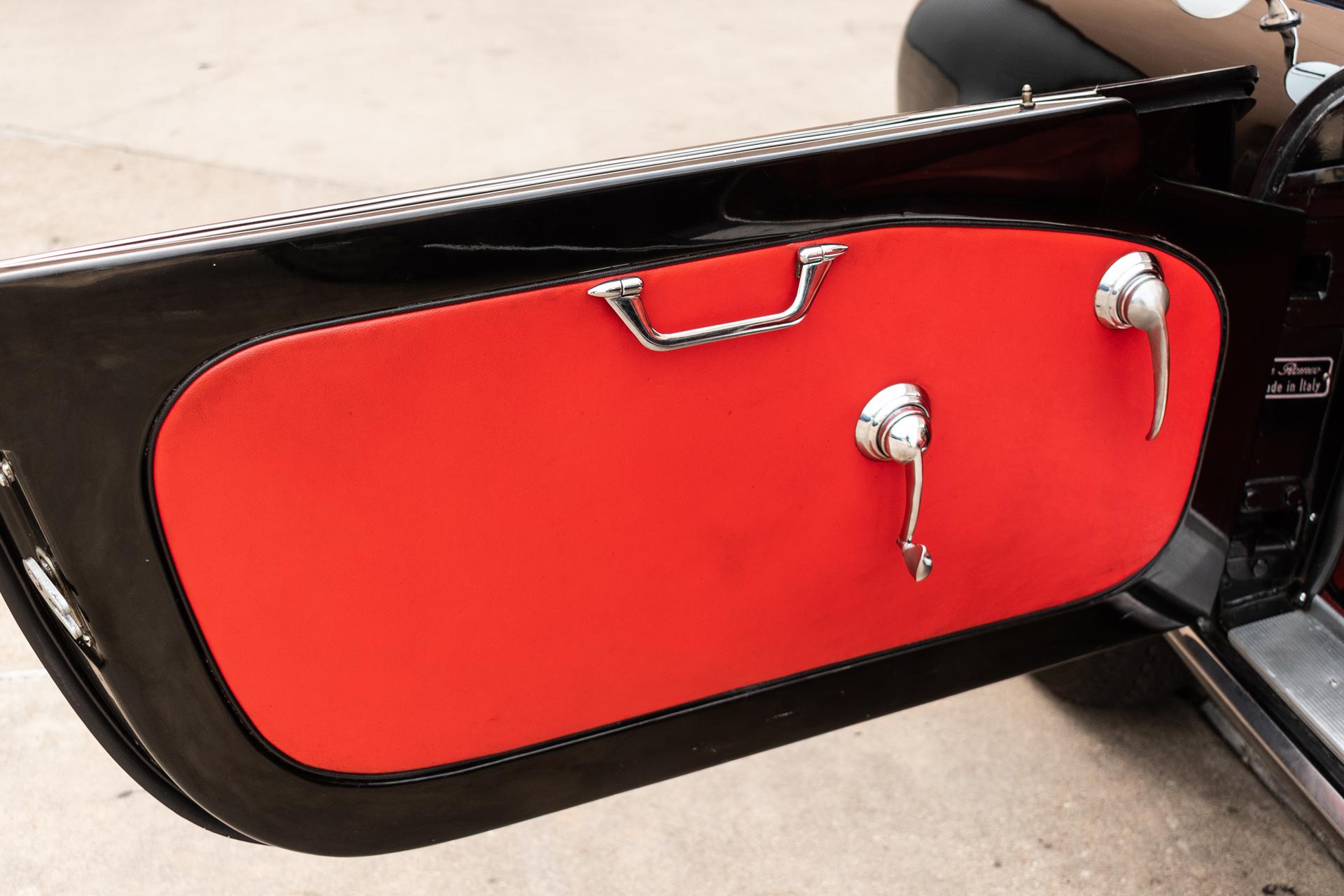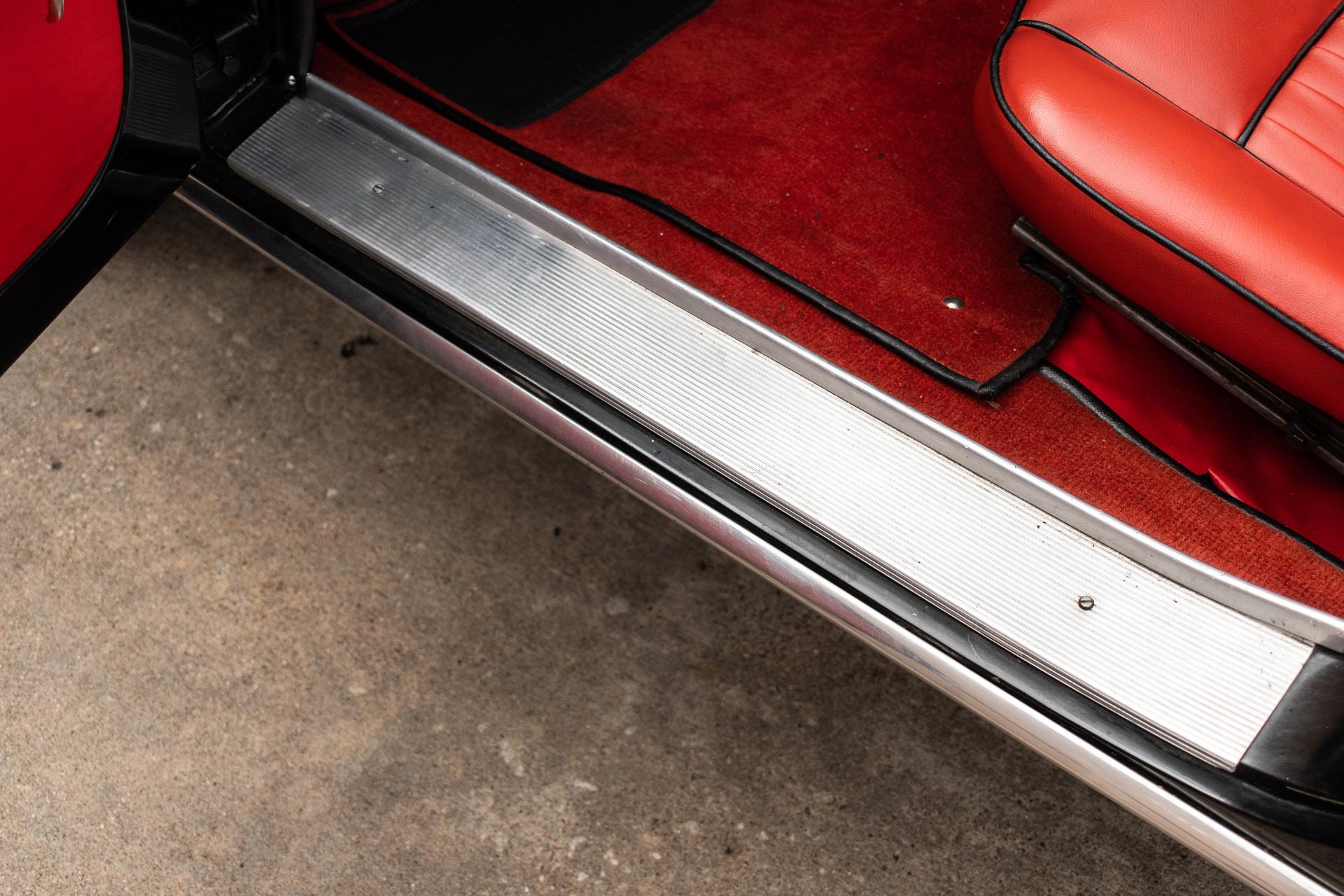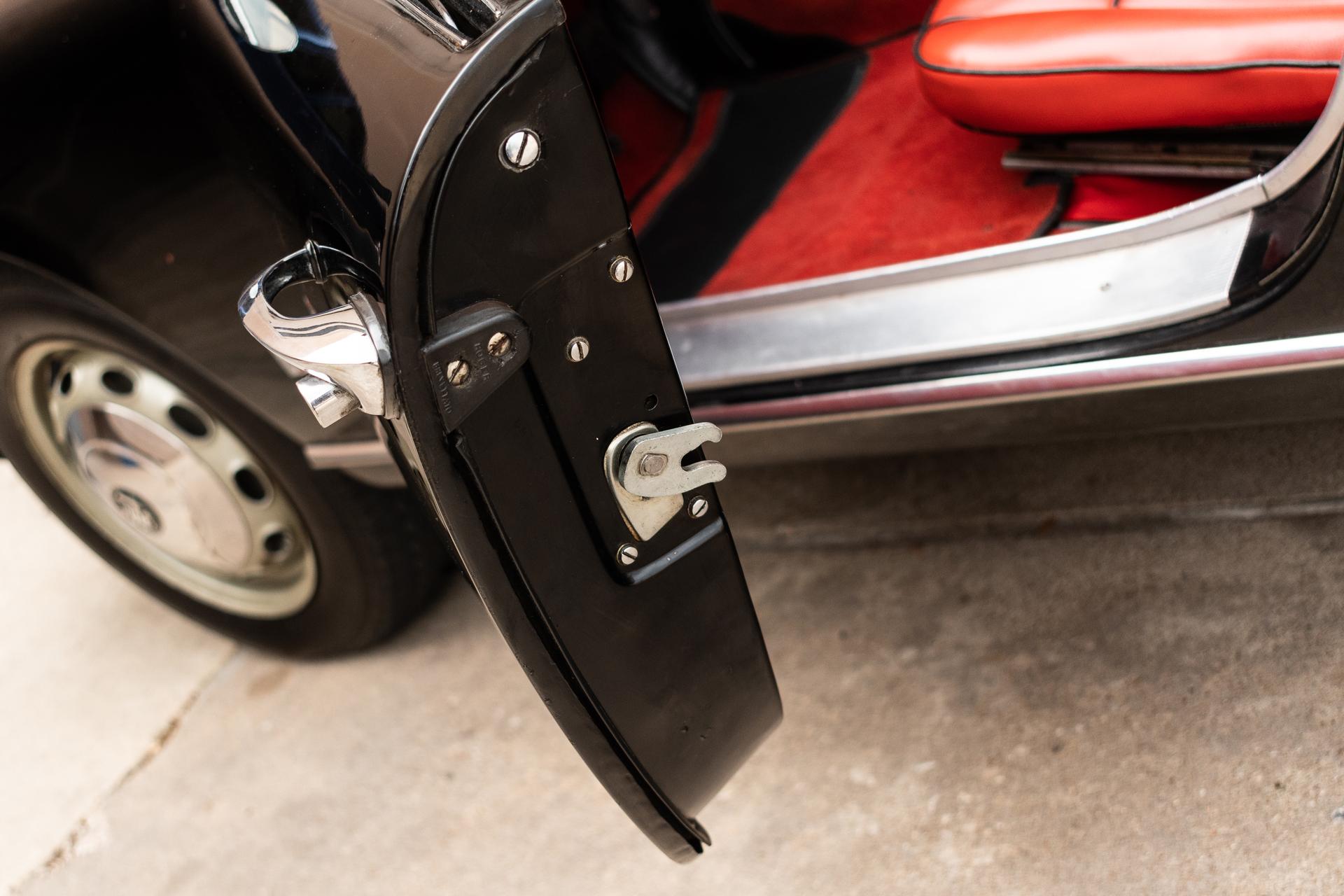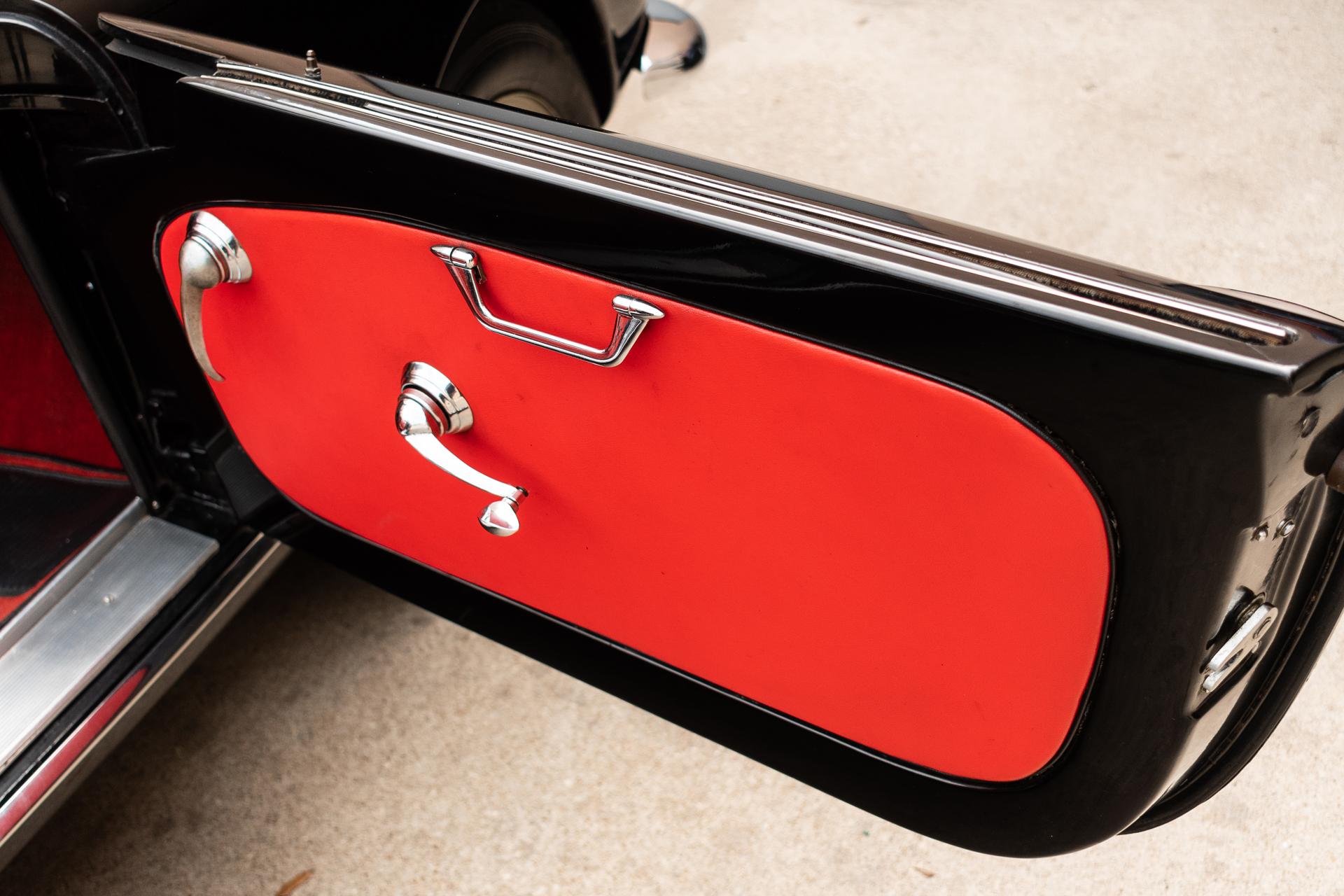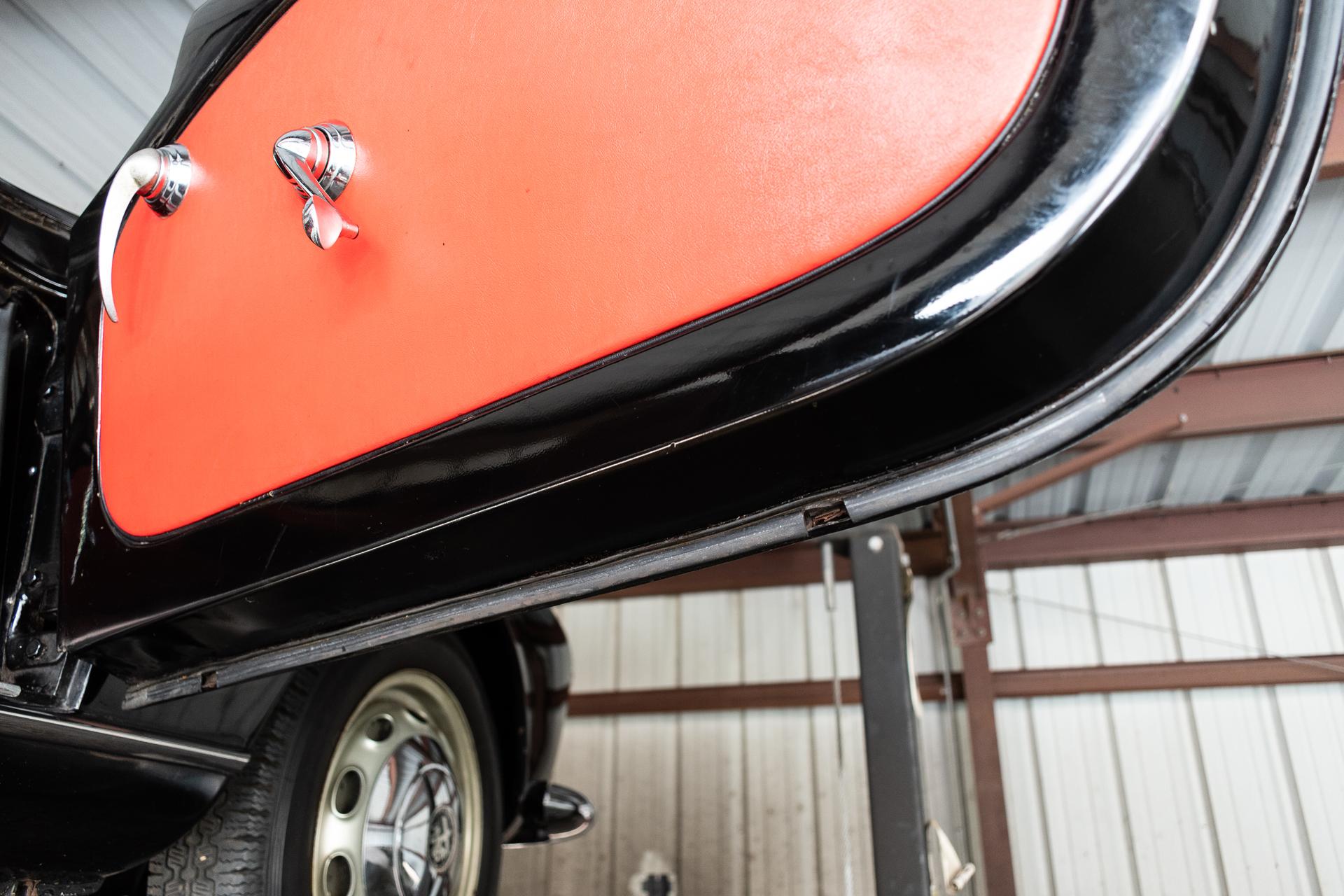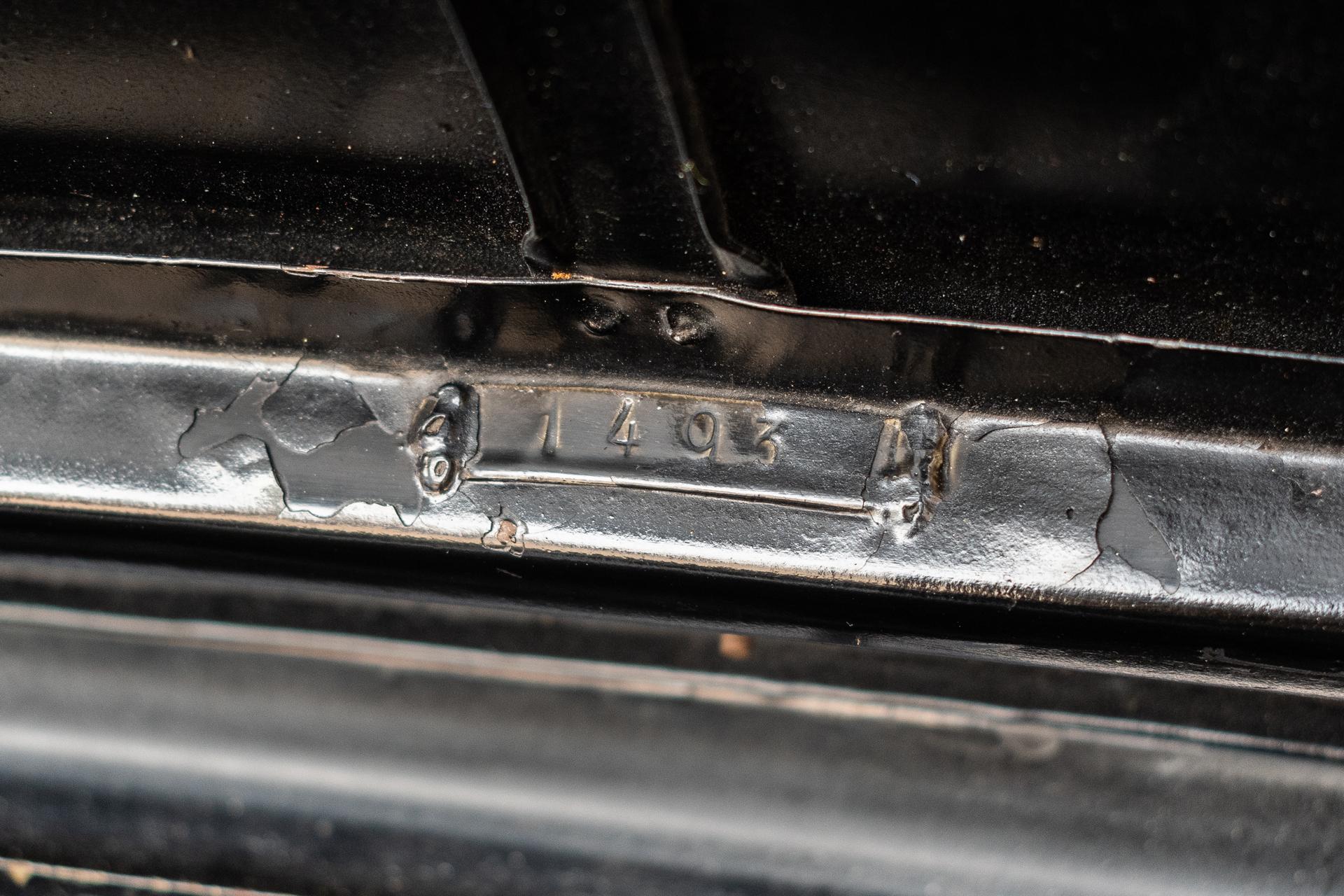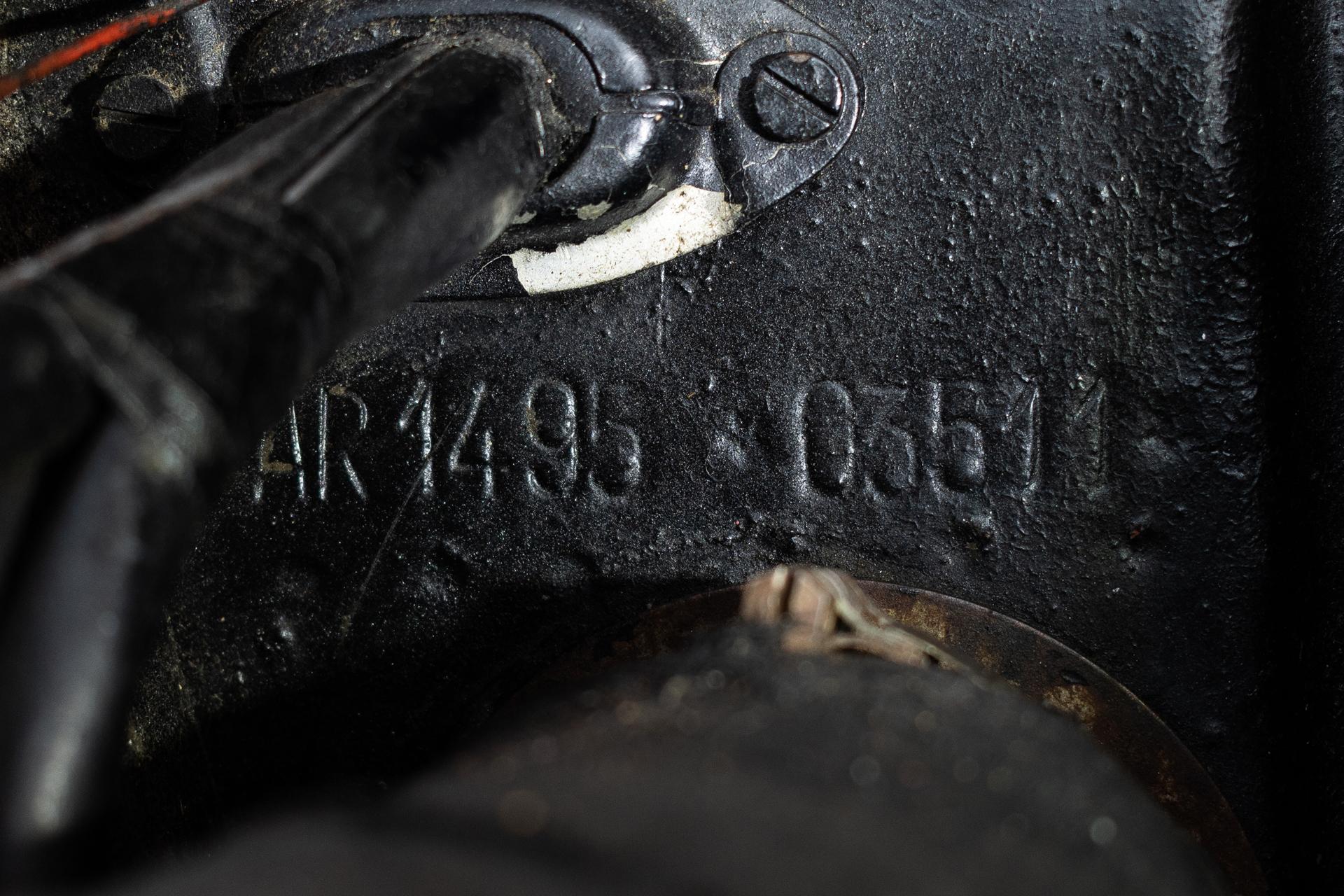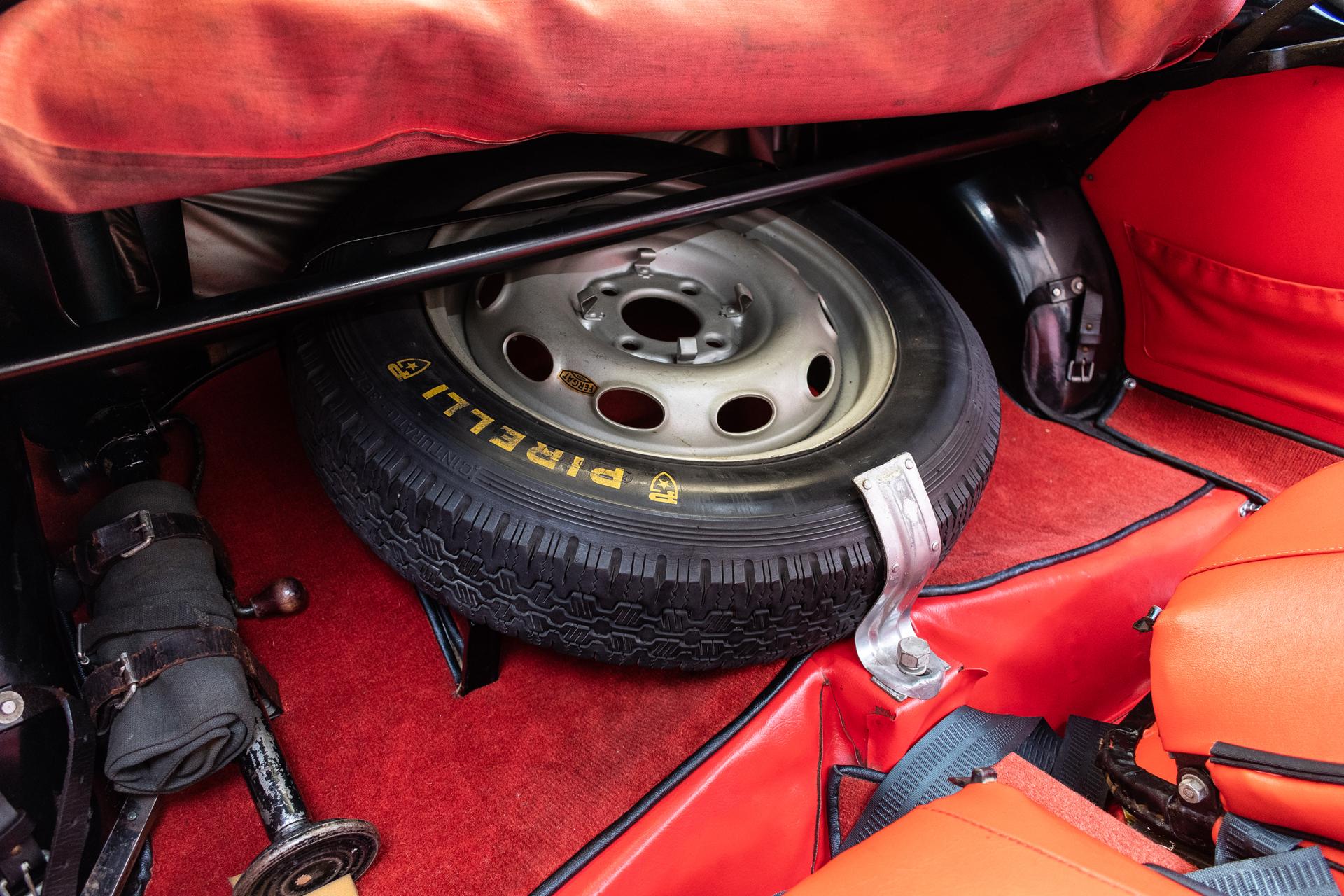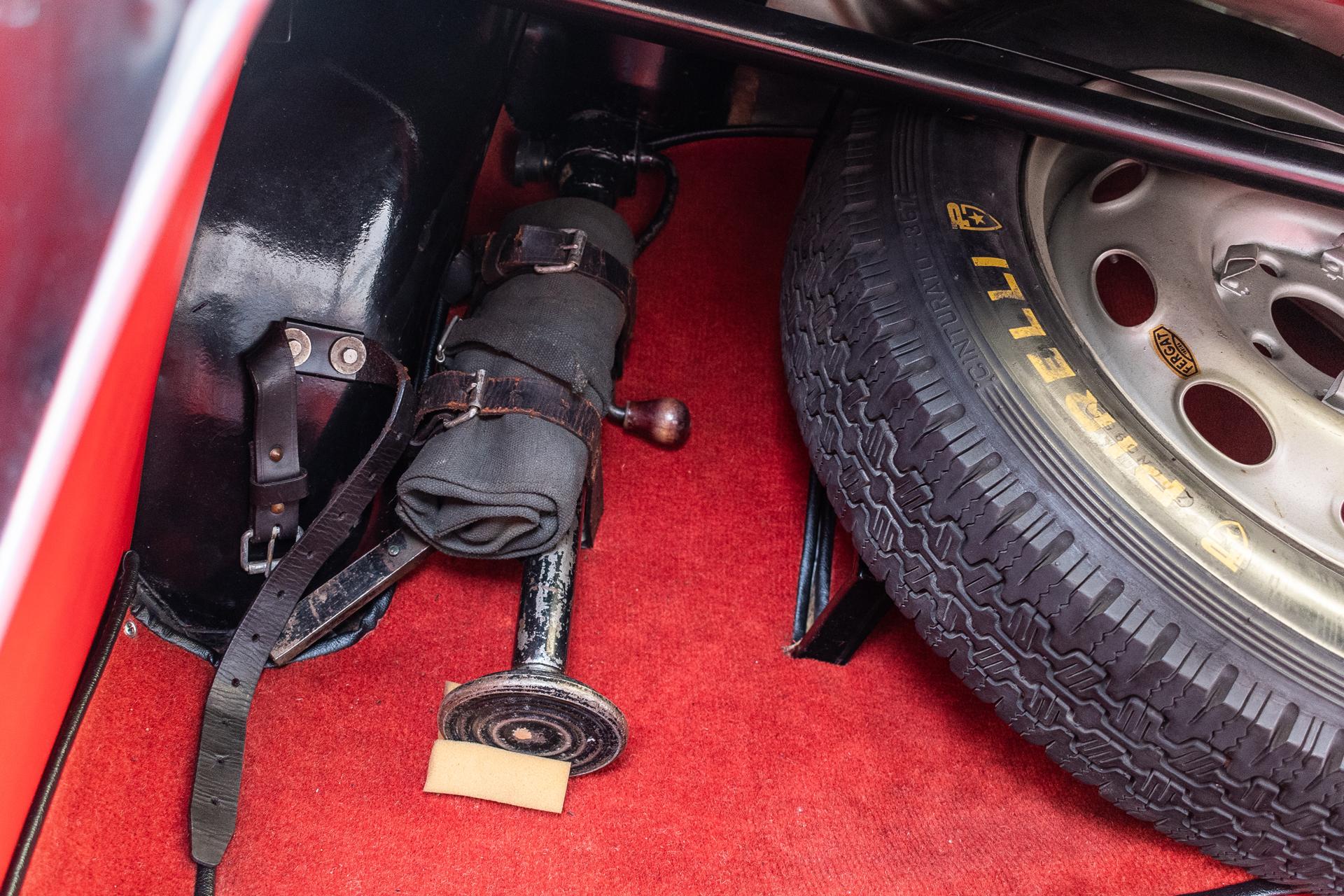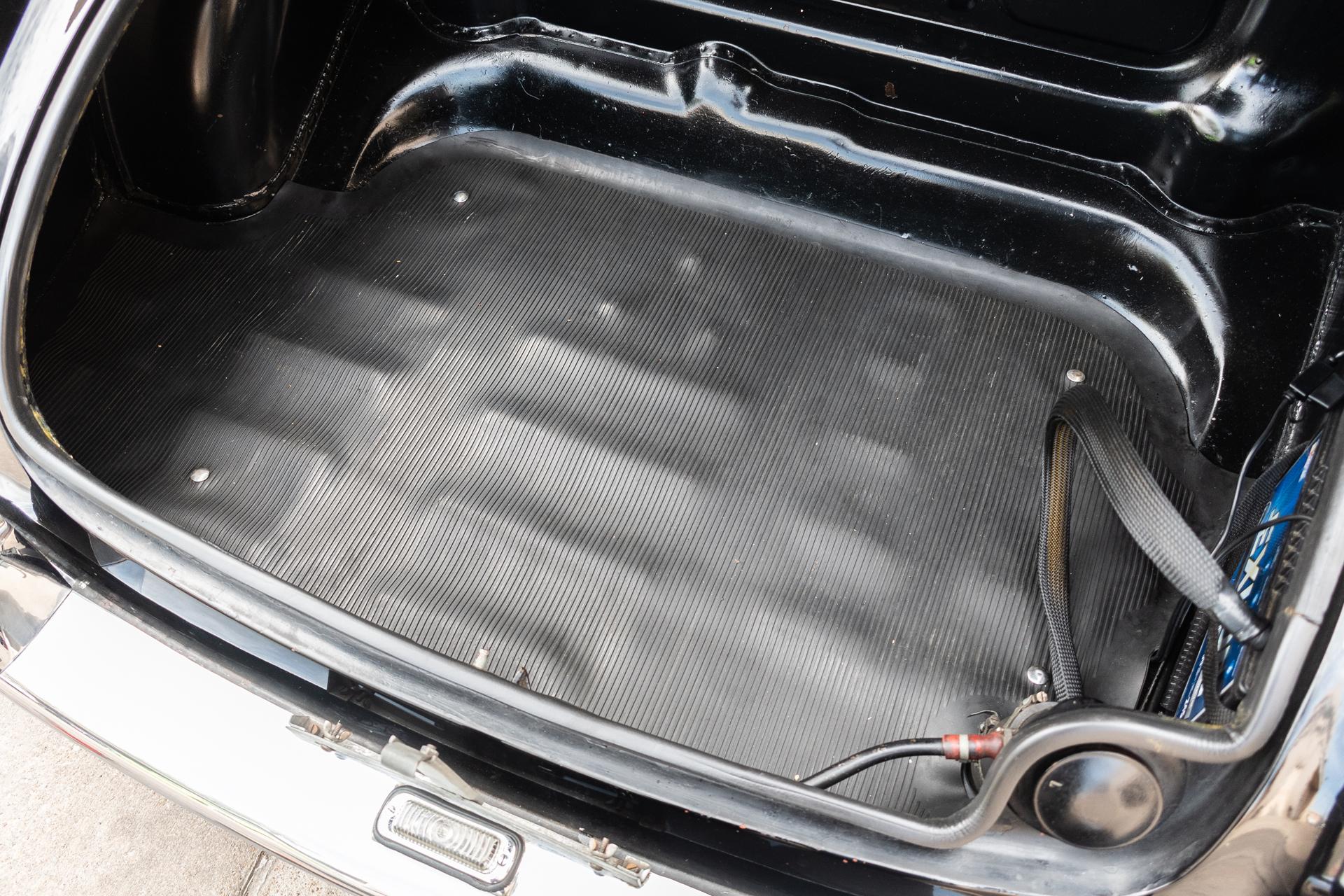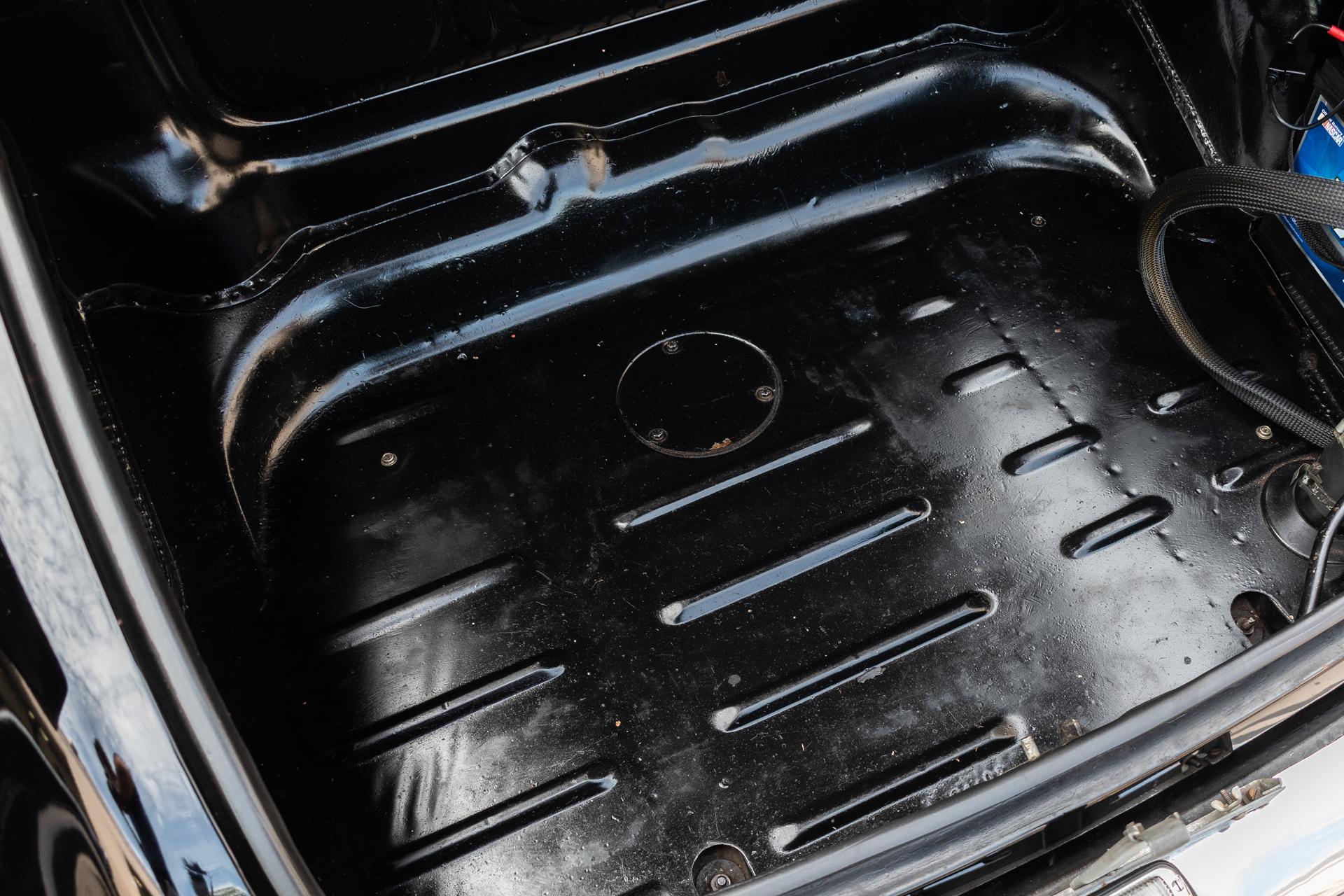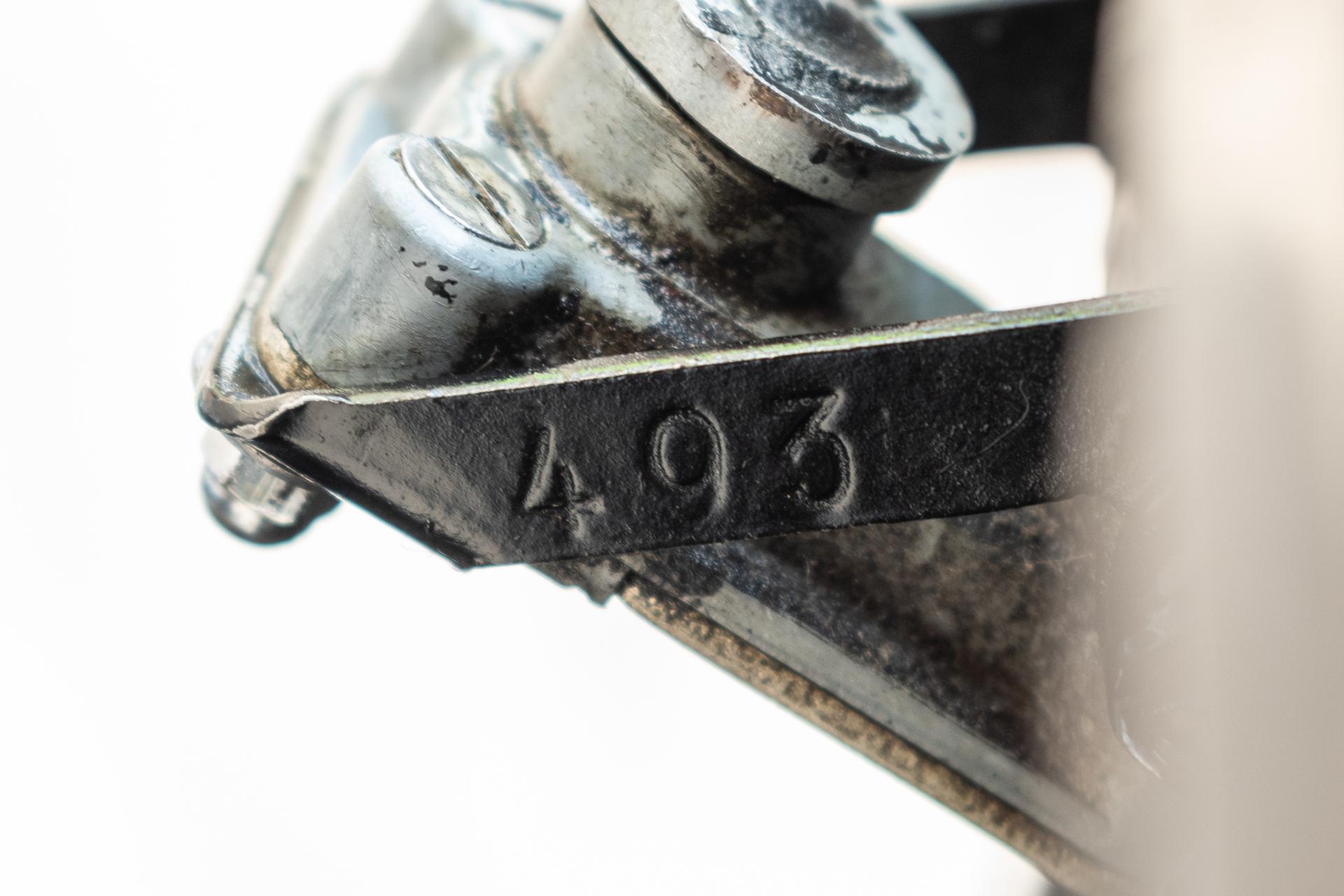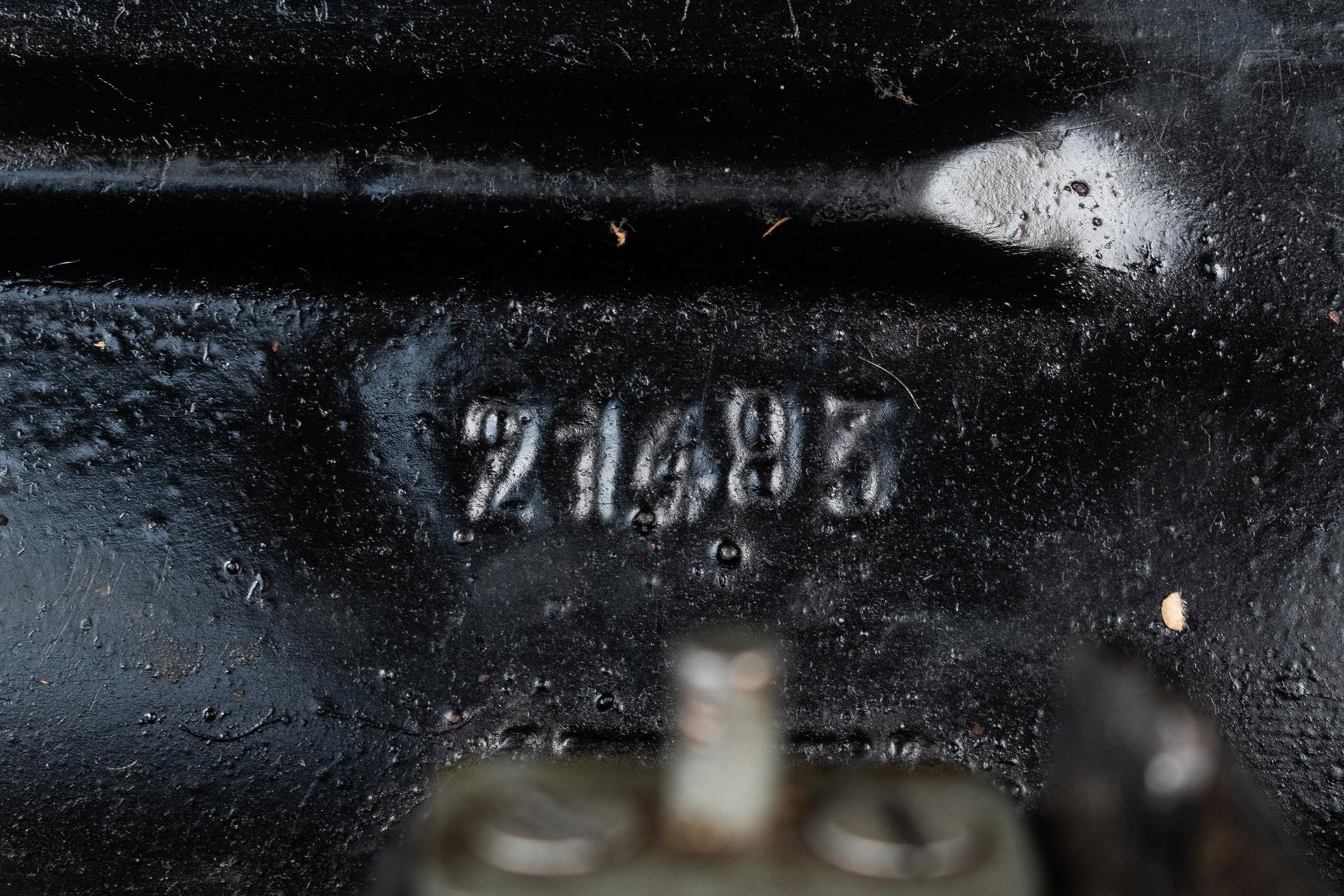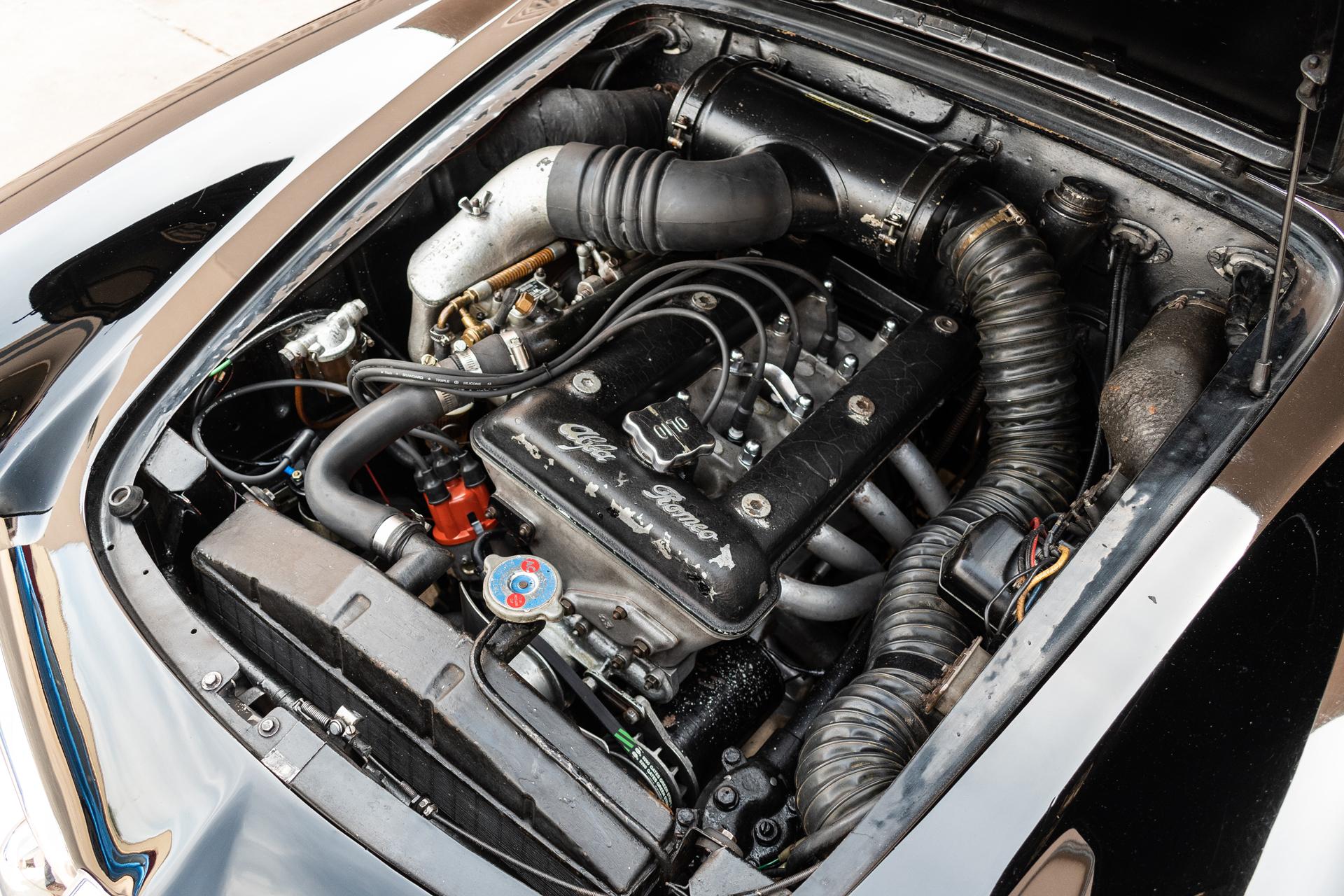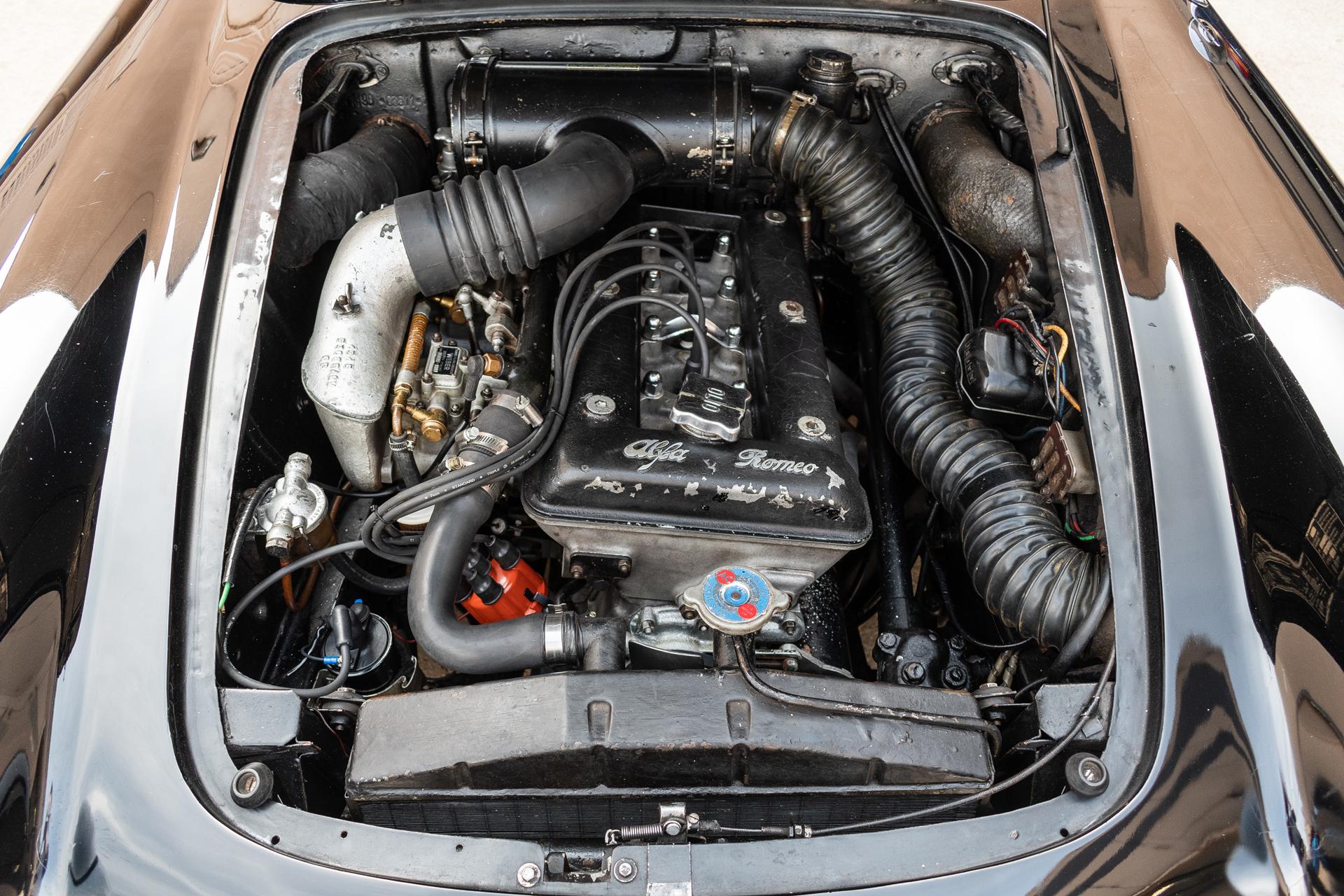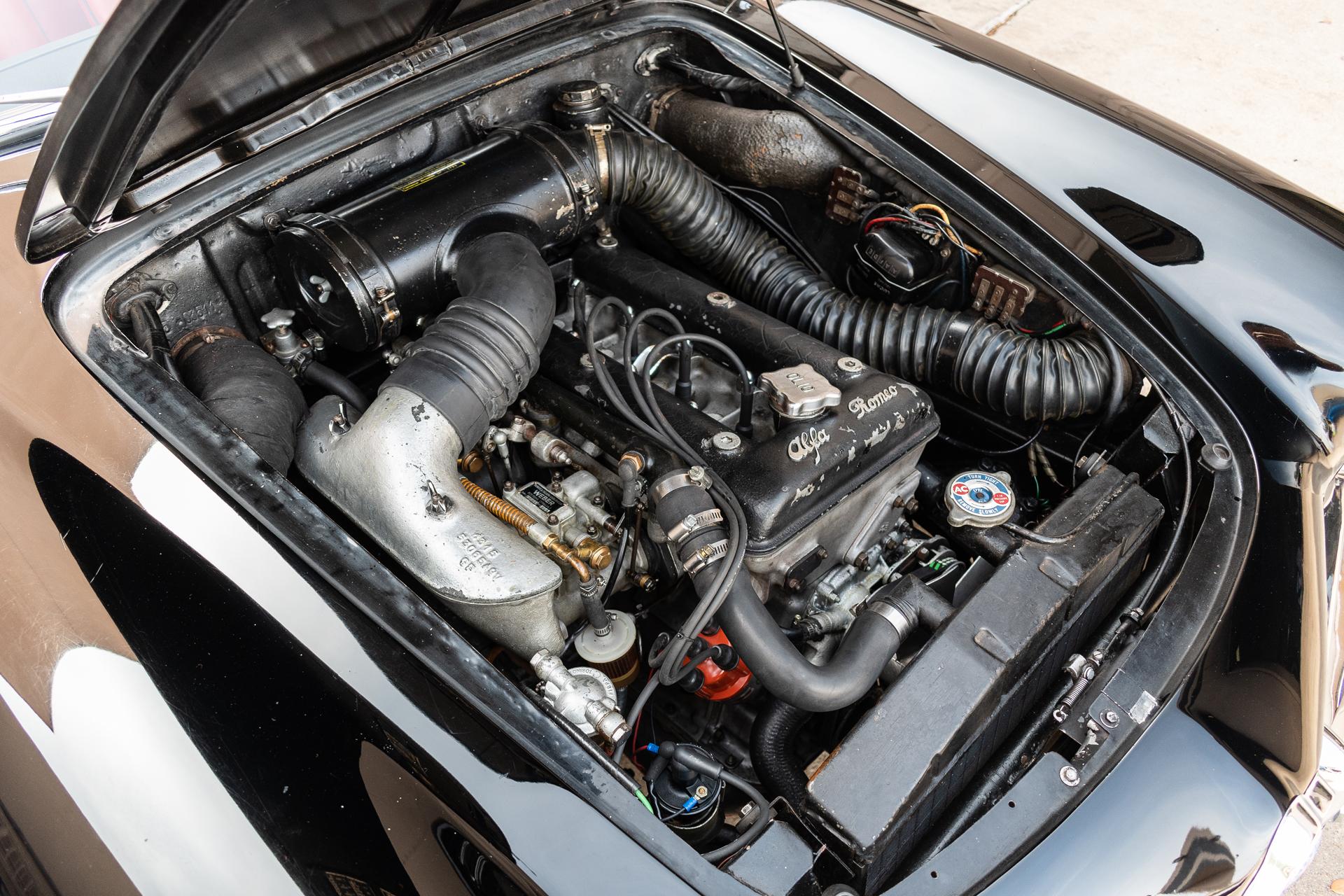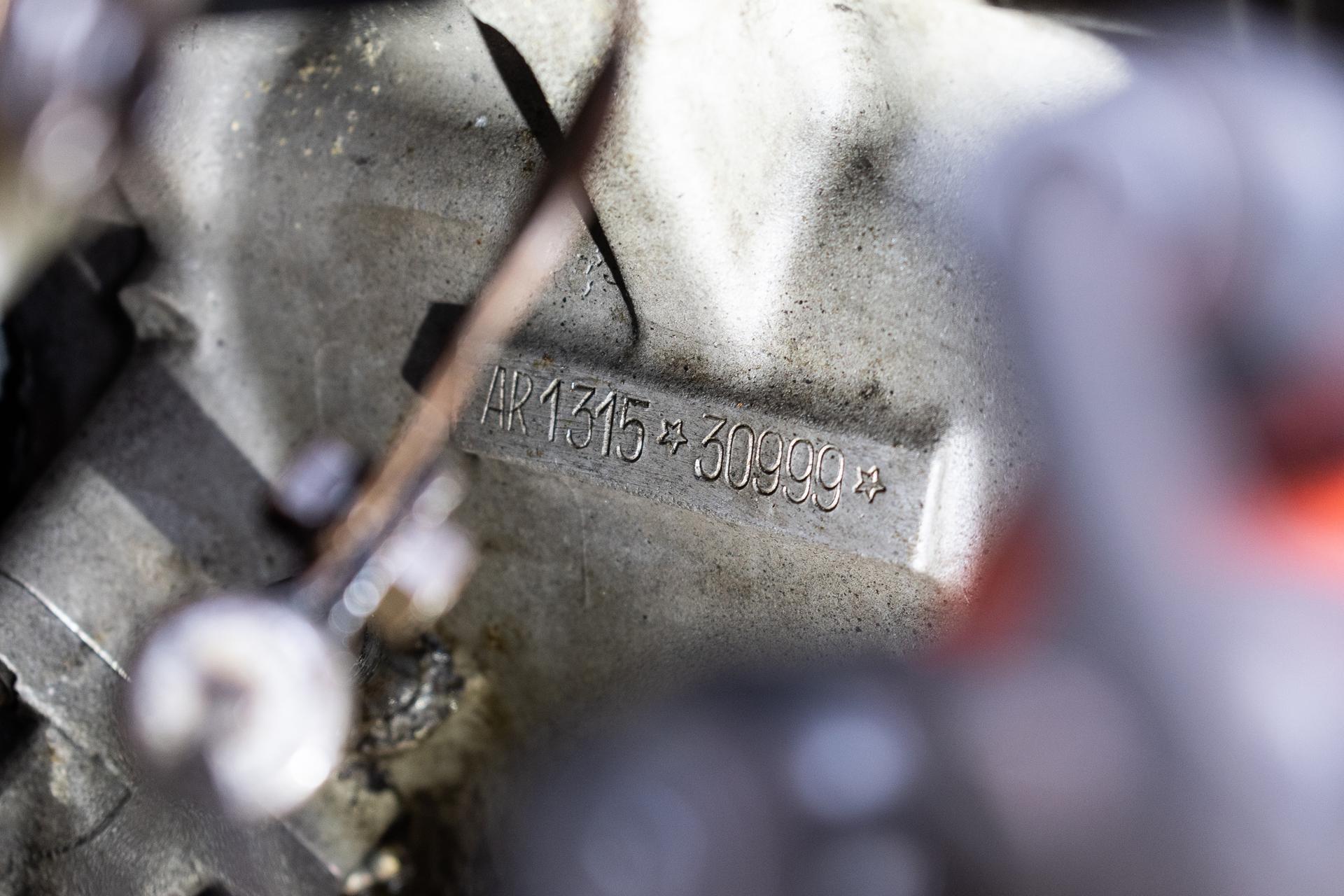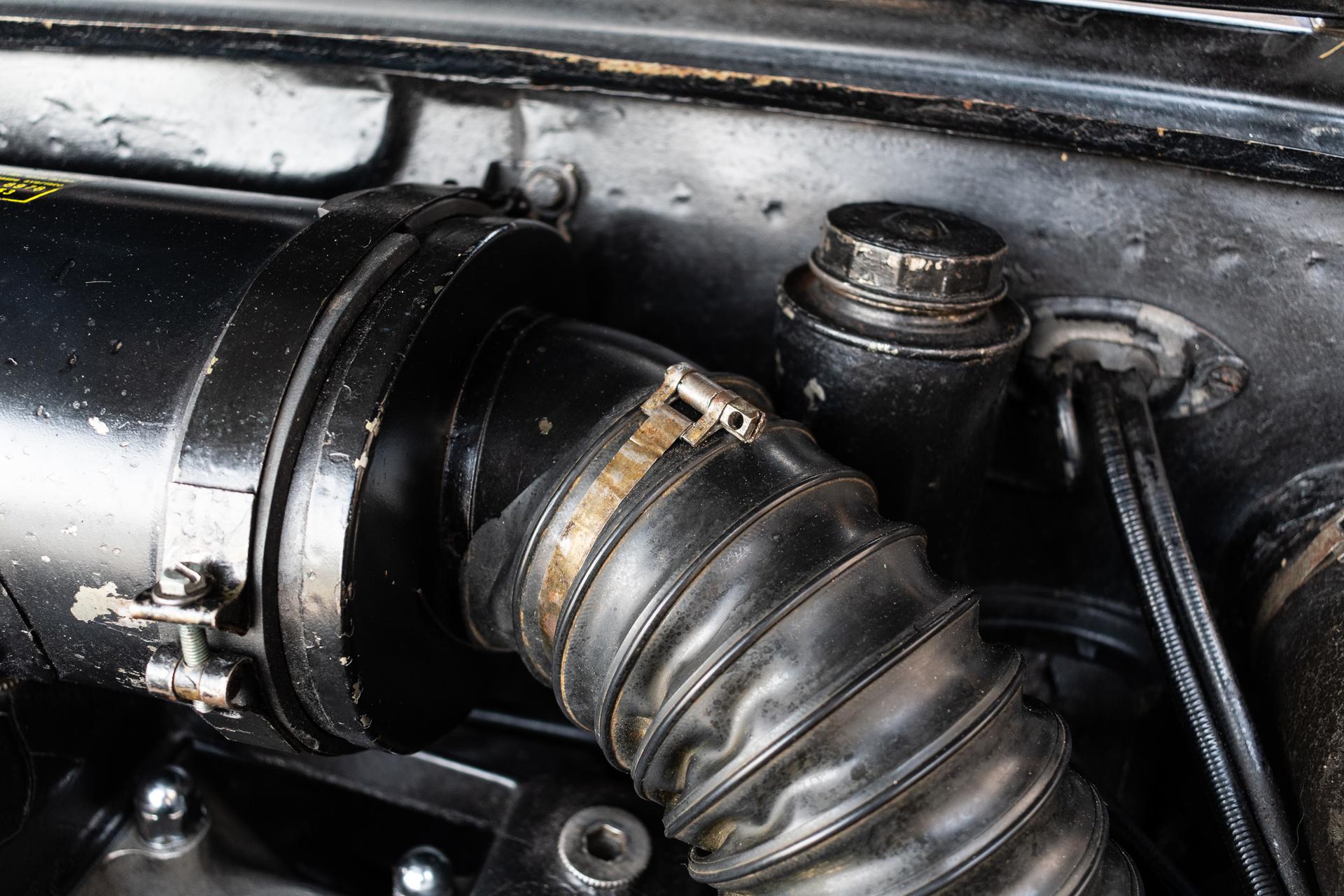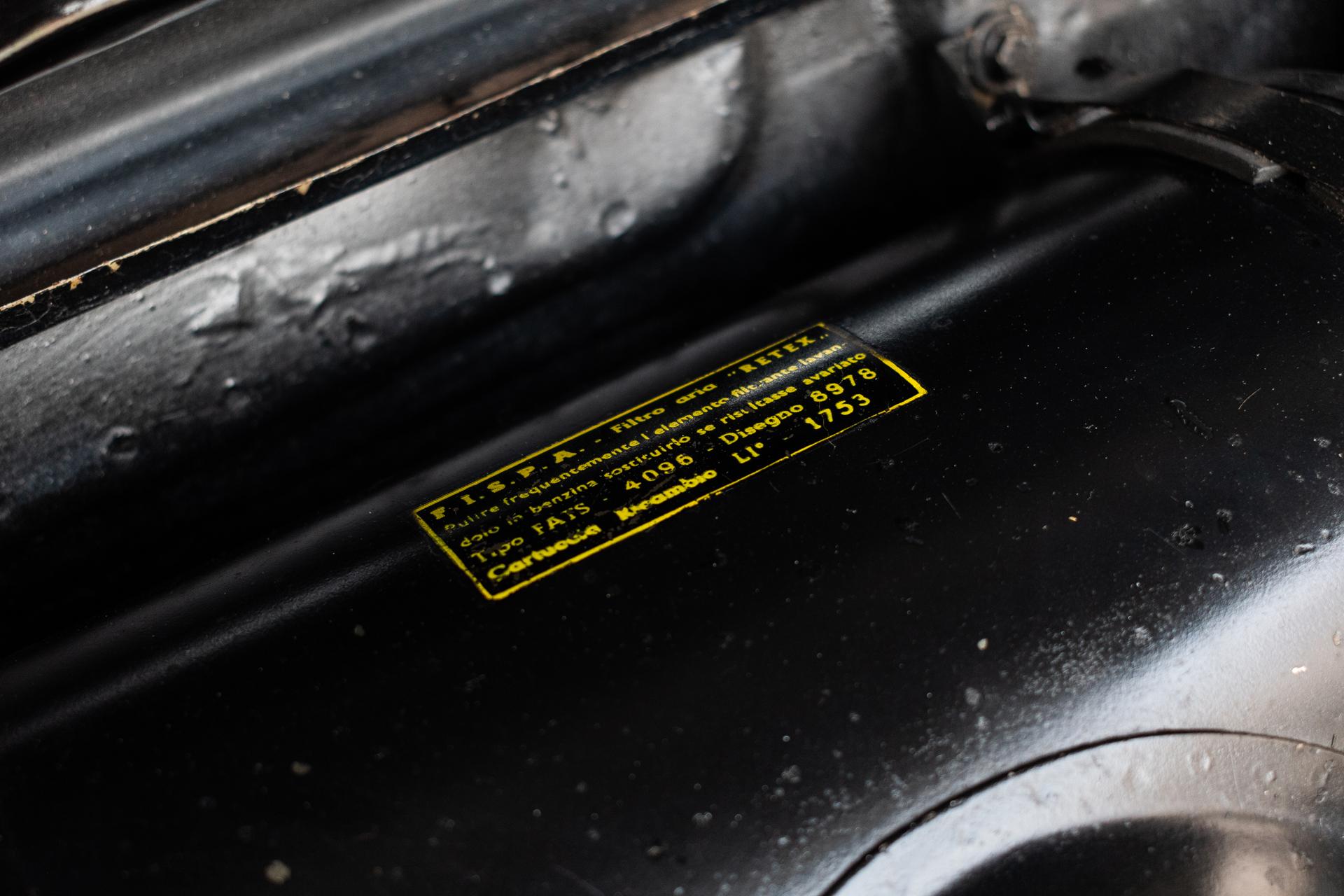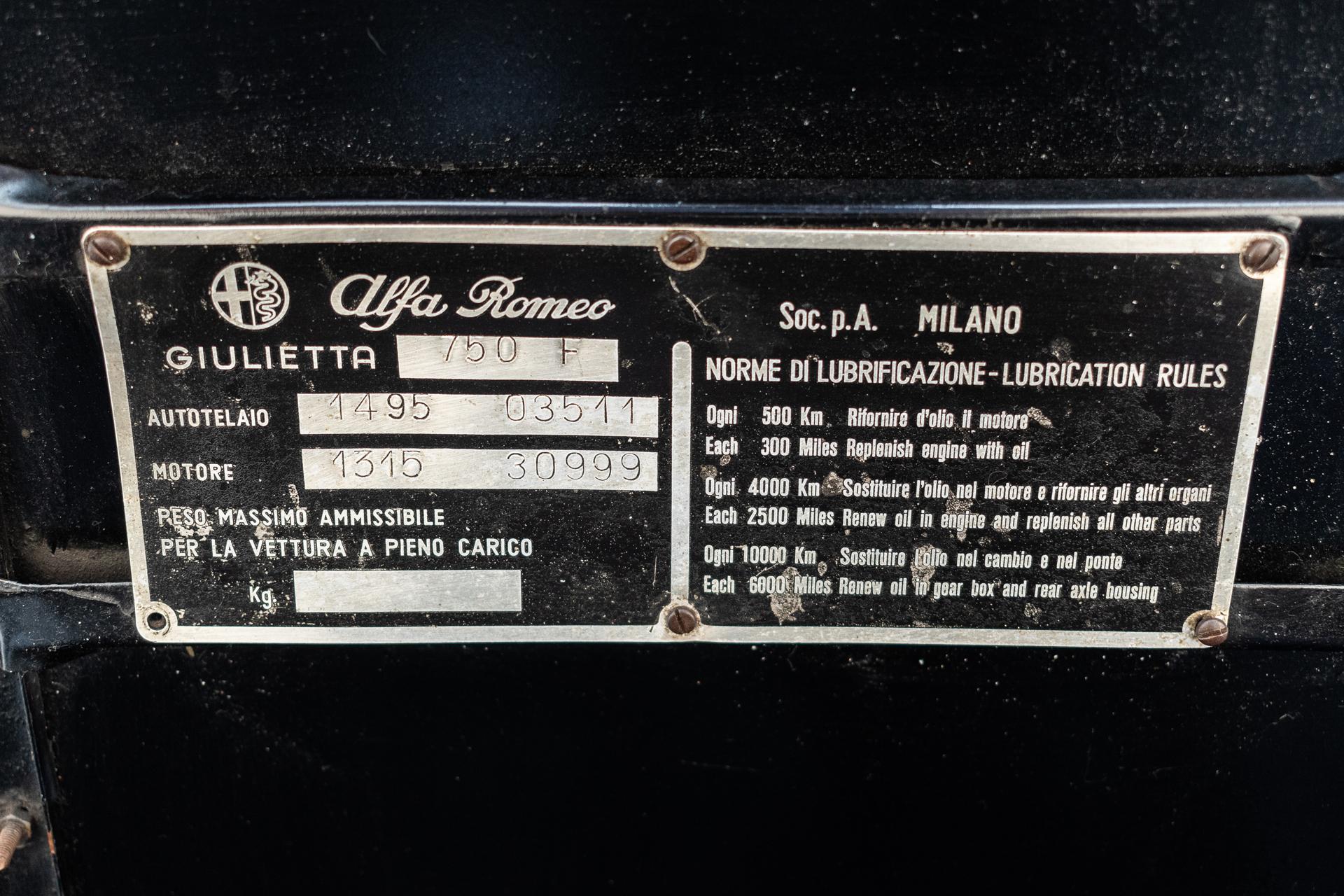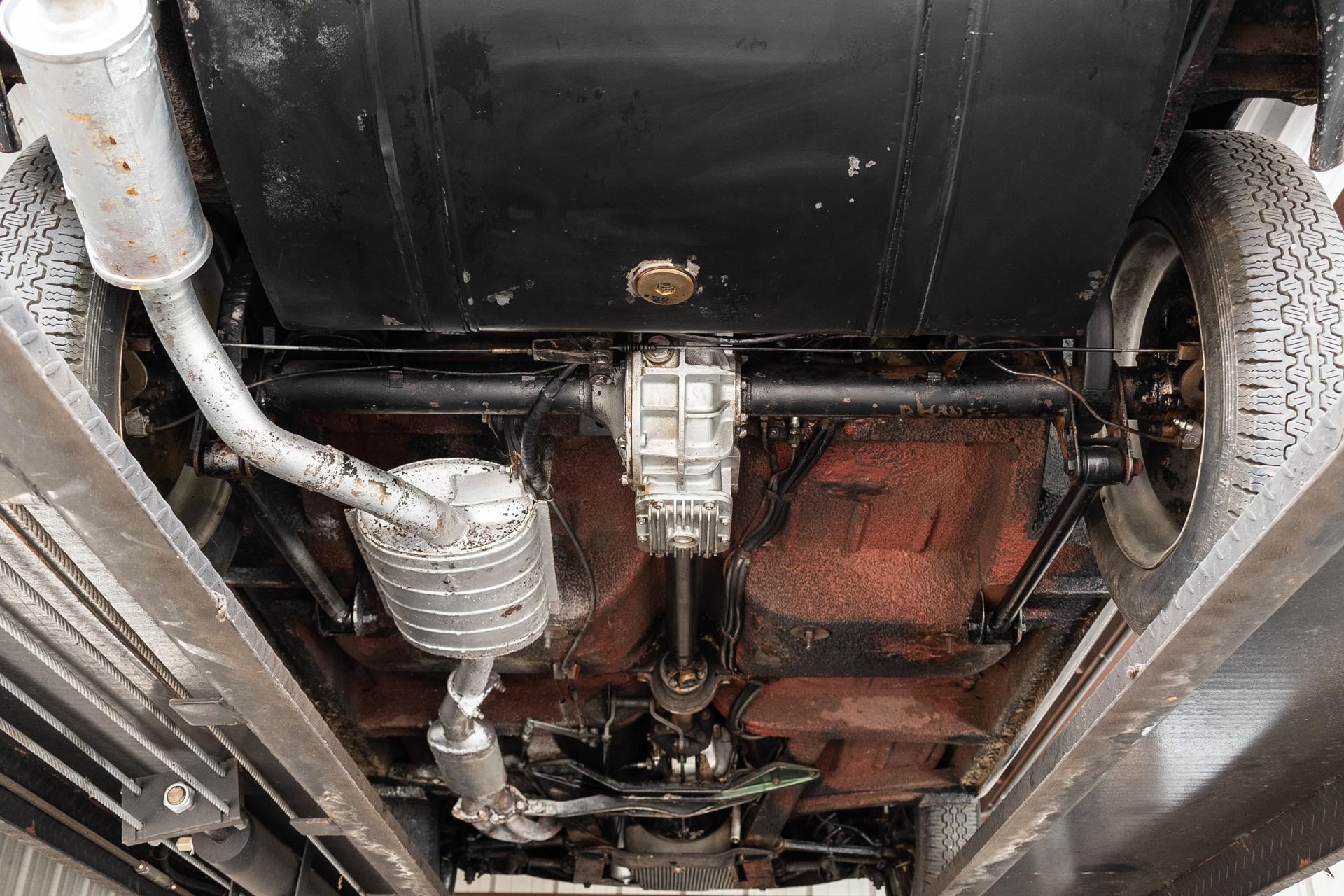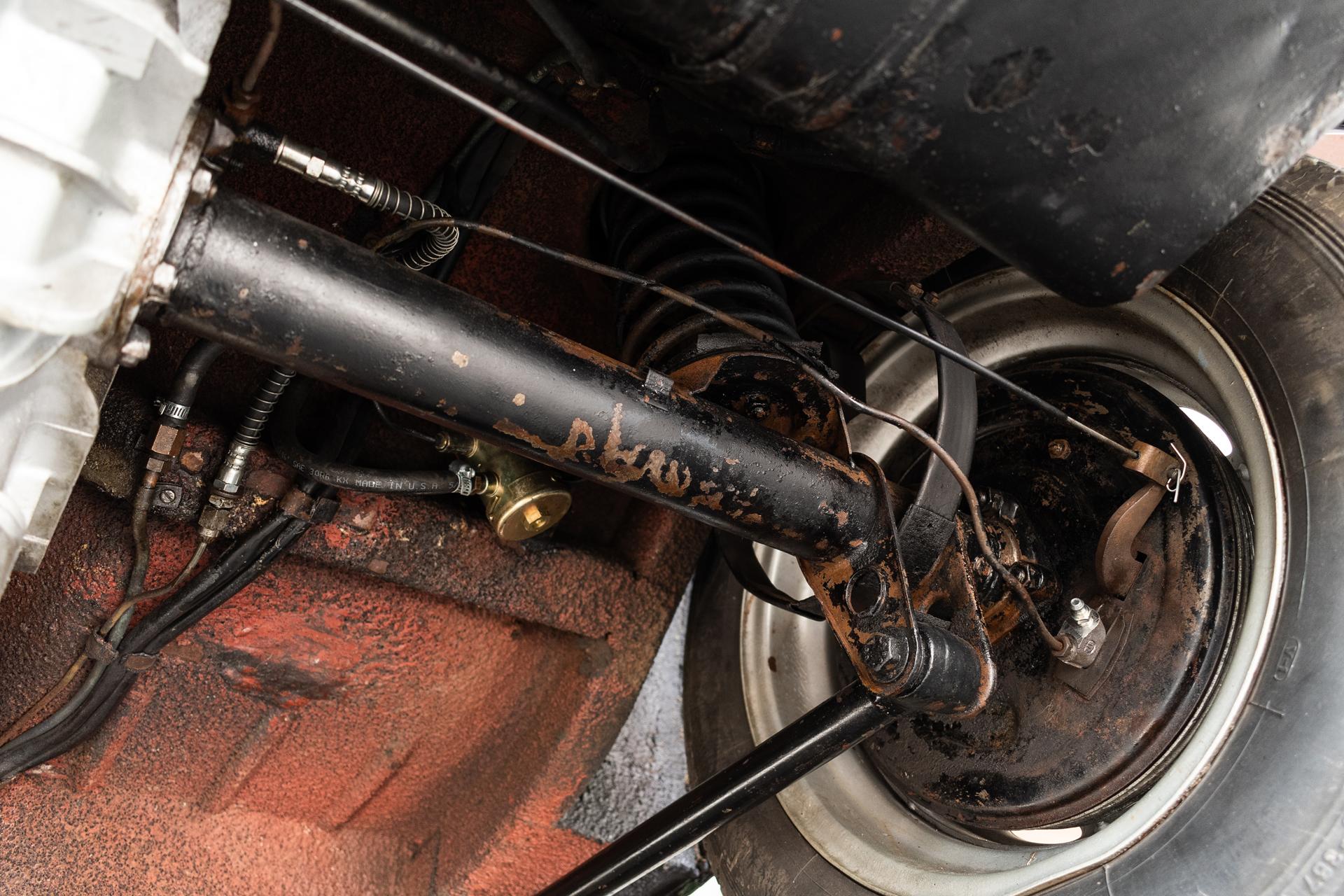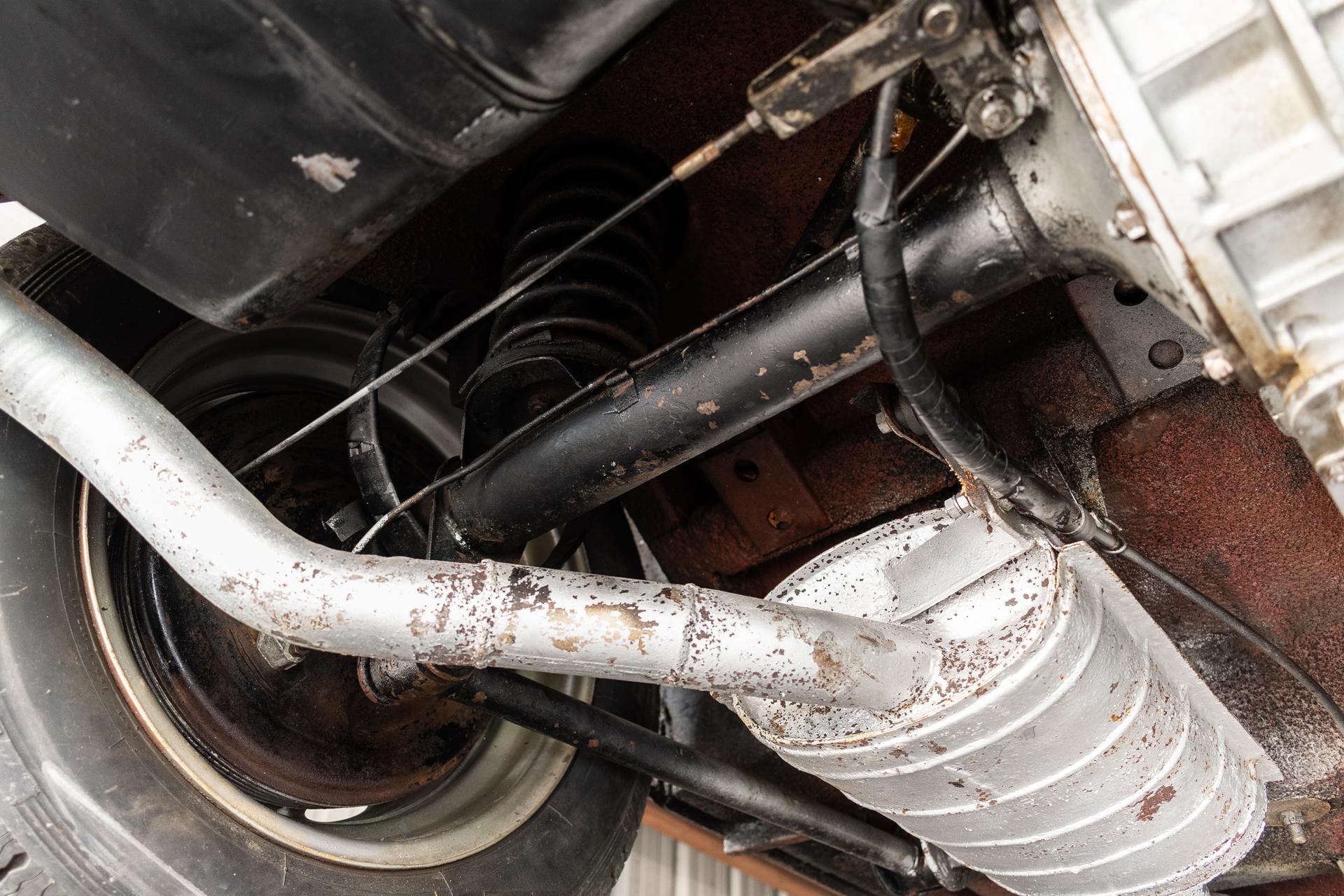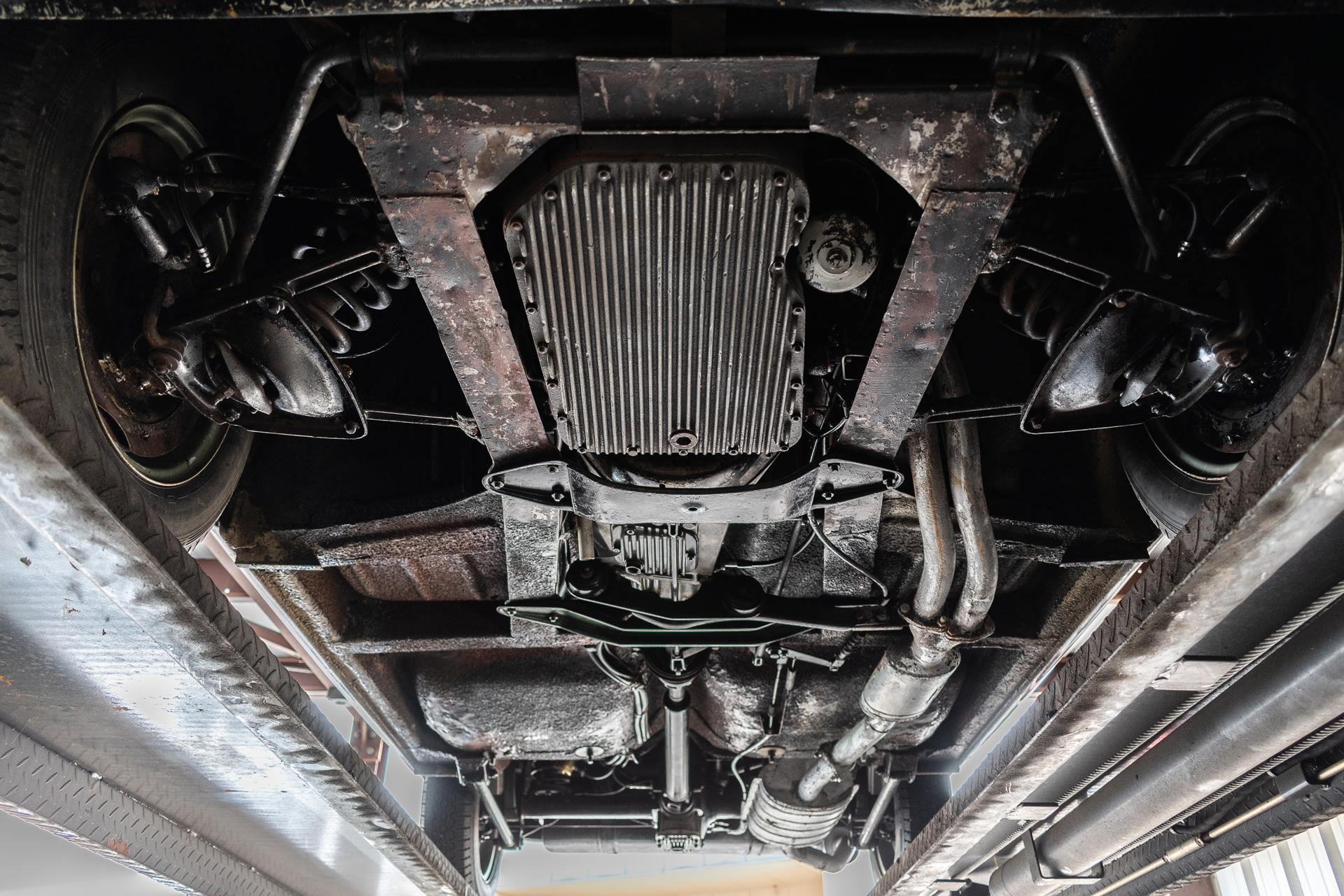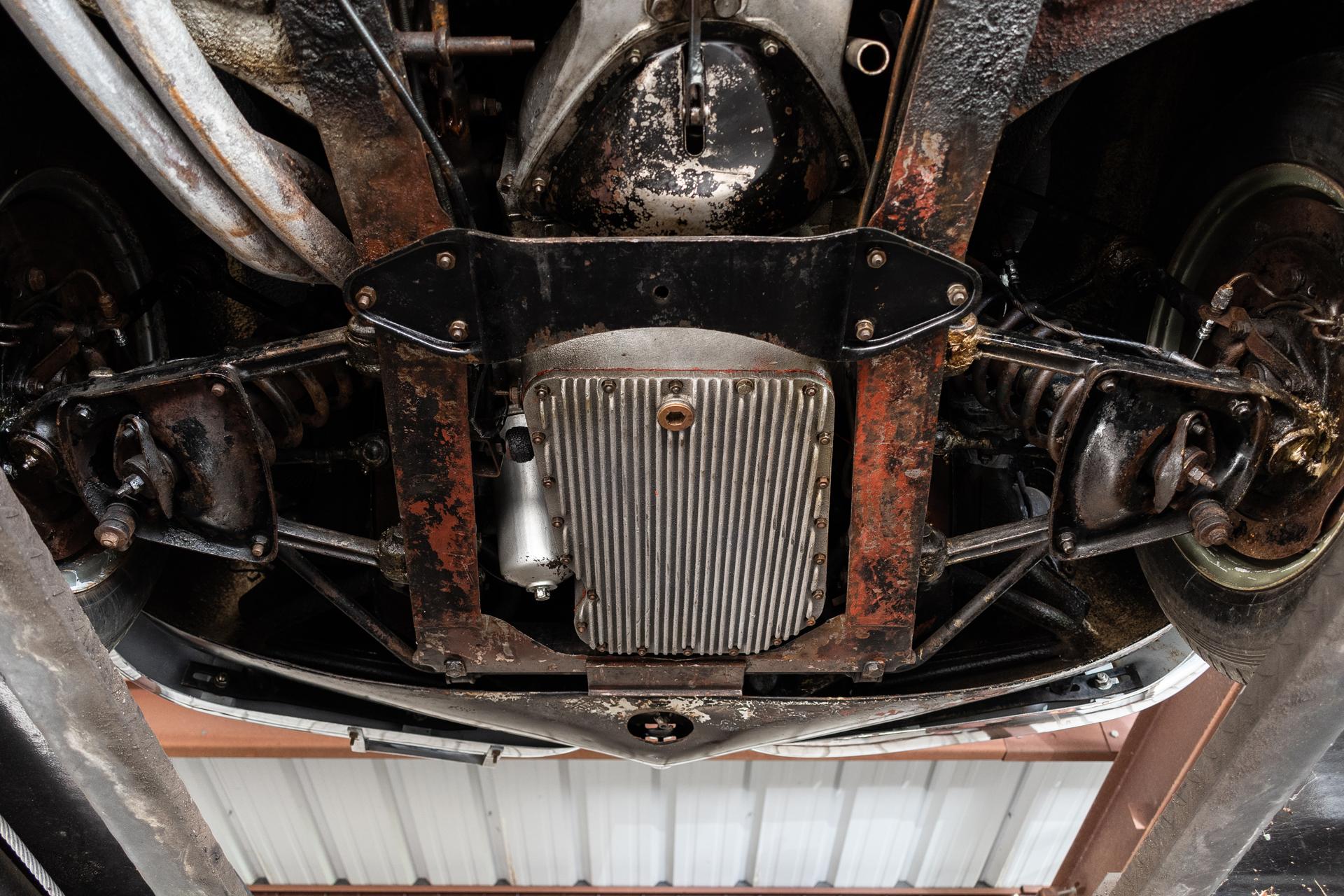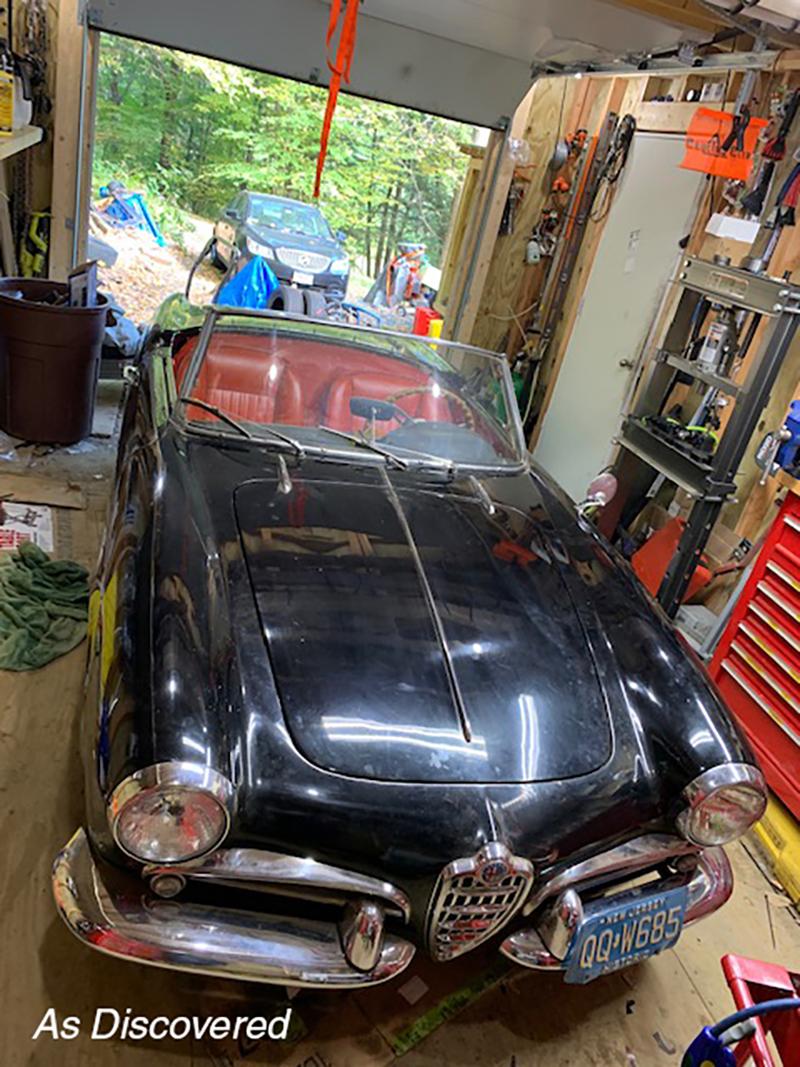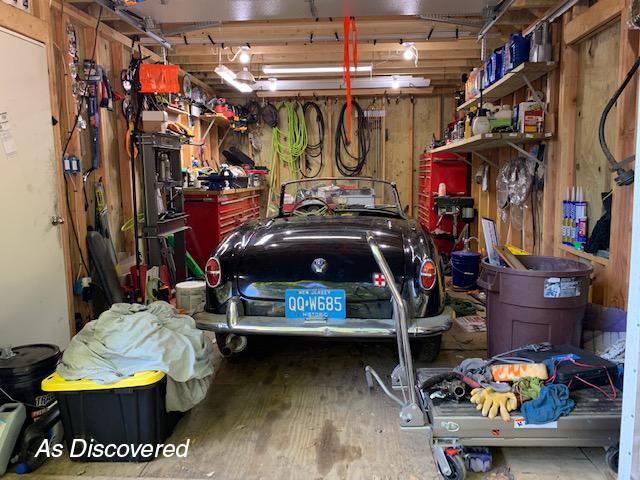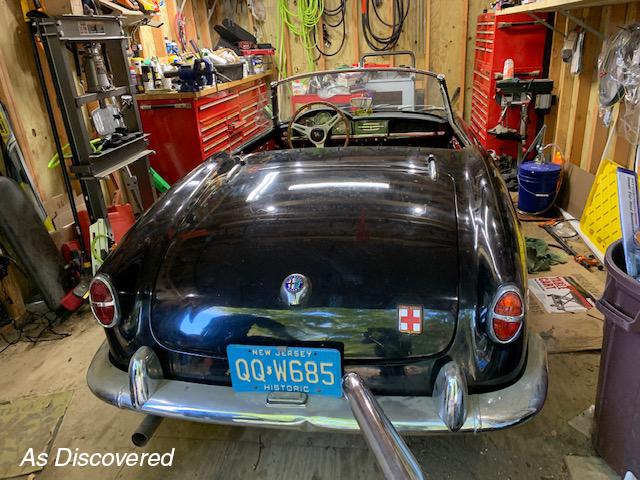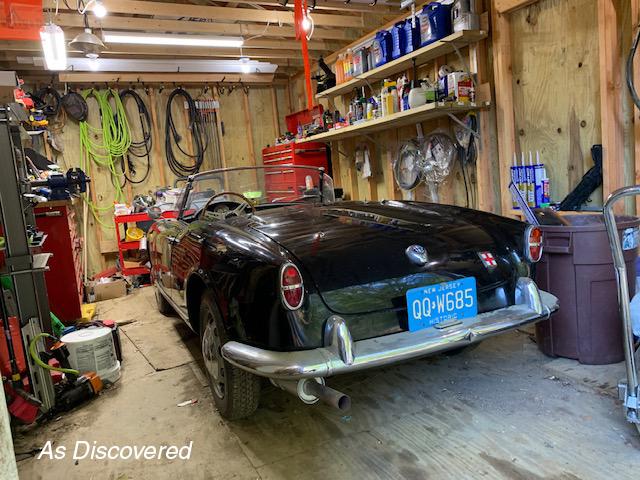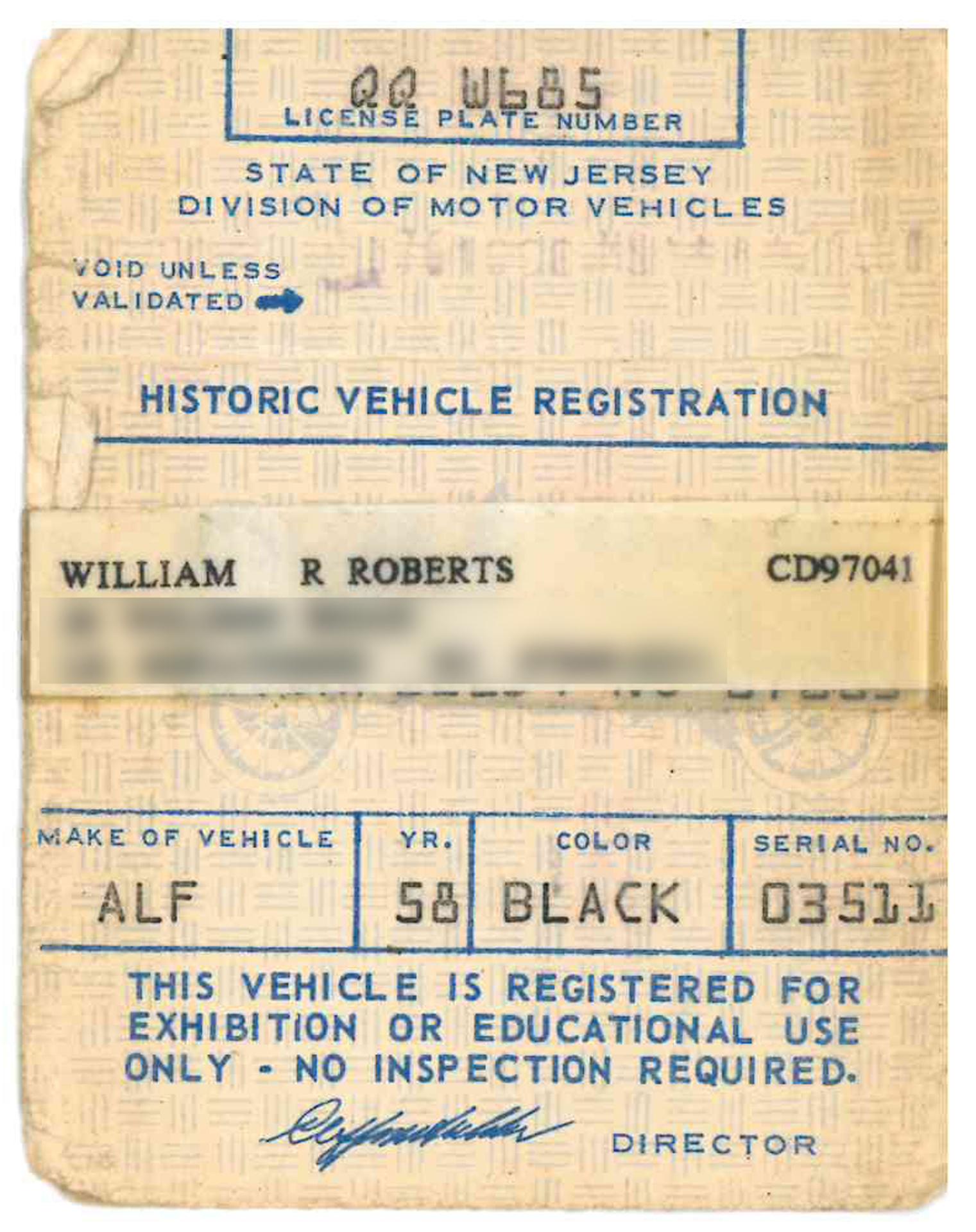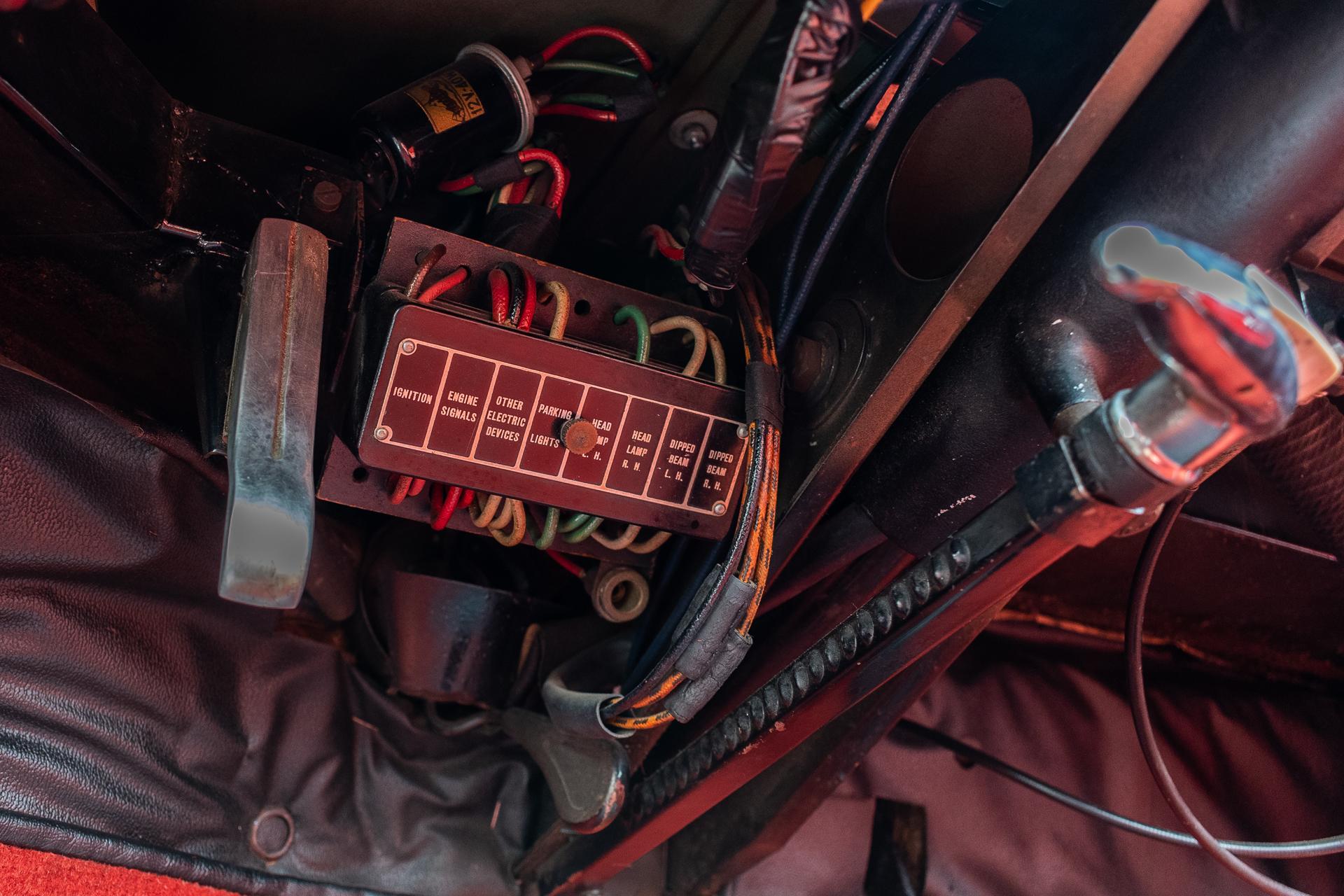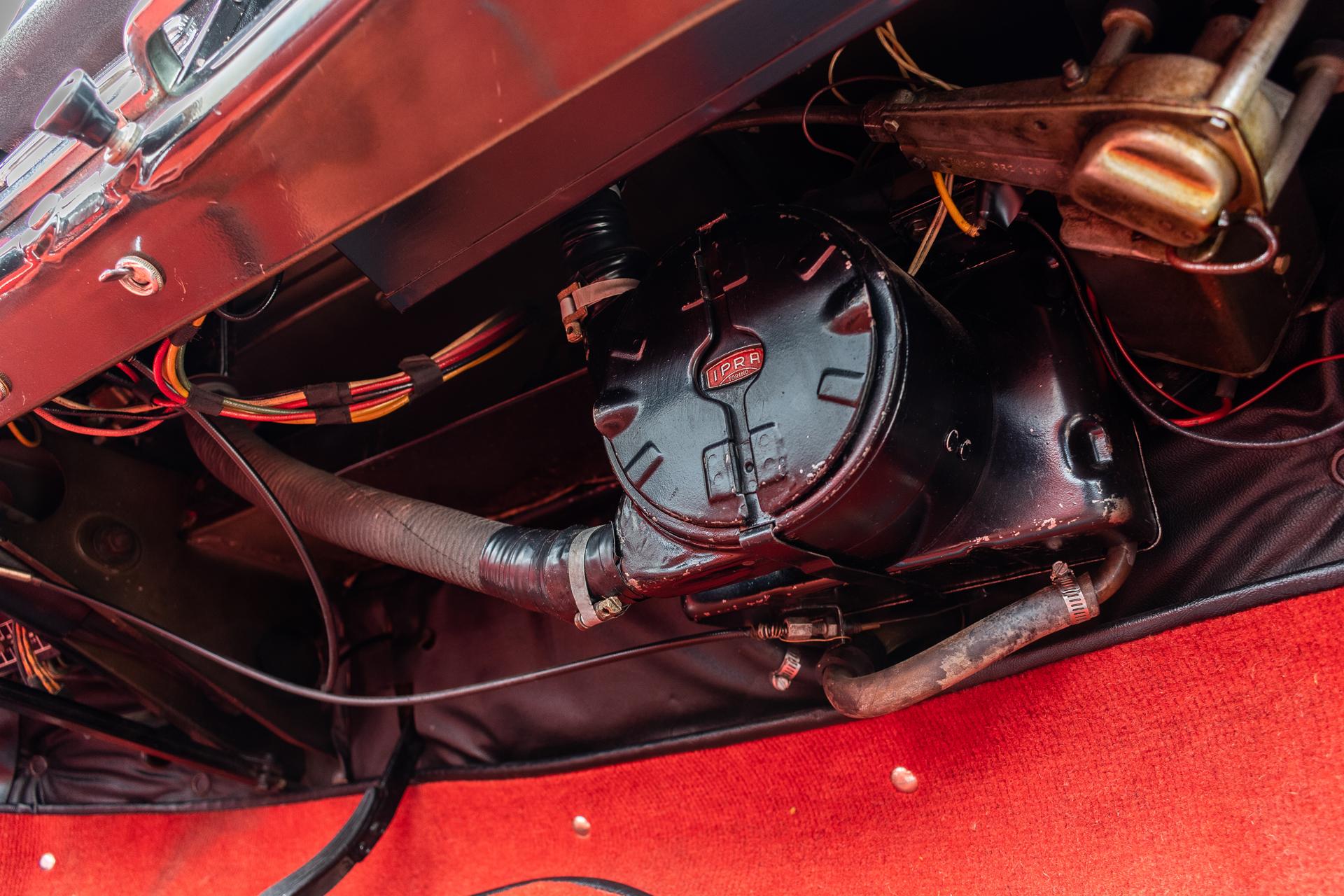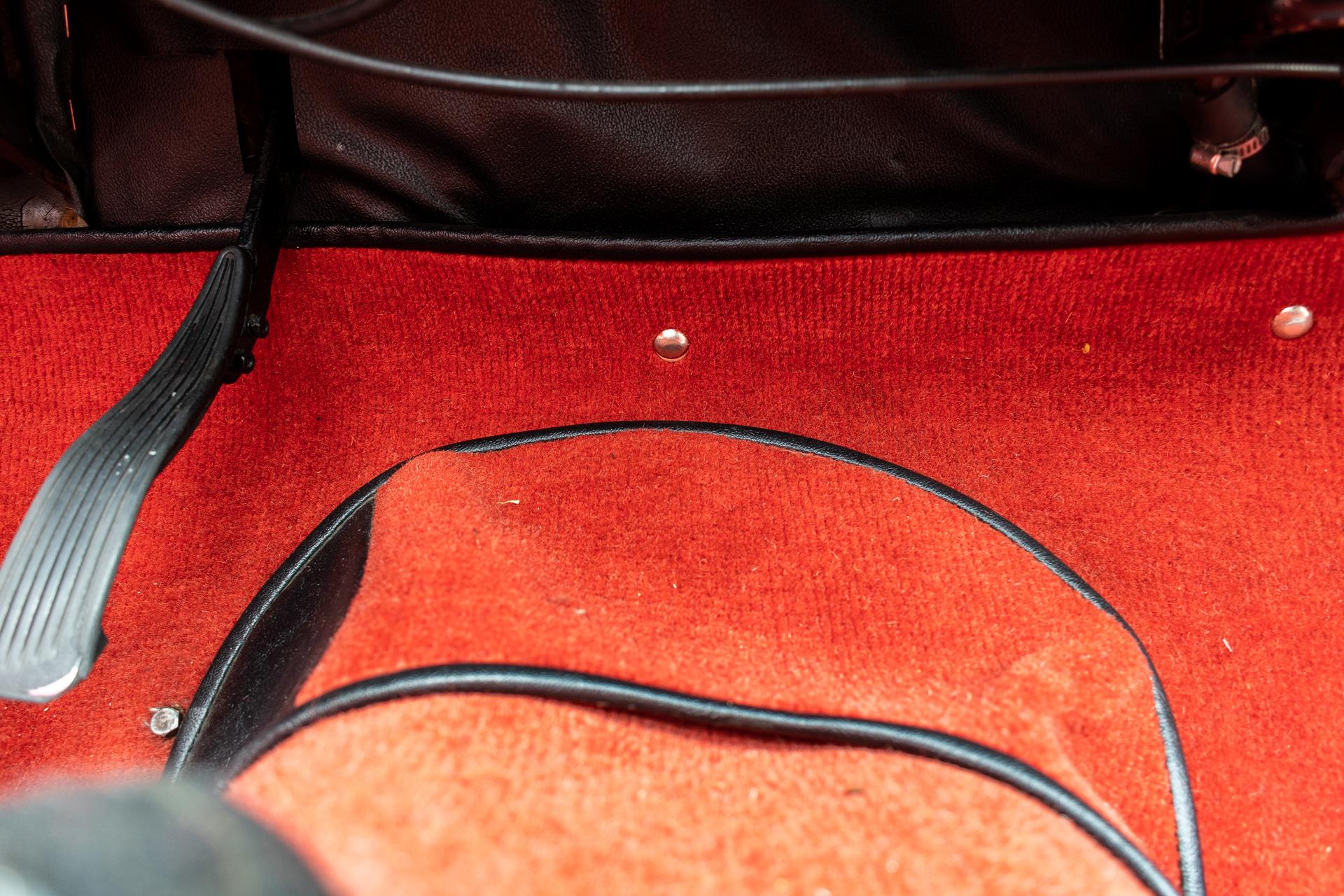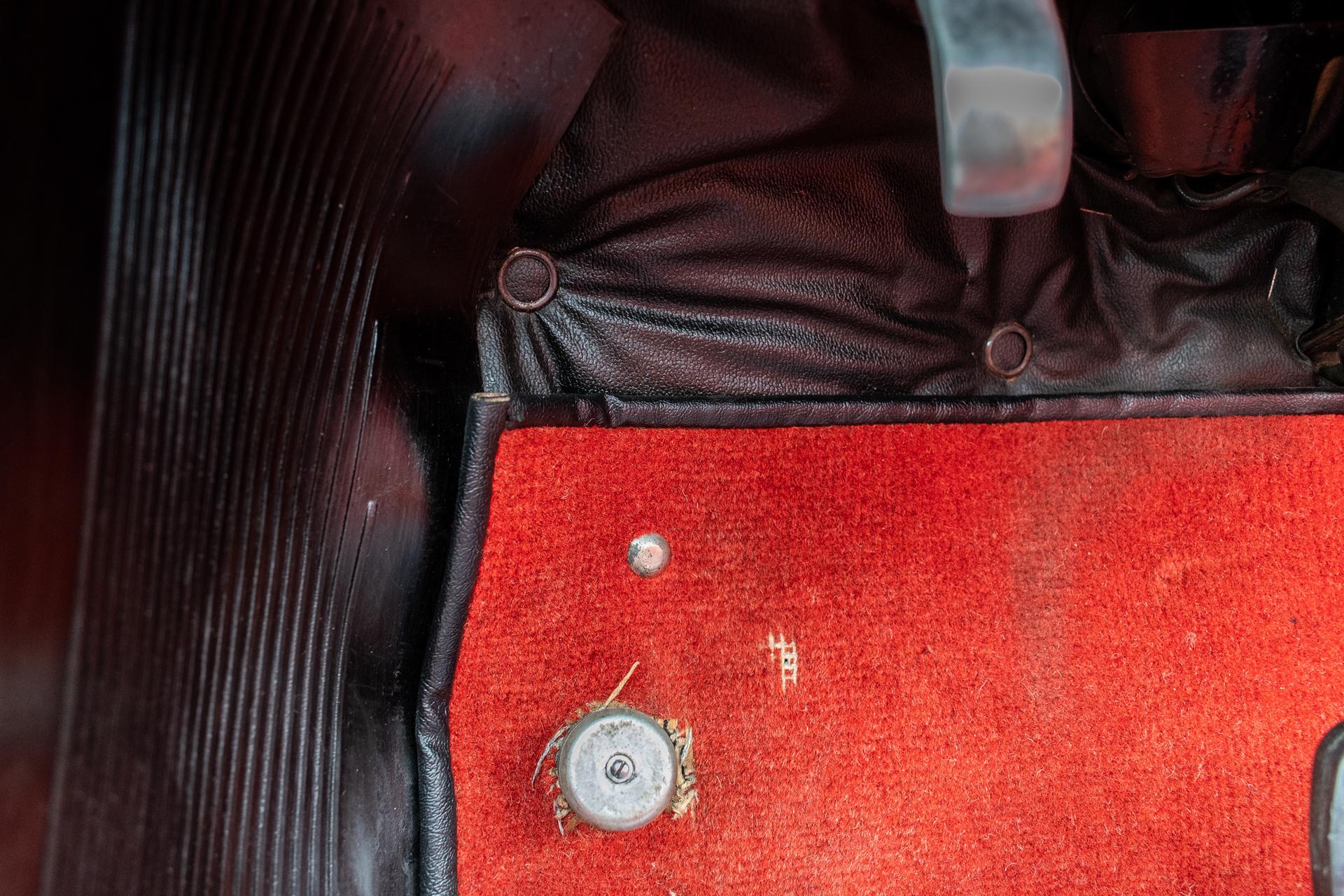 UPDATED: APRIL 4, 2023 DRIVERSOURCE.COM
A Superb Original Veloce Spider
1958 Alfa Romeo Giulietta Veloce Spider
1958 Alfa Romeo Giulietta 750F Spider Veloce
Chassis No. AR1495*03511
Engine No. 1315*30999 (Matching Numbers)
Production Date: March 28, 1958
Delivery Date: April 16, 1958
Market Destination: New York
Exterior Color: Nero
• Desirable 750F Veloce Spider Model with Original Tunnel Case Transmission and No Quarter Windows
• Exciting Recent Garage Discovery of a Superb Original Veloce Spider
• Matching-Numbers, Documented with Certificate of Origin by Alfa Romeo Classiche
• 43,640 Recorded Miles, Believed to be Original
• 30-Year Previous Ownership with Vintage Registrations & Memorabilia in Dossier
• Unknown to the Veloce Register until its 2020 Uncovering & Public Sale
• Spring 2020 Recommissioning & Spring 2022 Service Update

The 750F Giulietta Spider Veloce is an example of the ultimate expression of Alfa Romeo's 1,300 cc masterpiece. Utilizing the early SWB chassis and adding Weber side-draft carburetors, performance camshafts, and a specific oiling system meant to handle spirited use, the early Spider Veloces possess a rare combination of performance and style.
Uncovered from a New Jersey home workshop in late 2019, remarkably preserved from limited ownership, AR1495*0351, this Giulietta Veloce Spider represents an exciting offering for the most discerning collector and Alfista purists. Upon closer inspection, it appears the Spider retains numerous original attributes and equipment specific to an early preserved 750F. The body remains straight with even gaps all around, with a largely untouched cabin. The underside has been steam cleaned and is remarkably solid with original jack points intact and spot welds found throughout all joining seams. A truly fantastic original specimen.
Noted Original Features:
• Original windshield and Sekurit Glass
• Original IPRA Heater
• Original Spare FERGAT Torino Spare Wheel with Pirelli Tire
• Original FERGAT Torino Wheels with Stickers Still Attached
• Original Door Panels, Soft top Cover and Rear Upholstery
• Original Trunk Key Numbered #711 Matching Lock #711
• Original Paint on Dash, Doors, and Jambs
• Original Veglia Gauges
• Original Tunnel Cas Transmission with Long Shifter
• Original Decals and Trim Throughout
• Original Twin 40 DC03 Carburetors
• Lucas Taillights
• Body #493/1493 is found stamped on the bonnet, trunk latch, and trunk floor.
• Original Radio Blank, Veloce Dash Switch Plug and Period Aviation Style Lap Belts
• Correct Rubber Front and Luggage Floor Mats
• Period AMCO Plexi Glass Accessory Quarter Windows, supplied loosely
• Lucas Fender Mounted Mirror
After numerous years of static storage and 43,600 recorded miles, in Spring 2020, 03511 would receive recommissioning services including: a Rebuild of the Carburetors and Fuel System, New Front Wheel Bearings, Front and Rear Brake Hoses, New Front Wheel Cylinders, Air Filter, Oil Filter, Spark Plugs and Wires, New Distributor, Ignition Coil and Battery. A service noted on November 15, 1978 at 42,800 Miles was found with the car's original records. Shortly after its recommissioning, the Giulietta was acquired by a noted collector of distinctive automobiles.
We were fortunate to recently require 03511. To further enhance its durability, safety and user experience, DriverSource performed a Spring 2022 service update. This included new Front & Rear Koni Shocks, correct Rear Spring Seats, Rear Axle Check Straps, Rear Brake Wheel Cylinders, Master Cylinder, Bonnet and Trunk Seals, as well as the installation of a new Stayfast Canvas soft-top, in place of the Alfa's original top.
This 750F Veloce comes complete with and supported by a highly original Toolkit, Jack, Instruction Book (Owner's Manual), Keys, Alfa Romeo 1300 Spare Parts Catalog, 1976 Motorists Diary, early Registration and Ownership Records, Vintage Publications, Recent Parts Receipts, and Alfa Romeo Classiche Certificate of Origin.
Engine Compression PSI/Cylinders 1. 130 PSI
2. 140 PSI
3. 140 PSI
4. 140 PSI

Prized for their eager and balanced performance, impeccable road manners and reliability, Giulietta Spiders have made their way into a number of the world's most important collections. Here is an exceptional opportunity for a remarkably correct, complete, original, and ideally spec'd 750F Giulietta Veloce for the ultimate Alfista.
$138,500.00 Available for a limited time, WILL NOT LAST!