PREVIOUS OWNERS: Unknown, MILESTONE MOTOR CARS 2019
HISTORY: (as copied from the Milestone webpage)
Vin: s/n AR 1495*10204*
Engine No: AR 00106 *00261*
Exterior: White
Interior: Red Interior
Asking Price: 80,000
Alfa Romeo was not always a prolific producer of great sports cars. Up until the early 1950s, Alfa made fine cars, but they were largely hand made in smaller quantities. All that changed when the Giulia and Giulietta entered the market offering performance and style at an attractive price. The Giulia and Giulietta were small, sporty, and charming, yet elegantly trimmed, giving an air of sophistication resulting in strong sales throughout Europe and America. Among the most desired of these cars is the Giulietta Veloce. The Veloce model featured a twin cam 1300cc in-line four-cylinder engine, twin Weber carburetors, higher compression ratio, and spirited cam profiles, resulting in very welcomed performance increases.
According to Marco Fazio, Alfa Romeo Automobilismo Storico Centro Documentazion, this particular car is a genuine Veloce Series 101 originally manufactured on June 3rd 1960 and delivered to Hoffman Motor Car Company, New York, and sold on April 7th 1961. One of only 2796 Series 101 Veloce Spiders constructed from 1956 to 1962. This particular example is one of very few left that retain its original mechanical components including its matching numbers motor complete with the very rare original specification Weber DCO carburettors. The car remained under the care of just a few dedicated New England owners, changing hands a few times until being treated to a comprehensive restoration to a high standard in the early 1980's. Left in storage for the intervening thirty plus years, I purchased it in 2014 and determined that the car suffers from no major mechanical issues and indeed runs and drives, although a fuel system and brake service would be needed to put it on the road. Remarkably the car is free from accident damage and corrosion which afflicts many of this model. It is finished in its original colors of Bianco (white) with red interior. This example has excellent panel fit, is complete with all of its original components, is rust free and would be a very easy restoration to show standard or to make it a driver for weekend afternoons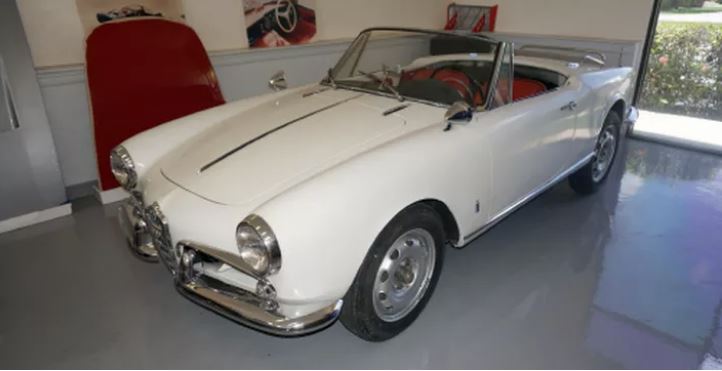 UPDATE: JUNE 10,2023 RM SOTHEBY'S MONTEREY AUCTION 2023

Please note that this lot is titled as a 1961.

Alfa Romeo established the "small car, big performance" formula that would characterize the marque's finest offerings when they introduced the Bertone-styled Giulietta Sprint in 1954. The marque's tried-and-true twin-cam inline-four-cylinder engine was downsized to 1,290 cubic centimeters for the 750-series, and later the 101-series, Giulietta, utilizing an alloy cylinder block in the process. The Sprint coupe was joined shortly afterwards by the berlina and spider versions, the latter styled by Pinin Farina and built on a slightly shorter wheelbase.

The Giulietta model's success surprised even Alfa Romeo themselves, and production targets were moved upwards. The combination of a rev-happy engine, fine handling, responsive chassis, and excellent brakes made the Giulietta a driver's car par excellence and explains why these stylish spiders continue to attract discerning enthusiasts. Only 1,203 Giulietta Spider Veloces were produced in 1960, and they remain among the most sought-after variants of the model today.

This Giulietta Spider Veloce continues that legacy, offering beautiful Italian design with open-air driving pleasure. Records indicate this Spider Veloce was ordered with a Bianco exterior in Veloce trim and completed on 3 June 1960. Delivered to the United States the following April and sold new via the Hoffman Motor Car Company, it is believed to have remained in the hands of just a few individuals in New England, benefitting from a restoration in the early 1980s.

The Alfa Romeo would be stored for the next three decades; it was eventually unearthed in 2014, when it was sold to a new owner. In 2018, a second restoration effort commenced by the award-winning Milestone Motorcars of Boynton Beach, Florida. Invoices and photos on file record the over 1,000 hours of labor invested in the restoration, bringing the vehicle to the spectacular condition now seen today. Furthermore, this Giulietta Spider Veloce retains its numbers-matching engine, as noted on the Alfa Romeo Museo Storico document on file.

Now presented with a gray exterior over red leather, this wonderfully restored Alfa Romeo makes for a thoroughly stylish and enjoyable summer cruiser. Such a fine example should not be passed by.